Cue the rebel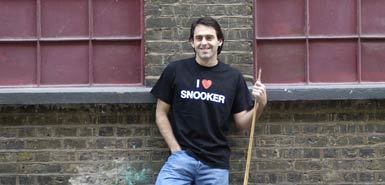 Ronnie O'Sullivan: cue the rebel
Ronnie O'Sullivan is chasing a third world title but his hardest battle will be against the demons that torment him
www.timesonline.co.uk
April 20, 2008
Nick Pitt
To watch Ronnie O'Sullivan at snooker is to swing between worry and wonder. Worry was foremost last December during the semi-final of the UK championship when O'Sullivan sat in his chair gazing intently at a spoon while his opponent, Mark Selby, was at the table. O'Sullivan's boredom threshold is low and when it is breached his concentration wanders, his game descends to the ordinary and the demons that accompany his depression, a diagnosed condition, get ready to dance.
As Selby carefully constructed his breaks, O'Sullivan seemed to be near the tipping point. Selby is a much improved player, but O'Sullivan had no interest in him. He just examined the spoon, and one feared for him. Previous occasions on which O'Sullivan had been driven to distraction came easily to mind. Sometimes he has covered his head with a towel as opponents laboured, as if watching inferior players might infect him. Once, he feigned sleep and asked a spectator the time as Peter Ebdon brought play to the speed of postal chess, taking five minutes over a break of 12 during their notorious quarter-final in the 2005 world championship.
Whether or not that was deliberate gamesmanship, it had the effect of emasculating O'Sullivan. After that defeat, O'Sullivan said he was considering a long break from the game. Previously, and often, he has announced permanent retirement, making it obvious the activity at which he is supremely gifted brings more frustration than happiness.
Against Selby, O'Sullivan held himself together and broke the shackles gloriously. In the deciding frame, with the scores eight frames each, O'Sullivan, his champagne game flowing fountains, cleared the table with a maximum 147 break. Here was the wonder of which he, alone, is capable. This was the carefree O'Sullivan who made a century break as a 10-year-old, who in 1997 made a maximum in just over five minutes, who brought a level of all-round play never before approached when he won his second world title in 2004, giving full and sustained expression to his genius. "The spoon did it. I'd like to thank the spoon," O'Sullivan said after beating Selby. To hold himself together, he had chosen to count the little dots on the edge of the spoon, and when he lost count he started all over again. It worked. When he had beaten Selby, he took on Stephen Maguire and slaughtered him in the final.
This is the crux of the Crucible: if O'Sullivan brings anything like his best game and maintains mental equilibrium he will win, easily. The alternative is obvious and more likely. O'Sullivan has been turning up at the Crucible to contest the championship for 15 years. He has won twice. In 2001 he agreed to do a live radio interview on the first morning of the event and began with the expected platitudes, but O'Sullivan suddenly unburdened himself. "I don't want to play the game no more," he said. "I'm not looking forward to this tournament one little bit. I'm just not up for it at all."
Telling the truth liberated him a little, and the Prozac he had been prescribed helped him through some difficult times during the fortnight as he went on to take his first world title. In 2004 he won again, this time touching perfection. Steve Davis dominated in the 1980s by tying up opponents with safety play before punishing their errors. In the 1990s, Stephen Hendry destroyed by all-out attack. O'Sullivan presented an amalgam of both. Better snooker could only be imagined and he won his second world title with ease. In the semi-final he beat Hendry 17-4. In the final, he overcame Graeme Dott 18-8.
Davis won six world titles, Hendry seven, and one has to observe that O'Sullivan's two is a very meagre haul for his talent.
He could have dominated for a decade and more, in the manner of Tiger Woods. He could have induced that state of fearful paralysis in opponents that the great champions enjoy and exploit.
We must go back those 15 years to see why it never happened. In the autumn of 1992 O'Sullivan, who was 16, went to Blackpool to play the world championship qualifying event. He won 74 out of 76 matches in his first professional season and qualified for the Crucible. O'Sullivan's father, Ronnie Sr, who had long been his son's chief driver, adviser, supporter, bankroller and inspiration, watched most of his son's qualifying matches, but not the last because he was on trial for murder at the Old Bailey. He had killed Charlie Kray's driver in a nightclub fight. By the time Ronnie Jr made his first appearance at the Crucible in 1993, his father was serving an 18-year sentence in prison. He is due to be released in three years. "Why can't I have Dad here enjoying the snooker?" O'Sullivan once lamented. "At times I felt my depression was nothing to do with him but at others I knew so much of it was rooted in the fact that he was in prison."
The stability of O'Sullivan's home life was further upset when his mother, who took over responsibility for the family porn business, was also imprisoned, for VAT offences. The young snooker genius found life a burden. He became addictive, variously seeking solace in food, exercise, drink and dope. When he at last confronted his condition and had been diagnosed, he joined Narcotics Anonymous and attended the Priory clinic.
It hasn't all been dark for O'Sullivan. In his typically honest autobiography, he describes a friendly match against Jimmy White at the house in Kingston in which Rolling Stones guitarist Ronnie Wood lived at the time. Keith Richards turned up and Wood asked them to "show Keith how you play snooker". O'Sullivan and White played 11 frames. White had six century breaks, O'Sullivan five. "Eleven frames, 11 centuries," O'Sullivan wrote. "We were off our nuts. Keith was standing there with a big jug of vodka and orange, and it was like fuel for us."
Perhaps that wasn't good for O'Sullivan but he hasn't had much fun playing snooker in public, particularly at the Crucible. Now it is that time of year again, a reminder that his world championship career and his father's incarceration are measured in parallel, ticked off year by year. He arrives in hot water for lewd gestures and remarks during a press conference at the recent China Open, for which he apologised before play got under way yesterday. "I was upset with myself because everything I did was the exact opposite of what my dad had taught me," he said. "My dad would be embarrassed to know how unprofessional my approach was in China."
What matters most is whether or not O'Sullivan can find sufficient peace of mind to produce his own sublime snooker.
O'Sullivan's troubles
1992 Father jailed for life for stabbing a man to death
1994 Mother jailed for six months for VAT fraud
1996 Fined £20,000 for assaulting a press officer
1998 Positive cannabis test
2006 Walks out of match against Stephen Hendry after only five frames
2008 Makes obscene comments at a press conference in Beijing