Critique of snooker governing body
Annual General Meeting
www.worldsnooker.com
Below is a letter sent today to WPBSA members.
At the AGM on Wednesday 2 December 2009, Sir Rodney Walker, Jim McMahon and Mike Dunn were not re elected to the board of directors. The result of the poll voting was as follows:
For Against
1. Mike Dunn 25 34
2. Jim McMahon 24 35
3. Sir Rodney Walker 25 34
4. Auditors Appt 46 13
5. Auditors Remuneration 46 13
Following the AGM we thought it would be useful to explain the legal process that needs to be followed in relation to the new board of the WPBSA.
As no other person stood for election at the meeting, that left Lee Doyle and Dr Hamish McInnes as the two remaining directors.
The constitution of the WPBSA provides that for the board to operate it requires a minimum of 3 directors, one of whom must be a player. The constitution defines a player as any individual who has at any time been ranked in the top 128. There are a maximum number of 5 directors.
The two remaining directors, who have power under the constitution to fill vacancies on the board, staged a meeting on Thursday at which Barry Hearn and Steve Davis were co-opted as directors.
A further meeting will be held on December 16 with the intention to officially ratify Barry Hearn as Chairman of the board.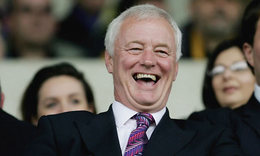 RONNIE O'SULLIVAN ECSTATIC AT BARRY HEARN'S ELECTION
www.express.co.uk
Thursday December 3,2009
By Hector Nunn
RONNIE O'Sullivan hailed yesterday's 'blood on the baize' as a "great day for snooker" after the way was cleared for Barry Hearn to take over the sport.
Chairman Sir Rodney Walker and two other WPBSA directors were summarily removed from the board in a shock re-election vote in Sheffield.
Record numbers of players, including world champion John Higgins, attended to give their scathing verdict on just six ranking tournaments a year and falling prize money. And the majority now want darts impresario Hearn to grab the helm.
World No1 O'Sullivan, 33, said: "I am ecstatic. This paves the way for Barry Hearn. He is the best person I have worked with in snooker. The previous board were out of touch with what the public wanted. This could prove to be a great day for our sport."
Hearn now expects the remaining two directors to abide by the players' wishes, and fast-track him into the fold . He said: "The fun is just starting and I can't wait to get involved."
Walker put himself up for re-election a year early, and had tried to woo players with plans for a 15-tournament tour from 2010. But the vote swiftly turned into one of no confidence.
BARRY HEARN STATEMENT
http://snookerscene.blogspot.com
Barry Hearn has issued the following statement following the AGM:
"Obviously I am delighted with today's decision of the voting Members of the WPBSA and I relish the opportunity to revitalise the sport of snooker in the ensuing months ahead.
"There is a lot to be done and I can't wait to get really involved, but there is still the question of my actual appointment to the Board being legally resolved.
"I am sure this will happen in the next few days and then the fun starts!
"At this stage all I can promise the membership of the WPBSA is total transparency, coupled with a regular supply of truthful information.
"Today is the beginning of a new era in snooker – we start NOW."
Addition: www.guardian.co.uk
His only current roles in snooker are managing Davis and promoting the Premier and Championship Leagues, but he is "excited by the challenge" of transforming snooker's fortunes. He said: "We're going to have some fun and everything will be totally transparent. I don't know the true [financial] situation [at WPBSA] yet so my first plan is to get all the info that I possibly can. Then I'll sift through it and make more concrete plans.
"One thing is for certain. There'll be a lot more snooker. If there isn't, the game will die. I'm not in this to make friends. I'm in it to make the game a success.
"There's a bad weather forecast for Bristol [home of the WPBSA]. There's a hurricane coming and it's not Alex."
WALKER 'DEFEATED' AT AGM
http://snookerscene.blogspot.com
Unconfirmed reports from Sheffield suggest Sir Rodney Walker has been defeated in his bid to remain WPBSA chairman by 32 votes to 24.
More follows as I get it...
EDIT: World Snooker has confirmed Walker, Jim McMahon and Mike Dunn have all been voted off the board of the WPBSA.
UPDATE: It seems the actual figure was 35-24 against all three board members but the WPBSA is refusing to disclose them.
Why? This is indicative of the needless secrecy that needs to end. Now.
ELECTION DAY
http://snookerscene.blogspot.com
There hasn't been a WPBSA AGM so eagerly anticipated by the snooker world in a decade.
Tomorrow at 12pm in Sheffield, a city more used to on table battles, players will meet to decide whether to keep things as they are now and hope for a turnaround under the current regime or take a chance on a new way forward.
The last crucial vote was an EGM to remove the board shortly after the rejection of the Altium deal in 2002. The board survived 48-36.
Prior to this there was a period where there seemed to be a crunch vote every few months.
These were not always straightforward affairs. There was one AGM in a hotel in Birmingham held just before Christmas that descended into farce when the scrutineers, on their way to count the votes, found their path to the lift blocked by a conga of old aged pensioners.
Many of these votes were close with all manner of promises and misinformation having swirled around for weeks, as is the way of political campaigning.
Indeed, in the lead up to the current AGM a rumour went round that Barry Hearn, who has said he would be prepared to become chairman if Sir Rodney Walker is defeated, was planning to cut the professional circuit to just 32 players, something Hearn categorically denies.
There's no evidence this was sanctioned by anyone high up in the governing body, although it could be an example of what Walker meant by 'misleading, inaccurate and downright untruthful' comments he alluded to last week.
Both sides have been crunching the numbers and there are indications the vote will be close.
It's hard to see how it can't be considering the constituency of voters is just 72: the top 64 from the past two seasons plus the five current WPBSA board members.
It's not known whether Jimmy White sent in a proxy form before heading into the Australian bush. In such a small group of voters, it could ultimately make all the difference.
Walker, as incumbent, started favourite but there has been a groundswell against him in recent days.
Many players are simply fed up with the way things stand now and the 'time for a change' mantra is a difficult one to resist.
Then again, the only figure I will believe is the one that comes tomorrow. The BBC exit poll from the 1992 British general election forecast a hung parliament. In the end, John Major's Conservatives won with a record vote.
But the exit poll wasn't wrong – huge numbers of people had simply been unable to admit they were voting Conservative.
Walker is apparently behind right now, but that's assuming everyone is telling the truth about their intentions. In a secret ballot, you never really know.
The great irony is that Walker was not under any obligation to stand for election this year. He was due to next year but said he brought it forward because he wanted to show the BBC and others that the sport had firm leadership and stability as key contracts were renegotiated.
This is commendable but his administration's refusal to recognise the newly formed Snooker Players Association has brought us to this point. It was the SPA who persuaded Hearn to effectively throw his hat into the ring.
After becoming WPBSA chairman in 2004, Walker very quickly set about bringing stability to snooker, both financial and political.
Rows continued, as they do in all sports, but snooker's fortunes appeared to be turning around.
Walker helped bring in replacement sponsors for the game's three biggest events – the World Championship, UK Championship and Wembley Masters.
He presided over the renegotiation of contracts with the Crucible, the BBC and a new deal with Eurosport that has brought the game into the living rooms of a legion of new fans across Europe.
Walker's administration also secured the long term future of two ranking events in China, both financially underwritten by the Chinese.
He proved to be a first rate front man, always poised in public, particularly in the moving speech he gave at Paul Hunter's funeral.
However, 888.com and Saga both exercised early termination clauses in their sponsorship agreements and Walker was forced to dip deep into the reserves of money he had spent so long building up.
Prize money has fallen and there are only six ranking events currently on the schedule for this season.
Controversially, Walker took money in the form of commissions on contracts he had negotiated in his salaried role as WPBSA chairman, despite an earlier WPBSA report by renowned sports lawyer Mark Gay labelling such commissions unethical.
Steve Davis has said he is voting against Walker "for this reason alone."
Hearn is a gregarious, energetic, what-you-see-is-what-you-get figure who first got involved in snooker in 1974 when he bought a chain of snooker clubs.
As manager of Davis, he was one of the leading figures of the 1980s boom. He is often credited as being behind it. This isn't true, but he was one of the first to spot the sport's off table potential and made fortunes as boss of the Matchroom stable through endorsements, exhibitions and, of course, prize money.
He deserves credit for trying to expand snooker's global appeal, taking tournaments to China, Thailand, Dubai, Hong Kong and various other parts of the world.
He was treated with suspicion by the snooker establishment and gradually came to concentrate on boxing, pool, football, darts and even fishing.
Hearn's great talent is in making something out of apparently very little: identifying niches and marketing them with vigour and enthusiasm.
I have no doubt that if he became chairman he and his team would at least inject a bit of fun back into the sport and certainly improve its standing in the media, which has ebbed away over the last five years.
But Hearn admits snooker's fortunes cannot be turned around overnight. The sport's reputation will have to be built back up and its image updated before a string of new high profile tournaments appear.
Hearn isn't making a desperate bid for power. He's happy to help if asked; happy to carry on with his other commitments if not asked.
The truth is, Barry Hearn doesn't need snooker.
We'll find out tomorrow whether snooker feels it needs Barry Hearn.
SELBY: TIME FOR A CHANGE
http://snookerscene.blogspot.com
Mark Selby has spoken out in support of Barry Hearn ahead of Wednesday's crunch WPBSA AGM.
Hearn has said he would accept the chairmanship of the governing body if Sir Rodney Walker is voted out by the players.
Ronnie O'Sullivan and John Higgins are among the top stars supporting a vote against Walker while Steve Davis last week went on national radio to campaign for change.
Writing on his blog, Selby said: "The game certainly cannot get any worse than it is at the moment. If someone like Barry Hearn was to come in, that could be what turns around our sport.
"Hearn would not be seen as a risk as he has proven before what he is capable of. You only have to look at the darts to see what a difference he can make."
Selby, the world no.7, decribed the current set up of the professional circuit as a 'farce.'
He said: "Snooker is still a massive sport and the viewing figures for tournaments are always high. I know we've been hit by the credit crunch, but what I don't understand is why snooker is in such a bad state.
"You look at a sport like darts and that is still surviving during these hard times, so why isn't snooker? Why are we losing tournaments? Why are we down to just six this season?
"Maybe the people behind the scenes are just not working out, so maybe it is time for a change of key personnel, a breath of fresh air.
"The fact that we've got only six ranking tournaments this season is a farce. There is too much of a gap between each event – it's been six weeks since the last tournament!
"We are classed as professionals but, really, we are hardly more than part-time. The gap is so big we could get another job in between tournaments.
"The money is still decent if you are a top-16 pro, you can expect to earn a healthy amount during the course of the season, even if you don't perform particularly well.
"The ones I feel most sorry for are the players outside the top 64. They are classed as pros but they don't get enough money to be able to survive. But for me it's not about the money. All I want to do is play snooker, but it makes it hard to do that when there are only six tournaments."
Selby is hopeful that World Snooker's new tie-up with IMG will yield more tournaments, saying it "would undoubtedly be good for snooker and for the players."
DAVIS: 'I'LL BE VOTING NO IN CONFIDENCE VOTE'
http://snookerscene.blogspot.com
Steve Davis appeared on BBC radio this morning to express his support for a vote of no confidence in World Snooker chairman Sir Rodney Walker.
Davis said proposals to expand the tour should be explored - but with Barry Hearn as chairman instead.
Rather than selectively quoting Davis, I run his quotes from this morning's interview verbatim below:
"This announcement is off the back of the fact that in six days there's an AGM and a lot of the players are very frustrated that there are only six ranking events for them to play in during the year – only six – and all of a sudden the board are looking for a way to get votes because there's a very real possibility there will be a no confidence vote.
"Interestingly, Barry Hearn has said that if enough players vote for no confidence in the board he will be happy, should the players want him to, to try and resurrect snooker like he's effectively done to darts.
"So we're in a situation with only a week to go where there's a bit of political manoeuvring going on. However, it's not the board's idea, this tour, it's an outside operation who have decided that perhaps it could work so it is worth exploring.
"So the bottom line for the players is who you want to do the negotiating for you: do you want the board who have got us down to six ranking events for the season or do you want Barry Hearn to negotiate on your behalf as somebody who has turned darts into a multi-million pound sport?
"There has been disquiet, it must be said, about the current set up of the board. Nothing personal, just whether they are competent enough.
"The actual (tour) idea is not of the board's making so there is the possibility that there could be something on the horizon but the trouble is if the board are trying to make it sound like it's their idea then they're wrong.
"But it needs to be explored because if there was the possibility that there could be 15 or 20 events around the world of different standing then the players would obviously jump at it. Effectively it's a case of in the end, if there was a proposal on the table, do you want the board who have not exactly been fantastically viewed by the players in the last few years or is there another avenue?
"Of course this also comes off the back of the financial report that's just come out and it appears, going from what Clive Everton's told us recently through his Snooker Scene magazine, that they've done a bit of a banking industry, that while the money for the players has gone down that the board have been paid more.
"For that reason alone when we come to the AGM next week I'll be voting no.
"Morale amongst the players has been so low recently, so desperate, even players ranked in the 20s and 30s really thinking about getting jobs because they're not getting any prize money out of only six events a year. They've really lost confidence and that's what the AGM will really be about.
"The problem is, something comes on the table that sounds great, the players are in such a weak situation that they may jump at any chance, and it is a credible sort of idea that may come alive but you need somebody who actually has some nous in the business world to try and negotiate on your behalf and I'm not absolutely sure whether we've got the right people in.
"We've been down this road before, getting rid of boards, getting in another board, hoping that the next board comes along but snooker, morale wise among the players, has never been worse."
Davis Backs World Snooker Tour Plan
www.worldsnooker.com
Six-times World Champion Steve Davis believes that the plan unveiled for a new World Snooker Tour is "the best idea by a mile" for the future of the sport.
The plan announced today is for a joint venture between World Snooker Limited and IMG, which aims to capitalise on the explosion of interest in snooker in many countries around the globe.
The new concept envisages a minimum of 15 professional ranking tournaments, plus invitation events, being played throughout the first year, with the number of events to be increased in subsequent years.
Snooker legend Davis, who has been competing on the professional circuit for 31 years, told BBC Sport: "Should the proposal be realised, it could kick-start snooker again. Every player would love to have more tournaments. There will be a buzz in the season if they can go to new territories.
"World Snooker are obviously very happy because they were under pressure. The players have no choice but to accept it. It is a no-brainer because it is the best idea by a mile. It could be the start of a new era."
EXCLUSIVE: HEARN BIDS FOR WPBSA CHAIRMANSHIP
http://snookerscene.blogspot.com
Barry Hearn, the chief executive of the PDC darts circuit and long time manager of Steve Davis, has dramatically agreed to become WPBSA chairman if the current incumbent, Sir Rodney Walker, is overthrown at next month's AGM.
Hearn has been in discussions with the newly formed Snooker Players Association, a union of players who have been attempting to meet with the WPBSA board to discuss issues of concern.
The WPBSA has so far refused to meet them.
Now Hearn, one of the big beasts of the sports promotion world, has entered the fray, agreeing to become chairman of the governing body if Walker is voted out.
Nobody is standing against him, but he can be ousted if enough players vote 'no' on the ballot paper.
A statement from Hearn said: "It was not and is not my intention to run as a candidate for any office within The WPBSA.
"However, having seen first hand the opportunities presented to and currently available to professional snooker on a global basis at this time and the work being carried out by The SPA, I would just like to absolutely assure the players that in the event of a vacancy of chairman being created through this election I would be prepared to step into the role.
"I would of course only consider this with the backing of the players. If the players decide that they are happy with the way things are at present and they re-elect Sir Rodney, I would of course respect that decision and continue to do all I can to create playing opportunities through existing channels.
"I am not currently looking for and neither do I need to take this step, however I do believe there has never been a better time for expansion of the game and it would be a challenge I would relish."
Hearn's intervention effectively makes the AGM a vote of confidence in Walker and his board.
And defeat for them will surely spell the end of the WPBSA as we currently know it.
Walder Out, Hearn In - Do you want to begin a member too? Visit Facebook.
WPBSA STAFF ORDERED TO TAKE PAY CUT
http://snookerscene.blogspot.com
Dave H
You'll recall it was only a few weeks ago that Sir Rodney Walker, chairman of the WPBSA, roundly rubbished Ronnie O'Sullivan's claims that snooker was in serious trouble.
Today, Walker has told the players that the salaries of the staff and directors of the WPBSA will be reduced by 10%.
So everything's going great, then.
The truth is that the WPBSA is seriously cash strapped and the circuit will not be far from collapse if extra revenue is not found in the next year.
I feel very sorry for the staff of the WPBSA, most of whom have done nothing wrong. These are the footsoldiers, not the people who make the decisions.
Walker's letter says there will also be redundancies.
Presumably he won't be one of them.
WALKER HITS BACK AT O'SULLIVAN
http://snookerscene.blogspot.com
12 February 2009
Sir Rodney Walker, chairman of the World Professional Billiards and Snooker Association, has hit back at Ronnie O'Sullivan's claims that snooker is 'dying.'
Walker does not mention O'Sullivan by name in the latest issue of One Four Seven, the WPBSA's in house newsletter for the players, but it is obvious he is responding to the world champion's Wembley outburst when he writes of "recent unhelpful statements" and "inaccuracies which are being discussed in the media."
As chairman of the governing body, it is entirely correct that Walker should stand up for the sport.
However, while some of the 'facts' he presents are true, others are either slightly dubious or, to put it kindly, more than slightly dubious.
For example: "We have increased prize money by nearly £1m over the past two years," he says.
This may be true, but what he doesn't mention is that it went down prior to this and is still lower than it was a decade ago.
Mark Williams pocketed £60,000 for winning the Welsh Open ten years ago. This year's champion will receive £35,000.
Walker goes on to say that all sports are struggling and that Manchester United and Tiger Woods are looking for new sponsors.
Obviously, the current economic climate makes sponsorship hard to come by but is there anyone reading this who seriously believes that Man UTD and Woods will not pick up replacements?
One sport Walker doesn't mention is darts, in particular the PDC circuit which is worth over a £1m more in prize money than the WPBSA circuit this year and which is adding new tournaments, all sponsored, because of interest from broadcasters, particularly ITV.
Walker then, with some predictability, blames the media as well.
Referring to the 'facts' he has outlined, he writes: "These positive statistics are relayed to the media on the various occasions that World Snooker is contacted for comment, but they are seldom used and the focus remains on the controversial and the negative."
None of these 'positive statistics' have ever been relayed to me. My colleagues tell me they've never been relayed to them either.
What normally happens when we contact the WPBSA for comment on something controversial is, at best, "no comment".
The relationship between the media and WPBSA is lower than I've ever known it. There is less snooker in UK newspapers than there has been for 30 years.
Could the two just possibly be related?
Walker continues: "Controversy and disharmony are not appealing to potential sponsors. It is essential, now more than ever, that we portray snooker in a positive light."
Actually, Peter Dyke of Embassy and Jim Elkins of Benson and Hedges – the two biggest sponsors snooker has ever had – both loved controversial stories because it ensured their brands would be mentioned in newspaper coverage.
Walker is quite correct when he points out the various ways players have a say in the running of the game. I would not disagree that they should use these channels to make complaints.
Also, they elect the board and have consistently voted Walker and his colleagues back into office.
But his suggestion that they should not voice criticisms in the media goes against the principle of free speech.
Sometimes, players can go overboard but I know of one who, without any agenda, recently gave an opinion that the table he played on had cushions that produced over-springy bounces and he received not one but two letters from the WPBSA threatening him with disciplinary action.
Walker continues: "I would ask all players to bear in mind the importance of portraying your sport in a positive light when dealing with all aspects of the media."
I don't agree with everything O'Sullivan says and have at times disapproved of the way he has behaved.
But all that is a sideshow. Here's what O'Sullivan does for snooker: he plays it, to an extraordinarily high standard. And in doing so he has created millions of snooker fans who love watching him play.
I'd have thought that would count as a 'positive.'
And O'Sullivan's contribution to snooker will be remembered long after Walker's chairmanship of the WPBSA is forgotten.
Hearn says there'll be no going back to the baize by
James Gill. Tuesday, 13 January 2009
www.thelondonpaper.com
Barry Hearn has ruled out a return to snooker, saying: "Like an old girlfriend, you shouldn't go back."
Ronnie O'Sullivan had pleaded with Hearn to breathe life into the sport he had helped make so popular in the 1980s.
But Hearn, who still promotes two snooker events, has neither the interest nor the inclination to step up his interest in a sport he believes has had its glory days.
"Snooker is like an old girlfriend," said Hearn. "It's a long time ago and you shouldn't go back."
Hearn, who has had huge success promoting darts, poker and boxing, added: "We were there in the big days when everything was fantastic.
"While we still do certain events we are never going to go back to those dominant days of the 1970s and '80s when we were ruling the world. What I'm doing with darts now is what I did with snooker in the '80s.
"When you've done it you can't really go back and do it again."
O'Sullivan may still ¬capture the public's imagination, but Hearn believes the same ¬cannot be said for the ailing sport, with no one else able to match the Rocket in terms of talent and charisma.
"It's glory days are ¬behind it," he added. "It does solid business, but it's just not darts. It's just not something that has captured the imagination of young people that want a night out.
"They want fast action, great atmosphere, a chance to express themselves, and snooker doesn't lend itself to that."
He added: "Ronnie is a genius. It must be frustrating for him. If the game was bigger his appreciation and pay-cheques would be so much larger. He'll look and see the winner of next year's darts get £200,000.
"The frustration for Ronnie is that in any era he would have been a superstar.
"It's just wrong time, wrong place."


O'Sullivan wants X Factor glitz
THE MASTERS
Venue: Wembley Arena, London Date: Sunday 11 - Sunday 18 January
Coverage: BBC Television, BBC Red Button and BBC Sport website
www.bbc.co.uk
World snooker champion Ronnie O'Sullivan has called on X Factor judge Simon Cowell to revitalise the game.
O'Sullivan's frustration at what he believes is a "dying" sport was shown after he narrowly beat Joe Perry 6-5 in the opening round of the Masters.
"I feel like I'm in a sport that has had its good days and is on a downward spiral," he said at Wembley Arena.
"It needs someone with entrepreneurial skills like Simon Cowell who is in the modern world and more dynamic."
Cowell is one of the most powerful figures in the music business, thanks largely due to the success of the X-Factor television show.
O'Sullivan suggested promoter Barry Hearn, the manager of former world champion Steve Davis, could also help revamp the sport.
"If someone like Barry Hearn came in and took over the game and started doing with snooker what he has done with darts and made it interesting and lively that might make coming to tournaments and [my] enthusiasm to play a little bit different," said O'Sullivan.
Arguably the most talented player in the history of the sport, O'Sullivan has frequently voiced his frustrations with the way snooker is run and has often talked of quitting.
Last year in a BBC interview the world number one said he lacked the passion and drive for the game to go on and equal Stephen Hendry's record of seven world titles.
The 33-year-old, who won his third World title last year, deliberately snapped his cue "for fun" before his clash with Perry and admitted he is struggling for motivation.
"It's quite uninspiring coming to tournaments," said O'Sullivan, nicknamed the "The Rocket".
"I still enjoy playing but sometimes I wonder do I want to go to Ireland for 30 grand or go to China for 40 grand or Bahrain and there are two people in the crowd.
"I remember the good days when it was fun going to tournaments and now it doesn't feel like fun.
"The people who are running snooker seem to be going backwards. Nothing seems to be happening and it just feels boring and the sport is dying.
"There are little rules brought in like penalising players for conceding when you don't need snookers.
"You can't help thinking that whoever is making these decisions are killing the sport and stopping the entertainment.
"I love the game and I'm in great shape physically and mentally, but I've got to the stage where I don't really care if I play or not.
"I don't want to go through the rest of my life like that so I've got to make a decision on what I want to do."
Selby blog: Shame about Bahrain
Eurosport - Tue, 18 Nov
Mark Selby begins his new Eurosport-Yahoo! blog by revealing he was 'gutted' to miss out on the Bahrain Championship last week.
I'm gutted because it would have been nice to go out to Bahrain for the first ranking event out there and experience a different place.
It is a shame that it was in the same week as the Premier League event at Haywards Heath.
But it was only fair that, having signed a contract saying I would take part every week, I honour that by appearing in Sussex. I had to show loyalty.
Normally a ranking event would take priority.
I can't imagine that many players on the tour were happy with the scheduling. With the likes of me, Ronnie O'Sullivan, John Higgins and Ding Junhui missing for a ranking event, the others wouldn't have been happy either - and of course we wanted to play in Bahrain.
The snooker calendar is picking up a bit at the moment. There are a lot more events on the calendar than there have been for a long while and there is a lot of interest.
John Higgins has started up the World Series of Snooker this year in countries like Germany, Poland and Russia, as well as Jersey.
It is difficult to get something like this off the ground straight away and there is a lot of learning to do, but it has been good and the attendances have stood up too.
I'm not taking anything away from the UK because snooker is very popular here.
I'm just not sure why World Snooker are putting ranking events on elsewhere but not in Europe. There are plenty of lower-level tournaments in Europe.
I'm not sure if the way the calendar is administered will change, despite the formation of the players' union.
It is better that we have got more of a say because if it was me myself that went to World Snooker not happy about something, they'd probably just brush me off.
It is good that we have got more clout by putting our names together.
Higgins blasts 'pathetic' World Snooker
Eurosport - Mon, 17 Nov
Billy Rimgard in Denmark / Eurosport
John Higgins has told Eurosport that World Snooker is "pathetic" in its organisation of snooker.
Former world number one Higgins, who organised the debut season of the World Series of Snooker in 2008, lambasted the world governing body for failing to evolve its system of ranking events to embrace the growing appeal of snooker in mainland Europe.
"I'm really excited about taking snooker to new countries," he said. "I've been a snooker player all my life, and one day my manager Pat Mooney asked me where I was playing next week. Wales, I said; then Telford and Aberdeen.
"He asked me: when do you play in other countries? We don't, I said. He says, if we contact some other European countries, do you think some of the players would come if we started arranging our own tournaments there? And I thought he was on to something.
"Coming to new countries, you really see the excitement in people's faces. Europe is just like Britain was when I first turned professional. It's a buzz, something that's happening, like a volcano about to erupt. I get the exact same feeling when we come to Poland or Germany.
"In Berlin there were 1400 people in each session then just a few weeks later we went to the Northern Ireland Trophy, which is a ranking event - and there was like 30 people sitting there.
"It just made you think, why can we not have the German Open? The world association is stupid really. I mean, they may be running the World Championship, Masters and UK Championship, but some of the other tournaments... it's pathetic. They've just been sitting back and let things slide.
"Like right now: they put on this new tournament in Bahrain when some of the players are contracted to play in the Premier League. This is why we started the new players' union: because they shouldn't have the power to do that and call it a ranking event.
"I can't play in Bahrain because if I do, I will be sued by another company. We should know at the start of the season what the dates are, and if there are clashes, we then at least have the choice of which events we want to play. I never had any choice whatsoever.
"Even at this point, the association is telling us that they might have a tournament in Malta in January. They 'might'. It's November now. People maybe want to go on a holiday or make other plans. But they say we might have a tournament or we might not, but keep that in your diary. That's no way to run a professional sport.
"If you look at other sports like golf or tennis where they have so many more tournaments that fill the calendar, they still know well in advance. Tiger Woods can plot his whole diary at the beginning of the season whereas we can't because we don't know if World Snooker will put on another tournament."
The World Series currently consists of four two-day tournaments: in Jersey, Germany, Russia and Poland, taking place in the off-season of the main tour between May and August. There is also a final competition in Russia, for the most successful four players.
Higgins, who won his second World Championship in 2007, is also the driving force behind players trade union the Association of Snooker Professionals.
Asked whether he has aspirations of a breakaway tour to rival that of the World Professional Billiards and Snooker Association, he replied: "No - it's there to tell them they can't run the sport willy nilly, they've got to run it more professionally now. And it affects the World Series too.
"Next year we've got to run it more professionally, and we can't move the tournaments around to different dates. We will have to be under the same guidelines as World Snooker."
As well as Higgins and his management team, Eurosport and referee Michaela Tabb have been involved in the World Series.
Higgins, who believes the series will go from strength to strength, said that they may adjust the rules to cater to the wildcard players which make up half of the eight-man field in each event.
He continued: "There are more countries now: they couldn't go to Eastern Europe or China in the eighties. With Eurosport showing the events it's also great publicity for the sport. I think the future looks great.
"We've spoken about trying some things out in the World Series. It's hard for the local players to get to the top. We were thinking if the format stays at eight players, in the quarter-finals we'd use six reds, semi-finals 10 reds and in the final it would be 15 reds.
"That would give the lower-ranking players more chance to beat the top players over six or 10 reds. What we're unsure of is what the fans would think about it: it's difficult because it's a new sport coming into the countries, and you don't want to tamper with the sport and the game because that's what people know and love.
"It's difficult. It's a fine balance as we don't want to alienate the people that love the game with 15 reds."
'Wizard of Wishaw' Higgins laid out his vision for the future.
"In the early 80s Steve Davis went with his manager to China, Taiwan and Hong Kong and nobody really knew much about snooker in these countries. And you can see now, 25 years later, that it's expanding really well over there.
"That is how I would like to think it could be now when we come to places like Denmark, Poland and Russia. I'm thinking longer term, in 10-15 years.
"It would be fantastic if I came back here in 20 years' time and some little boy who watched the game now is one of the best players in the world."
Top stars fear snooker is going nowhere
WE'RE SO FED UP
http://blogs.notw.co.uk/sport
13 April 2008
A STRING of top snooker stars have revealed they are fed up with the game.
On the eve of the World Championship in Sheffield, one of the game's top players has revealed how a drop in prize money and a lack of ranking tournaments has left snooker in crisis.
He blames the WPBSA, the sport's ruling body.
He said: "I'm fed up with world snooker, sometimes I wonder whether they have the best interests of the game at the top of their agenda.
"Prize money is down and there are not as many tournaments as there used to be, which frustrates me and a lot of the other players.
"I remember when there were 15 tournaments in a season and there was a lot more money on offer.
"At one point this season there was a two-month break between tournaments. That's not the way to run the game."
Many of the sport's leading professionals have been outspoken in their criticism of the WPBSA — which has led to a string of behind-closed-doors disciplinary hearings. The star added: "That has left senior potters questioning whether they can have any say on the future of the sport.
"We'd like to be playing in more events, but it's sometimes hard to motivate yourself when you have to go to the Welsh Open when there's no sponsor.
"We should have sponsors for all our events. Maybe the future lies in Europe. It's a big market over there and we need to tap into it."
Last December, defending world champion John Higgins revealed revolutionary new plans to launch an exciting World Series Tour.
Events have already been scheduled for Russia, the Netherlands and Jersey, with a possible final in Mongolia.
Masters champion Mark Selby and former world champions Ken Doherty, Graeme Dott and Shaun Murphy are rumoured to have already signed up.
Another source said: "Snooker's not in the best of health. The governing body need to try harder to make sure it survives."
Comment:
Many of the comments made above are true yeah but with the lack of an audience you can see why there is a lack of ranking competitions.
It is a vicious circle - Large audiences = more sponsorship interest = more ranking competitions with better prize money.
The broadcasted media not only in the UK does not help! events like The Welsh Open as stated above can not be seen in England unless you have SKY TV with BBC Wales or on interactive, other events like The Malta cup can only be seen on Eurosport.
Then we move onto European countries, where people have to purchase bootlegged DVD's of snooker events on the internet if they want to watch the snooker.
The WPBSA and World Snooker need to get their heads together with the players not against them and turn this situation around before it all crashes on top of them.
I am not blaming the WSA and I am not defending them either, to the most they are going a good job and over the past 5 years things have got better but they need to bring Snooker back to the audience, the only snooker competitions that get sold out is The China Open and The World Championship, I was at one match in Newport for The Welsh Open and I could count the number of spectators on my hand.
Ferret
SNOOKER ISN'T IN CRISIS
http://snookerscene.blogspot.com/
Dave H.
13 April 2008
This story (above) in today's News of the World claims that a number of leading snooker players are 'fed up' with World Snooker, the governing body.
It quotes a top player as saying: "I'm fed up with world snooker, sometimes I wonder whether they have the best interests of the game at the top of their agenda.
"Prize money is down and there are not as many tournaments as there used to be, which frustrates me and a lot of the other players.
"I remember when there were 15 tournaments in a season and there was a lot more money on offer.
"At one point this season there was a two-month break between tournaments. That's not the way to run the game."
The newspaper does not name the player because he feared disciplinary action so neither will I, but I can tell you he has had a love/hate relationship with World Snooker throughout his career.
However, his comments do not mean that 'a string of top players' are 'fed up.' He speaks for himself, nobody else.
Everyone would like more tournaments but although World Snooker have done themselves few favours over the years, the fault for all this is not theirs and theirs alone.
In 2001, 110sport won a court ruling which meant any promoter could stage events without a World Snooker sanction.
But very few have been staged since by anyone other than the governing body.
Why?
Because getting tournaments on is hard work. You need a venue, sponsor, broadcaster and top players, and it's hard to get, say, the first without already having the second and vice versa.
If the top players really are 'fed up' then why haven't they voted out the World Snooker board in the various elections of the last few years?
They've had ample chance to organise themselves to take proper action. Almost uniquely, snooker is run by the players, at least in theory.
I don't believe snooker is 'in crisis' as the story suggests. It could be doing much, much better but it could equally be doing far, far worse.
RESPONSE TO NEWSPAPER ARTICLE
14 Apr 2008 15:54:00
www.worldsnooker.com
It has come to our attention that an article has appeared in the media recently attributed to an unidentified top player concerning the way in which our sport is managed.
Since the appointment of Sir Rodney Walker in 2004 there has been an upturn in the finances of World Snooker. This resulted in a surplus in years 2005, 2006 and 2007 which enabled World Snooker to reinvest a figure of approx £482,000 into prize funds for the 2006/2007 season's events. There was an increase of over £300,000 to prize money levels for the 2007/2008 season and a further increase of approximately a quarter of a million pounds is planned for prize money in the forthcoming season.
World Snooker also secured a new long term multi million pound BBC contract, broadened our broadcast platforms via Eurosport and has substantially increased its overall income from overseas television sales by over £1 million.
Whilst anyone involved in sponsorship is aware that this can be a difficult and challenging marketplace in which to operate, all four BBC events are now fully sponsored; the Royal London Watches Grand Prix, the Maplin UK Championship and the SAGA Insurance Masters all sponsored until 2009, and the 888.com World Snooker Championship until 2010.
World Snooker has also established a new ranking event in Northern Ireland and two five year term fully funded ranking tournaments in China backed by investment each year of £1 million from our partners in China.
It is World Snooker's ambition to continue to increase the tournament calendar year on year, expanding in Asia and talks are underway to create new events in the Middle East and Europe.
With regard to players' feedback on the running of the sport, World Snooker invites representative players to take part in a Players Forum where they can express their views as to how the sport is run.
World Snooker continuously strives to enhance the game and attract sponsorship and it is difficult to understand why some leading players feel that criticising their Association in the national press will assist World Snooker's efforts in securing additional tournaments for its members.
Would it not be more beneficial to the membership if leading players were to help their Association by making more supportive statements in the media?
SNOOKER ISN'T IN CRISIS...SAY WORLD SNOOKER
http://snookerscene.blogspot.com/
Dave H.
14 April 2008
World Snooker have hit back at the 'mystery' player who criticised them in the News of the World with a statement on their website.
In this, they defend their actions and point to the various positives since Sir Rodney Walker was made chairman in 2004.
Personally, I wouldn't take issue with any of them and it's actually refreshing that the governing body should defend its position rather than say nothing at all, which has all too often been their stance in the past.
However, to talk about 'discussions' for events in the Middle East and Europe is not a good idea because we've been hearing this for, literally, four or five years and such 'discussions' have not yet borne any fruit at all in terms of actual tournaments.
World Snooker have previously announced events in Brazil, Thailand, Macao and Holland that have simply never taken place.
I think players have every right to complain in public if they are unhappy with how their sport is being run but would add that they should do so on the record rather than anonymously.
However, the notion, as suggested in the last paragraph of the statement, that players should only say nice things about the governing body - regardless of what they feel about them - is, frankly, ludicrous.