Top 10 maximálních breaků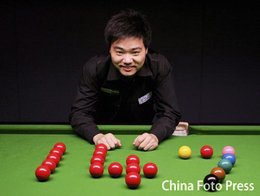 36 strků, 15 červených, 15 černých, 6 barevných
Náběh 147 je částí snookerové magie, radost pro každého hráče. Tady máte deset nejlepších maximálních náběhů vůbec...
10. Ding Junhui
V úvodním zápase loňského SAGA Insurance Masters proti Anthony Hamiltonovi se Ding, tehdy teprve 19tiletý, stal nejmladším hráčem, který kdy zahrál televizní 147. "Cítím se velmi zvláštně," řekl Ding poté, co se stal prvním čínským hráčem, který zahrál oficielní maximum a teprve druhým hráčem, kterému se to podařilo ve Wembley.
9. Tom Ford
Fordova 147 přišla v zápase letošního Royal London Watches Grand Prix proti Stevu Davisovi a byla jeho první v kariéře. B časných ranních hodinách toho dne se světová padesátka z Leicesteru vzbudila s mučivými bolestmi žaludku. Odebral se do nemocnice kde mu byla diagnostikována gastroenteritida a byl dán na kapačky. Ale o několik hodin později přijal Ford odvážné rozhodnutí a nechal se propustit, protože nechtěl propásnout šanci postavit se legendárnímu Davisovi. "Stěží jsem při příchodu do arény udržel tágo, takže ta 147 byla prostě neuvěřitelná," řekl Ford.
8. Ronnie O'Sullivan
O'Sullivan čelil minulý měsíc v semifinále Maplin UK Championship v Telfordu Marku Selbymu. Selby po většinu času vedl, ale za stavu 8-8 ukázal O'Sullivan v rozhodujícím framu svého pravého génia. Lehká úvodní červená byla následována brilantní těsnou černou do středové kapsy a Rocket jel dál a nahrál svou 8. 147 v kariéře a vyrovnal tak rekord Stephena Hendryho. O'Sullivan nahrál maximum i na Northern Ireland Trophy a to z něj dělá jediného dalšího hráče krom Johna Higginse, který nahrál 2 maxima na po sobě jdoucích bodovaných akcích.
7. James Wattana
Krátce předtím, než hrál s Tony Dragem na 1992 British Open v Derby, bylo Wattanovi sděleno, že 6000 mil daleko v Bangkoku, byl jeho otec Kowin Pu-Ob-Orm postřelen gangstery a je těžce zraněný. Wattana ukázal neuvěřitelnou sílu osobnosti a nejen, že šel hrát, ale nahrál i 147. Ihned po zápase mu byla oznámena tragická zpráva, že jeho otec zranění podlehl.
6. Jimmy White
Jediná 147čka Whiteovy kariéry se datuje do roku 1992 a nahrál ji na akci největší – 888.com World Snooker Championship. Byla teprve druhá, kterou kdy Crucible viděl a 1. na 9 let. Jeho soupeř Tony Drago sevřel svého přítele po poslední černé do medvědího obětí a White na tento okamžik vzpomíná jako na jeden z nejvzácnějších v jeho kariéře.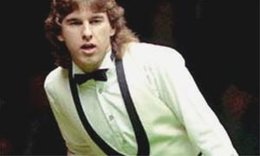 5. Kirk Stevens
Oděn do své obvyklé oslnivé bílé barvy, nahrál Stevens v roce 1984 svou 147 – byl to historický okamžik Masters. Až do Dingova úspěchu v loňském roce to bylo jediné maximum, které kdy Wembley vidělo. Náběh nebyl zdaleka nekomplikovaný, charismatický Kanaďan musel hrát brilantní poziční strk, aby se dostal z poslední zelené na hnědou a znovu z růžové na černou.
4. Stephen Hendry
I když to byl nebodovaný turnaj, je finále 1997 Liverpool Victoria Charity Challenge považováno některými snookerovými odborníky za vůbec nejlepší zápas. Hendry vedl nad Ronnie O'Sullivanem 8-2, než Rocket dokázal během 68 minut srovnat na 8-8. Ale Hendry si zajistil vítězství skvělým způsobem – v rozhodujícím framu nahrál 147.
3. Cliff Thorburn
Thorburnovo maximum v roce 1983 bylo vůbec první nahrané v Crucible a nahrál ho v zápase proti Terry Grifithsovi. Break začal šťastnou koulí, červená nespadla, ale projela se kolem horního mantinelu a spadla do jiné kapsy a skončil Thorburnovým pokleknutím, když slavil svůj úspěch. Byl objat Griffithsem a dalším Kanaďanem Billem Werbeniukem, kter7 hrál na sousedním stole, ale na několik posledních strků obešel rozdělující stěnu.
2. Steve Davis
Nyní je ve statistikách 60 oficiálních maximálních breaků, ale ten úplně první se podařil Davisovi na 1982 Lada Classic v Oldhamu. V těchto dnech jsou 147 oceňovány peněžní odměnou, která třeba v Crucible přesahuje 160 000 liber. Ale Davis si musel vystačit s Lada Estate. Ironií je, že Nuggetův soupeř z toho dne, John Spencer, nahrál svou televizní 147 o 3 roky dříve, ale kameraman ji prošvihl, protože si zrovna dával čaj.
1. Ronnie O'Sullivan
Bleskurychlý génius tága O'Sullivan nahrál 5 nejrychlejších 147ček a tu vůbec nejrychlejší byla mimořádným výkonem v Crucible 1997 během jeho zápasu prvního kola proti Micku Price. Potápěním, ze kterého jsme viděli jen rozmazané šmouhy a téměř perfektními nahrávkami po celou dobu náběhu, se podařilo Rocketovi zahrát 147 za pouhých 5 minut 20 vteřin. Dokonce si ani nenakřídoval tágo po potopení závěrečné modré. Podívat se na jeho perfektní ukázku plynulého potápění můžete na adrese – http://www.worldsnooker.com/interactive_video.htm-1.htm