Running helps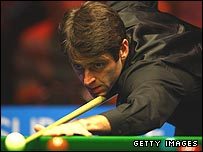 O'Sullivan form helped by running
http://news.bbc.co.uk/sport
February 11, 2008
Ronnie O'Sullivan has revealed a new-found love for running has helped him reclaim the world number one spot.
The 32-year old is in action in the Welsh Open this week, facing either Joe Swail or Judd Trump on Wednesday.
"I have tried many, many things to combat my demons and running is the one thing that does it for me," he told BBC Radio 5 Live.
"I am running about 50 miles every week. If I had to choose between them, snooker would go."
O'Sullivan claimed his fourth UK Championship victory in December, but was edged out in the first round of the Masters in January by Stephen Maguire.
He continued: "In the last few months I have found a consistency with my snooker I haven't had for 14 or 15 years. I am really enjoying playing at the moment."
The Rocket insists he is now "a lot happier now, more content and I do not worry so much" and is better-placed to take the losses with the wins.
He said: "Snooker has been my life and I have places such big expectations on myself that I used to get very down and depressed.
"Unless I am world number one or world champion, that is a kind of failure for me.
"But I realise there is much more to life - and although I have enjoyed playing snooker and it has been good to me, exercise is more important to me than snooker.
O'Sullivan has long been tormented by depression which he says has sometimes prevented him from realising his potential.
He revealed: "I used to think, I'm not looking forward to going to this tournament, I hate this game, I am frustrated with the game, I am never going to win another match, I am never going to win another tournament, people will suss me out soon.
"There was so much negativity. Yet I knew that I could produce the goods at a higher level, at a higher intensity, and I could have made life easier for myself during games."
And it was when O'Sullivan began a regime of running, that he began to reap the benefits.
He said: "I got the running bug, joined a club and met some nice people and before I knew it I was running every day.
"I am not saying exercise has beaten my depression, or that I have found a magical cure but running helps me keep it at bay.
"I don't really enjoy going to snooker tournaments, I get bored there and I have a low threshold for concentration.
"So now I get in touch with running clubs in Belfast, Glasgow, Aberdeen, Telford, Sheffield, so when I go there I can meet with someone to go running with."
As body and mind have become fitter, so O'Sullivan has become more positive about himself and his ability.
"I realise now that I do have a talent - even when I am playing poorly, " he said.
"And I should never really drop outside the top four in the world, hopefully, for the next four or five years."