Mark Williams*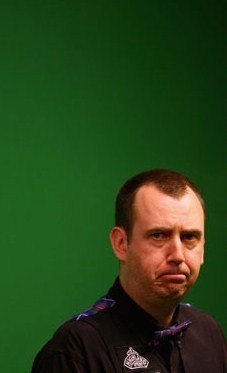 FOCUS ON...MARK WILLIAMS
http://snookerscene.blogspot.com
One of the most welcome things to happen last season was the return to form of Mark Williams.
Having returned to the elite top 16 in 2009 he is now back in the top eight and has already won the campaign's first PTC title.
Only a stellar Ronnie O'Sullivan performance could deny him a place in last season's Wembley Masters final and it was another superb O'Sullivan display that cost him a place in the Crucible quarter-finals.
In between Williams reminded everyone just how good he can be by winning the China Open, his first ranking title since 2006.
The key to Mark's success has always been his laid back attitude. He gives the impression that nothing much bothers him most of the time.
In his period in the doldrums he had various off table pressures that meant he was no longer happy-go-lucky.
There was also, perhaps subconsciously, the notion that after completing the grand slam of all four BBC tournaments and occupying the world no.1 position in 2003 he no longer had anything to achieve.
Williams won't have enjoyed having to qualify during the 2008/09 season but in the long run it has done him good.
He also now has his own snooker club and seems to be back in the groove generally.
Time is against him. At 35 he is now considered to be on the back nine of his career but, as he proved last season, he is still capable of deadly performances.
His strength was always his single ball potting, forcing his way into frames. He can scrap it out and his temperament is rock solid. It makes for a highly effective game when it all comes together.
I spoke to Mark briefly at PTC 2 and he seems to be as enthusiastic as ever about his snooker. He was a big supporter of Barry Hearn prior to the EGM and is relishing the increased playing opportunities that are ahead of the players, not just this season but in the years to come.
Williams, at his best, was the sort of player you would pick to play a frame if your life depended on it.
Regardless of the problems he's had in recent times, he is getting back to that sort of level and there's no obvious reason why more silverware shouldn't be heading his way this season.
The two-times World Champion from Cwm in South Wales talks driving mopeds and flying pigs...
What's your earliest memory?
Going on holiday to a caravan park in Porthcawl when I was about 7 or 8. I remember playing an arcade game called Poll Position – a driving game with a big steering wheel.
Who do you most admire?
My sporting hero is Lennox Lewis, I've followed him since I was a kid. I love boxing and did a fair bit of it myself when I was younger. If I could meet anyone for a photo or autograph, it would be Lewis. I did get to meet Michael Watson at the Masters last month, he was in the players' lounge. After what happened to him (going into a coma after a fight against Chris Eubank), it's amazing how he has recovered and the work he now does for charity. He's done the London Marathon and it took him six days.
What are you afraid of?
Drowning. I don't like spiders much either, if you put a tarantula on my hand I would pass out.
If a film was made of your life, who would you want to play the lead role?
Martin Clunes, because he's got my ears.
What's your guiltiest pleasure?
Food. I'll eat anything bad for you, especially chips and other fried food. I don't do any exercise but I will have to start soon.
What was the most trouble you got into at school?
School was the worst time of my life. The only subject I enjoyed at school was traffic education. We used to drive mopeds around the tennis court. I was good at maths so the teachers put me in one of the higher classes. All my friends were in the lower class and all they did was play darts and watch TV. I wanted to get into their class, so I got all the answers wrong on purpose and didn't do any homework. The teachers made me stand in the corner with my hands above head. Eventually they gave up and put me in with my friends.
What's the most money you've ever spent on something, apart from a house or car?
A diamond engagement ring for my fiancé. I'm not one to splash out on things. I have done a lot of money on cars though. The most expensive was a Ferrari.
Is there a piece of music which inspires you?
I like a lot of different music, particularly from the 1960s and 80s. My favourite is Michael Jackson. I had a few different tunes for my introduction music at the Masters, including Kasabian and Kings of Leon.
If you had a time machine which could go anywhere forward or back, where would you go?
I'd go forward 100 years. If you think of what's happened in the last ten years in technology, it would be amazing to see what the world is like in 2110. I reckon there would be pigs flying around, and everyone ducking to get out of their way.
If you could come back in your next life as an animal, what would it be?
A dinosaur, so I could eat everything.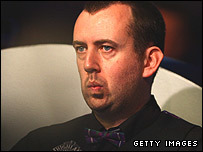 Williams contemplates retirement
By Saj Chowdhury
BBC Sport at Wembley
www.bbc.co.uk
January 15, 2008
Two-time world champion Mark Williams is considering quitting snooker.
Williams, 32, revealed he was contemplating retirement after crashing out of The Masters at Wembley with a 6-2 first-round loss to Ken Doherty.
"I have to have a good end to the season to stand any chance of making the top 32," said Williams, who is provisionally world number 33.
"I don't want to play in the qualifiers at Prestatyn. If I'm out of the 32 I probably won't stay around."
The Welshman won just two knockout matches in eight major events last season.
"I'll mull over my situation in the summer," said Williams. "There are plenty of things to do outside snooker, but hopefully I won't have to think about that."
And Williams admitted he might have played his last match at the Masters.
"I felt alright out there. I would have liked to have won, so I'm naturally disappointed."
Doherty offered words of support to his snooker rival, encouraging him not to retire.
"It would be crazy if Mark retires," said Doherty. "I can't see him leaving the game. We all have lows, but it's important to come through them and believe in yourself," said the Irishman.