Premier Snooker League 2008 A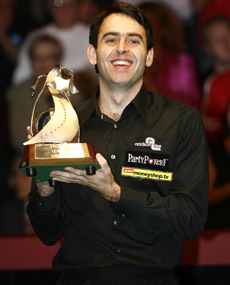 O'Sullivan storms to Premier League victory
RONNIE O'SULLIVAN is the 2008 PartyPoker.com Premier League Snooker Champion.
O'Sullivan lifted the trophy after a 7-2 victory over Mark Selby in the final at the Potters Leisure Resort in Hopton-on-Sea, Norfolk.
It means O'Sullivan becomes the first player to win the prestigious event, which was broadcast live on Sky Sports, five times in a row.
"I'm coming to the end of my career as I'm 33 now so I want to make the most of it when I can," said O'Sullivan, who collects £75,000 from the competition and has now lifted the trophy a total of eight times.
"To beat someone of Mark's calibre and quality is fantastic for me. He's coming after me so I just want to keep him at bay for as long as I can. It's just good to win as in a lot of games I feel that I have to win.
"I was happy with my form and was scoring among the balls and as it's the final, that's when your want to produce your best snooker.
"This season I haven't played too great but it's nice to get it right when it matters. The Premier League is such a great tournament and the (25-second) shot clock can get you to do some strange things.
"At the start of the season I put this down as one of the events I wanted to do well as you have great crowds, it's fantastic."
O'Sullivan, who has now won the Premier League eight times, dominated the first five frames as breaks of 93, 62, 83 and 62 helped him to a 5-0 lead.
However, the sixth, which lasted 40 minutes, went Selby's way as he stole the frame by two points when O'Sullivan had looked in great position.
Selby hoped that could be a turning point but O'Sullivan raced to a 105 break in the next and was now one from victory.
An 84 from Selby brought him within four frames and opened up the prospect of a memorable fightback but that dream died as O'Sullivan's break of 74 saw him clinch the title.
"I'm obviously disappointed not to win the tournament but only a couple of months ago I was playing in the qualifier at Crondon Park to get here," added Selby.
"To get to play someone like Ronnie in the final is a dream come true. If someone had offered me the chance of getting to the final and playing Ronnie I would've bitten their hand off.
"But knowing how I played against Stephen on Saturday I'm a little bit disappointed with how I played. Ronnie is a class act and when playing him you need to take your chances and I didn't do that."
Date posted: December 7, 2008
Participants:
Ronnie O'Sullivan, Stephen Hendry, John Higgins, Steve Davis, Ding Junhui, Joe Perry and Matchroom Sport wildcard Mark Selby
Events calendar
September 11, 2008
Grimsby Auditorium
Mark Selby x Ding Junhui - 4-2
Ronnie O'Sullivan x John Higgins - 3-3
September 18, 2008
The Anvil, Basingstoke
John Higgins x Ding Junhui - 3-3
Ronnie O'Sullivan x Joe Perry - 2-4 :-(
September 25, 2008
Assembly Rooms, Derby
Joe Perry x Steve Davis - 4-2
Mark Selby x Stephen Hendry - 5-1
October 9, 2008
Malvern Theatre, Great Malvern
Ronnie O'Sullivan x Ding Junhui - 6-0 :-))
Mark Selby x Steve Davis - 6-0
October 23, 2008
Plymouth Pavilions
Stephen Hendry x Joe Perry - 1-5
Ronnie O'Sullivan x Steve Davis - 6-0 :-))
October 30, 2008
The EIS, Sheffield
Stephen Hendry x John Higgins - 4-2
Ronnie O'Sullivan x Mark Selby - 3-3
November 6, 2008
Newport Centre, Wales
Joe Perry x Ding Junhui - 2-4
Steve Davis x Stephen Hendry - 1-5
November 13, 2008
Dolphin Leisure Centre, Haywards Heath, West Sussex
Steve Davis x Ding Junhui - 2-4
Mark Selby x John Higgins - 4-2
November 20, 2008
Sands Centre, Carlisle
John Higgins x Joe Perry - 2-4
Ronnie O'Sullivan x Stephen Hendry - 3-3 :-)
November 27, 2008
Glades Arena, Kidderminster
Mark Selby x Joe Perry
Stephen Hendry x Ding Junhui - 3-3
Steve Davis x John Higgins - 3-3
December 6, 2008
semi-finals
Potters, Norfolk
Mark Selby x Stephen Hendry - 5-0
Ronnie O'Sullivan x Joe Perry - 5-4 :-)
December 7, 2008
final
Potters, Norfolk
Mark Selby x Ronnie O'Sullivan - 2-7 :-DDD