Premier Snooker League 2008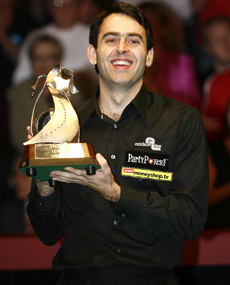 O'Sullivan jasně zvítězil na Premier League
RONNIE O'SULLIVAN je šampiónem the 2008 PartyPoker.com Premier League Snooker.
O'Sullivan trofej zdvihl po vítězství 7-2 nad Markem Selbym ve finále, které se hrálo v Potters Leisure Resort v Hopton-on-Sea, Norfolk.
To znamená, že O'Sullivan se stává prvním hráčem, který vyhrává tuto prestižní soutěž, která je přenášena Sky Sports, popáté v řadě.
"Dostávám se ke konci své kariéry, je mi 33, takže chci získat co nejvíce, dokud to ještě jde," řekl O'Sullivan, který ze soutěže získal 75 000 liber a zdvihl trofej už poosmé celkem.
"Porazit někoho Markova kalibru a kvality je pro mě fantastické. Přišel po mě, takže si ho chci držet od těla tak dlouho, jak to bude možné. Je prostě fajn vyhrát, když v mnoha případech cítím, že vyhrát musím."
"Byl jsem spokojený se svou formou a skórováním mezi koulemi a protože to bylo finále, kde chcete ukázat svůj nejlepší snooker."
"Tuhle sezónu nehraju nijak skvěle, ale je fajn, když to začne jít tehdy, když na tom záleží. Premier League je skvělý turnaj a časový limit (25 vteřin) tě přiměje někdy dělat divné věci."
"Na začátku sezóny jsem si ho zapsal jako jeden z turnajů, kde chci hrát dobře, protože je tu spousta diváků, to je fantastické."
O'Sullivan, který už získal titul Premier League osmkrát, dominoval prvním pěti framům breaky 93, 62, 83 a 62 a dostal se do vedení 5-0.
Nicméně šestý, který trval 40 minut, dokázal Selby ukrást o 2 body, i když O'Sullivan byl ve skvělé pozici.
Selby doufal, že by to mohl být bod zlomu, ale O'Sullivan nahrál 105 bodů a dostal se na jeden frame od vítězství.
84 bodů od Selbyho ho dostalo na rozdíl 4 framů a zpřístupnilo to možnost nezapomenutelného boje zpět do zápasu, ale sen zemřel s O'Sullivanovým breakem 74 bodů, který mu získal titul.
"Jsem samozřejmě zklamaný, že jsem nevyhrál turnaj, ale jen před pár měsíci jsem hrál kvalifikaci, abych se sem vůbec dostal," dodal Selby.
"Hrát ve finále s někým jako je Ronnie je sen, který se stal skutečností. Kdyby mi někdo tuhle šanci nabídl, utrhl bych mu za to radostí ruce."
"Ale když vím, jak jsem hrál v sobotu proti Hendrymu, jsem trochu zklamaný tím, jak jsem hrál dnes. Ronnie je třída a když s ním hrajete, potřebujete využít všech šancí a to jsem nedokázal."
7. prosince 2008
Účastníci:
Ronnie O'Sullivan, Stephen Hendry, John Higgins, Steve Davis, Ding Junhui, Joe Perry a divoká karta Matchroom Sport Mark Selby
Kalendář akcí
11. září, 2008
Grimsby Auditorium
Mark Selby x Ding Junhui - 4-2
Ronnie O'Sullivan x John Higgins - 3-3
18. září, 2008
The Anvil, Basingstoke
John Higgins x Ding Junhui - 3-3
Ronnie O'Sullivan x Joe Perry - 2-4 :-(
25. září, 2008
Assembly Rooms, Derby
Joe Perry x Steve Davis - 4-2
Mark Selby x Stephen Hendry - 5-1
9. října, 2008
Malvern Theatre, Great Malvern
Ronnie O'Sullivan x Ding Junhui - 6-0 :-))
Mark Selby x Steve Davis - 6-0
23. října, 2008
Plymouth Pavilions
Stephen Hendry x Joe Perry - 1-5
Ronnie O'Sullivan x Steve Davis - 6-0 :-))
30. října, 2008
The EIS, Sheffield
Stephen Hendry x John Higgins - 4-2
Ronnie O'Sullivan x Mark Selby - 3-3
6. listopadu, 2008
Newport Centre, Wales
Joe Perry x Ding Junhui - 2-4
Steve Davis x Stephen Hendry - 1-5
13. listopadu, 2008
Dolphin Leisure Centre, Haywards Heath, West Sussex
Steve Davis x Ding Junhui - 2-4
Mark Selby x John Higgins - 4-2
20. listopadu, 2008
Sands Centre, Carlisle
John Higgins x Joe Perry - 2-4
Ronnie O'Sullivan x Stephen Hendry - 3-3 :-)
27. listopadu, 2008
Glades Arena, Kidderminster
Mark Selby x Joe Perry
Stephen Hendry x Ding Junhui - 3-3
Steve Davis x John Higgins - 3-3
6. prosince, 2008
semifinále
Potters, Norfolk
Mark Selby x Stephen Hendry - 5-0
Ronnie O'Sullivan x Joe Perry - 5-4 :-)
7. prosince, 2008
finále
Potters, Norfolk
Mark Selby x Ronnie O'Sullivan - 2-7 :-DDDD