Championship League Snooker 2008 A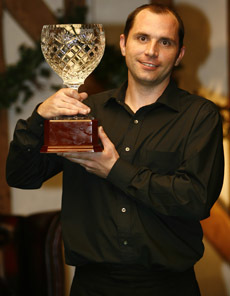 Official site of the tournament
Events calendar and other info
2008 Championship League Snooker Schedule
All matches to be played at Crondon Park Golf Club, Stock, Essex
Group 1 - Monday, February 25 and Tuesday, February 26
Ken Doherty, Mark Williams, Ryan Day, Allister Carter, Matthew Stevens, Joe Perry a Barry Hawkins - winner Ryan Day
Group 2 - Wednesday, February 27 and Thursday, February 28
Ken Doherty, Mark Williams, Ali Carter, Joe Perry, Anthony Hamilton, Nigel Bond and Joe Swail - winner Ken Doherty
Group 3 - Monday, March 10 and Tuesday, March 11
Ali Carter, Anthony Hamilton, Michael Holt, Joe Swail, Shaun Murphy, Mark Selby, Stuart Bingham - winner Anthony Hamilton
Group 4 – Wednesday, March 12 and Thursday, March 13
Jamie Cope, Mark King, Joe Perry, Stuart Bingham, Shaun Murphy, Mark Allen, Ali Carter - Shaun Murphy
Group 5 - Monday, April 14 and Tuesday, April 15
Stephen Lee, Dominic Dale, Mark Allen, Neil Robertson, Joe Perry, Ali Carter, Mark King - winner Joe Perry
Group 6 – Wednesday, April 16 and Thursday, April 17
Mark Selby, Gerard Greene, Jimmy White, Ali Carter, Mark Allen, Neil Robertson, Mark King - winner Mark Selby
Group 7 - Monday, May 12 and Tuesday, May 13
Ian McCulloch, Fergal O'Brien, Dave Harold, Ali Carter, Neil Robertson, Mark King, Jimmy White - winner Mark King
Group 8 (Winners Group) - Wednesday, May 14 and Thursday, May 15
Ryan Day, Ken Doherty, Anthony Hamilton, Shaun Murphy, Joe Perry, Mark Selby, Mark King - Joe Perry
The only way to watch the action is via these betting websites - www.willhill.com, www.betfair.com, www.bet365.com (You will need to register on the respective sites before being able to watch)
Playing Format
Each group is played over two days with each of the seven competitors playing each other once over the best of four frames. There are a total of 21 matches per group with two points for a win and a point each for a 2-2 draw.
At the conclusion of the round-robin stage of each group, the top four players will advance to a play-off conclusion with both the semi-finals and the final being the best of five frames.
The winner will then advance to the final Winners' Group (taking place in May) while the bottom two players drop out of the competition. The other four players stay in the tournament to compete in the next group along with three new players.
Each group will have two tables in operation from 2pm – 10pm with six matches per table, making a total of 12 matches on the first day. The second day of play sees the remaining nine matches take place plus the three play-off games to give a further 12 matches.
There will be a total of 192 matches over the entire tournament, involving 25 different players
Prize Fund (Total money available for each section in brackets)
Group phase
21 games x 4 frames x £100 per frame won x 7 groups (£58,800)
Group phase Play-Offs
3 games x 7 frames x £200 per frame won x 7 groups (£29,400)
Losing semi-finalists in play-offs £1,000 x 2 x 7 groups (£14,000)
Runner-up in play-offs £2,000 x 7 groups (£14,000)
Winner of play-offs £3,000 X 7 groups (£21,000)
Final Group
21 matches x 4 frames x £200 per frame won (£16,800)
Final Group Play-Offs
Best of 7 frame matches @ £200 per frame won x 3 matches (£4,200)
Losing semi-finalists in final group play-offs £3,000 x 2 (£6,000)
Overall runner-up £5,000 (plus money won in frames and play-offs)
Overall winner £10,000 (plus money won in frames and play-offs)
Total Prize Fund £179,200
Matchroom Sport launch new snooker event
December 7, 2007
www.matchroomsport.com
MATCHROOM Sport and the recently merged Premium TV / Inform Group have launched a new snooker event - The Championship League Snooker.
Staged over 20 days between February and May, 2008, the competition will be a league for some of the world's best players, solely broadcast on and funded by internet distribution.
There is a massive incentive as the eventual winner will take the seventh and final place for the 2008 Premier League Snooker tournament, which will be played out in front of packed crowds across the country and shown live on Sky Sports.
The Championship League Snooker will also have a total prize fund of £200,000 with money awarded for every frame won as well as substantial sums for reaching the latter stages.
In a world first, all aspects of the Championship League Snooker will be optimised specifically for an internet audience, with matches scheduled between Monday and Thursday so not to coincide with major football competitions.
All sessions will play between 2pm and 10pm to maximise both workplace and home viewing in Europe and Asia, snooker's biggest two regions in terms of fan base. Live coverage will be exclusively for the Internet.
Premium TV / Inform have already started distribution discussions and expect The Championship to be distributed by a variety of major portals, internet service providers, web TV and betting websites globally.
The competition will originally feature seven of the top players from the World Rankings who may not be picked automatically for the 2008 Premier League Snooker.
These seven men will then play each other in a round-robin basis and the top four players will play in semi-finals, then finals with the winner qualifying for the final phase.
However, the competitors finishing in the bottom two spots of the league will be eliminated but those who have not advanced to the final or been knocked out will move into the second group. They will then be joined by a further three players for another league phase.
The process is repeated until seven qualifying groups, featuring a total of 25 players, have been played. Only the winners of each group will advance to the last round.
This final phase will also be played in a league basis with the overall champion clinching a spot in the main 2008 Premier League Snooker competition.
Matchroom Sport chairman Barry Hearn said: "This will be a very exciting Championship.
"The players, venue, staging, cameras and production will all be of the usual highest quality but the distribution will be a completely new phenomenon for sport.
"We are delighted to be partners in such a forward-thinking initiative that could help fund all sorts of new sports leagues around the world."
Simon Denyer, Joint CEO of Premium TV/Inform Group, said: "The launch of Championship League Snooker illustrates how far the internet and our company have come. We have spent recent years helping major rights holders monetise digital rights that have been seen as marginal.
"This shows that the internet can now be the lead medium for some sports and we look forward to a great working relationship with Matchroom and the players."
Matchroom Sport will stage the event to its usual exceptionally high standards while Premium TV/Inform Group will produce all coverage using purpose built internet-based delivery broadcasting equipment.