China Open 2008 A
RONNIE...THE DEBATE CONTINUES
9 June 2008
Dave H.
http://snookerscene.blogspot.com/
The rights and wrongs of the punishment given to Ronnie O'Sullivan for his behaviour in China will be debated – indeed is being debated in the comments section of the post below this one – but that is only one issue arising from this matter.
It transpires that the fine was actually £2,750, not £3,750 as reported by 110sport. The costs of the hearing were paid for using the prize money he forfeited.
This will not be well received by the various lower ranked players who have been forced to pay costs for attending hearings on far lesser offences.
Not that we know exactly how many have done this as World Snooker's disciplinary procedure is so shadowy it belongs in an episode of the X-Files.
We know that the disciplinary committee chairman is Jim McMahon, a long serving World Snooker board member.
There are two other people on the committee but it isn't known who they are.
O'Sullivan didn't actually attend the hearing but wrote to the committee promising, I suppose, never to do it again.
Times have changed. When O'Sullivan was stripped of the Irish Masters title in 1998 he turned up to face the music. A press release was then drafted and issued that same day in which the committee members were named and the punishment announced.
Belatedly, World Snooker has put a statement on their website today revealing the punishment.
Make no mistake: this was only done because the story had already appeared in the press and, indeed, on this blog.
The hearing was held on Thursday. They say they held off releasing the news because O'Sullivan had to be informed first.
Yet his management company issued a statement on Saturday, so the player obviously had been informed.
I believe that if 110sport had not sent their statement out then we would never have heard anything about it.
One interesting thing to come out of the statement, though, is that the committee considered a heavier fine but decided against it as O'Sullivan had promised to 'work closely' with them in the future.
Can't see that decision back-firing at all.
O'SULLIVAN FINED FOR CHINA OUTBURST
8 June 2008
Dave H.
http://snookerscene.blogspot.com/
Ronnie O'Sullivan has been fined £3,750 for his behaviour at a press conference at the China Open last March.
O'Sullivan, the 888.com world champion, was filmed making lewd remarks and the video was posted on the internet.
He has been docked the 700 ranking points he earned from the event and also fined the £2,750 prize money he received as a first round loser. A further £1,000 was added to the fine to cover legal costs.
However, we only know he was punished at all because his management company, 110sport, issued a statement.
There has been no such statement from World Snooker, who will now face allegations that they have attempted to cover the whole thing up.
The 110sport statement said: "Ronnie regrets what has happened and he has accepted his punishment.
"He realises he made a mistake in China, but he never intended to offend anyone. He wants to forget what happened and move forward.
"He has apologised to World Snooker, the promoter of the China Open, his fans and also to his sponsors.
"He is keen to get on with his career and continue demonstrating why he is regarded as the best player in the world."
I think many will share my view that though this incident was regrettable, it was something of a storm in a Chinese teacup.
Ronnie has since apologised and his contracts in China have not been affected.
The punishment is, in my view, about right.
But what I find incredible is that the governing body of snooker do not routinely announce the results of their disciplinary hearings as is standard practice in just about every other major sport.
What have they got to hide?
comments:
Anonymous said...
I wonder what Ronnie has to do to actually be severely punished by WS?
His actions have continually brought the game into disrepute but the "punishments" seem to be more and more lenient.
His cumulative actions surely deserve a suspension not a paltry fine and small points deduction.
Absolutely gutless.
Fred
4:19 AM
Anonymous said...
I'm Sorry Dave but how you can say that the punishment is about right is completely beyond me. Truth is they are scared to punish him as they should in case he walks away.
He did not want to be over there, showed it in the way he played and then disgraced the Game and himself with a truly Juvenile display of smut for which ANY OTHER PLAYER would have been hung, drawn and quartered for it as I suspect you know.
Whether he would have walked or not if he was punished the way he should have been is totally irrelevant because good as he is, no one is bigger than the game. This is a complete and total cop out from the Snooker Authorities and they should hang their heads in shame. And no I am not a typical Ronnie basher, I love watching the guy play when he wants to that is, but I believe that Justice should be transparent and fair to all but we all know if any other player did this instead of Ronnie they would have been looking at a ban.
7:43 AM
Anonymous said...
a derisory punishment. would have been far heavier for any other player and does it now set the precendence for players to do virtually anything knowing what a paltry punishment they'll receive.
Or if they are punished I'm sure their legal advisors would site this case as comparison.
8:34 AM
Eric Eggert said...
Oh come on. It wasn't really that bad. Yes, he was wrong at that tournament and yes, he shouldn't have done that. It would help if snooker fans would get just a bit more relaxed and don't want the governing body to punish each and everything out of the players. Those are the same fans who then say that there are no characters anymore in this sport. Why should anybody show his character if he gets punished for being a character?
10:12 AM
Anonymous said...
according to the World Snooker website 110 is no longer his management company.
2:59 PM
Anonymous said...
as a role model and a professional ronnie knew every official public appearance would be scrutinised. He has apologised for his behaviour and this should now be left behind with a suitable punishment- fining him many thousands of pounds 20k plus- would of sent a better signal as to what behaviour is considered acceptable - docking ranking points beyond those earned in the tournament concerned would of been pointless- this was proved in 1982 when Alex Higgins was docked points and this only suceeded in giving him a falsely low ranking, unalancing the draw, and descriminating against other players who then had to face him in earlier rounds of tournaments.
Again though world snooker shoots itself and its reputation in the foot by not releasing appropriate information
3:27 PM
Dave H said...
I realise many believe the punishment is too lenient but I'd argue the following:
1) There was no indication the Chinese sponsors and fans were in any way offended.
2) Ronnie did not offer any excuses. He admitted he had been wrong and apologised profusely.
3) There is no precedent for this sort of incident, so any fine above his prize money for the event would have been arbitary.
At the time of writing, World Snooker are still to confirm he has even been punished
5:12 PM
Anonymous said...
Sorry Dave but your comments are a cop out.
How could the Chinese people not be offended?Did you ask any of them?
The little that was translated from forums etc seemed to indicate,at least,some were upset.
Perhaps you could have asked some during this tournament?
What excuse could Ronnie have offered this time?He has used most of them after his previous indiscretions.
The only way your argument would stand up is if this was his first offence.Unfortunately it was far from an isolated incident.No matter how great and entertaining he is on the table he has behaved disgracefully of it.
There seems to be one rule for Ronnie and another for all the other players.Surely even the most ardent Ronnie fan can see this is wrong?
Fred
6:41 PM
Anonymous said...
What does Eric Eggert mean when he says "those are the same fans who then say that there are no characters anymore in this sport"?
No snooker fan ever says this. The only ones who say it are people looking to have a cheap shot at the game.
And O'Sullivan was not "punished for being a character". What a ridiculous suggestion.
10:41 PM
Dave H said...
Fred - I meant the Chinese organisers and Ronnie's own sponsors. There was no damage done to the game in China whatsoever. Of course, individuals will have their own views.
What would have been an appropriate fine? - £5,000? £20,000? £50,000?
O'Sullivan is a millionnaire several times over so none of this would have hurt him as it would you or I, and would have been wildly over the top.
I agree he has been treated leniently in the past - and that's part of the problem - but I don't see it in this case.
10:51 PM
Dana said...
I agree with Dave in all points, punishment is OK and silence of WS is weird. And to all anonymous, who think punishment would be different for another players ... are you so sure about it? Are you sure they would have been banned? How do you know it?
8:28 AM
Anonymous said...
@dana,
The reason some of us claim that other players would have been punished more severely is simply because those are the facts.
The most recent example was Graeme Dott, who had made some ungracious comments about Ian McCulloch. In my opinion what Ronnie did was far worse than Graeme's "accusations" yet he was punished relatively severly because of it.
To my knowledge, Dott had never been reprimanded before so the punishment (as said by others as well) should have taken that into account.
In Ronnie's case, however, there have been plenty of transgressions so the punishment should reflect his past behaviour.
The problem the WSA are faced with is not only one of Ronnie's popularity, however...as Dave commented...how much money would they have to make him pay to make him "feel" it??? A multiple millionaire? I call that having to make a choice between two "wrongs".
Cheers.
9:30 AM
Oliver said...
Hang on, get your facts straight. In the end Graeme Dott was not punished at all by WPBSA over the McCulloch comments. (Nor should he have been.) However, he might well have been punished had not Snooker Scene, quite rightly, laid irrefutable evidence before WPBSA to show that the case against Dott was shaky at best.
9:53 AM
Sweed said...
Check out World Snooker, a statement has just been published....
9:58 AM
Supaselby said...
David;
As you have mentioned in a previous blog regarding the future of the Grand Prix this site is very influencial,as Sweed reports above, World Snooker have released a statement on the website.
Great final yesterday in China, looking forward to the new World Series starting in a couple of weeks.
Ryan
11:19 AM
Dana said...
to anonymous who answered me - please remind me what punishment was for Dott for his comments about McCulloch? From which event was he banned?
11:47 AM
Anonymous said...
Dave and all,
I agree that a fine would mean little to Ronnie so there is no point in repeatedly fining him because:
1-He can easily afford it
2-Previous fines have not deterred him.
The problem isn't this one offence but the fact he keeps being "punished" without it making any difference.
I would ban him from one ranking event(and make sure it is a UK based one.)If he stepped out of line after that I'd ban him from the next World Championships.
The time for leniency is over.It's a shame WS would rather pursue petty complaints by board members rather than deal with serious disciplinary matters.
Fred
1:06 PM
Fred said...
Dave, Eric, Dana and Oliver :
I totally agree with you. This is an appropriate punishment, Ronnie has apologised and this incident should be over now.
To others : some of you wanted a heavier fine, some would have prefer a ban...
Why not, but :
What do you think about sending Ronnie to jail ?
Or do you think his tongue has to be cut ?
Reading what you wrote, I was wondering how many people Ronnie has killed to deserve so mutch hate from you guys...
Just comme back to the facts please.
What has he done ? Speaking and joking.
What are the consequences of his behavior for Snooker, in China and anywhere else ? Absolutley none.
Did he criticize by any way the governing body or the China event ? Not at all.
So let's stay lucid ; Snooker players are not robots and they can make mistakes sometimes.
Ronnie has made one and he's been correctly punished.
End of the story.
2:32 PM
Anonymous said...
I feel everyone is missing an important point about the incident.
Ronnie was sharing the joke with the World Snooker press officer who's role it was to oversee the press conference.
How severely could they punish Ronnie when the man they entrusted to control events was part of the joke and laughing along.
They were fools for making an issue out of it before learning all the facts. They merely made a rod for their own back and the token punishment was fitting of a token disciplinary.
5:56 PM
Anonymous said...
If a male office worker made the comments Ronnie made he would have been sacked.
Great player but needs help in other areas.
O'Sullivan sorry for lewd actions
bbc.co.uk
19 April 2008
Ronnie O'Sullivan has apologised for his lewd comments and sexual innuendos during a media conference at last month's China Open.
The 32-year-old's actions, made after his loss to Marco Fu, are to be reviewed by the World Snooker disciplinary panel.
"I was upset with myself because everything I did was the exact opposite of what my dad had taught me," he said.
O'Sullivan faces Liu Chuang in the first round of the World Championship.
The two-time Crucible winner added: "I was there to socialise and network rather than win a snooker tournament. Dad instilled in me how to be a winner.
"He would be embarrassed to know how unprofessional my approach was in China."
Last week, current world champion John Higgins branded O'Sullivan "stupid" for making the comments in Beijing.
"I just thought he was really naive," Higgins told BBC Sport.
"You've got to be stupid to make those comments. However, Ronnie's not stupid when it comes to publicity."
China Open: my apology
www.ronnieosullivan.biz
I would like to apologise to you all for my behaviour and embarrassment caused at the recent China Open.
During the press conference, I was fooling around with a friend and had naively assumed that my comments were not being recorded - we had been waiting for proceedings to start for some time and I was not aware which cameras, if any, were recording.
When I returned to London I was very upset and embarrassed to realise that this matter, which had started as a private joke had been recorded and then reported as it had. There was certainly no intention to cause any offence to anyone.
I immediately arranged an apology live on Chinese TV to offer my explanation and sincere apologies to the hosts and to those present. I have also given my unreserved apology to World Snooker.
I had a great time playing in the tournament and always enjoy my time in China, and I am greatly looking forward to the next time I return.
Quotes of the Day
Not so much a quote as an action; Steve Davis caused much amusement in the media centre by running in during Mark King's press conference and dummying a punch at his conqueror.
Ricky Walden, asked what advice he could give to budding young Chinese players: "Practise hard. And stay off the drink."
That came from a journalist during Mark Selby's press conference: "Mark, yourself and Marco Fu are both quite slow players, so we are worried that we will be here until 2am tomorrow night."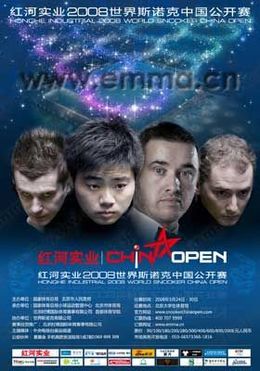 Drawsheet of the tournament (WSA)
FORMAT OF PLAY
06 Feb 2008 17:34:00
www.worldsnooker.com
Below is the match schedule for the Honghe Industrial 2008 World Snooker China Open at the Beijing Students University Stadium from March 24 to 30.
Cross reference match numbers to those on the drawsheet
All matches up to an including the quarter-finals will be best of nine frames, semi-finals are best off 11 frames and the final is best of 19 frames (8/11).
Monday March 24
2.30pm
WC1 - Barry Pinches x Zhang An'Da - 5-1
WC2 - Fergal O'Brien x Cao Xinlong - 5-2
WC3 - Marcus Campbell x Ah Bulajiang - 5-4
WC4 - Mike Dunn x Yang Qingtian - 5-1
7.30pm
WC5 - Dave Harold x Jin Long - 5-4
WC6 - Mark Allen x Liu Hang - 5-2
WC7 - Marco Fu x Li Yuan - 5-4
WC8 - Ricky Walden x Yu Delu - 5-3
Tuesday March 25
2.30pm
1 - Graeme Dott x Barry Pinches (Jan Verhaas) - 1-5
2 - Stephen Lee x Nigel Bond (Deng Yue Yuan) - 3-5
3 - Stephen Maguire x Fergal O'Brien (Michaela Tabb) - 5-3
8 - Ken Doherty x Mike Dunn (Colin Humphries) - 5-2
7.30pm
4 - Stephen Hendry x Barry Hawkins (Eirian Williams) - 1-5
7 - Ryan Day x Matthew Stevens (Michaela Tabb) - 5-3
10 - Ding Junhui x Joe Perry (Jan Verhaas) - 5-3
15 - Steve Davis x Mark King (Colin Humphries) - 2-5
Wednesday March 26
2.30pm
5 - Peter Ebdon x Jamie Cope - (Shi Ming) - 5-1
6 - Mark Williams x Marcus Campbell (Lu Kangming) - 5-1
9 - Shaun Murphy x Dave Harold (Eirian Williams) - 5-3
16 - John Higgins x Joe Swail (Colin Humphries) - 5-4
7.30pm
11 - Ali Carter x Stuart Bingham (Jan Verhaas) - 5-3
12 - Neil Robertson x Mark Allen (Colin Humphries) - 2-5
13 - Ronnie O'Sullivan x Marco Fu (Michaela Tabb) - 4-5 :-(
14 - Mark Selby x Ricky Walden (Li Jian) - 5-2
Thursday March 27
2.30pm
17 - Barry Pinches x Nigel Bond (Deng Yue Yuan) - 1-5
18 - Stephen Maguire x Barry Hawkins (Michaela Tabb) - 5-2
19 - Peter Ebdon x Mark Williams (Colin Humphries) - 2-5
24 - Mark King x John Higgins (Jan Verhaas) - 1-5
7.30pm
20 - Ryan Day x Ken Doherty (Colin Humphries) - 5-3
21 - Shaun Murphy x Ding Junhui (Michaela Tabb) - 5-4
22 - Ali Carter x Mark Allen (Lu Kangming) - 3-5
23 - Marco Fu x Mark Selby (Eirian Williams) - 3-5
Friday March 28
2.30pm
QF1 - Nigel Bond x Stephen Maguire (Jan Verhaas) - 0-5
QF2 - Mark Williams x Ryan Day (Michaela Tabb) - 3-5
7.30pm
QF3 - Shaun Murphy x Mark Allen (Jan Verhaas) - 5-3
QF4 - Mark Selby x John Higgins (Eirian Williams) - 5-2
Saturday March 29
2.30pm
SF1 - Stephen Maguire x Ryan Day (Eirian Williams) - 6-5
7.30pm
SF2 - Shaun Murphy x Mark Selby (Michaela Tabb) - 6-3
Sunday March 30
2pm
Final - Stephen Maguire x Shaun Murphy (Jan Verhaas) - 5-3
7.30pm
Final - Stephen Maguire x Shaun Murphy 10-9
STATEMENT FROM SIR RODNEY WALKER
28 Mar 2008 10:24:00
www.worldsnooker.com
Statement from Sir Rodney Walker, Chairman of World Snooker and WPBSA, below
I have been made aware of the video of Ronnie O'Sullivan's press conference on Wednesday night. I arrived in Beijing this morning and immediately viewed the footage. In my opinion, Ronnie O'Sullivan's behaviour was unacceptable. The matter has been referred to the WPBSA Disciplinary Committee and is under review.
On behalf of World Snooker, I have apologised in person today to the promoter of the Honghe Industrial 2008 World Snooker China Open. I would also like to send my apologies to the people of China for any offence that may have been caused.
While the matter is under review, I hope that we can enjoy the rest of what has been an outstanding tournament.
Supplement - source Mirror.co.uk
...However, no action will be taken before next month's 888.com World Championships in Sheffield....
Supplement 1 April, 2008 - source xinhuanet.com
O'Sullivan later apologized for his lewd comments.
"I am not going against Chinese friends and fans, really," he told Sina.com, the tournament's official website, through an interpreter. "I just came for the tournament. I enjoyed the match and I care about my friendship with Chinese friends."
O'Sullivan under fire after making lewd remarks
David Hendon
Thursday March 27, 2008
guardian.co.uk
Ronnie O'Sullivan faces a heavy fine and a disrepute charge after being caught on camera making lewd remarks following his exit from the China Open.
The game's governing body, the World Professional Billiards and Snooker Association, are reviewing a tape of his press conference where he appeared to make suggestive remarks while his answers were being translated into Chinese.
The tape shows O'Sullivan growing restless at the time taken for the translation. After answering the first question, and while it was being translated into Chinese, he is seen pointing to his penis and asking out loud: "Do you want to suck that? Do you want to come and suck on that later?" He then laughs and says: "Anyone want to give me a nosh? Suck my dick."
O'Sullivan then answered two questions about the match - a 5-4 defeat against Marco Fu - before asking an official: "Fuck me, how many more questions are they going to ask?" The reply comes back, "one more." While it is being asked, O'Sullivan refers to the size and shape of his penis.
The 32-year-old must now await for the view from the WPBSA, whose company secretary, Elaine Eyers, will watch the tape and decide whether to report him to the disciplinary committee.
In December 2006, he received the personal backing of Sir Rodney Walker, the WPBSA chairman, after walking out of his UK Championship quarter-final against Stephen Hendry at York in the sixth frame when he was trailing 4-1. He was eventually fined £21,000 despite evidence from doctors attesting to his fragile mental state.
O'Sullivan, the world champion in 2001 and 2004, is no stranger to controversy. He assaulted a tournament official at the 1996 world championship and was stripped of the 1998 Irish Masters title after failing a drugs test.
Against Fu, he was slapdash in attempting two difficult blues in the decider, the latter of which left the Hong Kong player with a simple pot for the match.
O'Sullivan has been treated for depression and is known to have a low boredom threshold. He once stated he did not like travelling to China because "they don't speak English." He has, though, become more enthusiastic about the country since signing a six-figure advertising deal with a Chinese watch company last year.
RISKY ROCKET CRASHES TO FU
26 Mar 2008
www.worldsnooker.com
Ronnie O'Sullivan paid the price for his carefree style as he suffered a 5-4 reverse to Marco Fu at the Honghe Industrial 2008 World Snooker China Open.
A thrilling tie between Hong Kong's finest and crowd favourite O'Sullivan went down to the last three balls.
O'Sullivan twice went for extremely risky pots on the blue from distance, with little regard for safety. The first time he was lucky to leave the blue safe, but on the second occasion he left Fu a simple pot to secure the match and a last 16 tie with Mark Selby.
Both players were in fine break-building form as they shared the first eight frames, O'Sullivan knocking in 74, 53, 77 and 99 and Fu responding with 58, 56, 88 and 121.
Chigwell's O'Sullivan was first among the balls in the decider and made 50 before missing a straight-forward brown. Fu replied with a 50 of his own, then missed the last green and was fortunate to leave his opponent snookered.
Fu potted green and brown then played safe on the blue, and took advantage of his opponent's recklessness when he got the chance to repeat his victory over O'Sullivan in the Royal London Watches Grand Prix final.
"I don't think Ronnie was totally focussed. His play was casual at times," said Fu. "But there's nothing I can do to control that. At 50-0 down in the last frame I didn't think I'd get another shot, so when I got a chance I felt lucky to be at the table, and not nervous.
"I played well from the start and took all of the chances I had. I felt much more relaxed than I did in my first match."
O'Sullivan, whose lead at the top of the provisional rankings is now sure to be narrowed following wins for Shaun Murphy and Stephen Maguire, said: "I tried to express myself and it was a good game because we both played open snooker. Marco made me go for my shots.
"I tried hard and I'm very disappointed but there has to be a loser. I lost to the better player on the night so I've no complaints. I played well but he played better.
"There have been times in the past when I've won tournaments but I've still been miserable and ended up crying. The most important thing it to enjoy the game. It's history now and good luck to Marco."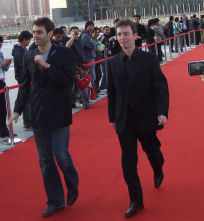 WARM WELCOME
24 Mar 2008
www.worldsnooker.com
Beijing rolled out the red carpet for snooker's star players on Sunday for the opening ceremony of the Honghe Industrial 2008 World Snooker China Open.
More pictures are in Photogallery China Open 2008
It was the first such ceremony to be staged at the spectacular Water Cube, the venue for aquatic events at the Beijing Olympics, which starts in August.
A crowd of fans and media gathered as the likes of Ronnie O'Sullivan and Ken Doherty (pictured), John Higgins, Stephen Hendry, home favourite Ding Junhui and defending champion Graeme Dott were introduced.
The players were then shown inside the Water Cube before taking part in a press conference.
The tournament begins today (Monday) at the Beijing Students University Stadium with eight of the 16 qualifiers in action against Chinese wild cards.
DOTT ON THE LANDSCAPE
20 March 2008
Dave H
http://snookerscene.blogspot.com/
Graeme Dott and Michael Holt used to argue about who was the worst player when the snooker circuit travelled to China.
It was an argument Dott eventually lost when he won the China Open last season.
His mindset had, of course, been altered by having won the 888.com World Championship in 2006.
It heralded a huge improvement in form and fortunes. Last season, Dott not only conducted himself professionally as world champion but he played the best snooker of his career.
However, this season it has all gone wrong. He has failed to win any of his last 14 matches.
Indeed, his last victory was way back at the Shanghai Masters last August.
Why? In one article Dott mentions some personal problems. He suffered great anxiety when his wife, Elaine, had a cancer scare that mercifully transpired to be nothing more than a scare but Dott was obviously affected when his manager and father-in-law Alex Lambie passed away.
He also expended mental energy fighting World Snooker's absurd attempt to discipline him for making comments about Ian McCulloch at the launch of the 2007 Grand Prix.
Losing, like winning, can become a habit but Dott will know that his two appearances in the Crucible final - in 2004 and 2006 - came off the back of similarly disappointing runs of form.
He will go to Sheffield fresher than most so anyone writing off his title chances should be wary.
Dott, who in 2002 endured a hellish 36-hour journey to the China Open in Shanghai, after which he overslept because of jetlag and arrived late for his match, whereupon his was docked two frames, has gone to China early this year.
He is undertaking promotional work, part of his new approach to playing in this snooker-mad country.
Good for him and good luck to him in the tournament. An upturn in fortunes will come at some point.
Beijing would be as good a place as any.
CHINA OPEN QUALIFIERS FORMAT
13 Dec 2007
www.worldsnooker.com
Below is the schedule for the event to be held at the Pontins Snooker Centre, Prestatyn on January 22-25.
For the full draw click above
Tuesday 22 January
10am
Round 1
1 - Joe Jogia x Gareth Coppack 5-1
2 - James McBain x Kevin Van Hove - 5-1
3 - Mark Joyce - Supoj Saenla - 5-1
4 - Liu Song x Alfred Burden - 5-0
5 - Kurt Maflin x Xiao Guodong - 5-3
6 - Matthew Selt x Fraser Patrick - 5-1
7 - Tian Pengfei x Liu Chuang - 2-5
8 - Munraj Pal x Michael White - 4-5
4pm
9 - Lee Spick x Ashely Wright - 5-1
10 - David Morris x Ben Woollaston - 5-3
11 - Tony Drago x Jimmy Robertson - 5-3
12 - Alex Davies x Rodney Goggins - 5-2
13 - Jamie O'Neil x Martin Gould - 5-4
14 - Lee Walker x Issara Kachaiwong - bye
15 - Liang Wenbo x Steve Mifsud - 3-5
16 - Leo Fernandez x Patrick Wallace - 5-2
Wednesday 23 January
10am
Round 2
17 - Barry Pinches x Joe Jogia - 5-2
18 - David Roe x James McBain - 5-4
19 - Judd Trump x Mark Joyce - 5-4
20 - Ian Preece x Liu Song - 2-5
21 - Robin Hull x Kurt Maflin - bye
22 - Marcus Campbell x Matthew Selt - 5-0
23 - Joe Delaney x Liu Chuang - 4-5
24 - Mike Dunn x Michael White - 5-3
4pm
25 - Rod Lawler x Lee Spick - 1-5
26 - Scott MacKenzie x David Morris - 3-5
27 - Paul Davies x Tony Drago - 5-3
28 - Drew Henry x Alex Davies - 5-2
29 - Tom Ford x Jamie O'Neil - 5-2
30 - Jimmy Michie x Issara Kachaiwong - 5-4
31 - Stuart Pettman x Steve Mifsud - 5-2
32 - Jimmy White x Leo Fernandez - 0-5
Thursday 24 January
10am
Round 3
33 - David Gray x Barry Pinches - 3-5
34 - Andy Hicks x David Roe - 4-5
35 - Fergal O'Brien x Judd Trump - 5-1
36 - John Parrott x Liu Song - 5-0
37 - Alan McManus x Kurt Maflin - 0-5
38 - Andrew Norman x Marcus Campbell - 1-5
39 - Andrew Higginson x Liu Chuang - 5-3
40 - David Gibert x Mike Dunn - 2-5
4pm
41 - Mark Davis x Lee Spick - 3-5
42 - Robert Milkins x David Morris - 5-0
43 - James Wattana x Paul Davies - 2-5
44 - Adrian Gunnell x Drew Henry - 4-5
45 - Rory McLeod x Tom Ford - 5-3
46 - Ricky Walden x Jimmy Michie - 5-3
47 - Michael Judge x Stuart Pettman - 3-5
48 - Jamie Burnett x Leo Fernandez - 5-1
Friday 25 January
10am
Round 4
49 - Michael Holt x Barry Pinches - 2-5
50 - Nigel Bond x David Roe - 5-3
51 - Ian McCulloch x Fergal O'Brien - 2-5
52 - Barry Hawkins x John Parrott - 5-1
53 - Jamie Cope x Kurt Maflin - 5-1
54 - Anthony Hamilton x Marcus Campbell - 1-5
55 - Matthew Stevens x Andrew Higginson
56 - Gerard Greene x Mike Dunn - 3-5
4pm
57 - Dave Harold x Lee Spick - 5-0
58 - Joe Perry x Robert Milkins - 5-2
59 - Stuart Bingham x Paul Davies - 5-3
60 - Mark Allen x Drew Henry - 5-4
61 - Marco Fu x Rory McLeod - 5-4
62 - Dominic Dale x Ricky Walden - 4-5
63 - Mark King x Stuart Pettman - 5-2
64 - Joe Swail x Jamie Burnett - 5-2
All matches will be the best of 9 frames