World Championship 2008 A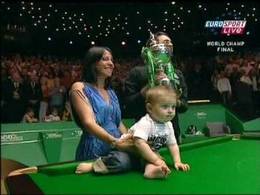 Explosive Ronnie O'Sullivan is compelling
By John Inverdale
16/04/2008
www.telegraph.co.uk/inverdale
Do you remember Jeff Tarango? He was the guy who, at Wimbledon in 1995, stormed off court hurling a tirade of abuse at the umpire, being booed all the way by the crowd, and whose wife then went and smacked the poor official round the chops. It was undoubtedly one of the most ridiculous but compelling pieces of drama at the All England Club over the past 20 years.
Now if you're reading this with a broad grin on your face, going 'Oh yeah, I remember', you have very neatly summed up the perennial dilemma that we all face when assessing the behaviour of our sporting stars.
Do we want role-models or divas? Do we want excellence at the expense of personality? Can you have both? It's an interesting debating point in the context of the two sports events that have, and will, occupy most hours on our April TV screens - the Masters at Augusta and the World Snooker Championship, which starts this weekend.
The sponsor's cap is the scourge of modern golf. It seems reasonable to assume that Trevor Immelman was having several litters of kittens as his tee-shot at the 16th on Sunday disappeared into the water, and his grip on a first major title became slightly precarious, but we couldn't really tell, as his eyes were hidden beneath the mandatory visor. (How many times, when players eventually did take their caps off on the 18th, did you exclaim, 'Oh look, he's bald!')
Anyway the South African kept his emotions in check and deservedly won, but when, in 51 weeks' time, as an occasional golf follower, you turn your attention to Augusta, will you recall who the defending champion is? Probably not. If he'd screamed 'Oh my God, you moron' and smacked his club on the ground as the ball sailed into the drink, you sure would, but then in losing his cool, he'd probably have lost his green jacket. You can't have it both ways.
I confess I had to look up who the defending world snooker champion was. John Higgins beat Mark Selby in the final, but even though I was among the millions who devoted their Bank Holiday Monday to watching the denouement of this 17-day jamboree, I couldn't recall much about it. If Higgins had snapped his cue after missing a simple blue, then it would undoubtedly have lodged in my brain, but he went about his business, came to do a job, etc etc… and duly won.
'There are no characters in the game any more.' How many times have you heard that phrase? Said that phrase? Yet what's the point of being a character if you don't win anything? So let's be thankful that, for at least a portion of the tournament, we can celebrate someone who bucks the trend - the compelling character who is actually a winner.
Ronnie O'Sullivan hasn't had it easy. His father remains in jail for murder, which acts as a constant source of inspiration, anxiety and despair. His mood swings mean that he goes from being boorish and introverted to wild and reckless in less time than it takes to make a 147 break - something 'The Rocket' once did in 5min 20sec.
On the occasions when I've met him, he's been charming, witty and engaging. His recent behaviour at a press conference in China, when he made lewd suggestions and was generally unpleasant (notice of webmaster – I can't agree with author of the article, Ronnie wasn't unpleasant), was that of someone suffocated by the straight-jacket of being in the sporting limelight all the time, but this is a man who ticks lots of boxes - a bit of violence here, some drugs there, and yet all the while playing probably the most scintillating snooker ever seen. John McEnroe with a cue of gold.
He's a complex guy, which is why he's as likely to lose in the first round, but on Monday fortnight, I'd love him to be world champion again, and in his moment of triumph to jump on to the table in delight and start leading the audience in an impromptu version of (Is This The Way To) Amarillo? (notice of webmaster - link for video is below the article and fulfilled, there was just Ronnie Jr. on the table :-) ) To be different, entertaining and outrageous.
And then having revelled in the spectacle, when the TV is switched off, we'll all turn to our children and tell them that under no circumstances are they ever to behave like that. And then we'll go to work the next day, and say 'Did you see the snooker last night…'
The 'Two Ronnies' persona means he is riveting entertainment, but hardly a role-model - the embodiment of our spectating dichotomy. Nonetheless, in a world of increasingly metronomic sports stars, we should all savour this particular rocket before it goes up in smoke.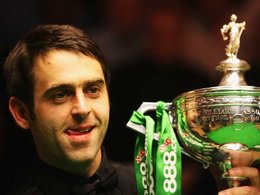 'For Ronnie O'Sullivan, Victory Is Not Enough'
http://www.timesonline.co.uk
Simon Barnes
"I go to encounter for the millionth time the reality of experience and to forge in the smithy of my soul the uncreated conscience of my race" - from A Portrait of the Artist as a Young Man
There is no point in scoring a maximum. Once you have put away ten reds and ten blacks, you may as well stop. You have won the frame. You have 80 points and there are 67 left on the table. Why go on? I know there was fabulous prize-money on offer for the feat at the World Championship in Sheffield, but why? And certainly, players care deeply about making a 147. The money is no more than an acknowledgement of that.
The aim of snooker, the aim of any sport, is to win. But when Ronnie O'Sullivan won the title on Monday, he was cast down. "It's been strange because I'm relieved more than anything else," he said. "I played good in the semis, but I felt quite uneasy in the final." But he won. Isn't that enough? Clearly not.
O'Sullivan played with beauty and brilliance at the Crucible, but only in patches. He scored a maximum of almost voluptuous perfection against Mark Williams and his opponent did not concede the frame as the tenth black fell so that we could get on with the business of winning and losing. We can only conclude that a maximum matters beyond mere victory and that sport itself is not only about winning and losing.
As O'Sullivan pursued his 147, every line of his body changed. He had been struggling with his concentration and the contradictions of his nature, but when this opportunity spread itself before him, his mind and his body were at once at maximum arousal. Before, he had been working for nothing more than victory. Now, with a maximum in his sights, there was something worth playing for.
Beauty, that's what. Perfection. The ultimate expression of the snookering man. A 147 displays O'Sullivan as Leonardo da Vinci's encircled and ensquared Vitruvian Man; as the Creator's greatest achievement, the summit of perfection. In those nine minutes, O'Sullivan was not a competitor, but an artist.
But then artistry has always been a concept closer to O'Sullivan's soul than victory. Spectators understand this, know that O'Sullivan, with three World Championships, is in some ways superior to Stephen Hendry, who has seven.
Hendry is a great player, perhaps the greatest, and he is much better at winning tournaments than O'Sullivan. But something in O'Sullivan - something in Hendry, too, something in any sporting audience in the world - will acknowledge that in some ways the artist is superior to the champion. O'Sullivan seeks beauty. He tries to create perfection. In a sense he sees every frame in which he fails to score 147 as a failure. He hates to go slumming and scrabbling for victory, nicking a frame here, punishing a slip-up there. Although pursuit of victory is a part of what he does, the pursuit of beauty exists alongside and is dominant.
This creates contradictory demands, destructive tensions, mood swings, inappropriate responses; and occasionally a run of staggering beauty and perfection. And it is for this that he is loved above all other players, just as the other neurotic geniuses of his sport - Alex Higgins, Jimmy White - were loved.
People respond to artistry, to O'Sullivan's pursuit of something beyond victory. We are all artists. We love to create: creation from nothing, a human's traditional usurpation of God. Some create the Mona Lisa, others a chocolate mousse, or a fine set of shelves, or a garden, or a song in the bath. Some of us have a thicker streak of artistry than others, that's all, and this truth has always held good in sport.
Some see life as a competition in which you try to earn more money than everyone else. Other people seek something else, work in which they can create some form of beauty, achieve some kind of inner satisfaction, live a life with more beauty. The analogy is not exact, but in sport - which is specifically formatted to create competition - there are those who seek something else. Sometimes this desire to create takes inappropriate and self-indulgent forms. In football we have the fanny-merchant; at his worst, a pseudo-artist, celebrating not art and beauty but himself. George Best was a fanny-merchant of genius, but then in truly great players we sometimes find that the artist and the winner have reached some kind of accord.
Arsène Wenger is a man cursed or blessed by his artistic vision. He would sooner lose with beauty than win with ugliness. Is this the weakness or the strength of the Arsenal team he manages? Sport makes uncompromising judgments. Arsenal tried to win four trophies and won none this season, so Arsenal failed. No one could argue with that: sport specialises in such plain, objective truths. But Arsenal did not seek victory alone. They sought something else, and some will say they found it. It's a subjective judgment, but that's art for you.
We who watch sport are always seeking aesthetic gratification. Many believe that the creation of beauty is a moral duty for a footballer. Those who watch rugby long to see fast, flowing passing movements. In cricket, the notion of greatness often has an aesthetic bias. Many will say that David Gower was a greater player than Graham Gooch because he was more beautiful to watch. Gower was elevated and bedevilled by his artistry, a fact beyond the comprehension of Gooch.
I have always celebrated most loudly the athletes who best encapsulate a high and lonely purity of action and ambition, who eschew frills, who have moved beyond ego, who seek victory to the exclusion of all else. Such great men as Steve Redgrave and Pete Sampras: men without artistry, men who have, in a sense, moved beyond such a concept.
Singleness of aim, purity of purpose, perfection of achievement - that's what I admire above all. But if you deny that beauty and artistry exist in sport, you are only saying that you lack these qualities in yourself. There are those in every sport who do not seek victory alone, people for whom the pursuit of beauty is part of sport, and sometimes a more important one than victory.
In Roger Federer, as in Best, you find an artist and a winner in perfect sympathy - at least you did before this calendar year and Federer's decline began. Andy Murray is an artist whose desire for perfection consistently obstructs his ability to win and he will start playing a drop shot to every ball just so that he can hate himself when he fails.
Sport is not about the creation of beauty, but beauty is a regular by-product. It is human nature - at least, the nature of some humans - to seek out this beauty, to pursue this perfection, sometimes at the expense of sport's ostensible purpose: that is to say, victory. Dangerous stuff, as O'Sullivan has learnt, something that has more than once come close to destroying him. It destroyed Best, it destroyed Muhammad Ali. But art is always dangerous, for its consumers and its creators.
RONNIE: I CAN WIN MORE
05 May 2008 22:29:00
www.worldsnooker.com
Ronnie O'Sullivan declared that winning the 888.com World Snooker Championship was his greatest buzz in snooker, and hopes that he can add to his tally of three Crucible crowns.
The Rocket completed an 18-8 defeat of Ali Carter tonight to become only the third player – after Steve Davis and Stephen Hendry – to lift the trophy aloft three times at the Crucible.
"It's a real buzz to win it. There is no bigger tournament, this is our pinnacle, it's our greatest stage," said the 32-year-old from Chigwell. "I've got three now and I would like to win more. I wouldn't like to put a number on it because that would be very foolish of me. There are a lot of hungry players out who are also very eager to lift this trophy. Hendry has won seven, Davis has won six, so I'm half way to that total - but I'm not young.
"It's almost a feeling of relief because I was at unease with myself out there in the final, and it was just a case of digging in. I did feel great in the first three frames of the final and the last two frames. I think everybody had expectations of me just blowing Ali away after I won my semi final so well.
"Ali got to the final on merit. I used to practise with him, and you get to know each others' game inside out, and know what they are capable of. So it can be harder to play someone you know, rather than someone you have no history of.
"I knew I would play well in patches, so it was a case of being patient and concentrating on my own performance and not looking at the scoreboard. If Ali could have got closer I'm sure I would have been able to respond, but at the end of the day it was a professional performance, because a job needed to be done, and I did it."
Carter, who was playing in his first ranking final, said: "I didn't play particularly well. I'm disappointed with my own performance but I was really tired. It was a bit of a struggle for both of us but his game is so strong, even when he's struggling.
"I didn't have anything left in the tank after a tough game against Joe Perry. I haven't had a night off or a day off and that probably took it out of me. Next year, there's always next year. At this moment in time I don't feel as if I've achieved what I wanted to do, the only way I would have done that would be to win it. Getting to the final is a great result and I'll reflect on it in a couple of weeks and be pleased with what I've done.
"I'm in the top eight in the world so next year it makes it a little easier. Hopefully I can press on and go one better next time."
FORMAT OF PLAY
21 Feb 2008
www.worldsnooker.com
Here's the match schedule for the final stages of the 888.com World Snooker Championship at the Crucible Theatre, Sheffield.
Cross reference match numbers to those on the drawsheet above.
Saturday April 19
10am
1 - John Higgins x Matthew Stevens (Jan Verhaas) - 7-2
13 - Neil Robertson x Nigel Bond (Eirian Williams) - 7-2
2.30pm
7 - Stephen Lee x Joe Swail (Peter Williamson) - 2-7
12 - Peter Ebdon x Jamie Cope (Alan Chamberlain) - 4-5
7pm
1* - John Higgins x Matthew Stevens (Jan Verhaas) - 10-5
10 - Ali Carter x Barry Hawkins (Colin Humphries) - 6-3
Sunday April 20
10am
2 - Ryan Day x Michael Judge (Terry Camilleri) - 5-4
13* - Neil Robertson x Nigel Bond (Eirian Williams) - 10-4
2.30pm
4 - Stephen Hendry x Mark Allen (Michaela Tabb) - 3-6
10* - Ali Carter x Barry Hawkins (Colin Humphries) - 10-9
7pm
7* - Stephen Lee x Joe Swail (Peter Williamson) - 4-10
12* - Peter Ebdon x Jamie Cope (Colin Humphries) - 10-9
Monday April 21
10am
2* - Ryan Day x Michael Judge (Terry Camilleri) - 10-6
15 - Steve Davis x Stuart Bingham (Brendan Moore) - 3-6
2.30pm
4* - Stephen Hendry x Mark Allen (Michaela Tabb) - 10-9
11 - Mark Selby x Mark King (Eirian Williams)- 5-4
7pm
6 - Mark Williams x Mark Davis (Alan Chamberlain) - 8-1
15* - Steve Davis x Stuart Bingham (Brendan Moore) - 8-10
Tuesday April 22
10am
3 - Ding Junhui x Marco Fu (Michaela Tabb) - 5-4
11* - Mark Selby x Mark King (Eirian Williams) - 8-10
2.30pm
6* - Mark Williams x Mark Davis (Alan Chamberlain) - 10-3
16 - Graeme Dott x Joe Perry (Terry Camilleri) - 4-5
7pm
3* - Ding Junhui x Marco Fu (Michaela Tabb) - 10-9
9 - Shaun Murphy x Dave Harold (Colin Humphries) - 7-2
Wednesday April 23
10am
8 - Ken Doherty x Liang Wenbo (Brendan Moore) - 2-7
16* - Graeme Dott x Joe Perry (Terry Camilleri) - 7-10
2.30pm
5 - Ronnie O'Sullivan x Liu Chuang (Jan Verhaas) - 5-4
9* - Shaun Murphy x Dave Harold (Colin Humphries) - 10-3
7pm
8* - Ken Doherty x Liang Wenbo (Brendan Moore) - 5-10
14 - Stephen Maguire x Anthony Hamilton (Peter Williamson) - 8-1
Thursday April 24
2pm
5* - Ronnie O'Sullivan x Liu Chuang (Jan Verhaas) - 10-5 :-))
22 - Mark King x Peter Ebdon (Brendan Moore) - 3-5
7pm
17 - John Higgins x Ryan Day (Terry Camilleri) - 5-3
14* - Stephen Maguire x Anthony Hamilton (Peter Williamson) - 10-3
Friday April 25
10am
18 - Ding Junhui x Stephen Hendry (Colin Humphries) - 2-6
22 - Mark King x Peter Ebdon (Brendan Moore) - 6-9
2.30pm
17 - John Higgins x Ryan Day (Terry Camilleri) - 8-8
21 -Shaun Murphy x Ali Carter (Jan Verhaas) - 2-6
7pm
18 - Ding Junhui x Stephen Hendry (Colin Humphries) - 5-11
22* - Mark King x Peter Ebdon (Brendan Moore) - 9-13
Saturday April 26
10am
17* - John Higgins x Ryan Day (Terry Camilleri) - 9-13
21 - Shaun Murphy x Ali Carter (Jan Verhaas) - 4-12
2.30pm
18* - Ding Junhui x Stephen Hendry (Colin Humphries) - 7-13
23 - Neil Robertson x Stephen Maguire (Michaela Tabb) - 0-8
7pm
19 - Ronnie O'Sullivan x Mark Williams (Eirian Williams) - 5-3 :-)
21* - Shaun Murphy x Ali Carter (Jan Verhaas) - 4-13
Sunday April 27
2pm
20 - Joe Swail x Liang Wenbo (Alan Chamberlain) - 2-6
24 - Stuart Bingham x Joe Perry (Peter Williamson) - 5-3
7pm
19 - Ronnie O'Sullivan x Mark Williams (Eirian Williams) - 9-7 :-)
23 - Neil Robertson x Stephen Maguire (Michaela Tabb) - 5-11
Monday April 28
10am
20 - Joe Swail x Liang Wenbo (Alan Chamberlain) - 7-9
24 - Stuart Bingham x Joe Perry (Peter Williamson) - 7-9
2.30pm
19* - Ronnie O'Sullivan x Mark Williams (Eirian Williams) - 13-7 :-)) (ninth maximum break)
23* - Neil Robertson x Stephen Maguire (Michaela Tabb) - 7-13
7pm
20* - Joe Swail x Liang Wenbo (Alan Chamberlain) - 12-13
24* - Stuart Bingham x Joe Perry (Peter Williamson) - 9-13
Tuesday April 29
10am
QF1 - Ryan Day x Stephen Hendry (Brendan Moore) - 1-7
QF3 - Ali Carter x Peter Ebdon (Terry Camilleri) - 4-4
2.30pm
QF2 - Ronnie O'Sullivan x Liang Wenbo (Colin Humphries) - 4-4
QF4 - Stephen Maguire x Joe Perry (Jan Verhaas) - 4-4
7pm
QF1 - Ryan Day x Stephen Hendry (Brendan Moore) - 5-11
QF3 - Ali Carter x Peter Ebdon (Terry Camilleri) - 9-7
Wednesday April 30
10am
QF2 - Ronnie O'Sullivan x Liang Wenbo (Colin Humphries) - 11-5 :-)
QF3* - Ali Carter x Peter Ebdon (Terry Camilleri) - 13-9
2.30pm
QF1* - Ryan Day x Stephen Hendry (Brendan Moore) - 7-13
QF4 - Stephen Maguire x Joe Perry (Jan Verhaas) - 7-8
7pm
QF2* - Ronnie O'Sullivan x Liang Wenbo (Colin Humphries) - 13-7 :-)
QF4* - Stephen Maguire x Joe Perry (Jan Verhaas) - 12-13
Thursday May 1
2pm
SF1 - Stephen Hendry x Ronnie O'Sullivan (Michaela Tabb) - 4-4
7pm
SF2 - Ali Carter x Joe Perry (Eirian Williams) - 3-5
Friday May 2
10am
SF1 - Stephen Hendry x Ronnie O'Sullivan (Michaela Tabb) - 4-12 :-)
2.30pm
SF2 - Ali Carter x Joe Perry (Eirian Williams) - 9-7
7pm
SF1 - Stephen Hendry x Ronnie O'Sullivan (Michaela Tabb) - 6-17 :-))
Saturday May 3
10am
SF2 - Ali Carter x Joe Perry (Eirian Williams) - 12-12
2.30pm
SF1* - Stephen Hendry x Ronnie O'Sullivan (Michaela Tabb) - finished on Friday
7pm
SF2* - Ali Carter x Joe Perry (Eirian Williams) - 17-15
Sunday May 4
3pm
Final - Ronnie O'Sullivan x Ali Carter (Jan Verhaas) - 6-2
8pm
Final - Ronnie O'Sullivan x Ali Carter (Jan Verhaas) - 11-5
Monday May 5
2.30pm
Final - Ronnie O'Sullivan x Ali Carter (Jan Verhaas) - 16-8
8pm
Final* - Ronnie O'Sullivan x Ali Carter (Jan Verhaas) - 18-8 :-))
* denotes final session of match
O'SULLIVAN 17 HENDRY 6
02 May 2008 22:02:00
www.worldsnooker.com
Post match reaction to the first semi-final.
Stephen Hendry
Perhaps I should have had a lead after the first session but that's by the by, today Ronnie was outstanding. I should have won the second and third frames, apart from that it's the best anyone has played against me.
You always have to live in hope that he doesn't come out and play like that again, but every time I played a shot his safety was outstanding. I said to him afterwards it's the best safety I've ever seen. Every time he played safe I had no shot, you keep thinking the next time he can't put it in an impossible place but he kept putting in places where I couldn't do anything and whenever I missed he cleared up. It was outstanding snooker.
I thought he played fantastically, he's the best player in the world at the moment by a country mile, the way he plays. I'm playing like that in practice but it's about doing it out there. Ronnie is hitting the ball in a match like we hit it in practice. This afternoon I can't remember him missing a ball or getting out of position on a ball, it was just awesome.
I'm absolutely gutted, don't get me wrong, but sometimes you have to hold your hand up and admit the other guy was too good. There was nothing I could do today from the second and third frames. Even the last frame in the afternoon I went into the pack and landed on nothing, played a safety then he played a safety back and I had no shot. Then he cleared up.
It's not a bad effort, you get to the semi-finals which is not a bad result given the season I've had. There are shots in the match I couldn't play, it's just so frustrating it's like giving a handicap out. Even with the final pink the shot was to play round the angles but I just couldn't play it. It's a fault that has been with my game for 5 or 6 years and it's a major handicap. I played solid against Ryan and Ding, I gave them chances and got away with it but it's a major step up in class against Ronnie and I didn't get away with it.
If I can get to the semi-final not playing my A game but my F game, if I can find a way of getting over the problem with my game then I can compete. But I had to rely on an all round game which isn't the way I play snooker.
I've tried lots of different things but nothing has helped at the minute. It's something I have to keep persevering with. In matches there are certain shots I'm refusing and not taking on. The worse thing is when you miss a shot you know where you're going to miss it.
I have never been as comprehensively outplayed before, he beat me 17-4 four years ago but that was me basically that day, I was rubbish. But apart from two or three frames today there was nothing I could do. When you let him get a lead on you he's unstoppable. He's a different animal when you put pressure on him, but I didn't.
Ronnie O'Sullivan comments
I'm really pleased. There were times when I felt really good and in control and did everything perfectly. It was a great feeling.
Were you pleased to be 4-4 after the first session?
It was a complete result. I thought 6-2 down would be ok, if it had gone 7-1 I would have struggled. I didn't want to give him a big lead. At 4-4 I was delighted, I felt like I'd won the session 7-1.
Hendry said that was the best anyone had ever played against him.
That compliment means more to me than anything anyone could give me. I remember watching him when I was 14 and he was God, and he still is to all of us snooker players.
He's the perfect role model and the best player there has ever been. My dad will be chuffed with what Stephen has said, it means a lot.
Given your talent, it's mystery that this is only your third world final.
It's a long story, I've book coming next year and it will take a bit of explaining. It's been tough, it's nothing to do with anything mentally, but it's only been this year that I've felt comfotable over the ball and confident. There have been times when I've been 9-1 up in finals and it still wasn't there and I wasn't getting satisfaction.
Is complacency a danger in the final?
I'll take nothing for granted, but I've been consistent all season and coming here I was confident I could do something. There have been hard times where I could have dug my own grave but I've come through that.
Steve Davis compared you to Tiger Woods and Roger Federer. Can you dominate snooker in the way they have dominated their sports?
I just come here to play and try to enjoy it, even if I'm losing. If you're not making silly unforced errors you've got a base to build on. I played Dott here in the semis a couple of years ago, and I should have played the whole match left-handed because at least I would have enjoyed it.
Did you feel any sympathy for Stephen?
No, because it's dangerous to do that. I've got massive respect for him and if you take your foot off the gas you can let him back into the game. There was a time in the match where I thought, he's my hero, he's a legend, it would have been great if this had been the final and a really close match. That would have been the ideal situation but you have to banish those thoughts and play the game.
Stephen thinks you can beat his record of world titles. Does being more comfortable with your game make that more feasible?
It makes it more feasible, there are always incentives to try to keep yourself motivated. How I'm still playing this game I don't know, because there have been days when I felt so ill and depressed, and I fell out of love with the game.
I know what I can do on the table and it's a beautiful feeling when it comes. I had it for glimpses today but glimpses are not enough.
O'SULLIVAN 13 LIANG 7
30 Apr 2008 22:40:00
www.worldsnooker.com
Post match reaction as O'Sullivan cruises into the semis
Ronnie O'Sullivan comments
Ronnie, you're through to the semi finals, how does that feel?
I'm pleased to be through, it was alright. I could have played better, I could have scored bit more heavily, I could have been a bit more sharp in the safety department. My long ball potting could have been a bit better, but overall it was ok I suppose.
It's always a little bit tricky when your in the lead, your not going to lose in that position are you?
You don't lose many matches from 11-5 in front but stranger things have happened. You know certain things can happen, you're never certain and always disappointed if you were to lose it.
What about Stephen Hendry now?
Yeah, it's just good to be playing in the semis against a fantastic player, we all know that. Like I say he's probably not done as well as he would like to do over the last few years. But when you have the ability to play to such a high standard you can still win tournaments. So it doesn't surprise me. He's there because Stephen's a great player.
You've had some great great battles with Stephen over the years
Yeah I've had some great battles with Stephen. We've played hundreds of times. It just goes to show you this is just a tournament at the end of the day. Maguire and I are probably the only two players left in the tournament that have had consistent seasons. Selby, Murphy, plenty of other people have done really well over the season. Having been here before helps, but it doesn't mean you've got any given right to just walk away with the title. It's all about doing it on the day. There's only five days to go. Whoever feels most easy with the game will come through. The important thing to do is play session by session. I've had some consistency and that's been the difference between this season and a lot of other seasons. I've been a lot more consistent this year, not good results but just with my performaces. I've not been spectacular but it's been ok. My problem has always been consistency and if I find that I've got consistency, I come back to form pretty quickly.
It's important for me to not have those periods where you give matches away. You can certainly lose a match in a session but you can't win it and that's probably the reason why I'm still in the tournament.
What did you make of Ali Carter's 147?
Yeah it was great. Can't begrudge anyone that makes a 147. Obviously I'm disappointed because it's taken half my money away.
Is a Bentley still on the cards?
No I've cancelled that now. I put that on ice.
What do you think of the difference between playing Liu Chuang and Liang Wenbo?
They're different players, Wenbo's an attacking player, he goes for a lot of shots. Chuang is probably a bit more methodical and doesn't take so many on. He's a bit more of a thinker. They're both very talented players with great futures in the game. It's been fantastic for the tournament because it's had that international feel, Marco Fu, Ding, Wenbo and Liu Chuang. Hopefully next year there will be a few more players from China. It's a great feeling about the game, a great mixture of players.
It took a while to get over the line tonight
I know, I frustrated myself, obviously I wanted to finish the game off as quickly as possible. I started missing a few balls, thought I'd be here all night. You don't want to make hard work of it. I had my chances and didn't want to keep missing balls. I didn't want to spend any more time than I had to out there.
A lot of people used to say that Stephen Hendry went for too many balls but it didn't do him too badly. He won seven world titles. He's been the greatest player to pick a cue up. You can easily criticise but as long as the ball goes in the pocket it's the right shot, and if Stephen Hendry played a few more safeties may be he would have won 3 or 4 world titles. Play your game, play your percentages. His percentages are better than mine so I'm not going to take on the balls that he takes on. Sometimes I weigh the game up, sometimes from experience and losing certain matches you just learn from it. It's just an instinctive kind of thing really.
I've enjoyed the crowd, had great support from the crowd. They've always been fantastic to me, you learn to play with that and Stephen's learnt to play against that by playing Jimmy in six finals. We're both comfortable with whatever situation it will be. The Crucible admire him, he's been here so long, I don't think it will be one sided. The most important thing is that we both compete, give each other a run for our money. That's all I want out of it and I know that's all Stephen wants. To come of the table and think that was a great match, we both enjoyed it and had the opportunity to play to our maximum.
We're good mates of the table, the only time we're not is when we're on the table. I've probably not got that killer instinct that he has, that's certainly why he's dominated the game as long as he has. He's devoted all his time, passion, and his hunger, he didn't throw the towel in at any time.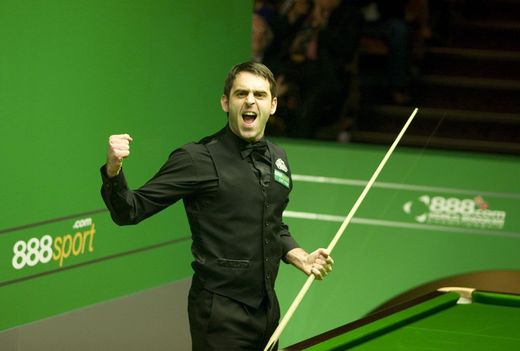 O'SULLIVAN 13 WILLIAMS 7
28 Apr 2008 17:45:00
www.worldsnooker.com
Post match reaction following the Rocket's victory and 147.
Ronnie O'Sullivan
How does that feel?
147s are always great. To get one at Sheffield, I've had three here now, it's fantastic.
You made a gesture at the end, thumping your chest?
My heart was really going. It was for the people, for their support. It was fantastic to do it for them.
Did you fancy the 147 from the first red?
I didn't fancy the first red, that was a hard shot. But after that I made my mind up.
The whole session you raised your game, were you conscious that Mark could still be a threat at the start of the session?
To be honest I'd packed my bags. I thought if I get beat here I don't want to have to go back and start looking for pants and socks. It gave me something to do. I've enjoyed my season, enjoyed my game and enjoyed playing, and hopefully I can go as far as I can. In my mind it was one of those games that could slip away from me and I was waiting for Mark to do something.
You must be pleased with your long potting because perhaps that was a little off in the early stages, but you didn't miss one this afternoon?
Yeah, I managed to get a few today which makes it a little easier. I'm comfortable when I'm in the balls and moving them around. Sometimes you have to create your openings either through safety or through a long pot and I certainly wasn't making any in the first session.
I know you have a lot of respect for Stephen Hendry but that 147 broke his record (for career maximums).
At least I've broken one of his records, I doubt I'll break some of the others. It's great, I've had three this season. To have three is fantastic. It's great to get 147s. They're a real adrenalin buzz, great for the fans, great for TV. One thing I do is give a little bit of value for money. I might not be everybody's cup of tea, but things like that let me give something back to snooker. To get a 147 at the Crucible is a fantastic thing to do.
You said it's been a tough few weeks for you, does this make it easier?
I know wherever I go and play snooker I get great support, people come and they know they'll get value for money. In this day and age that is one thing that everybody wants. They want to get excited and I produced that.
I suppose the only thing that will top today will be to win it?
It would be great to win and lift that trophy, it's every player's dream, but sometimes I just think I'm not really bothered if I do. I wish I didn't have those kind of thoughts, I wish I could be really hungry and really want it and block everything from my mind, and just think I'm here to win the tournament. But sometimes, like this morning, I thought I'd pack my bags. I really expected Mark to play a good game and come out all guns blazing, he's an occasion player and I thought I've had my chance and I've blown it.
Mark Williams – comments
Ronnie played very good snooker today.
Looking back I don't think he missed a ball today, I had half a chance when he got a kick on the blue but that's about it really, he played really good this afternoon and made two excellent breaks especially in the last.
You had some bad luck in the first session, with a couple of kicks at important points, how much did that feature in the match ?
Yes, it played a big part during that first session, I think I've lost probably five frames on the black, of which, four I gave them away and the other frame he made a good clearance. I gave a lot of frames away when I was 50 points in front but I kept missing frame ball and he just produced good clearances, on every occasion. If I could have won those frames it may have been a different match with myself being in front after the two sessions. So obviously he was the happier coming into this afternoon's session in front, knowing that he hadn't played that well in the first two sessions.
What about the 147 at the end ?
It was an excellent break. There is probably only Ronnie who can make a break like that and make it look so easy. I knew he was going to go for it, from the moment he was going for the first red I knew he wasn't going to go for any other colour apart from the black, and throughout the break he never looked out of position.
Looking at your season Mark, it is a big improvement from when you were in the doldrums ?
Yes, it's a big improvement from 18 months ago but it's still quite rubbish really, so now I've got to go to the qualifiers and to be honest, that's where I deserve to be going. But hopefully I will be able to get back into the top 16.
Can you see anybody beating Ronnie in that sort of form ?
Not if he plays like he did in the four frames today, that's for sure !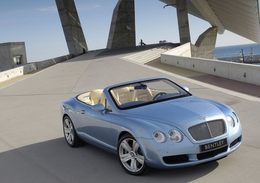 Ronnie's ninth maximum break
www.bbc.co.uk
28 April, 2008
Ronnie O'Sullivan hit a quite brilliant 147 to seal a 13-7 victory over Mark Williams and cruise into the last eight of the World Championship in Sheffield.
O'Sullivan led 9-7 going into the final session and continued to cue beautifully as he extended his lead.
Breaks of 71 and 60 added to the lead before a 100 took him to the brink.
O'Sullivan then polished his opponent off with the ninth and possibly best maximum of his career, which puts him in line for a prize of £157,000.
The break took O'Sullivan eight minutes and 47 seconds to complete, three minutes longer than the world record time of 5:20 he set against Mick Price 1997.
"As soon as I got on the first red I thought that I had to go for the 147," O'Sullivan told BBC Sport.
"Obviously it's more important to win the game but that money gives me a few options in the summer. I'll be getting a Bentley Convertible now - I've been dying to get one.
"The difference between this season and the last 13 seasons is that I've stumbled across a couple of things and kept my discipline with it and stayed patient.
"So I've never hit disastrous standards - before as soon as it went wrong I just wanted to get out of there."
O'Sullivan now has the record for the most competitive maximum breaks, having previously been tied with Stephen Hendry on eight.
His 147 was only the seventh maximum at the venue - he has now made three of them - and earns him a bonus of £147,000 as well as £10,000 for the highest break.
O'Sullivan, who will face either China's Liang Wenbo or Northern Ireland's Joe Swail in the quarter-finals, added: "I really did think I was going to get beaten.
"I expected Mark to really make it count because he's a big game player. I had packed my bags because I thought it was one of those games that was going to get away from me."
Defeat for two-time world champion Williams means he will now drop out of the world's top 16, and will thus have to go through qualifying to make the ranking tournaments.
Video of Ronnie's interview on this side
O'Sullivan sorry for China gaffe
Clive Everton
www.guardian.co.uk
25 April 2008
Ronnie O'Sullivan, competing for the first time since a series of embarrassing comments at the China Open which had wide coverage on the internet, offered an apology yesterday after his 10-5 victory over the Chinese qualifier Liu Chuang at the world championship in Sheffield.
"I didn't realise the microphones and cameras were on. I was just having a joke with an individual. There was no intention to insult the Chinese people or the Chinese media," he said. "I didn't know what had happened until I got home. I immediately got in touch with my Chinese contacts and went on China TV to explain.
"I don't want to be known as somebody who causes trouble. I don't think it's really like that but if I get a letter from any Chinese sponsor saying they don't want me, I'll withdraw if I have offended them. I don't want to do anything to damage snooker. I'd rather not have had to sort this out before the championship. It's been hard these last three weeks to concentrate on my game." Disciplinary action pends for O'Sullivan although a fine seems much likelier than suspension.
The first two frames against Liu, with breaks of 76 and 87, were O'Sullivan's best in a patchy display he characterised as "not terrible". From 3-0 he led only 5-4 overnight before coming through for the loss of only one further frame yesterday.
Liu, 17, is one of five Chinese on the circuit who share a house in Sheffield so that they can practise daily at the facility at the English Institute of Sport. "Mechanically they're all perfect," said O'Sullivan, adding that Liu "just needs more experience".
BACK IN THE GROOVE
24 Apr 2008 16:19:00
www.worldsnooker.com
Ronnie O'Sullivan showed considerably improved form in the second session of his match against Liu Chuang to reach the last 16 of the 888.com World Snooker Championship.
O'Sullivan may have expected a few nervous moments today having led by a 5-4 margin overnight, but he ended up with a comfortable stroll over the finish line with a 10-5 success.
The Rocket compiled seven breaks over 40 in winning the five frames he needed to set up a last 16 clash with Mark Williams. However, the Essex cueman continued to make unforced errors, and may need to improve against resurgent Williams, who is also seeking a third world crown.
O'Sullivan has only lost three first round matches in 16 Crucible appearances, but looked in danger of a shock after a first session in which China's Liu belied his lack of experience.
The 17-year-old, the fourth youngest player ever to compete at Sheffield, came from 3-0 down to only one frame behind as he looked to join compatriots Ding Junhui and Liang Wenbo in the last 16. But the player who won five qualifying matches to get here managed to take only one more frame today.
A run of 61 put 32-year-old O'Sullivan 6-4 ahead and he added the next frame with runs of 41 and 48. Liu nicked the 12th on the colours to make it 7-5, only for O'Sullivan to pull away with 65 and 56 to move within one frame of victory.
Liu looked favourite in frame 15 when he led 57-40 on the last red, but a safety error allowed O'Sullivan in for a 30 clearance which sealed the match.
Post match reaction
Ronnie O'Sullivan
I guess today was about winning rather than form?
I'm always concerned about form. You always want to play well. I don't think I played terribly but I lost my way a bit.
How do you feel about your form coming in here, do you think its good enough to win the World Title?
I haven't really thought that far ahead, you take one match at a time and see how it goes. There's a long way to go and try and enjoy it, take it as it comes I know it's a bit of a cliché but that's how it is.
Cracking match in prospect with Mark Williams in the next round, you've had some great matches with him over the years?
It's one of those games, you just have to concentrate on your own game and try and keep in control. The controls that you can control if you know what I mean, and you just have to allow everything else to develop.
How will you prepare for your game with Mark Williams?
I just see it as a game, I'm too experienced and so is Mark and so are all the players here to delve to much into it, we both know each other's game, we both know what the other is capable of I don't think we'll be doing too much thinking of what the other will be doing. We'll both need to on top of our form. I'd expect to have to play well and who wouldn't when you're in the last 16 of the World Championship.
What did you think of young Mr Chuang?
They seem very blessed with great techniques, a straight arm, they seem to caress the ball in the Ding mould. He's young and as good a 17-year-old as I've seen. I think Ding was an exception to the rule along with Higgins and Williams he's not far behind where they were at 17. A bit more experience and tournament play and it will bring his game on and you saw he got more comfortable as the game went on. It is very difficult to just go out there and just adapt to the lights and the atmosphere in another country, the more he gets the better he'll be. It's great to see so many Chinese players coming through but watch out.
You gave Graeme Dott a call about his depression that was a nice thing to do.
You wouldn't wish it on your worst enemy I know what it was like when I had it. So from one fella to another fella you just give your peers the kind of support they need. He seems to have some good support around him and I wish him well. I just told him my experience and how I overcome it and how I still have to overcome it sometimes.
Liu Chuang
You looked to have lost momentum in the second session, would you agree with that?
Yes, I have to agree, I missed many chances out there. I wasn't nervous at all, but just never got going and I don't know why.
How do you rate your debut at the Crucible?
I really enjoyed it out there and I played some good snooker but unfortunately not good enough. I am eager to come back and play again, it's brilliant.
I thought that I scored ok in the first session but the second session I missed too many easy balls, so I will have to improve my technique for the future.
UNDER PRESSURE
http://snookerscene.blogspot.com/
Dave H.
23 April, 2008
Have we ever had a more exciting start to the World Championship than the first few days this year?
Close finishes, comebacks and tension a-plenty. It can only be the Crucible.
Ronnie O'Sullivan was clearly feeling the pressure this afternoon against Liu Chuang this afternoon, missing pots and misjudging position.
Let's lay one myth to rest: 'Ronnie can win if he wants to.'
The fact is, he does want to. This is why he felt the pressure. If he couldn't care less, he wouldn't feel any at all.
I think he'll still beat Liu but he isn't the certainty he appeared to be this morning.
It's a worrying sign for Ronnie because it follows three close defeats in as many tournaments.
In the Masters in January he missed a blue he should have potted in the decider against Stephen Maguire and lost 6-5.
He led Mark Selby 8-5 in February's Welsh Open final but missed chances to win and was beaten 9-8.
He played kamikaze snooker in losing 5-4 to Marco Fu in the China Open last month.
None of this means he has 'gone.' He made two good clearances under pressure to hold off Liu. Everyone knows how good he can be when it all comes together.
However, O'Sullivan will be looking to improve in tomorrow's final session to regain what appears to be lost confidence.
Selby's Rocket belief
World Championship finalist says snooker can do without O'Sullivan.
Last updated: 17th April 2008
www.skysports.com
Last year's Crucible finalist Mark Selby says that snooker would survive if troubled superstar Ronnie O'Sullivan was not present.
O'Sullivan is in deep trouble again with the snooker authorities after his shocking behaviour at the China Open when he was caught making lewd comments during a press conference.
World Snooker boss Sir Rodney Walker has slammed O'Sullivan's behaviour and the World Professional Billiards and Snooker Association disciplinary committee will now discuss a punishment for 'The Rocket'.
The 32-year-old is the star attraction on the snooker circuit but he has been in trouble before and this time could be facing a ban from the sport as well as a hefty fine.
With his fragile love of the game, O'Sullivan has threatened to quit snooker before and many believe he could hang up his cue if he is banned for his latest indiscretion.
"I think it's wrong what Ronnie said but I'm sure World Snooker will deal with it in the right manner and come out with the right decision," Selby said, who believes snooker could cope with O'Sullivan.
"Obviously he has issues, they would have to confront Ronnie and see how he feels about it and I'm sure World Snooker would come up with the right decision.
"The game does need Ronnie, it would be a loss without him, but I still think it will cope without him."
The 'Jester from Leicester' has been on the wrong end of O'Sullivan's criticism when he won the Welsh Open earlier this year with snooker 'The Rocket' branded as negative.
"Ronnie is Ronnie, he says some things that are right and some that are wrong," added Selby.
"Everyone has their own opinion but it was probably just a little bit of sour grapes because he lost in the final. I've just brushed it off.
"I just play to win and try to make as little mistakes as possible. If it means me taking a little bit more time over a shot then so be it.
"Ronnie is so natural he just sees the shots a lot quicker than a lot of other players. Not everyone can play like that."
Selby will maintain his approach as he bids to go one better than last year when his fine run was only ended by John Higgins in the Crucible final.
After winning the Masters on his Wembley debut and then the Welsh Open, Selby is in flying form after reaching the last four in the China Open.
"I'm a bit disappointed I didn't go on and win it but obviously I can't complain with what I've achieved the last few months," Selby said.
"I'm still consistent and still getting there or thereabouts in tournaments.
The game is in good shape and hopefully I can carry it on in the world championships.
"If I was favourite or not it makes no difference to me.
"I know what I'm capable of achieving and somebody saying you are favourite or second favourite is neither here nor there at the moment because I think there are so many players that can go on and win it."
Graeme Dott to miss snooker world Championship
Saturday April 12 2008
www.independent.ie
Scotland's Graeme Dott has cast doubt on his involvement in snooker's World Championships which begin in Sheffield next Saturday.
The 2006 champion has failed to win his last 15 matches, the worst run of his professional career.
He has had to contend with personal traumas in the past 18 months, including the death of his father-in-law, who was also his manager, and a cancer scare for his wife, who was given the all-clear.
Dott, 30, said, "I desperately want to play but I've not been in the right frame of mind for some time as you can see from my results. I will only go to Sheffield if I feel I can do myself justice."
Dott is due to face Joe Perry in his opening match at the Crucible on Tuesday April 22.
His manager Pat Mooney said, "Graeme has been diagnosed as suffering from depression and is now taking steps to getting back to full health. All that matters at this time is Graeme's health and the well-being of his family."
888.COM WORLD SNOOKER CHAMPIONSHIP PROGRAMME
09 Apr 2008
www.worldsnooker.com
The official programme for the 888.com World Snooker Championship is now available to order online.
The 76-page programme is the perfect guide to your enjoyment of this year's snooker spectacular from the Crucible Theatre. It includes:
* Detailed profiles and statistics on all 32 players, with outstanding new photography
* Features on Mark Selby and Ding Junhui
* Review of the season
* The funniest quotes from last year
* Features on celebrity snooker fans: Shane from Westlife, Serge from Kasabian and cricket's Dickie Bird
* Top ten Crucible shocks
* Weird and wonderful Crucible statistics
* Features on the referees, the World Snooker Academy and the Crucible refurbishment
* The draw and format
* And much more!
The cost of the programme is just £5, order it now and postage and packing is free!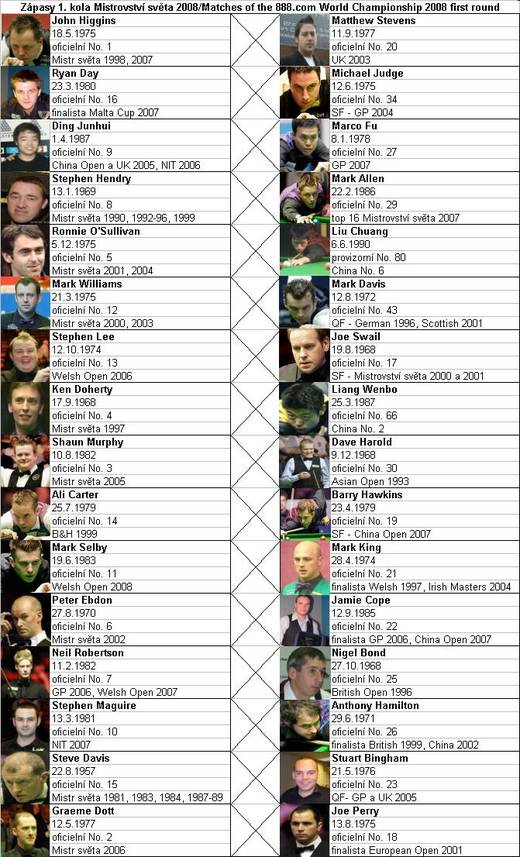 INTERESTING...VERY INTERESTING
Dave H
snookerscene.blogspot.com
What an interesting first round draw for the 888.com World Championship.
Firstly, well done to the sponsors and World Snooker for doing such a professional job in webcasting the draw live on the net earlier today.
Mark Johnston-Allen was especially impressive in hosting it and this seems like the ideal way to conduct such an important occasion in future years.
So, to the draw.
John Higgins will hardly be looking forward to walking out on the first day to face Matthew Stevens.
Their April 19 meeting is too close to call bearing in mind Higgins's poor form this season and Stevens's general habit of playing well at the Crucible.
Stephen Hendry certainly won't be rubbing his hands together at the prospect of taking on the dangerous, aggressive Mark Allen, who beat him 9-4 in this season's UK Championship.
Similarly, Peter Ebdon has his work cut out to hold off the talented debutant Jamie Cope in what promises to be an intriguing clash of styles.
Ronnie O'Sullivan has already played Liu Chuang, who will become the first player born in the 1990s ever to compete at the Crucible.
They met in the first round of last season's China Open. I commentated on it for Eurosport and was very impressed by Liu, who won the first frame before losing 5-1.
I said at the time that we would hopefully see him in the future but could not have envisaged that he would come all the way from the first qualifying round to the Crucible in his very first season.
If - and it is, of course, a big if - he beats O'Sullivan it will be the biggest shock in Crucible history, if not snooker history.
My early tip, Ding Junhui, may well struggle to get past Grand Prix champion Marco Fu, who beat him at the Masters this season.
They are the highlights for the draw of what should, as ever, be a fascinating World Championship.
Who is going to win?
I've no idea, but it'll be fun finding out.
WILL LIU MAKE THE GRADE?
Down here in rural Essex at the Championship League we've been debating how many frames Liu Chuang will win against Ronnie O'Sullivan in the first round of the 888.com World Championship - those long evenings just fly by.
Some think the 17 year-old will be blown away. I think he'll win at least five frames.
The reason? Against Ronnie, it'll be an open game, therefore Liu will get chances.
The romance of the Crucible means nothing to him. He's only been in the UK for a few months and, let's not forget, wasn't even born when Stephen Hendry won his first world title in 1990.
If he takes his chances, he can run Ronnie closer than many believe.
We'll find out in just over a month's time.
WORLD FIRST FOR 888.COM WORLD SNOOKER CHAMPIONSHIP DRAW
07 Mar 2008 11:50:00
www.worldsnooker.com
Fans around the world will have the chance to watch live as the 888.com World Snooker Championship draw is broadcast online for the first time ever.
This will be at 13.00 GMT on Tuesday, March 11th on www.888snooker.com
The webcast, live from Sheffield's Crucible Theatre, will begin with pre-Draw build up at 12.30, culminating with the Draw at 13.00. Snooker fans around the globe will also be the first to hear reactions to the Draw from current 888.com World Snooker Champion John Higgins, as well as two-times ranking event winner Neil Robertson. The players will also entertain fans with a special snooker exhibition.
888.com World Champion John Higgins said: "March 11th will be a special day in snooker history as it is the first time that snooker fans all around the world will be able to watch the Draw live. Snooker is a global game and this can only help to broaden the fan base for snooker and the 888.com World Snooker Championship".
The Draw will pit the 16 top seeds at random against the 16 players who battle through the final qualifying round, which takes place from March 7th to 10th at the English Institute of Sport – Sheffield.
The 888.com World Snooker Championship itself runs from April 19th to May 5th at the Crucible Theatre.
Drawsheet of the final stage of qualifying
WORLD QUALIFIERS FORMAT
15 Jan 2008 16:23:00
www.worldsnooker.com
See below for the match schedule for the final round of qualifying for the 888.com World Snooker Championship.
The matches will take place at the English Institute of Sport - Sheffield, from March 7 to 10. The 16 winners from this stage will go into the draw for the first round proper at the Crucible.
Cross reference match numbers to those on the drawsheet (above).
All matches are the best of 19 frames and are played over two sessions (9/10).
Friday March 7
10am & 4pm
10 - Joe Swail x Judd Trump - 10-9
11 - Matthew Stevens x Rory McLeod - 10-5
12 - Ian McCulloch x Liang Wenbo - 5-10
15 - Marco Fu x Alan McManus - 10-3
Saturday March 8
10am & 4pm
1 - Stuart Bingham x Adrian Gunnell - 10-3
9 - Nigel Bond x Barry Pinches - 10-7
14 - Gerard Grene x Mark Davis - 2-10
16 - Mark Allen x Ricky Walden - 10-8
Sunday March 9
10am & 4pm
2 - Michael Holt x Michael Judge - 6-10
4 - Dave Harold x Mike Dunn - 10-4
5 - Barry Hawkins x Andy Hicks - 10-8
7 - Anthony Hamilton x Scott MacKenzie - 10-2
Monday March 10
10am & 4pm
3 - Jamie Cope x Fergal O'Brien - 10-5
6 - Mark King x Jimmy White - 10-3
8 - Joe Perry x John Parrott - 10-8
13 - Dominic Dale x Liu Chuang - 9-10
Tipping
If you will tip red marked player and he will really move the black marked player from the last round of qualifying, your tip will be awarded 3 points, if you will tip green marked player and he will move, you will earn 2 points and for blue marked player you would receive 1 point. I'm awaiting your tips up to 2 January, 2008.
FORMAT OF PLAY
26 Nov 2007 12:07:00
www.worldsnooker.com
Below is the match schedule for the 888.com World Snooker Championship qualifiers from January 3 to 11 at Pontin's, Prestatyn.
Cross reference match numbers on the drawsheet above.
PLEASE NOTE: The final qualifying round (matches 53-68) will be played at the English Institute of Sport - Sheffield from March 7 to 10.
*denotes match played to a finish. Matches 1-52 are the best of 19 frames. Initial 'q' matches played over one session only, best-of-nine
Thursday January 3
4pm
q1 - Phil Seaton x Donald Newcombe - 5-2
Friday January 4
10am
q2 - Colin Mitchell x Phil Seaton - 5-4
q3 - Lel Dodd x David Singh - 1-5
q4 - Adam Osbourne x Sean Storey - 0-5
q5 - Tony Knowles x Ali Bassiri - 5-1
q6 - Neil Selman x John Wilson - 5-1
q7 - Barry Stark x Del Smith - 5-4
q8 - Tony Brown x Christopher Flight - 5-1
q9 - Stephen Ormerod x Paul Wykes - 5-0
4pm
q10 - Colin Mitchell x David Singh - 5-3
q11 - Sean Storey x Tony Knowles - 5-0
q12 - Neil Selman x Barry Stark - 4-5
q13 - Tony Brown x Stephen Ormerod - 3-5
Saturday January 5
10am
1 - Patrick Wallace x Sean Storey - 8-1
2 - Jimmy Robertson x Stephen Ormerod - 6-3
3 - Rodney Goggins x Barry Stark - 7-2
4 - Liu Chuang x Colin Mitchell - 9-0
4pm
1* - Patrick Wallace x Sean Storey - 10-1
2* - Jimmy Robertson x Stephen Ormerod - 10-5
3* - Rodney Goggins x Barry Stark - 10-4
4* - Liu Chuang x Colin Mitchell - 10-0
Sunday January 6
10am
5 - Alex Davies x Steve Mifsud - 8-1
6 - Mark Joyce x Patrick Wallace - 3-6
7 - James McBain x Kevin Van Hove - 7-2
8 - Tian Pengfei x Ashley Wright - 6-3
9 - Munraj Pal x Xiao Guodong - 3-6
10 - Matthew Selt x Fraser Patrick - 5-4
11 - Liu Song x Jimmy Robertson - 6-3
12 - Kurt Maflin x Gareth Coppack - 5-4
4pm
5* - Alex Davies x Steve Mifsud - 10-2
6* - Mark Joyce x Patrick Wallace - 10-8
7* - James McBain x Kevin Van Hove - 10-2
8* - Tian Pengfei x Ashley Wright - 10-4
9* - Munraj Pal x Xiao Guodong - 8-10
10* - Matthew Selt x Fraser Patrick - 10-6
11* - Liu Song x Jimmy Robertson - 10-6
12* - Kurt Maflin x Gareth Coppack - 9-10
Monday January 7
10am
13 - Joe Jogia x Michael White - 2-7
14 - Lee Spick x Rodney Goggins - 4-4
15 - Jamie O'Neil x Martin Gould - 5-4
16 - Liang Wenbo x Ben Wollaston - 6-3
17 - Lee Walker x Liu Chuang - 3-6
18 - Leo Fernandez x Alfie Burden - 6-3
19 - David Morris x Supoj Saenla - 4-5
20 - Tony Drago x Issara Kachaiwong - 4-5
4pm
13* - Joe Jogia x Michael White - 4-10
14* - Lee Spick x Rodney Goggins - 9-10
15* - Jamie O'Neil x Martin Gould - 8-10
16* - Liang Wenbo x Ben Woollaston - 10-3
17* - Lee Walker x Liu Chuang - 9-10
18* - Leo Fernandez x Alfie Burden - 10-4
19* - David Morris x Supoj Saenla - 9-10
20* - Tony Drago x Issara Kachaiwong - 9-10
Tuesday January 8
10am
21 - Ian Preece x Alex Davies - 7-2
22 - Jimmy Michie x Mark Joyce - 7-2
23 - Marcus Campbell x James McBain - 5-4
24 - Mike Dunn x Tian Pengfei - 8-1
25 - David Roe x Xiao Guodong - 7-2
26 - Jimmy White x Matthew Selt - 7-2
27 - Scott MacKenzie x Liu Song - 7-2
28 - Paul Davies x Gareth Coppack - 5-4
4pm
21* - Ian Preece x Alex Davies - 10-9
22* - Jimmy Michie x Mark Joyce - 10-4
23* - Marcus Campbell x James McBain - 9-10
24* - Mike Dunn x Tian Pengfei - 10-2
25* - David Roe x Xiao Guodong - 10-5
26* - Jimmy White x Matthew Selt - 10-4
27* - Scott MacKenzie x Liu Song - 10-5
28* - Paul Davies x Gareth Coppack - 8-10
Wednesday January 9
10am
29 - Barry Pinchess x Michael White - 6-3
30 - Judd Trump x Rodney Goggins - 6-3
31 - Stuart Pettman x Martin Gould - 1-8
32 - Rod Lawler x Liang Wenbo - 4-5
33 - Joe Daleney x Liu Chuang - 3-6
34 - Drew Henry x Leo Fernandez - 1-8
35 - Robin Hull x Supoj Saenla - 0-10
36 - Tom Ford x Issara Kachaiwong - 3-6
4pm
29* - Barry Pinchess x Michael White - 10-4
30* - Judd Trump x Rodney Goggins - 10-4
31* - Stuart Pettman x Martin Gould - 4-10
32* - Rod Lawler x Liang Wenbo - 6-10
33* - Joe Daleney x Liu Chuang - 5-10
34* - Drew Henry x Leo Fernandez - 2-10
35* - Robin Hull x Supoj Saenla - 0-10
36* - Tom Ford x Issara Kachaiwong - 5-10
Thursday January 10
10am
37 - Adrian Gunnell x Ian Preece - 2-7
38 - Michael Judge x Jimmy Michie - 6-3
39 - Fergal O'Brien x James McBain - 6-2
40 - Andrew Norman x Mike Dunn - 2-7
41 - Andy Hicks x David Roe - 5-4
42 - Andrew Higginson x Jimmy White - 5-4
43 - James Wattana x Scott MacKenzie - 4-5
44 - John Parrott x Gareth Coppack - 8-1
4pm
37* - Adrian Gunnell x Ian Preece - 10-9
38* - Michael Judge x Jimmy Michie - 10-6
39* - Fergal O'Brien x James McBain - 10-4
40* - Andrew Norman x Mike Dunn - 2-10
41* - Andy Hicks x David Roe - 10-5
42* - Andrew Higginson x Jimmy White - 7-10
43* - James Wattana x Scott MacKenzie - 8-10
44* - John Parrott x Gareth Coppack - 10-3
Friday January 11
10am
45 - Robert Milkins x Barry Pinches - 3-6
46 - Jamie Burnett x Judd Trump - 2-7
47 - Rory McLeod x Martin Gould - 4-3
48 - David Gilbert x Liang Wenbo - 3-6
49 - David Gray x Liu Chuang - 2-7
50 - Mark Davis x Leo Fernandez - 4-3
51 - Alan McManus x Supoj Saenla - 7-1
52 - Ricky Walden x Issara Kachaiwong - 5-4
4pm
45* - Robert Milkins x Barry Pinches - 4-10
46* - Jamie Burnett x Judd Trump - 2-10
47* - Rory McLeod x Martin Gould - 10-8
48* - David Gilbert x Liang Wenbo - 3-10
49* - David Gray x Liu Chuang - 5-10
50* - Mark Davis x Leo Fernandez - 10-9
51* - Alan McManus x Supoj Saenla - 10-2
52* - Ricky Walden x Issara Kachaiwong - 10-4