Kilkenny Masters 2007 A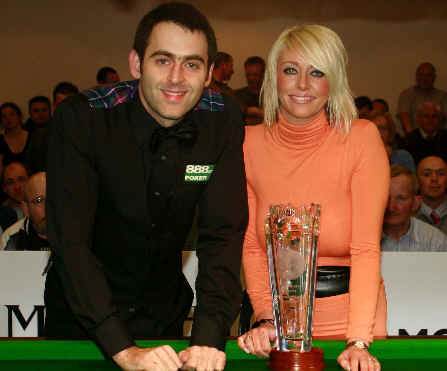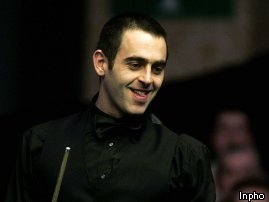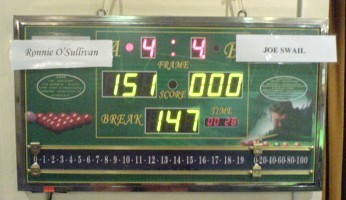 O'SULLIVAN CRUISES TO KILKENNY SUCCESS
12 Mar 2007 10:29:00
www.worldsnooker.com
Ronnie O'Sullivan lifted his third title of the season with a comprehensive 9-1 win over Barry Hawkins in the final of the Kilkenny Masters in Ireland.
The two-times World Champion pocketed 20,000 euro at the invitation event, and an additional 2,000 euro highest break prize for a 147 maximum in his quarter final against Joe Swail.
He also picked up the Paul Hunter Trophy, presented by Paul's wife Lindsey at the Ormonde Hotel.
Dartford's Hawkins, appearing in the first final of his 11-year career, won the first frame and made a break of 70 in the second, only to lose it on the black.
Having drawn level, O'Sullivan went on to compile breaks of 52, 57, 60 and 122 on the way to leading 7-1 at the end of the afternoon's play.
The evening session was a brief affair, as O'Sullivan compiled a 138 total clearance before wrapping up his success with a run of 80 from his first chance in the next frame.
"I like big occasions with lots of people in the crowd" said the 31-year-old, who has won the Premier League and SAGA Insurance Masters this season, though is without a ranking title for two years. "I enjoy it when they're excited, and want to play well for them."
"It was a scrappy start, but I think in any final you give too much respect to the other player early on. Barry didn't play as well as he can, and after a couple of frames I got into the groove."
Hawkins was disappointed to lose nine frames in a row, but pleased with his tournament. "I couldn't get going in the final, but I've won four matches this week. You can't afford to be off form against Ronnie though."
Official pages of the tournament
Drawsheet and scoring of the tournament
Format of play
Friday, 9 March
best of 7
9,30 - Group A - Gerard Greene x Michael Judge - 3-4
9,30 - Group B - Fergal O'Brien x Stephen Lee - 4-2
11,30 - Group C - Barry Hawkins x David Morris - 4-3
11,30 - Group D - Matthew Stevens x Joe Delaney -2-4
13,30 - Group A - Gerard Greene x John Higgins - 4-2
13,30 - Group B - Stephen Lee x Neil Robertson - 1-4
15,30 - Group C - Jimmy White x Barry Hawkins - 2-4
15,30 - Group D - Joe Delaney x Joe Swail - 1-4
17,30 - Group A - John Higgins x Michael Judge - 4-0
17,30 - Group B - Neil Robertson x Fergal O'Brien - 1-4
19,30 - Group C - Jimmy White x David Morris - 1-4
19,30 - Group D - Matthew Stevens x Joe Swail - 3-4
Saturday, 10 March
best of 9
opponents for the quaterfinals will be decided by draw lots
11,00 - Graeme Dott x John Higgins - 4-5
11,00 - Ken Doherty x Fergal O'Brien - 0-5
14,00 - Stephen Hendry x Barry Hawkins - 2-5
14,00 - Ronnie O'Sullivan x Joe Swail - 5-4
Saturday, 10 March
18,00 - semi final - best of 11
John Higgins x Ronnie O'Sullivan - 5-6 :-)
Barry Hawkins x Fergal O'Brien - 6-5
Sunday, 11 March
15,00 and 19,30 - final - best of 17
Ronnie O'Sullivan x Barry Hawkins - 9-1 :-)))
ROCKET SECURES MAXIMUM
10 March
www.sportinglife.com
www.bbc.co.uk
Ronnie O'Sullivan turned on the style to pocket a magnificent maximum 147 break at the Kilkenny Irish Masters.
The Rocket's memorable feat was only the second 147 break in a professional tournament in Ireland.
But in a bitter twist to his impressive total clearance, the two-time world champion later found out he had not won a car as he first thought.
Tournament organisers had promised a car to any player who pocketed a 147 break, but withdrew their offer claiming they had not been able to gain adequate insurance for the new vehicle.
"I only went for the maximum because I thought I was going to win a car, but now I've found out I'm not going to win one, I'm gutted!" said this year's SAGA Insurance Masters champion.
"I had a difficult double when I was on 72, but once that went in I felt really confident.
"It was a good atmosphere out there. The crowd went mad for the 147 - and it's nice to make a boost to the new tournament."
O'Sullivan fired in the seventh 147 of his career in a 5-4 quarter-final victory over Joe Swail at the Ormonde Hotel - and knows two more wins would see him claim this year's Ł13,500 prize-winners cheque.
And his disappointment at missing out on a car was slightly eased when tournament organisers said he would win Ł1,350 for the highest-break prize.
"Well at least it's a bit of spending money," quipped the Rocket.
O'Sullivan will lock horns with John Higgins in the semi-finals after the Wishaw potter beat world champion Graeme Dott 5-4 in their quarter-final clash.
Meanwhile, Beckenham potter Barry Hawkins upset seven-times world champion Stephen Hendry with a 5-2 win, while Irishman Fergal O'Brien kept local interest alive with a 5-0 whitewash of fellow countryman Ken Doherty. Hawkins and O'Brien meet in the second of this year's semis.
Following his victory over Higgins, O'Sullivan added: "To be honest, John played better than me, he deserved to win.
"I played well, but the table helped me. It was a great atmosphere in the arena. The Irish love their snooker, so it was good fun."
Higgins said: "It's hard to gauge how well I'm playing, but I've had a couple of good wins this week, which has been good for my confidence.
"I want to start playing better and find a bit of form because the World Championship is not far away."
ROCKET AND CO TO CONTEST KILKENNY EVENT
29 Jan 2007
www.worldsnooker.com
Snooker stars including Ronnie O'Sullivan, Stephen Hendry and Ken Doherty are set to take part in the invitational Kilkenny Masters in March.
There will be 16 leading players competing for the Eddie Bennett Developments Trophy and a top prize of 20,000 Euros at the Ormond Hotel in Kilkenny from March 9 to 11.
As well as Hendry, O'Sullivan and Irish favourite Doherty, the cast includes the likes of 888.com world champion Graeme Dott, Royal London Watches Grand Prix holder Neil Robertson, Jimmy White and Matthew Stevens.
The home crowd will have plenty to cheer for with former British Open winner Fergal O'Brien, promising Tour starlet Davy Morris and Michael Judge all to take part.
Paul Hunter's widow, Lindsey, will present the trophy to the winner after the best-of-17 final.
"This is a great opportunity to play in a competitive match so close to the world qualifiers," said Whirlwind White." Such tournaments gives a great boost to snooker as a whole and it promises to be three days of fantastic competitive matches."
Doherty added: "Snooker has always had great support from the Irish public so it's great to see a competition of this calibre coming to Kilkenny. I look forward to a great tournament."