Masters 2007 A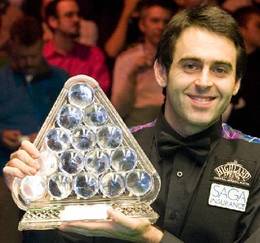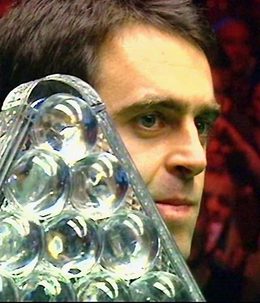 O'Sullivan's travails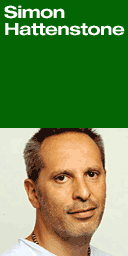 Simon Hattenstone
January 22, 2007
It's strange how Ronnie O'Sullivan has got himself a reputation as a bad sportsman. The guy who walks out on tournaments when he's losing, the misery guts who doesn't talk to the press. Now I'm biased - I wrote Ronnie's autobiography with him - but I've always thought of him as a great (if extremely screwed-up and honest) sportsman.
It's amazing how often honesty can get confused for bad form of one kind or another. When Ronnie said he wasn't getting on with Stephen Hendry or Mark Williams in his book, he was again construed as a bad sportsman. But he was just telling it as it was, and now he'll say he gets on fine with them. At the same time, he would be the first person to tell you that Hendry was the greatest player the game had ever seen.
Last month, he walked out of the UK quarterfinal against Stephen Hendry when he was losing 4-1. It was badly judged, unfair on the fans (and possibly himself), but again it was an act of honesty - he'd had enough, he was disgusted with himself, he couldn't bear letting himself and his fans down so badly, and it looked as if he had killer depression.
I was kicking the telly in frustration and anger when he did it, but I still didn't believe it was an act of bad sportsmanship. To me, bad sportsmen are the people who won't give credit where it's due, won't ever admit that they deserved to lose, are incapable of showing compassion or humanity. We see them all the time in football: Mourinho, Wenger, Fergie - the managers who believe that every defeat is down to the ref's incompetence or the cheating opposition. Manchester City's Stuart "Psycho" Pearce is a rare example of a footie good sport - he may leave a lot to be desired as a strategist, but how great is it to see him admitting his team were rubbish or that Bernardo Corradi deserved to be carded for diving?
Which takes me back to Ronnie. After Saturday's semi-final of the Masters, when he beat Stephen Maguire, he announced he was ashamed of his performance, that he thought the snooker fans were laughing at him for being so rubbish, and that his opponent had been even worse. Pure honesty, and again it might have been construed as bad sportsmanship, a slight on Maguire, but I'm sure Maguire would have appreciated the honesty. After all, it's only a couple of years since Ronnie pronounced that Maguire was one of the game's most gifted players, a world champion in the making.
Last night, Ronnie beat the precocious genius Ding Junhui in the final of the Masters. It was a brilliant and important comeback for Ronnie. Earlier in the week, I saw him and he told me how desperate he was to win this one; after all, it was the first tournament since the infamous walkout, and he was determined to show the world he could still do it; that he still had the resilience and hunger. (I told him my dad was ill, and as I left he shouted after me that he was going to win this one for Dad. For all his faults, he's a lovely boy.)
But it wasn't just the quality of his win that was important, it was the sportsmanship he displayed in winning it. Towards the end, Ding - 9-3 down - was humiliated and crying as they went off for the final break. He shook Ronnie's hand and it looked as if he'd had enough (though he said later that he had forgotten it was the first to 10). Ronnie put his arm round him, walked him off, gently reminded him there was another frame to play. It was so moving - not least because Ronnie had been there himself, only a few weeks before.
They duly resumed, Ronnie won 10-3, and the trophy was his. In his post-match interview (yes, he deigned to give one), after what was possibly the most important win of his career, Ronnie said that he was still ashamed of his walkout, but spent most of the time praising Ding as a future multiple world champion. Sure, Ronnie is flawed, unpredictable, and bloody annoying at times, but he is also a great sportsman - in both senses.
By the way, to all the bloggers who said I was making blood money by writing about a friend in distress after Ronnie's walkout: I'm not paid a penny for blogging. In a way, it's a no-win situation. If I write nice things about him, readers say I'm bound to because I wrote his autobiography. If I write critical things, readers call me a Judas.
Of course, you're entitled to call me crap and ignorant (which you often do), but I don't think Ronnie considers me either a Judas or a sycophant. I just try to write about him honestly. As for those of you who have criticised my photograph and call me a creep, I'm sorry, I can't help it - that's what I look like. But in my paranoid state, I might just get a new photo byline. (Or have plastic surgery.)
O'SULLIVAN PRAISES 'PRODIGY' DING
21 Jan 2007
www.worldsnooker.com
Ronnie O'Sullivan paid tribute to beaten opponent Ding Junhui despite the Rocket's emphatic victory in the SAGA Insurance Masters final.
The Chigwell champ collected his third Wembley title with a magnificent display of break-building to beat his Chinese opponent 10-3.
"I'm so happy that snooker has found a prodigy," said O'Sullivan of the player who had beaten him in the Northern Ireland Trophy final at the start of the season.
"I looked the word up in the dictionary the other day. It said someone of great talent and magic ability – I thought Ding.
"If he carries on improving and gets a few more bits to his game he will be a multiple World Champion."
O'Sullivan spoke modestly about his performance which brought four century breaks and six more over 50.
"The balls were going in the holes but I wasn't in full control," he said. "I was having to hit the ball a little bit harder and wasn't able to create the angles to make this game feel as easy as I possibly can.
"I'm not knocking the way I played, the breaks speak for themselves, but I felt I had to try and really put effort into that.
"If I had been playing someone more methodical, a little bit slower I couldn't have made a 12 today. Ding played a part in helping me to play well.
"When we played in Northern Ireland it was the same, he beat me there because we both play a similar sort of game.
"I've seen Stephen Hendry at this peak, I don't think he's as good as Stephen yet because he was the greatest player I have ever seen or played.
"John Higgins has put in performances, fantastic performances against me but that kid is up there. Tennis has Federer, golf has Tiger Woods, Ding could do the same to snooker."
As for Ding's offer of a handshake when it got to 9-3, O'Sullivan added: "He thought it was the best of 17, I can't argue with that because I've been in a state like that before when John Higgins beat me 8-0 in a session at the world's.
"I didn't know if the game was over, what day it was, he just hit me with a barrage of breaks. Your mind just goes and you think it's game over.
"I said to Ding 'come we've got one more frame to play, let's go and have a cup of tea do what we've got to do. It's not the first time it's not the last.'"
Ding, disappointed by his display, said: "I played well to start with but not after that. Ronnie played very well."
SAGA'S CASH BOOST FOR HUNTER SCHOLARSHIP
25 Jan 2007
www.worldsnooker.com
SAGA Insurance will donate £5600 to the Paul Hunter Scholarship following the SAGA Insurance Masters.
As announced before the tournament at Wembley Arena, every break of 50 or over was known as a Saga Break, as Saga provides services for people aged 50 and over. The sponsor donated £50 for every Saga Break to the scholarship scheme.
World Snooker will use the donation to raise the quality of training as part of this initiative which was set up as a tribute to three-times Masters champion Hunter, who died last October.
Andrew Strong, Chief Operating Officer of Saga, said: "We were delighted to see the players 'thinking 50'. There were 112 Saga Breaks during the tournament and we are proud to announce that Saga, as a result, will be donating £5,600 to the Paul Hunter Scholarship.
"We hope the scholarship will help nurture some outstanding up and coming talent in the UK and we hope, one day, to see a graduate of the scholarship competing in the Masters."
Ronnie O'Sullivan was the tournament's top 'Saga-breaker', compiling 24 breaks of 50 or over on his way to winning his third Masters title.
Runner-up Ding Junhui notched up the second highest number of Saga breaks during the tournament with a total of 21.
Draw of matches of the main event
Coverage from the Saga Insurance Masters 2007 – London, Wembley – 14 – 22 January 2007
Dana Plachá
14 January – departure in 8,50 by British Airways, checking, including my cue, nearly without any problem, I opened my case just at the gate for the security, but there wasn't any problem, they just wanted to look at it. I haven't battery in my camera, hopefully it's in my charger.
It was there :-) Hotel is very nice, just 2 minutes from the underground, but first the journey took about one hour. After approximately 1 hour lasting purchase of tickets – horror – my poor English plus problem with my credit card – we entered the running match between White x Stevens. Score was 1-1, but followed just run of Stevens, who easy beat Jimmy White 6-1. Ding beat Hamilton in the first match, which we didn't catch and he scored his first career 147. He will next play against Ebdon. Stevens will play with Hendry.
Problem with my credit card is solved, this lady at the cash desk had wrongly set terminal and she crossed over my limit, luckily she didn't take any money from my account, she just blocked my card for one day.
I have arranged signature from Jimmy White and one man took our pic. I saw Bingham too. I waited to see Ivan Hirschowitz (spokesman of the WSA), who gave me tickets for the semi and final matches. He asked about our hotel and ran away around his duties. Anyway he saved me 100 pounds and it's not small amount. I gave him one Ronnie's calendar and his favourite chocolate – Bananas in chocolate. He looked pleased "It's my favourite!" :-)
Bingham and Carter performed very nice and even match. They stole frames to each other and both had several flukes. Bingham had massively bigger support from the audience and therefore there often has been heard "Come on, Stu", same as in the past match, when audience hunted Jimmy White for better performance. Audience is able to be pretty cruel. It's maybe not so clear on telly, but here in the Arena it's audible. Otherwise air-conditioner in the Arena is adjusted for very low temperature, maybe there is warmer at the table under the lights, but we are sitting in coats and we are not feeling comfortable though. Feeling of cold is even worse with growing time and weariness. I don't know how much you were able to watch on telly, but the match for place against Ronnie came after 4 hours into the frame decider and that one won Ali Carter and will play with Ronnie O'Sullivan on Tuesday. Note: payment for tickets by credit card is relatively more expensive, than cash payment. Before that "dear" woman blocked my card, she wanted to pay 173 pounds for these 5,5 days (I have Saturday and Sunday from the WSA and ticket for Ronnie's first match I bought via internet), while it was "just" 158 pounds with payment by cash. 15 pound difference is maybe trifle, but when can you save about 650 CZK? So, pay tickets rather by cash.
15 January – We woke up about 7 a.m. and had a breakfast. Delicious – roasted toasts, butter, marmalade, coffee, tea. I overheard order for eggs too, but we didn't risk anything. We are going to go out in 30 minutes and I will try to use my card, if it's OK. Maybe I will borrow cover from the hotel to the Arena today. :-)
Card works, I returned 60 pounds to Hana and 40 pounds remained to me. I have spent 5 pounds for earphone, hopefully this listening will help me with my poor English. Otherwise I'm really gutted, cause I have to ask my partner to repeat each second sentence and it's terrible.
Mark Williams x Neil Robertson – 0-4 after the first session and it doesn't look well with Mark. Maybe he will try to fight back, but Neil is playing well.
He didn't fight back, I would say he conceded last frame and therefore first quaterfinalist is Neil Robertson with result 6-0 and he has to wait for his opponent from the match Higgins x Maguire, which follows. Match starts in 30 minutes, we ate sandwich (approximately 3 pounds) and we are ready to go to the Arena again. I have pic of Neil and his signature in program.
Higgins x Maguire – Higgins hasn't fluke sitting on his cue today. Maguire steals practically winnings frames or he gains points from John's fouls. We will see, what he will think up after the midsession. Dott came around me just now, but unfortunately he had two times taller bodyguard with him, so I couldn't hurt him (for his asking for punishment of Ronnie for his walk out the UK), but I have checked, that it would be possible due to his size :-).
By the way, when I'm looking around the half-empty Arena during such a matches like Robetson x Williams or Maguire x Higgins, I understand, why they like German event, where is sold out from the first day and audience supports all players without difference.
So, the first big favorite and defender of title is out of the tournament. Maguire beat Higgins 6-5 and he will play against Robertson. It was very exciting and even match, but we can't expect some another matches here.
There was no surprise in the last match of today and even though Ken was quickly 2-0 down, he finally won with Barry Hawkins 6-3 and will wait for his opponent from the match Ronnie x Carter. There is nearly midnight again.
16 January – Tuesday welcomed us by showery weather. I bought jeans for 8 pound and I wore them immediately. First match is Dott x Lee. Go, Stephen, go!
Stephen obeyed me and won the match 6-2. The last frame was rather exhibition, Lee played amazing long shots and he definitely deserved to win. And now I'm starting to be nervous. Ronnie should enter the Arena in a few minutes. It will depend very much on his mood. Let's keep our fingers crossed.
Wow, I imaged his return exactly! Even though he was chilly, but with desire to play and win. Carter let him go at the table with his several mistakes, he failed to punish Ronnie's rare mistakes and therefore we will see Ronnie against Ken Doherty on Thursday afternoon. It was classic "Rocket's" match, so we have now 2 hours free.
We returned to the hotel and tried to find weather forecast on telly. Sooner we found reply of Ronnie's match and thus we watched it once again. :-) TV shows something little bit different view and therefore it worths to see it even for the second time. We lost the first frame of the match Ding x Ebdon because of it, but it doesn't matter, cause this match promises to be long.
Match was finally shorter, that we expected. Despite several changes of safety it finished already in 22,30 and we were at our hotel before midnight :-) Ding, who beat Ebdon 6-3, will play with Stephen Lee.
17 January – We spent rainy morning by running over the Oxford Street from Oxford Circus up to Piccadilly Circus and we looked for audio CD book of Ronnie. I implored in spirit seller in the fifth shop to beckon. I implored him loudly in the sixth one, I resigned myself in the seventh and I went into the eighth without any hope. When the seller passed it to me, you had to hear my enthusiastic yelling up to the middle of Europe. We paid 13 pound each, enjoyed whole shop and totally soaked we took pics of the Piccadilly and went into the underground. Mmm, nothing against, but famous Piccadilly would fit on our Wenceslaus Square 5 times if not more :-). If I wouldn't know where I'm staying I would miss it like one of the traffic circle. Note from morning – carefully keep what shows notice at the underground station or what is written on the top of the train. Important thing is, if the train approaching the station, really goes in your direction and isn't prepared for example to change the line after a few stations. In this way we found ourselves instead on the Oxford Circus on the Euston and we had no opinion how it could happen. :-)
Now, before matches, rain of course finished. I bought The Sun, where is small article, which I will scan for you. We are going into the Arena for today's matches. We ate in pizzeria for 3,99 pound – eat how much you are able. Delicious.
You were definitely able to watch match between Hendry and Stevens on telly, but I'm afraid that hardly anybody from the beginning. In the first part of the match clearly dominated Hendry and was 5-0 up. Stevens performed fantastic fight-back and managed to win 5 frames in a row and leveled the match. Frame decider seemed to finish on the re-spotted black, but Stevens missed and conceded frame for Hendry. Hendry becomes last but one quaterfinalist and he will wait for his opponent from the match Murphy x Davis. I hope we will see match Hendry x Davis, but it will show us evening's match, which starts in one hour.
Steve Davis hadn't his day today, he didn't manage to build breaks, but Murphy potted very well. He beat Davis 6-3 and we will see him against Hendry.
18 January – Thursday welcomed us nearly by whirlwind (note at rewrite – finally it was absolutely correct whirlwind), and at the same time of course rains. Does really anybody live here voluntarily? We are planning to visit shopping house Harrods instead of Big Ben, and we are now trying to find out when it's opening. I hope there will be at least one day up to the end of the week with some better weather for some walk around the city.
Finally we managed to see Hyde Park and Buckingham Palace and Harrods too. Harrods is very, but very luxury shopping house and if you want to feel the luxury, don't miss it. You probably won't buy there many products. Statue of Dodi and Diana for their memory is beautiful and you can find it in the photogallery together with other pics of the Egypt hall and sweets. We bought there in Waterstone's section (bookshop in which subsidiary we were earlier successful with audio CD book) book of rules and tips for snooker, which has Ronnie on the title page and some other pics of players inside. We nearly didn't catch match between Ronnie and Ken Doherty, cause our underground had some problem and stopped tightly before our station. We had just 30 minutes for run to the hotel, change our dress and run into the Arena. It was tight, but we got it. I was several times during the match sure, that Ken cannot spoil it and that we can watch Ronnie playing for the last time. I was terribly nervous and I shook like an "expensive dog". Dana (girlfriend of Ivan Hirschowitz from Ostrava), who watched this match with us, was probably afraid of me and she assured me round and round that Ken surely spoil it. Ronnie finally won frame decider and became the first semifinalist. :-) There was his girlfriend Jo in the audience too. There was any signature action and therefore I have asked Ivan Hirschowitz to give him calendar from me on my behalf. He didn't catch it, but he gave it to his manager, hopefully Ronnie will receive it and it will give him some joy. We had a beer for celebration with Dana, Hana had something stronger and we returned to the hall for another match. We negotiated live phone call to the Eurosport before my journey and it had run during midsession of the evening match between Robertson and Maguire. I spoke with Michal Sima about my attitude to snooker, about my journey to London, about atmosphere in the Arena and so on. Maybe there will be another call during next matches. Michal Sima offered me via SMS visit in studio during some another tournament (terribly reddened smile). Maybe it will really realise :-)
Neil wasn't enough good for perfectly playing Stephen, he failed 2-6 and Maguire will play with Ronnie on Saturday. Is shortly after 22 p.m. and we are ready to go sleep.
19 January – Today is sunny and rather nice day. We chose walk around the Thames and we have walked from the London Eye, Big Ben, Parliament, Westminster Abbey, around the Cleopatra Needle, Tate Modern Gallery up to the Tower Bridge, City Hall and Tower. Then we again went into the underground and we have found the right line after a little wander (actually after the question about the right line :-) ). We bought another pizza for our lunch, purchased the newspapers and changed our dress. There was nearly played 147 in the fourth frame from Ding, but finally he knocked out the red and he finished on 105 points. Ding become the third semifinalist, when he beat Lee with result 6-2 and he waits for winner of the match Hendry x Murphy, where Hendry is already 4-0 up. I managed to arrange signature of Ding and Ian Verhaas during the break. Verhaas praised Prague. :-)
The last semifinalist is after the result 6-3 over Murphy Stephen Hendry. There is before 22 p.m. and we are ready to sleep. It was rather quick match.
20 January – Saturday is again windy and rainy. We planned Trafalgar Square and Piccadilly, Soho and Oxford Street once more. We run it last time just because of the CD, so we want to walk around the shops a little bit. We will see what weather will be after the breakfast.
There are everywhere articles about irritation at the Ronnie's absolutely silence in newspapers and critic of Sir Rodney Walker, who gave Ronnie exception and he hadn't to speak with journalists and to visit after match press conferences. Mystery around his "personal problems" is still deeper and deeper. I guess we never will find out, what it is. I would like to wish to be it just advertisement trick agreed with Sir Rodney Walker how to draw attention to the snooker, but I'm afraid Ronnie isn't so lucky :-( It will be rather something really serious.
Rain slowly finishes, we are after the breakfast, there is 8,15 a.m. and we are prepared to go out. Hopefully the weather will hold.
We went over the Trafalgar Square, over the Piccadilly and Oxford Street and I have spent huge amount of money for stuff which I don't need at all. We had experience with the underground during our return again. We waited for our train, but all trains finished already on the Queen's Park, I understood from the announcement, that there is some problem and I thought up spare journey, based on consideration, that Wembley Park (line Metropolitan) cannot be far from the Wembley Central (our line Bakerloo). Luckily it was right and we found ourselves at the Wembley Stadium, which is, thanks to its architecture, seen from the far destination. I have one more note – my watch-battery finished to work. I needed to change it. I wasn't successful over the whole Oxford Street, only in old good district Wembley one man in turban was able to change it :-).
First semifinal was clearly in direction of Ding, who beat Stephen Hendry 6-2 and he secured his post in the final match. According to Ronnie's not too good mood, the second finalist probably will be Maguire. We will see in the evening. I should have live call to Prague again during midsession.
Call didn't take place, because there was interview with Williams and luckily didn't take place victory of Maguire too. Ronnie won 6-4 (after first session 3-1) and tomorrow we will see repeat of the final match from the Northern Ireland Trophy :-) I probably won't be able to sleep.
21 January – Day of the final match!! I didn't believe, that I would have a chance to see Ronnie playing up to the last day, I'm terribly happy that it came off. We are going just on the Spitalfields Market today and then quickly back to the Wembley to not have a rush before the match. There were approximately 1500 visitors yesterday in the Arena, maybe today will be even more, but I guess there won't be much more. Maybe there could be about 2000 people. There was again Jo in the audience for the first two frames yesterday. Ronnie could return to Ding defeat from the final match of the Northern Ireland Trophy, but it won't be easy. Anyway he is in the final and it's great for us, spectators.
So, first session of the match is over. Ronnie is 5-3 up and if not be there one disobedient pink, it could be 6-2, but it's just "if". Ronnie is playing well, but he risks sometimes too much and it produces mistakes, which Ding punishes very well. Hopefully Ronnie doesn't let him to level in the evening. I wouldn't matter at all, if Ding wouldn't score anything more (note at rewrite – isn't it the right precognitive sentence? :-) ), but we cannot expect it, it will rather be tough fight with not clear end up to now.
Finally it wasn't tough fight, Ding really didn't score anything more and match finished with result 10-3!!!! Breakpoint was, I guess, tenth frame (the second one after the break), which one Ronnie stole to Ding for 1 point (65-66). From that moment Ding finished to play and to fight. He even thought that this match is for the best of 17 at the score 9-3 and shook Ronnie's hand (or he conceded the match, but it knows just Ding). Ronnie drugged him away the Arena with hand around his shoulders and tried to calm him. I was a little bit afraid of agreement to extend match because of spectators, but luckily Ding doesn't speak English well and therefore there wasn't any agreement possible. Ronnie finished whole match by the first frame after the midsession. He potted last balls with atmosphere corresponding more to ice hockey match than to calm gentlemanly snooker and whole Arena applauded him standing in the end. Ronnie hugged Ding and kissed him instead of shaking hand, he received kiss from his pregnant girlfriend Jo, received the cheque and the trophy, spoke a little bit with Steve Davis and we could go to sleep in calm. I had two live calls to the Eurosport during the match, but there was not good connection during the first one and during the second one (at the score 9-3) I was absolutely out of mine from joy. :-)
22 January – I woke up about 4 a.m. but we rose up about 7 a.m. We finished to pack our luggage, had a breakfast, paid 14 pound for the journey to the Gatwick and sat into the train.
There was such a problem at the airport and we had to wait approximately 40 minutes for checking. Finally we went through 4 controls and at the last one they took away me my cue. There were just minutes up to the departure. Departure should be in 11,45, gate should be closed in 11,25 and I was back in the hall, after checking the cue like fragile and new walk through the controls, in 11,35. I run through the whole Gatwick like a madman and absolutely exhausting I run through the enter of plane approximately in 11,50. Hardly anybody knows, if there is my cue on the board with me. Hopefully I will meet it sometimes in order.
I met it luckily just on the airport and even though I saw, that red tag "Fragile" wasn't helpful too much with discharge from the plane, the case was helpful and it's in order after this stressful journey.
So, now there are in short costs – approximately 100 pounds air ticket, 173 pounds accommodation, 180 pound tickets + some outlay for traveling around London (about 50 pounds) and expenses for food, drink and shopping. I guess, whole trip was for about 25 000 CZK. I would go immediately again. But now there will be for me only German Paul Hunter Classic. Maybe this year will be Ronnie too. :-)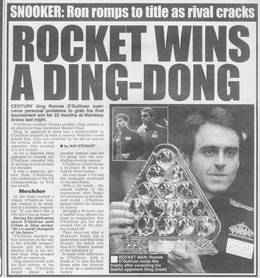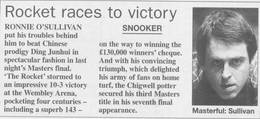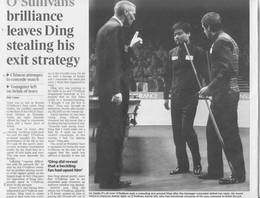 When the Rocket is only a banana short of Beckett
Simon Hattenstone
Wednesday January 24, 2007
The Guardian
It's more like theatre of the absurd than sport. One man sits in the dark watching another man walk round a table and hit a ball with a stick. When the walking man's finished he sits down and the other starts walking and hitting - in silence. If only Ronnie O'Sullivan was eating bananas and muttering the odd word about the hopelessness of hope, you could present snooker as Samuel Beckett's great lost play.
On second thoughts perhaps it's closer to theatre of cruelty than the absurd. Antonin Artaud, its founder, believed text was a tyrant over meaning and advocated a theatre made up of a unique language halfway between thought and gesture. Exactly - snooker.
Everything about snooker is absurd and cruel, even the protocol. On Thursday I visit Wembley Arena to watch my fragile friend Rocket Ronnie play Granite Ken Doherty in the Masters. It's Casuals Central out there in the main hallway but at the box office they decide formality is the order of the day. "Sorry, Sir, you can't get into the players' lounge in trainers." I give Ronnie a call. "What size feet'cha got?" he says. "Tens." "My boots are eights, just don't zip 'em up at the back." He sends Vic, his manager, down with his boots. I put them on, with my heels sticking out, and walk on tippy-toes, trainers in my arms. They let me in.
Live snooker is another planet from telly snooker. You can't put the kettle on mid-frame or flick through a mag or channel hop. There is no respite. You're trapped in the silence. If you cough or burp or, God forbid, fart, the referee will single you out for attention. Occasionally you get the chance to clap. If you've got the mildest hint of Tourette's, you don't stand a chance.
After an hour I develop a tic. I sit there, mouth zipped and legs crossed, waiting for an opportunity to wee and talk. That's another absurdity/cruelty - at the end of a frame you have to rush to the loo and try to relieve yourself quicker than the players. If the players beat you, in their private loo, and return quicker, you're barred from the next frame. Perhaps they should rename the game QuikPiss - an interactive sport in which the audience tries to urinate faster than the professionals.
I watch with Jo, Ronnie's girlfriend. It's horribly tense - no pleasure, just fidgeting, sore eyes and anxiety. Without the camera's eye the grace and subtlety are lost on me. Every shot I want to shout: "Smash it, Ronnie; mash it, Ronnie; come on, my Rocket." Every few minutes Jo wooooohs at the top of her voice. Then she looks embarrassed and worried. She's five months pregnant. "I must stop wooooohing. I shouldn't do it. I'm going to have the baby here, four months early. Wooooh!"
This is not to excuse what Ronnie did when he walked out in the quarter-finals of the UK last month but just sitting in the audience I want to walk out. I can't bear it. Has there ever been such a buttoned-up game? In golf you're out in the open and can say what you want; at football you're more likely to get picked on for not shouting than shouting; in boxing you can scream yourself into a seizure. But not at the snooker.
Ronnie eventually sees off Doherty 6-5. Jo and I are exhausted, mentally and physically, and we've done nothing. We go into the changing room. Ronnie is already down to his underpants. "'Ere," he says, to me, pushing a wad of his chest hair into my hands. "Feel this." He's wet through. And he looked so calm out there. "Snooker," he says, pushing the philosophical boat out, "is all about biorhythms."
"You what, Ron?"
"Biorhythms. You know what a biorhythm is, Simon."
Of course I don't but, when I get home, I look it up. "Biorhythm; n, a cyclically recurring pattern of physiological states in an organism or organ believed by some to affect physical and mental states and behaviour." Which seems to explain Ronnie's game pretty well. But, as for snooker itself, absurd and cruel do it for me.
In the final, three days later, again we see this is the supreme sport for mental disintegration. Ding Junhui, the ultimate in po-faced composure, the boy-man who never betrays a flicker, breaks down crying when he is 9-3 down with Ronnie playing to perfection. Ding is so far gone that he thinks it's all over. At the break Ronnie walks off, hugs him tight, gives him a peck on the cheek and reminds him it's the first to 10. Ding is in pieces. Ronnie understands only too well - the madness of snooker.
Drawsheet of matches of the Masters
Sunday, 14 January – 11,00
3 - Anthony Hamilton x Ding Junhui (147) - 3-6
Sunday, 14 January – 14,30
2 - Matthew Stevens x Jimmy White - 6-1
Sunday, 14 January – 19,00
1 - Ali Carter x Stuart Bingham - 6-5
Monday, 15 January – 11,00
5 - Mark Williams x Neil Robertson - 0-6
Monday, 15 January – 14,30
4 - John Higgins x Stephen Maguire - 5-6
Monday, 15 January – 19,00
7 - Ken Doherty x Barry Hawkins - 6-3
Tuesday, 16 January – 11,00
11 - Graeme Dott x Stephen Lee - 2-6
Tuesday, 16 January – 14,30
6 - Ronnie O'Sullivan x Ali Carter - 6-1
Tuesday, 16 January – 19,00
10 – Peter Ebdon x Ding Junhui - 3-6
Wednesday, 17 January – 13,30
8 – Stephen Hendry x Matthew Stevens - 6-5
Wednesday, 17 January – 18,00
9 – Shaun Murphy x Steve Davis - 6-3
Thursday, 18 January – 13,00
qaterfinal 2 - Ken Doherty x Ronnie O'Sullivan - 5-6
Thursday, 18 January – 18,00
quaterfinal 1 - Neil Robertson x Stephen Maguire - 2-6
Friday, 19 January – 13,30
quaterfinal 4 - Stephen Lee x Ding Junhui - 2-6
Friday, 19 January – 18,00
quaterfinal 3 - Stephen Hendry x Shaun Murphy - 6-3
Saturday, 20 January – 14,00
semi 2 - Ding Junhui x Stephen Hendry - 6-2
Saturday, 20 January – 19,30
semi 1 - Ronnie O'Sullivan x Stephen Maguire - 6-4
Sunday, 21 January – 15,00 + 20,00
final - Ronnie O'Sullivan x Ding Junhui - 10-3
O'SULLIVAN: CRITICISM STUNG ME
Friday 12th January 2007
www.skysports.com
www.bbc.co.uk
Two times Masters champion Ronnie O'Sullivan has said that the negative reaction to his York walk out made him doubt his participation at Wembley next week.
O'Sullivan has been stung by criticism following his impromptu decision to quit his UK Championship quarter-final match against Stephen Hendry last month.
Despite regretting the incident, the subsequent outcry left O'Sullivan wondering whether playing in the Saga Masters would be a worthwhile exercise.
But the former world champion will be competing, O'Sullivan saying: "I can't reverse (what happened in) York and what is done is done. Everything I did there felt right at the time.
Unfortunately it caused grief for all concerned.
"But some - including former players - have had their say in the media and gone overboard which is a real disappointment to me.
"To be honest, it made me question whether I want to be part of it.
"It also made me wonder whether they have got a problem with what happened, or whether they've just got a problem with me in general," he added.
O'Sullivan refused to elaborate as to why he had quit, merely alluding that "in York I had personal problems which upset me and my frame of mind.
"I have discussed those with Lee Doyle (his manager) and Sir Rodney Walker (chairman of World Snooker) and no-one else - and I don't intend saying anything else on the matter to anyone.
"What I will say is that if I ever feel the same way again, or I am ever in that position again, I would pull out of the match or the tournament in advance rather than be scrutinised the way I have been."
Having elected to play, the 31-year-old will now be taking part in one of his favourite events, O'Sullivan having won the Masters in 1995 and 2005.
"I've got other things in my life now and snooker has slipped down the pecking order in terms of my focus," O'Sullivan concluded.
"But The Masters is a tournament you want to do well in and one where whoever wins deserves it because you are amongst the best players all aiming to play their best snooker for that week.
"Wembley is a great place to play and one of the tournaments you want to be involved with all the way through."
O'Sullivan, 31, who lost in last year's Masters final 10-9 to John Higgins, added he is determined to put his problems behind him at Wembley.
"I was gutted last year to lose in the final to John because I honestly thought I had it in the bag," he said.
"But it was one of these roller-coaster matches where you were up one minute down the next, but in the end John played really well to win it."
Doyle said he hopes snooker fans will be sympathetic towards O'Sullivan.
"I think we all appreciate that there are pressures attached to being a top-line sportsman," he said.
"But perhaps these are magnified in Ronnie's case especially when he is constantly told that snooker needs him - I think it's maybe time people also considered what needs Ronnie may have."
Walker welcomed his meeting with O'Sullivan and said: "He accepts there are certain standards expected of him.
"While I don't anticipate the future being without elements of the unexpected, I do look forward to Ronnie being part of that future."
Rocket meets snooker chief
10 January 2007
www.viewlondon.co.uk
Ronnie O'Sullivan has met with the chairman of World Snooker, Sir Rodney Walker, to discuss his controversial walk out from last month's UK Championships in York.
A spokesman for World Snooker said the meeting was for "informal talks, not a disciplinary hearing" as the governing body searches for the reason behind O'Sullivan's actions.
The two-time World Champion later apologised for his actions and said that it was not his intention to let anybody down.
Walker said at the time that he felt it was better to try and help O'Sullivan knowing that he has a history of depression and felt it better to try and refocus the star player than punish him.
"We owe it to the fellow to at least give him the chance to explain to us what state of mind he was in when he walked out," said Walker.
O'Sullivan will be competing at the Wembley Masters event next week and his manager Ian Doyle says 'the Rocket' is refreshed and looking forward to the tournament.
Doyle believes that there is nothing to worry about as other players have had to concede games for various reasons before.
He may yet face a penalty for his actions in York but at this stage the governing body is trying it's best to not to place any blame on the player.
The Rocket has often threatened to walk out on the game completely and the sport's chief will be watchful not to do anything that would lead to one of snooker's biggest draws going through with those actions.
O'Sullivan 'up for Masters test'
www.bbc.co.uk
By Mark Barden
Ronnie O'Sullivan is ready to shine in next week's Masters at Wembley and put his UK Championship walk-out behind him, claims his manager.
Ian Doyle said that O'Sullivan could meet with World Snooker officials during the tournament about his actions last month at York's Barbican Centre.
"Nothing formal has been scheduled so far, but we may well hold informal discussions," he told BBC Sport.
"Ronnie is feeling fine. He's refreshed and looking forward to the Masters."
O'Sullivan added another chapter to his controversial career by walking out while trailing 4-1 to Stephen Hendry in the UK Championship quarter-finals.
The Essex star later apologised through Doyle's 110sport Management company, but may still face disciplinary action by World Snooker.
Doyle defended the two-time world champion, who will be chasing a third Masters title at Wembley Arena.
"This is something that has happened before with other players who, for whatever reason, conceded a match when they were behind," he said.
"It's unfortunate, but Ronnie was just not himself that day. He's apologised to Stephen, the fans, sponsors and World Snooker for his actions."
Snooker bosses were put in a quandary by O'Sullivan, with some within the sport saying he should be punished but others arguing he needs help.
The 31-year-old is undoubtedly snooker's biggest draw, but is known to suffer bouts of depression.
He was badly affected by the death from cancer of fellow star Paul Hunter last October.
World Snooker's chairman Sir Rodney Walker said after his walk-out: "The decision may be not to punish him, but to provide some assistance."
Draw of matches of the qualification
Round 1 will be the best of 7 frames, the Last 32 and up to and including the Semi Finals will be the best of 9 frames and the Final will be the best of 11 frames.
Saturday, November 4
10am
Matches 1-7
2pm
Matches 8-14
6pm
Matches 15-21
Sunday November 5
10am
Matches 23-27
2.30pm
Matches 28-32
7pm
Matches 22 and 33-37
Monday November 6
10am
Matches 38-41
4pm
Matches 42-45
Tuesday November 7
10am
Matches QF1 - QF4
4pm
Matches SF1 SF2
Wednesday November 8
10am
Final