Ronnie at the Eurosport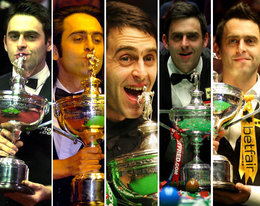 My snooker blueprint to ensure future of green baize is golden
By Eurosport | Ronnie O'Sullivan – Wed, Apr 2, 2014 08:03 BST
In his latest blog for Eurosport, Ronnie O'Sullivan tells us why he is missing theChina Open. The five-times world champion - pictured above with his world titles in 2001, 2004, 2008, 2012 and 2013 - also gives his honest opinions on the measures he would take to improve the game if he was running snooker. He looks at what can be done to improve the future health of snooker including bigger venues to accommodate 128 Tour professionals, how fresh sponsorship can be brought to the game and how costs can be covered to help snooker's less well-off players.
I'D LOVE TO BE PLAYING IN CHINA, BUT RULES FORCED ME TO SIT IT OUT
Snooker has been very good to me, and for that I am very grateful. I have to make it clear that I'm not offering my opinion in my blog to look like I'm moaning. I have the best interests of the game at heart, and I want to see the sport prosper as much as possible. Discussion is always good.
We all want the best for the sport especially when it is up against a lot of other sports. We are in competitive times, and it is important snooker does the best job it can to show itself in the best possible light.
There are a lot of tournaments these days. Some people like playing in every event, but I don't really get the enjoyment or buzz out of playing all the time.
I like to have a little rest so you get that excitement when you go into an event. I also have commitments. I'm a father, and have my running to focus on. I can't be here, there and everywhere so it is just a case of trying to find out what works best for you.
You have to get the balance right so you have a personal life. If I didn't have running in my life, and I didn't have kids, I would probably play a lot more events.
But you can't do everything. You are always tweaking the schedule. In 2011 and 2012, I think I played in about 18 events. This year, I've probably played in about 10 or 11. It is just trying to get the right number for myself.
You don't want to be underplayed, either. If I play four tournaments on the bounce, I feel that I want to get home by the fourth tournament especially when you factor in all the travelling. I maybe play one or two events leading up to a major event.
I got a bit lucky last year I think because I had such a good year in 2012. The memory of winning the 2012 World Championship was still fresh when I back to the Crucible, and I was on a high when I returned to the World Championship to defend the trophy.
I don't think I could get away with playing one tournament before it again. I'd like to if I could - if it was guaranteed that I'd win the World Championship every year.
I've been playing for 20 years, and I've got a batting average of winning it roughly once every four or five years. I can't really put all my eggs in one basket.
I would have loved to have gone to Beijing this week, but you had to make your mind up two months ago. And two months ago, I wasn't feeling that I could be bothered with all the travelling involved.
But if you asked me last week after losing in the last 16 of the PTC Grand Final, I would have been happy to go to play in China.
If you enter a tournament, but want to pull out for health reasons, or whatever, I'd be fined by the powers that be. Then there is the stress of having to attend a disciplinary hearing which you can do without. Next year I might enter China because I could have done with another tournament before the World Championship.
Also, I'm not prepared to try to qualify for tournaments in China in Barnsley and Doncaster. No disrespect, but I've tried that, and it is just not for me. It is a busy enough schedule as it is. But then you have to try to qualify for these events which just means you are constantly on the motorway, and living out of a suitcase in hotels.
I don't know any other sport where the top 64 in the game have to go to qualify for the tournament elsewhere before a tournament starts. You can't imagine Tiger Woods having to go somewhere to qualify for the Masters two weeks before it begins. Augusta is where they start and finish the tournament. As it should be.
SNOOKER NEEDS BIGGER VENUES TO HOUSE BETTER TOURNAMENTS
I love the game so much that I want to see snooker in the best possible health for future generations. My principles tell me that if the authorities can't get a venue big enough to start and finish the event in one place, something isn't right.
If snooker is modelling itself on darts then it becomes a problem because it is easier to fit 20 or 30 dartboards in a venue than it is to stick in seven or eight snooker tables.
I'd rather not enter tournaments until they get it right. Once they get it right, I'll probably think about entering more tournaments. I think it is a good idea to have more tournaments. And I'm all for the 128 on the Tour all coming in it at round one. But for the future benefit of the sport, I think there are changes that can be looked at.
I feel we need to get bigger venues so we can play the tournaments in one week, and you don't need to go to Barnsley to qualify for an event in China. Having five trips to Barnsley in a year on top of what is a busy schedule is not ideal. They basically need bigger venues that can house 16 tables.
Or go back to the old system when the top 32 automatically qualify. A lot of the players are going along with it, but I don't really want to. I'm 38, and might only have four or five years left in me. You could spend that time going along with it, and then your career is over anyway.
Again, I'm not moaning. Just offering an honest opinion on what I think can be done to enhance the product. I value my time, and I want to give it to something worthwhile. I'm trying to think if there is a golf or tennis event where the top 32 or 64 have to go to try to qualify for the tournament elsewhere. I can't think of another sport with such demands.
And I watch a lot of other sports like golf, tennis and football. I'm aware of the need to conserve energy, look after yourself and peak for the right events.
Tennis is a good example. They play events in America then they have the clay court season which is in Europe for a couple of months before coming to London on grass then back to the US for Flushing Meadows. They'll do a few more invitation events before finishing it off at the O2 in London.
So they are travelling around, and not going through different time zones. It is all scheduled to help the players. I don't think playing most of the events in China in a one-month block is a bad idea if it can be organised to help with the cost of travelling.
GAME NEEDS TO DO MORE TO PROTECT DEDICATED PLAYERS WHO ARE OUT OF POCKET
The players are in the entertainment business, but to make sure we protect the game we all love we must do what is right for the players. I'm not moaning about changes that have been made, but in my opinion we have to look at how we can produce the best product for the fans. So they are getting value for money.
There is increased prize money from £3.5 million to £10 million for the players yet the first-round loser in any tournament doesn't get any money. It is all top heavy in terms of prize money.
Which is okay if you are winning tournaments, but a lot of the middle and bottom-ranked players are going skint because there is a lot of travelling involved, and there is no money being pumped in to cover their expenses.
A lot of people will say it is fair if you don't win, you don't get paid. Which is fine, but surely honest professionals should be paid some money to cover expenses?
If I was running snooker, I'd be all for a two-tier system that works so well for golf. You would maybe have 50 players on the main Tour playing for £6-7 million, and the other 80 playing for £2 or 3 million on the lower Tour. They wouldn't really be much worse off than they are at the moment, but would be playing for a place on the main Tour.
I'm probably able to have an opinion on this because if I lose in the first round it doesn't matter so much to me. But it still doesn't make it right. The principles of it are wrong whether you can afford it or not.
A player having to go to a venue, and fork out £400 or £500 in expenses on top of the entry fee for the event isn't right. If they lose in the first round, they don't get any money. If they win, they qualify for China.
But once they get to China, once they've paid for their airfare and hotel costs they are probably breaking even. They have to qualify for the quarter-finals or the last four to come out with £5,000 or £6,000 after tax.
We're talking about major tournaments here. Financially, it is a tough school. And yes, if you win it becomes acceptable. But there can only be one winner out of 128 players. You have to look it at like that. I value my time, and I don't want to be on the merry-go-round of flying here, there and everywhere. It just doesn't suit me. If I feel that something isn't right, I just remove myself from it until it becomes right. And then I'll look at it again.
I'm just trying to play enough events to keep myself in the frame if you like, no pun intended, and if the sport does manage to sort itself out, I would look at playing in more tournaments.
The business model needs to be right to protect all the players.
Ronnie O'Sullivan was speaking to Desmond Kane.