World Championship 2014

The Crucible Theatre, Sheffield
19 April – 5 May 2014
Saturday, 19 April
10,00am
1 – Ronnie O'Sullivan 7-2 Robin Hull
12 – Stuart Bingham 5-4 Ken Doherty
2,30pm
3 – Shaun Murphy 4-5 Jamie Cope
14 – Stephen Maguire 3-6 Ryan Day
7,00pm
1* - Ronnie O'Sullivan 10-4 Robin Hull :-)
10 – Ali Carter 5-4  Xiao Guodong
Sunday, 20 April
10,00am
2 – Joe Perry 3-6 Jamie Burnett
12* - Stuart Bingham 5-10 Ken Doherty
2,30pm
8 – Ding Junhui 6-3 Michael Wasley
10* - Ali Carter 10-8 Xiao Guodong
7,00pm
3* - Shaun Murphy 10-9 Jamie Cope
14* - Stephen Maguire 9-10 Ryan Day
Monday, 21 April
10,00am
2* - Joe Perry 10-7 Jamie Burnett
9 – Mark Selby 5-4 Michael White
2,30pm
8* - Ding Junhui 9-10 Michael Wasley
11 – John Higgins 3-6 Alan McManus
7,00pm
6 – Ricky Walden 6-3 Kyren Wilson
9* - Mark Selby 10-9 Michael White
Tuesday, 22 April
10,00am
4 – Marco Fu 6-3 Martin Gould
11* - John Higgins 7-10 Alan McManus
2,30pm
5 – Barry Hawkins 5-4 Dave Gilbert
13 – Judd Trump 6-2 Tom Ford
7,00pm
6* - Ricky Walden 10-7 Kyren Wilson
15 – Mark Allen 5-4 Michael Holt
Wednesday, 23 April
10,00am
5* - Barry Hawkins 10-4 Dave Gilbert
13* - Judd Trump 10-8 Tom Ford
2,30pm
4* - Marco Fu 10-7 Martin Gould
16 – Neil Robertson 7-2 Robbie Williams
7,00pm
7 – Mark Davis 2-7 Dominic Dale
15* - Mark Allen 10-4 Michael Holt
Thursday, 24 April
1,00pm
7* - Mark Davis 5-10 Dominic Dale
21 – Mark Selby 5-3 Ali Carter
7,00pm
17 – Ronnie O'Sullivan 3-5 Joe Perry
16* - Neil Robertson 10-2 Robbie Williams
Friday, 25 April
10,00am
19 – Barry Hawkins 4-4 Ricky Walden
21 – Mark Selby 9-7 Ali Carter
2,30pm
17 – Ronnie O'Sullivan 7-9 Joe Perry
22 – Alan McManus 4-3 Ken Doherty
7,00pm
19 – Barry Hawkins 7-9 Ricky Walden
21* - Mark Selby 13-9 Ali Carter
Saturday, 26 April
10,00am
17* - Ronnie O'Sullivan 13-11 Joe Perry :-)
22 – Alan McManus 10-5 Ken Doherty
2,30pm
19* - Barry Hawkins 13-11 Ricky Walden
23 – Judd Trump 5-2 Ryan Day
7,00pm
20 – Dominic Dale 7-1 MIchael Wasley
22* - Alan McManus 13-8 Ken Doherty
Sunday, 27 April
10,00am
18 – Shaun Murphy 4-4 Marco Fu
24 – Mark Allen 4-4 Neil Robertson
2,30pm
20 – Dominic Dale 12-4 Michael Wasley
23 – Judd Trump 10-6 Ryan Day
7,00pm
18 – Shaun Murphy 9-7 Marco Fu
24 – Mark Allen 7-9 Neil Robertson
Monday, 28 April
1,00pm
20* - Dominic Dale 13-4 Michael Wasley
24* - Mark Allen 7-13 Neil Robertson
7,00pm
18* - Shaun Murphy 13-8 Marco Fu
23* - Judd Trump 13-7 Ryan Day
Tuesday, 29 April
10,00am
QF2 – Barry Hawkins 6-2 Dominic Dale
QF3 – Mark Selby 4-3 Alan McManus
2,30pm
QF1 – Ronnie O'Sullivan 6-2 Shaun Murphy
QF4 – Judd Trump 6-2 Neil Robertson
7,00pm
QF2 – Barry Hawkins 11-5 Dominic Dale
QF3 – Mark Selby x12-4 Alan McManus
Wednesday, 30 April
10,00am
QF1 – Ronnie O'Sullivan 13-3 Shaun Murphy :-)
QF3* - Mark Selby 13-5 Alan McManus
2,30pm
QF2* - Barry Hawkins 13-12 Dominic Dale
QF4 – Judd Trump 9-7 Neil Robertson
7,00pm
QF4* - Judd Trump 11-13 Neil Robertson
Thursday, 1 May
1,00pm
SF1 – Ronnie O'Sullivan 6-2 Barry Hawkins 
7,00pm
SF2 – Mark Selby 5-3 Neil Robertson 
Friday, 2 May
10,00am
SF1 – Ronnie O'Sullivan 11-5 Barry Hawkins 
2,30pm
SF2 – Mark Selby 9-7 Neil Robertson 
7,00pm
SF1 – Ronnie O'Sullivan 17-7 Barry Hawkins :-)
Saturday, 3 May
10,00am
SF2 – Mark Selby 12-12 Neil Robertson 
7,00pm
SF2* - Mark Selby 17-15Neil Robertson 
Sunday, 4 May
2,pm and 7,00pm
Final (8) and (9)
Ronnie O'Sullivan 3-1 Mark Selby 
Ronnie O'Sullivan 5-3 Mark Selby
Ronnie O'Sullivan 8-4 Mark Selby  
Ronnie O'Sullivan 10-7 Mark Selby 
Monday, 5 May
2,00pm and 7,00pm
Final (8) and (10)
Ronnie O'Sullivan 14-18 Mark Selby :-(
Round 1 best of 19 frames (9/10)
Round 2 and QF best of 25 frames (8/8/9)
SF best of 33 frames (8/8/8/9)
Final best of 35 frames (8/9/8/10)
* denotes final session of match

If I don't win a sixth world title, I'll still think I've had a good season
By Ronnie O'Sullivan | Ronnie O'Sullivan – Wed, Mar 26,
https://uk.eurosport.yahoo.com
PRESTON IS A SNOOKER TOWN
I've always loved coming to Preston. For years, it hosted the UK Championship which is our second biggest ranking tournament. It was well supported, and I've got a lot of good memories.
The Guild Hall is a terrific venue. There should be tournaments here all the time because it is one of the best snooker venues you can play at.
Winning the UK back here in 1993 was a dream come true for me because I was playing Stephen Hendry, who was my hero. He was number one at the time, and probably the best player who played the game. For me, it was a dream at such a young age. I was only in my second year as a professional so to win such a big tournament was a major achievement.
This is where it all started for me. I think to myself: where have 21 years gone? I was only 17 when I played there. 21 years on top of that makes me feel like an old man now. It has all been good fun, and I have enjoyed it. I have no regrets really. I just wish I could maybe go back to the beginning again.
I went on Richard and Judy after beating Hendry. It was the biggest morning chat show on at the box. They filmed it in Liverpool at the time. I went to see the sponsors who were Liverpool Victoria. Their offices were next door to the studio, and suddenly I was sitting on a chat show discussing my success. I thought it would be cool to do an interview. It was all a bit of a new experience for me really.
I wasn't really nervous back then. The most important thing to me was my snooker. I was just telling them what they wanted to know really. I might have been a bit nervous if they had asked me about something other than snooker. I don't remember thinking back then that I had made it. I just had the flavour of it. I had won a major event.
But for me, it was about winning more. I think I won the British Open in the same year, but then I kind of went off the rails a little bit. I probably missed out on a few trophies because of that. I do have regrets maybe wasting a few years, but sometimes you have to go through those little phases in life to learn for the future.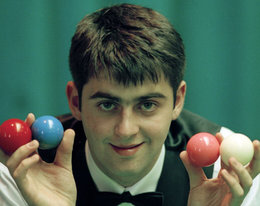 2005 GRAND PRIX AND THREAT TO "PLANT A FEW SHRUBS IN THE GARDEN"
I was getting results, but I wasn't really playing that well when I reached the final of the 2005 Grand Prix in Preston. I wasn't the type of guy who was happy getting results. I wanted to be doing well - that's why I said I'd rather be out gardening than playing snooker despite reaching the final. Just frustration.
I got a little bit disappointed with myself. As you get older, you tend to realise you can't play well all the time. You just have to get out there, and give it a go. If it goes well, then great. If not, you must dust yourself down, and get yourself ready for the next one.
I lost 9-2 to John Higgins in the final. He hit four straight centuries in the final, scored almost 500 points without reply and was like a train with no brakes. It was no disgrace in losing to him on that day. I got a good hiding. He is a great, great player. That is all I can say, really.
I still get the same feeling inside these days when I miss an easy ball, or I'm feeling frustrated, but I tend not to act on them like I did before. When things don't go my way, I don't think I want to get out of here; that I'd rather be anywhere else but here. I've sometimes done that, and when I get home I think: 'I'd rather be back there playing' and it was all heat of the moment stuff.
Sometimes that is all it is, and you are going to regret those feelings if you don't try to get a result for yourself.
Nowadays, I try to get a result, play the balls and play each shot as it comes. I'm of a mind that you must try to live to fight another day. In any walk of life, things can turn around quickly. You must try to stick with it, and you don't went to damage your own prospects of success by giving up.
PRACTICE DOESN'T ALWAYS MAKE PERFECT
It took me five hours in the car to get to Preston. It is two hours on the train to get here, but I need my car, that's why I drive.
I'll tend to do an hour the night before the match in practice then an hour so before I go. Just so I can get the feel of the table. That is about it really. All my practice has been done before I get here, so it is all about winning my first match. You are not really going to find your game when you get here.
It is more about playing your way into the tournament. And you tend to get a bit stronger as you progress. The first match is probably one to get out of the way, and get your teeth into the tournament.
Of course, I'll need to fit in my running schedule. I started running seriously back in 2003 or 2004. My mate took me out running. I got a good buzz. It is good fun, and a good distraction to be out and about keeping fit.
FAILURE TO WIN WORLD TITLE DOES NOT MEAN SEASON IS A FAILURE
I know Roger Federer and Tiger Woods try to get themselves in prime shape for the Slams and Majors in their sports, but it is difficult to peak for every big tournament. Sport is on the day, and lot of it depends on how you wake up and what mood you are in.
You can sometimes not feel right, and things might not go your way. You can try to peak for certain events. And each tournament and each match. Sometimes you might not win the World Championship, but you can win two or three tournaments along the way. It doesn't mean if you don't win the world title, you haven't had a good season.
If I don't win another match this season, I'd still look back and think I've had a good season. If someone had offered me a Masters, the Welsh Open and the Champion (of Champions) Cup in the amount of tournaments I've played, I'd have bitten their hand off.
I would have taken those all day long. Before the Champions Cup started, I said I would have been happy to win one of the next five events. I've won three out of four events. I'm ahead of schedule. I can't be too hard on myself if I don't win the world title this year.
I'd love to win it, and I'll do my best to win it. But a lot of it is on the day. There are a lot of good players out there hungry for success. On their day, they are all tough competitors. You don't want to rely on giving too many of the players nowadays a big lead during the sessions at the World Championship, but at least you have some leeway over the longer distance.
You can afford to go 5-3 behind or 9-7 behind, and still be in the match. But if you are 11-5 behind or 12-4 down, you have a real uphill struggle. The longer distance tends to suit the better and more consistent players so hopefully I can go there and find some form, and perform how I did over the past two years there.
I'D LOVE TO APPEAR ALONGSIDE JIM DAVIDSON ON BIG BREAK
I'm really enjoying doing The Ronnie O'Sullivan Show. Just keep me posted if Jim Davidson gets the go-ahead to return to Channel Five with Big Break. I might have to do John Virgo's old role alongside Jim. I could pick the balls out of the pockets for the competitors. I'd do that all day long.
Why not? It was a very decent show at the time. It would be really good if they bring it back. I enjoyed Jim winning Celebrity Big Brother. Hopefully, his success can rub off on snooker.
Ronnie O'Sullivan was speaking to Desmond Kane. 

Ronnie O'Sullivan insists he's never played better as he eyes sixth Crucible word title
http://www.dailyrecord.co.uk/
THE SNOOKER star believes he's in the form of his life as he aims for his third successive triumph in Sheffield.
RONNIE O'SULLIVAN has fired an ominous warning to his Crucible rivals by claiming he's in the form of his life.
The Rocket will bid for a sixth World title next month having already won the Champion of Champions, Masters and Welsh Open titles this season.
The 38-year-old is going for a third successive Sheffield triumph. Another title would take him level with Steve Davis on the all-time list and just one short of Stephen Hendry's record.
After working with Dr Steve Peters, England's new World Cup mind guru, O'Sullivan insists the game seems easy again and that he has become a winning machine.
Problems with drink, drugs and depression forced him to consider quitting the game but the clean-living Englishman now claims he has never been happier off the table as well.
He said: "I'm playing as well as I ever have done, with freedom and enjoyment but also the craft I have added.
"And I'm as happy as I have ever been – it is something I work on hard with Steve. I haven't always been happy playing snooker and that has been the key to doing well.
"I take it seriously on the table, the competitor comes out, but away from that I don't take it as seriously now.
"I always said I was a different animal and could never be a ruthless winning machine like Davis or Hendry – but I have become one.
"I'm winning a high ratio of events that I enter and winning them pretty convincingly.
"The Masters and the Welsh this year and the Worlds last year, no one got close to me.
"I can't play a lot better than that and I don't need to. The whole package is there now where it wasn't before.
"These last three years I have been playing like I was as a kid at 16 at Blackpool in the qualifiers. The game came easy to me then and it is coming easy to me now again.
"There have been moments where I have been left thinking 'I can't play any better than this, this is as high as it gets.'"
O'Sullivan has also been given his own series by Eurosport which starts on Tuesday while he heads to Preston for the PTC Grand Finals.
He added: "I was scared at first filming but I am passionate about it so I was fine.
"What I want to come over is my philosophy of the sport, how I learned to play it.
"I realised some time ago there is nothing out there that will give me the buzz I get from playing snooker and you have to plan for your future. This gives me another string to my bow."