Run
ROCKET RACES TO THIRD IN 5KM RACE
12 Aug 2008 10:17:00
www.worldsnooker.com
Ronnie O'Sullivan showed that he is in peak fitness as the new snooker season approaches by finishing third in a 5km race in Basildon, Essex on Sunday.
The Rocket, wearing number 147, covered the course in 17min 32sec in a race which was entered by 311 runners. O'Sullivan, who has found running a settling influence in his life, also won a 5km race in Epping in May.
"I'm quite happy with that," the world No 1 and 888.com World Champion told the Basildon Echo on Sunday. "I run 50 miles a week these days when snooker commitments allow, but sometimes that limits me to 25.
"When I won the Epping 5 in May it was a great day for me. I just enjoy running and if events like today's are in a good cause and I can help by entering, that's good enough for me.
"The snooker season will be getting underway soon so I'm not quite sure what my next race will be, but you can be sure I'll be out there training again straight away."
O'Sullivan opens his 2008/09 snooker campaign at the Northern Ireland Trophy on Wednesday, August 27 at 7.30pm. Tickets are still available. To book your seats call 02890 334455 or log on to www.waterfront.co.uk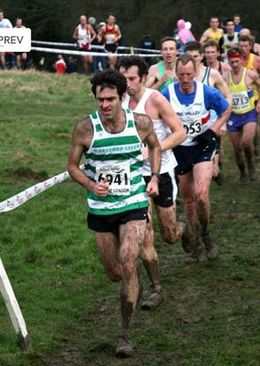 As usual, Ronnie, covered in mud from a fall, set tongues wagging around the course, as CC fans are not used to seeing a "celebrity" get stuck into a tough physical challenge of this sort.
South of England Cross Country Championships - 26 January 2008
January 28th, 2008 by David
http://rowerunning.co.uk/
On Saturday afternoon Sharon, Kirsty and myself headed to north London on the train to go to Parliament Hill, which is on the south side of Hampstead Heath for the South of England Cross Country Championships event.
There were a number of races being held throughout the day. Parliament Hill is the spiritual home of cross country running and I was really looking forward to it. Although I'm in the middle of marathon training I wanted to run this event, but sensibly planned not to race it hard. I just wanted to experience the course and the atmosphere and get a good training run in at the same time. The course was advertised as 15km, which is just over 9.3 miles!
About five minutes before the start I headed to the start line - which is absolutely immense. I have never seen anything like it before in my life. It was about the length of a football pitch and was crammed with runners. It was amazing.

As you head over the hill it goes into a relatively steep downhill, followed by the first encounter with some real mud! The ground for unforgiving, unbelievably muddy, and even with 15mm spikes you were still sliding around.
Kirsty, who'd raced earlier in the afternoon described the course as….
The whole route was either:
a. uphill
b. downhill
c. muddy
d. really muddy
e. extremely muddy and stinky!
f. on a huge camber
g. full of holes
h. in a bog or ditch
i. into a gale force wind
j. all of the above!
I think this description was spot on. I don't believe there was any single piece of flat ground in the course and you were constantly twisting, turning, trying not to break your ankle or running through this sludgy mud! Superb.
Unlike a road race you get no opportunity to settle into any kind of pace - you're constantly adjusting your running to the ground beneath you. Truly challenging stuff.
During the course there were two "bogs" I'd like to call them. About 20 feet long and about 20 feet wide this was just grey, wet muddy water and you had no option but to run through the middle of it. There's no point trying to avoid the mud on a course like this - you're going to have to resign yourself to getting very dirty. I saw a couple of people fall flat on their faces into the mud after misjudging the jump from the mud onto the path.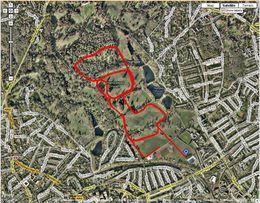 The senior mens course is three laps and I think I ran each of them fairly solidly. As I said I wasn't racing although I didn't want to drop too many places from the position that I'd established myself. In the third lap about a dozen or so people got past me although in the final straight after hearing a couple of people coming up close behind I pushed hard to maintain my position (and get past a couple of other runners).
I finished 418th out of 832 finishers in a time of 64:40. The winner finished in 46:16 and the last finisher came home in just over 1 hour 50 minutes. Following the race I found out something that I didn't know before - that two time world snooker champion Ronnie O'Sullivan is now a runner (in addition to a snooker player), and he finished in 189th place, finishing just over seven minutes in front of me!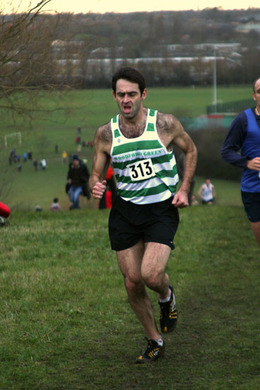 Star Studded Sunday Run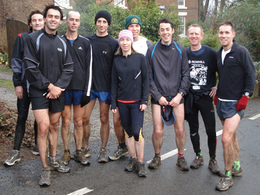 The Wrekin
09 December 2007
Word Champion triathlete (2006) Tim Don and Embassy World champion (2001, 2004) snooker ace Ronnie OSullivan joined us for a very muddy Sunday morning run on the Wrekin.
Ronnie is in Shropshire competing at the Telford International Centre in the Maplin UK Championships. He loves running as a form of relaxation and keep fit. He runs most days and is aiming to crack 35 minutes for 10K.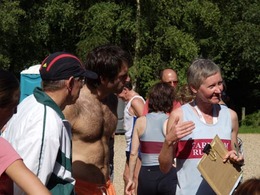 Alice Holt Forest 10K
http://www.farnham-runners.org.uk/index.htm
Farnham Runners Press Release - 10th September 2006
The organising club Farnham Runners took first and second team places in both men's and ladies' categories at the Alice Holt Forest 10 km. Twice World Snooker Champion Ronnie O'Sullivan, currently the world number three, and junior international cross country runner Danielle Sale, both from Essex were among the record 535 finishers.
Race Director Charles Ashby thanked all the sponsors without whom the race could not go ahead- Bells Potter Solicitors, Kinetika (Farnham Sports Centre), Farnham Town Council, Explore Adventure Holidays and Sweaty Betty. Members of the local fundraising charity the Hedgehogs and The Source, the youth resource centre in Aldershot, as well as many relatives and friends of Farnham Runners provided essential marshals while the Red Cross provided First Aid cover.
Each year this race attracts a wide variety of standards of runner, with experienced club runners battling it out for the individual and team prizes, while others are happy to complete their first 10 km race.
Richard Gowen of Alton Runners was delighted to take the men's title with an excellent time of 34.22 in the hot conditions on this undulating forest track course. Nick Baker from Denmead Striders ran with him for the first 5 km to cross the line in 34.54. Third finisher was veteran (M40) Ian White of Farnham Triathlon Club in 35.36.
Danielle Sale (38.44) of Orion Harriers had no problems in taking the honours in the ladies race, finishing over 4 minutes ahead of the next lady. After a busy training week she used the race to hone her cross-country running before the European trials in November.
Runner up was Shan Morgan from Aldershot, Farnham and District A.C. in 42.40, with veteran Susanna Harrison from Woking A.C. taking 3rd slot.
Ronnie O'Sullivan made a surprise appearance beating first Farnham Runner, Micheal Rix (37,35) in a sprint finish to the line to clinch 9th place in 37,26. Interviewed after the race, "it was easy" he joked.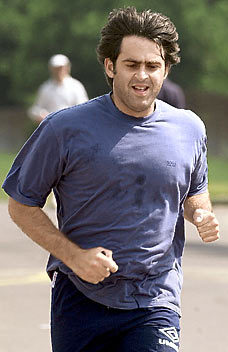 ROCKET RONNIE SWAPS CUE FOR RUNNING SHOES
05.12.06
Ronnie O'Sullivan, once snooker's most troubled star, has swopped the Priory for a pair of running shoes to beat the mood swings that threatened his brilliant career.
Twice former world champion O'Sullivan trains daily and the world No 3, who was 31 on Tuesday, has posted such promising times for the 10k, he aims to set a 'celebrity' record in the Great North Run.
O'Sullivan said: "I've had enough of spending £100 an hour on therapy sessions - I thought I might as well get a pair of trainers. It's the best therapy I've ever had. I wish somebody had told me that 12 years ago."
Depression has been O'Sullivan's great enemy since his first ranking title win at 17 - he threatened to quit snooker several times and even gave away his cue after his world semi-final defeat at the Crucible in April.
In the past he has tried fishing, yoga and even flirted with Islam in his search for a settled heart and mind.
But he said: "Running is the most important thing I do - it stops me losing the plot, if you like. Even if I do lose the plot, once I go out on a run and do seven or eight miles, it makes things seem a bit rosier."
On Wednesday, O'Sullivan opens his challenge in York for the Maplin UK Championship, the first title he won in 1993 at 17 to launch a career that has confirmed him as the most naturally-gifted player to pick up a cue.
But he said: "If someone said I'd got a choice between running and snooker, I'd give up snooker tomorrow, I get such a buzz from running. I love it - the mud, the fresh air. I know Epping Forest inside out.
"I've played snooker for a long time, it's become a bit of a job. I enjoy it, but it's not the be all and end all. The most important thing for me is my family. I've a daughter Lily and we have another on the way.
"My missus, Jo, is happy for me if I'm happy, and I'm an outdoors person. I'm not one to sit and try to rock Lily to sleep in the house. I take her out in the pram or carry her on my chest. She means the world to me."
O'Sullivan, who has joined Woodford Green in Essex, added: "I've done 36 mins 31sec for the 10k but I want to get my time down to 33 and do the Great North Run, be the fastest celebrity they've ever had, which I WILL do. Whatever the time is, that will be my goal. I'll find out what the time is and train hard."
He has been training alongside national junior cross-country champion Danielle Sale, whose coach, former international Maxine Joyce, has set O'Sullivan a tough schedule.
"He's keen and he can get down to 35 mins, faster if he can fit in the training," said Joyce. "He says it helps his snooker. You don't need to be fit to play snooker, but it makes the mind fitter."
O'Sullivan, looking lean and relaxed, swept aside Jimmy White 7-0 to win the Betfred Premier League final on Sunday, and declared: "I'm going to York with a bit of confidence. I'd love to win it again.
"There's always room for improvement, and I've learnt to start enjoying my snooker again. But I don't take this game too seriously, there are more important things like family. My life is about my kids now."
YOU DO RUN RON
26 Oct 2006 12:31:00 www.worldsnooker.com
Not only is Ronnie O'Sullivan one of snooker's quickest cuemen, he's pretty fast away from the table too.
And if the two-times World Champion looks quicker around the table than usual in Aberdeen this week, then maybe it's because he's been receiving some top class athletics coaching.

The Rocket has always been keen on his running and earlier this month clocked new 10 kilometres personal best of 36 mins 31 secs in Southend.

And that's hardly surprising considering he's been training with National Junior cross country champion, Danielle Sale.

Sale's coach is former international, Maxine Joyce, and she's set the twice former world champion a weekly 40 mile schedule.

"He's very keen and wants to improve on his times," says Joyce. "He used to go down to Woodford Green but he was find he was running aimlessly.

"He was just going out for a run and there was no structure to it. When he first came down to me last July he was finding the track really hard.

"We used to do 8 x 800 metres and he could only do six reps. Now, he's starting to do all the reps and his recovery is a lot quicker and his times are coming down."

O'Sullivan has been training with Joyce's son, Shay, a 34 minute 10km runner.

And she believes O'Sullivan can get down to 35 minutes. "Maybe faster if he can fit in the training," she added. "Ronnie says the running does help his snooker in a way. It makes the mind fitter."

The Essex star warmed up for Aberdeen with another run, finishing a creditable 13th in the Standish Hall Trail Race.
A 70-miler run and a five-miler run
By Tim Ashton
www.newsshopper.co.uk/sport
IT IS not often a race winner has a margin of five miles over their nearest rival but Glyn Morris now has such a distinction.
The Gravesend Road Runner won the Lincolnshire Boston 12-hour track at the weekend beating 11 other athletes in the process.
In the 12 allotted hours and despite poor weather conditions Glyn, of Bartlett Road, Gravesend, ran just over 70 miles from 6pm to 6am.
At the Shorne Wood five-mile race, hosted by Istead and Ifield Harriers (I&I), a record 260 runners turned out for the multi-terrain event around Shorne Wood County Park.
In a position reversal of last year's race Barry Royden of Medway and Maidstone Athletic Club crossed the line first in 28mins 27secs followed by last year's winner Martin Forder in 28mins 52secs.
David Hall of Dartford Road Runners took third place in 28mins 59secs while snooker legend Ronnie O'Sullivan stormed home to take 10th place with a credible 30mins 37secs.
More on: www.newsshopper.co.uk/sport
Ronnie on cue
14.07.2005
Former world snooker champion Ronnie O'Sullivan finished 11th of 425 runners in Sunday's (10.07.2005) 10km road race. Grange Farm Trotters were hosting their second race in a month, and the event was part of the Felsted Primary School celebration of VE Day.
It was run in hot weather on a relatively flat course around the roads of Felsted, and O'Sullivan posted a highly credible time of 37 minutes 18 seconds. He raised in category Senior Men for team Woodford Green and Essex Ladies.
(When we take into consideration, that for title world champion in Finland sufficed time only for 10 minutes shorter, so this time is really great – Dana)