World Cup of Pool 2006 A
Official pages of the tournament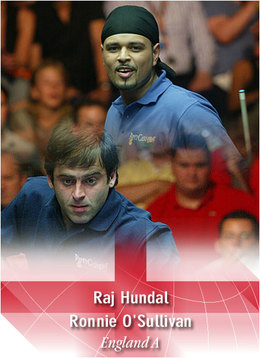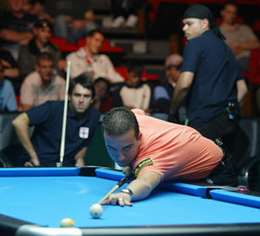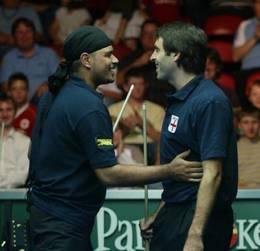 Spain Edge A Thriller
www.worldcupofpool.com
SPAIN'S David Alcaide and Rafael Guzman enjoyed a sweet victory over England a as they nudged out Raj Hundal and Ronnie O'Sullivan in a classic 9-8 thriller at the PartyPoker.com World Cup of Pool.

Spain lead throughout until the closing stages when England got their nose in front at 8-7, but the Spaniards took the final two racks to close out a famous victory.

In front of a large crowd, the two teams entered the arena with most of the support being in favour of the English, although they got off to the worst possible start as they found themselves 4-0 down within 20 minutes.

A series of errors assisted Spain's progress but England stopped the rot in the fifth rack as Hundal and O'Sullivan put their dire start behind them to run the rack out from the break.

Guzman was forced to play safe in the next following the break and made a good job of it but O'Sullivan was equal to it and put Alcaide in trouble.

Eventually England had a chance to clear but O'Sullivan missed a long 3 ball into the top right pocket and that allowed Spain to restore a four game advantage.

England took the next after a miss from Guzman let O'Sullivan execute a neat 2/9 carom to get back to 5-2.

The O'Sullivan / Hundal axis took the next following some fine potting from Hundal and, after a bit of left-handed play from his partner, the match, at 5-3, was alive.

England 's comeback continued as a stroke of skill from Hundal rescued a difficult situation. O'Sullivan ran out of position leaving his partner with a long cut into a blind pocket but he nailed the pot and cannoned across the table to deposit the 9 ball and reduce the deficit to 1 rack.

A gaff from O'Sullivan in the next as he failed to connect with a rail kicking out of a snooker, gave ball in hand to the Spaniards but Alcaide though missed a tough down-the-rail pot on the orange 5.

However, O'Sullivan missed the long pot on the same ball and the Spaniards took advantage to get the score to 6-4.

Spain looked to be on their way in rack 11 as they got the better of a safety exchange but Guzman scratched and with ball in hand Team England cleared to reduce the arrears.

There was more safety play in the next as neither side wanted to take on the tough pot to grab control. It looked like being England 's rack before Hundal miscued on an easy 9 ball and Alcaide took the chance to take Spain into a 7-5 lead.

There was more ball in hand opportunity for England in the next as Alcaide failed to escape from a snooker. Hundal and O'Sullivan held themselves together to run out and bring the score to 7-6 in what was a real thriller.

There was more joy for the English in the next as they took the game to square the match up for the first time and there was more disaster for Spain in the 15th.

O'Sullivan scratched on the break and the Spaniards ran out the table before Guzman missed a relatively simple 9 ball to leave it on for Hundal who took the chance to put his team into the lead for the first time.
Spain took the next to give us the second hill-hill match of the day but it was Hundal who made the critical error as he ran out of position with just three balls left to leave O'Sullivan in a snooker. He fouled escaping and, with ball in hand, the Spanish duo of Guzman and Alcaide cleared to take an exciting match 9-8.
Afterwards a delighted Guzman said: "I enjoyed it a lot but I was very nervous.

"I played well but missed a few easy balls. The crowd was good for the English team but they were fair.

"I knew it was going to be tough against two big players like that but I was confident in myself and my partner."

Hundal summed up the disappointment for the English team. He said: "I have been in pressure situations so many times. I usually prevail and Ronnie is the same.

"I thought we had it but at the same time you never know for sure until it's over. I don't think we played badly and I think we were the better side at certain times in the game.

"I miscued on the 9 ball and if I hadn't done that it would have been over but they won one rack more than us and I wish them all the best in the event."
EXCLUSIVE Ronnie O'Sullivan Interview
www.worldcupofpool.com
By Michael Emons
RONNIE O'Sullivan has conquered the snooker world and is now determined to have the same impact in pool.
The Rocket has stressed his desire to play in more tournaments and has another chance to improve his skills when he competes in the inaugural PartyPoker.com World Cup of Pool, which starts on August 22 at the Newport Centre in Newport, Wales.
The event, which features some of the finest 9-ball players, including four former world champions, sees 32 two-man teams playing in a scotch-doubles knockout format, all vying for the $60,000 top prize.
O'Sullivan, 30, who partners 2005 World Pool Masters winner Raj Hundal to form the England A side, believes he can be successful in pool.
"I definitely think I can get into it," said O'Sullivan, a two-time World Snooker Champion. "I just need to dedicate myself a bit more to learning the break-off shot and if I do I will have a decent chance of winning tournaments.
"Tony Drago has won competitions and it's good to see other snooker players performing well. If they can do it, then I'm sure I can.
"I come from a snooker background but once I practise pool more I think I will have a chance."
O'Sullivan has already appeared in two pool events this year and has had mixed success. He scratched twice off the break during an 8-5 first round defeat against Wu Chia-ching in the World Pool Masters in June but advanced through two rounds to reach the last 60 of the 2006 IPT North American Open 8-Ball Championships last month.
The Rocket will still be playing in major snooker events but believes he will soon be competing at a high level in pool - as long as he keeps working on his technique.
He said: "My first game is snooker, it's something I practise but this is something new and there's no pressure on me when I play pool. It's not as if I have anything to prove, but if I'm playing snooker my reputation is on the line all the time.
"Every time I go out to play snooker my pride makes me not want to lose but in pool, as I've never really played it, I don't feel like I deserve to win.
"I know I need to work on my break and that cost me that match against Wu. But it's something I can work on and it's not that difficult so once I get that right I will have a chance.
"Wu is a better pool player than me but if I played him on a snooker table then I would be thinking 'I can't let him beat me at my own game'.
"Before the World Pool Masters I had not played pool since January but that competition gave me a bit of a flavour of it."