2006 Betfred Premier League A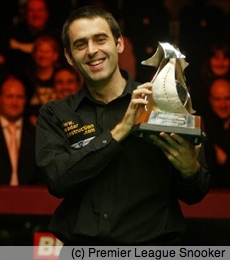 Premier Leageu final match
written by Linda
Here we go then for those outside the UK who can't watch this match. Final - Ronnie v Jimmy

Frame 1 Ronnie breaks off. Ronnie missed opening red giving Jimmy a chance. Got the red but missed black which was dead sraight. Then foul and miss by Jimmy. Choice of reds for Ronnie - took red to centre which was tricky and got it. Took on a difficult red and got it. Finally got touching ball - end of break but kept things tight. Hit and hope from Jimmy but it wasn't to be. Ronnie in again and went on to win frame 77-1. Ronnie off to a flyer. Lovely to watch.

Frame 2 Jimmy breaks off. Excellent response from Ronnie and good safety. Jimmy mises a shot. Ronnie played next with right hand side and red went in. He's off again. Jimmy is not getting the start he needed to put Ronnie under pressure. Ronnie seems eagre and up for it. End of break for Ronnie at 32-0. Jimmy took a long red - shot to nothing and got it then took on the brown and kept on scoring. Favourite to win frame and needs to hold himself together. Jimmy finally missed a red ending break. Ronnie played safety. Jimmy 19 in lead - anybody's frame. Ronnie's options severely limited. Jimmy then unlucky but had to take a chance and left Ronnie to take a slow red which he got. A frame that Jimmy should have won. Ronnie won 62-49. Now 2-0 ahead.

Frame 3 Ronnie broke off with looped bridge. Ronnie scored first. This break is top draw. Ronnie generates so much cue ball movement. He makes a century, and wins frame 122-0. He seems unstoppable. Now 3-0 ahead.

Frame 4. Jimmy badly needs this frame and breaks off. Then a rare mistake from Ronnie using the rest and missing a red. Jimmy should have potted next red but missed. Ronnie found a path between the reds and potted a red. Jimmy looking a little frustrated. Ronnie kept on scoring and hitting the balls fantasitically well and deserves to win the frame. Played some shots left handed. Missed a pink but won frame 93-0. Now 4-0 ahead.

Frame 5 Ronnie breaks off. Eventually a chance for Jimmy - went for a difficult red and got it and then the yellow. Missed next red. Jimmy hit shot but poorly over hit it letting Ronnie in. Cue power needed and he got the red. Ronnie later missed a red leaving Jimmy a chance. Jimmy missed yellow to centre letting Ronnie in. Jimmy's night is turning into something of a trial. Ronnie knows Jimmy is feeling it and Ronnie is having it all his own way. But Ronnie then misses an easy black (frame ball). 33 points difference with 35 on. Jimmy missed and conceded frame
at 43-13. Ronnie leading 5-0.

Frame 6 Jimmy breaks off but it is a poor one. His frustrations seem to be getting to him. Careless shot from Ronnie missing the black. Come on Jimmy for the sake of the tournament let's see if you can make a frame winning contribution. Wasn't to be letting Ronnie in. Ronnie is up for the match and not taking any undue risks. Went wrong again for Jimmy. Ronnie in again and scoring. Massive chance and Ronnie wins frame 98-1. Now 6-0 in the lead after 63 minutes play.

Frame 7 Ronnie misses a red leaving it over the pocket and an inviting starter for Jimmy. Jimmy has his back to the wall, nothing to lose and has to go but lets Ronnie in again. Ronnie goes on to make a century, his 451st of his professional career I think and goes on to win the frame, winning 7 frames to 0.

Ronnie many congratulations. You are magic and have been outstanding in this tournament. Every good wish for the UK Championship and others this season.

Jimmy it wasn't your day today but you must feel proud to have reached the final. Well done on your journey there. Good luck for your matches the rest of the season.
O'Sullivan: I Can Win More
RONNIE O'Sullivan targeted the World Championship again after sealing his third successive Betfred Premier League Snooker title.

O'Sullivan made two century breaks as he cruised to an emphatic 7-0 victory against Jimmy White in the final of the Premier League, which was held at the Forum Centre, Wythenshawe.

"I got off to a good start to put some pressure on Jimmy and it was always tough for him," said O'Sullivan. "He has played so well to get to the final and I expected it to go all the way but snooker is a funny game."

The Rocket was always in control and made breaks of 122, 113, 93 and 73 in a one-sided final.

After the victory, Leanne Hunter, sister of the late Paul Hunter, presented O'Sullivan with the trophy (pictured left) and a cheque for £79,000, while White also received a cheque of £44,000.

Leanne herself was handed a cheque for £10,000, which will go towards the Hunter Foundation, after promoters Matchroom Sport, sponsors Betfred and the players agreed to make a sizeable donation to the newly-formed charity.

"I'm proud and honoured to be here tonight representing the Paul Hunter Foundation," said Leanne Hunter.

"I would like to say a huge thank you to the Premier League sponsors Betfred and the players for their contribution to the Paul Hunter Foundation, which will help underprivileged and handicapped children play snooker.

"Paul was a wonderful person and brother to me. He will be so proud."

O'Sullivan, who is widely regarded as one of the best snooker players in the history of the game, has only lifted the World Championship title on two occasions - 2001 and 2004. But he believes he still has a lot more to achieve in the sport.

"I haven't conquered the snooker world," said O'Sullivan. "There's still a few more world titles I would like to win. But there are other things in life. You see Leanne here and Paul is sorely missed. At the end of the day it's just a game of snooker."

This was White's first tournament final in 32 months and admitted the better player won.

"I had a chance to win the second game and after that I didn't settle," said White. "Ronnie just gets better and better and only needs one chance to win a frame but I'm a bit disappointed I didn't give him a good game."
Rocket Closes In On Another Title
www.premiersnookerleague.com
RONNIE O'Sullivan stayed on course for his third successive Betfred Premier League Snooker title.

The Rocket defeated Davis 5-2 in the second semi-final and will now will be odds on to beat Jimmy White in today's final at the Forum Centre in Wythenshawe after The Whirlwind secured a shock 5-4 victory against World Champion Graeme Dott.

O'Sullivan, the favourite to lift the Betfred Premier League Snooker trophy for the third successive time, made a fantastic start as he made a break of 111 to claim the opening frame against Davis. That score was the fifth highest of this season and already left veteran Davis with a mountain to climb.

It soon became 2-0 as O'Sullivan looked determined to finish off the match as quickly as possible with breaks of 42 and 54 to leave Davis contemplating a semi-final defeat.

Missed shots by O'Sullivan at a pink as the shot clock was running down and then a tough red into the centre pocket gave Davis two chances to take the third frame. But he could not take full advantage and with the reds well placed O'Sullivan compiled a break of 74 to move 3-0 ahead. After the first three frames, O'Sullivan had scored a total of 285, while Davis had struggled to only get 35 points.

It nearly became 4-0 when, after a lengthy safety battle, O'Sullivan went in off after potting a potential frame-winning brown ball and that handed the frame to Davis.

The Nugget had a chance to make it 3-2 but after making a break of 17, his highest in the first five frames, he missed a black off the spot. O'Sullivan soon had the opportunity and another substantial effort, this time of 86, took the score to 4-1 with the Rocket one frame away from victory.

Davis finally found a tiny bit of form in the sixth frame as scores of 28 and 32 helped him to a 64-28 success. But there was not to be another comeback in the play-offs as a break of 64 helped O'Sullivan claim the second spot in the final.

Betfred Premier League Snooker
Second Play-off - Saturday, December 2
Ronnie O'Sullivan 5-2 Steve Davis
O'Sullivan's scores first
111-18 (O'Sullivan 111), 100-16 (O'Sullivan 42, 54), 74-1 (O'Sullivan 64), 48-60 (O'Sullivan 37), 106-17 (O'Sullivan 86), 28-64 (Davis 32), 71-14 (O'Sullivan 64)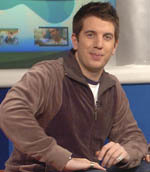 WHIRLWIND TO WIN IT - GOLDSTEIN
Friday 1st December 2006
Semi-finals
GRAEME DOTT v JIMMY WHITE

From the very start I actually tipped Jimmy White to win. I had a flutter on him at 150-1 so now he is in the semi-final I am getting a little bit excited that he might just do it.

It is going to be interesting because Jimmy has not played well all season - I don't think he has qualified for any ranking events yet which suggests he is playing awfully.

In the Premier League, though, he has had some fantastic results - he beat Ding Junhui and Stephen Hendry 5-1 which is no mean feat.

It all depends if Jimmy can keep his cool. Graeme Dott is a difficult opponent but if Jimmy keeps his cool it could go his way - I don't know if that's my heart or my head talking? It will be a tough game for both players.
The World Champion is the World Champion for one reason - because he is so difficult to beat. I predict 5-3 either way. It's too tough to call.

In the Premier League you always play top quality opponents whereas in qualifying for ranking events, no disrespect, but you are playing against lower players.

It is more difficult for someone like Jimmy - who has been there, seen it, done it - to subconsciously raise his game against someone who is ranked fifty places below him than it would be against the World Champion or Ronnie O'Sullivan or Hendry.

Playing in front of packed houses of 800 people upwards has made a difference and has some relevance in his impressive performances in Premier League snooker this season.

Dott has got down to the last four which would suggest he is playing well. He is a very difficult player to beat.

He has been branded as a slow player but he isn't. In the Premier League he has got one of the fastest times on the shot-clock.

His average time is around 16 seconds, which is only second or third behind Ronnie and Jimmy and possibly Steve Davis, who has sped up his game which is great to see.

Dott will be the first to admit that he isn't the sort of player who will get in and win a frame with one visit, that's not how he won the World Championship.

He certainly performs like a World Champion and is playing well in the Premier League. If he hadn't made it to the final four it would have been a disappointment for him.

RONNIE O'SULLIVAN v STEVE DAVIS

Form would suggest that Ronnie should win quite convincingly but December seems to be a lucky month for Davis.

Last year he needed Ronnie to beat Shaun Murphy 5-1 to make the final four and that's exactly what happened and also last December Steve got to the final of the UK Championship, which is the second biggest ranking event.

Anything can happen in this game. If both players are on top form then Ronnie will win. They both play a similar style - they are both open and fairly quick but I predict that Ronnie will win by two or three frames.

Ronnie loves the Premier League and he loves the Sky competitions because the crowds have been fantastic. Every single week it's been nothing but a full-house.

Only when the final ball has been potted have the crowd started to leave which is fantastic - you don't get that in any other snooker.

Ronnie is the defending champion and has won the Premier League crown for the past two seasons so he will be desperate to make it a hat-trick of wins.
The Final
If it is an O'Sullivan v White final, which I know the majority of snooker fans would love to see, it would be a fantastic final.


I know it's the worst thing a pundit could say but if those two made the final and turned it on, snooker will be the winner. I think snooker needs a final like that - the Whirlwind against the Rocket.

I have backed Jimmy from the beginning and I am not going to change my mind. I think the Premier League has been brilliant this season.

A main factor is whether it brings in the crowds or not and every week it has been a full-house which is testament to the quality of the snooker and to everybody for coming to watch the top players in the world compete.

We have seen some great matches - the only thing we are missing in the Premier League this season is a maximum break. I wouldn't be surprised if we got one this weekend.
Rocket Aims For Three In A Row

FOLLOWING two years of domination of the Betfred Premier League Snooker, Ronnie O'Sullivan goes for three in a row as the 2006 play-offs take place at The Forum Centre, Wythenshawe, Manchester/> />this weekend.

The Essex-based 'Rocket' is on an unbeaten run of 21 games in the tournament and sponsors Betfred justifiably make him a heavy 2/9 favourite to carry off the trophy on Sunday night.


O'Sullivan faces Steve Davis in the second semi-final on Saturday evening and for Davis/> />there will be added incentive to do well as 50 per cent of any prize money he receives will go to the Hunter Foundation, a charity set up by Lindsey Hunter in memory of her late husband Paul.

Davis
/>finished fifth in the League but was handed a second chance when Chinese sensation Ding Jun-hui was forced to withdraw from the Play-Offs in order to represent China/> />in the date-clashing Asian Games.

Sponsors and promoters felt that with the fifth placed player effectively gaining a 'free-roll' into the Play-Offs, it was a golden opportunity to help the Hunter Foundation.

"This is a great, unexpected chance to compete in the Play-Offs and I really hope I can raise a decent amount in Paul's memory," said Davis. "It won't be easy as Ronnie is playing exceptionally well at the moment but I will try to play my own game and I'll be giving it my best shot."

In the other best-of-9 semi-final, 2006 World Champion Graeme Dott goes up against surprise qualifier Jimmy White.

For White, who has slumped to 51 in the provisional World Rankings, the Betfred Premier League represents a chance to get in among the big money and turn his season around.

White is a 9/4 outsider to beat Dott but if he can repeat the type of form that saw him beat both Stephen Hendry and Ding Junhui 5-1 then he is capable of springing a shock. The two winners will then face off over the best of 13 frames at 7.30 on Sunday evening.

All matches will be played under the 25 second shot clock rule and in addition to the prize fund, there will an additional £1,000 on offer for any century breaks.

The prize money breaks down as follows:
The Winner: £50,000
Runner-up: £25,000
Semi-Finalists: £12,500

The four players are carrying forward the following amounts, won under the Betfred Premier League's unique '£1,000 per frame won, £1,000 per century break' prize money structure.

O'Sullivan: £26,000
Dott: £19,000
White: £19,000
Davis: £19,000

Semi-Finals (Best of 9 frames)
Saturday, December 2 - 7.30pm

Graeme Dott v Jimmy White
Ronnie O'Sullivan v Steve Davis



The Final (Best of 13 frames)




Sunday, December 3 - 7.30pm
O'Sullivan Fightback Maintains Record
RONNIE O'Sullivan fought back from 3-0 down to maintain his unbeaten record in this year's Betfred Premier League Snooker competition.

O'Sullivan had trailed 3-0 to Scotsman Graeme Dott but three breaks of more than 50 in the last three frames saw The Rocket seal a 3-3 draw.

Stephen Hendry's failure to defeat Ding Jun-hui meant Dott had already qualified for the play-off phase no matter what the result was against O'Sullivan.

However, as well as the £1,000 for each frame won, there was still a lot to compete for as if Dott won at least two frames he would avoid a rematch with O'Sullivan in next week's semi-finals.

In the opening frame the Rocket made a break of 31 but then was forced to play safe. Dott conceded two fouls but later in the frame O'Sullivan made five consecutive fouls as he attempted a four-cushion escape with the cue ball tight behind the green.

He finally used a different route to escape but left a chance and the reigning World Champion made a break of 43 to make it 1-0 to the Scotsman.

A lasp of concentration from O'Sullivan let in Dott for the second frame. The Rocket had a shot at the black but played that ball into a red, which then went straight into the pocket and O'Sullivan could not believe his mistake as Dott ran up a break of 79 to move 2-0 ahead.

O'Sullivan had not been beaten in the Premier League in 19 matches but a break of 67 from Dott made it 3-0 to bring that possibility closer.

But O'Sullivan showed why he is regarded as one of the best players of all time with breaks of 84, 88 and 64 to seal a magnificent fightback and a 3-3 draw.

2006 Betfred Premier League Snooker
November 23, 2006 - AECC, Aberdeen.
Ronnie O'Sullivan 3-3 Graeme Dott
O'Sullivan's scores first
39-91 (O'Sullivan 31, Dott 43), 1-86 (Dott 79), 16-103 (Dott 35, 67), 84-8 (O'Sullivan 84), 91-10 (O'Sullivan 88), 79-50 (O'Sullivan 64)
Rocket Maintains Unbeaten Record
www.premierleaguesnooker.com
SEVEN-TIME World Snooker Champion Stephen Hendry faces an early elimination from the 2006 Betfred Premier League Snooker competition after his latest defeat.

Hendry lost 4-2 against Ronnie O'Sullivan and now needs a big victory against Ding Jun-hui next week and hope other results go in his favour to have any chance of making the play-offs.

O'Sullivan could relax before this match as he had already qualified for the next phase, but this encounter was vital for Hendry's overall chances in the tournament.

However, the Scotsman, who received fine backing from the patriotic crowd in the SECC in Glasgow, made a poor start and was quickly 2-0 behind.

O'Sullivan has expressed his desire to become the first player to compile a 147 break in the Premier League and had a chance to do this in the first frame.

However, after potting nine reds and eight breaks, and with the score on 65, O'Sullivan then missed the black before the white dropped in as Hendry earned a reprieve. But he could not capitalise on this and the Rocket did enough to take the first frame comfortably.

The second was a far more scrappier affair as both players struggled to get into any rhythm. But the crucial point came when Hendry missed an attempted pot at a red close to a cushion and O'Suillivan scraped home by a 16-point margin to leave Hendry a lot of work to do.

Both players continued to make mistakes in the third frame, before a break of 41 from O'Sullivan was enough for him to move into a 3-0 lead and leave Stephen Hendry, who started the year as the World No.1, on course from an early exit from the tournament.

But Hendry, who has been crowned World Champion seven times, showed his strength of character in frame four.

He quickly got to the table and built a large break, although the run looked to have come to an end on 44 when he lost position and faced a tricky black with the cue ball tight on the side cushion. But a fantastic shot saw him cut the black in from a tight angle, much to the delight of the large Scottish crowd.

Hendry eventually made 87 to bring the match back to 3-1 but missed out on a century break, although still did manage his highest break in this year's competition, beating the 75 he made against Graeme Dott back on September 14 at the Sands Centre, Carlisle

The fightback continued in the fifth frame as Hendry's second successive break of more than 50 - this time a 72 - helped him to a 78-4 success to bring the scoreboard back to 3-2 in O'Sullivan's favour.

However, the comeback ended in disappointment as a missed red gave O'Sullivan a chance in the sixth frame and he proceded to make a break of 84 for a 4-2 win.

"I didn't come up here for the fresh air - I came here to win" said O'Sullivan. "The crowd paid good money so that's what I was here to do.

"Stephen is my favourite player to play as he plays the right game. A lot of people play an amateur game but Stephen is a professional and plays all the correct shots."

Betfred Premier League Snooker
November 16, 2006 - SECC, Glasgow
Ronnie O'Sullivan 4-2 Stephen Hendry.
O'Sullivan's scores first
82-7 (O'Sullivan 65), 51-35, 68-3 (O'Sullivan 41), 7-87 (Hendry 87), 4-78 (Hendry 72), 84-8 (O'Sullivan 84)
Ding Out Of Play-offs
MATCHROOM Sport can announce that Ding Jun-hui will now not be able to compete in the Play-Offs of the 2006 Betfred Premier League Snooker competition.

The provisional World No.4 from Shanghai /> had already qualified for the big money stages of the League at the Forum Centre, Wythenshawe following a string of impressive performances.

However, Ding's home country of China/> has insisted that he must represent them in the forthcoming Asian Games in Doha, which are scheduled to take place at the same time as the Play-offs, and Ding will now be playing in the snooker disciplines of the Asian Games.

Premier League Snooker promoters Matchroom Sport and sponsors Betfred have decided to allow the fifth placed player at the conclusion of the League to assume Ding's place in the semi-finals.

The Betfred Premier League Snooker Play-Offs, which are already a sell-out, take place on December 2 and 3 at the Forum Centre, Wythenshawe, Manchester, and will now feature the fifth placed player, who will take Ding's place.

With Ronnie O'Sullivan already qualified, the affected players are Stephen Hendry, Jimmy White, Graeme Dott, Ken Doherty and Steve Davis who are all now in with a greater chance of qualifying.

As a tribute to the late Paul Hunter, Betfred, Matchroom Sport and all the players concerned have agreed that 50 per cent of all prize money won by the replacement player in the play-offs will go to the Hunter Foundation, a new charity set up by Paul's wife Lindsey to help disabled and underprivileged youngsters play snooker.

Fred Done, chairman of Betfred, said: "The loss of Paul Hunter was a tragic blow for snooker and Ding's absence represents a fantastic opportunity to do something positive in Paul's name.

"The fifth placed player will effectively be playing for Paul and that will be a massive incentive for them to do well in the play-offs."

Matchroom Sport Chairman Barry Hearn added: "With £50,000 for the champion, £25,000 for the runner-up and £12,500 for the beaten semi-finalists as well as any £1,000 century break bonuses hopefully the charity will get off to a flying start."

In addition, Ding Jun-hui has agreed to make an undisclosed donation to the Hunter Foundation.
Chinese snooker sensation Ding confirms for Asian Games




Published : November 11, 2006





BEIJING (AFP) - Chinese snooker sensation Ding Junhui has confirmed that he will play at the Asian Games in Doha next month, putting his Asiad title defence ahead of winning the sport's top professional league. Ding, who recently emulated the feats of former world champions Ronnie O'Sullivan and John Higgins by winning three ranking titles before his 20th birthday, will be a hot favourite in the cue events.




The 19-year-old star is currently top of the seven-man snooker Premier League, and he has guaranteed himself a place in the semi-finals.





But he has told Asian Games organisers that he will withdraw from the Premier League final on December 3 if he gets that far in order to be in Doha where the snooker competition starts in December 4, the Asian Games website reported.





Last month, the Asian Games changed the schedule for its snooker matches to avoid clashing with another top event, the UK Championship. Last year Ding became the first player from outside the British Isles to win that title.





Ding, who comes from close to Shanghai, defeated Supoj Saenla of Thailand by three frames to one to clinch gold at the last Asian Games in Bsuan four years ago when he was just 15.




He has been credited with professionalizing snooker's image in China, where it is often played on sidewalks throughout the vast country.
Ronnie Reaches The Last Four
RONNIE O'SULLIVAN secured his place in the semi-finals of the Betfred Premier League Snooker with a 4-2 victory over Steve Davis at the Plymouth Pavilions.

Defeat for Davis left his own last-four hopes hanging in the balance, but the six-time World Champion still has two more matches to try and haul himself back up the table.

O'Sullivan lived up to his 'Rocket' nickname in the first and an early century looked on the cards as he eased his way through the balls, quickly finding his rhythm. But the penultimate red proved a step too far, and the £1000 century break bonus remained out of reach.

The second frame was more scrappy, with O'Sullivan twice getting out of the blocks but failing to capitalise on short runs of 18 and 20.

Davis dragged himself back into contention with a break of 45 to move four points ahead, but he missed a double and although he got another chance, Davis went in off when potting the green and attempting to dislodge a tricky pink on the side cushion. O'Sullivan cleared the remaining four colours to move into a two frame lead.

The opening of the third was punctuated by fouls from both players. O'Sullivan claimed an early 24-13 lead but allowed his opponent a return to the table and Davis moved into a six-point lead before jawing a black in the bottom right pocket.

O'Sullivan responded with a 21 break before leaving Davis behind the brown with a table-length snooker, from which he not only fouled on the black but also left the remaining red on – an invitation O'Sullivan gratefully accepted to guarantee himself at least a point.

Davis 's luck remained out of reach and in the fourth frame he looked well set until being forced into a safety shot having made a break of 28. A tactical exchange followed and Davis ended up using three of his allotted five 'time-outs' in the frame.

A miss on the black from Davis when 66 points ahead with 74 remaining left O'Sullivan with a glimmer of hope but he couldn't take it and conceded the frame to his opponent shortly afterwards despite a foul from Davis when he jokingly nudged the yellow out of the line with his cue after attempting a pot.

Referee Paul Collier opted to change the cue ball before the start of the fifth frame due to the proliferation of kicks both players had been experiencing, but after testing a new ball, both players opted to stick with the original.

Davis began the fifth frame by scraping his way to a 39-point lead but unluckily snookered himself on a colour and had to pull his best shot of the night out of the bag to trap O'Sullivan, who fouled and handed the advantage back to Davis .

A further break of 24 looked set to cut the frame deficit further, and although Davis missed a straightforward pink on frame ball, one more red at his next visit was enough to make the final frame vital.

There was to be no slip up from O'Sullivan when it mattered though as a break of 108, taking him all the way through the reds – looking like before losing position on the yellow, sealed the win and a play-off place.

"If things had come out differently for me I could have won more frames, but Ronnie only needs one chance and he was quickly 3-0 ahead," Davis admitted. "I was pleased with myself to get back in it but Ronnie potted a great long red in the last and that was it."

O'Sullivan added: "Qualifying takes the pressure off a bit now but you always want to perform in front of big crowds and with the money available every frame. I was pleased with how I played in spasms, we both had our moments, but overall I was happy– although a maximum in the last frame would have been lovely!"
Minute's silence held for Hunter
www.bbc.co.uk
Paul Hunter was only 27 when he died of cancer
Four of snooker's biggest names held a minute's silence for Paul Hunter
at the Premier League match in Preston on Thursday evening.
Ronnie O'Sullivan, Jimmy White, Ken Doherty and Ding Junhui gathered
around the table for a silent tribute to Hunter, who died from cancer on
Monday.
The funeral of Hunter, who would have been 28 years old on Saturday,
will be held in Leeds on 19 October.
The night's action saw O'Sullivan beat White 5-1 and Junhui edge
Doherty 4-2.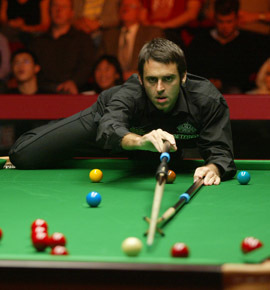 O'Sullivan Continues Fine Start
2006 Betfred Premier League Snooker
Stage Five - Guild Hall, Preston
Ronnie O'Sullivan 5–1 Jimmy White
O'Sullivan's scores first
77-45 (O'Sullivan 54, White 44), 35–69 (White 49), 114-0 (O'Sullivan 41, 73) 80-16 (O'Sullivan 68), 53–21, 88-21 (O'Sullivan 37, 51)

IN a much-anticipated match up between two of the game's biggest natural talents, Ronnie O'Sullivan and Jimmy White gave the Guildhall, Preston crowd full value for money before The Rocket triumphed.

"I didn't pay to my potential but Jimmy allowed me chances and in the end I'm reasonably happy," said O'Sullivan. "You have to pot and my potting was ok and that was the difference. "I've got three matches and if I can't get a point out of them I might as well hang my cue up!"

O'Sullivan now has five points from his first three games and has nearly already done enough to ensure his place in the play-offs. He grabbed the first frame although both players had their chances and a run of 54 from O'Sullivan bettered White's break of 44.

The Whirlwind, who was looking to capitalize on his upset 5-1 win over Ding last week, took the second as he opened up a 30-plus point lead. O'Sullivan came back to put him under real pressure but White knuckled down to take the necessary points to win the frame.

In the next, O'Sullivan missed the break on 41 as he tried to force the pack open, but White missed the next red using a rest and The Rocket grabbed the opportunity as he rattled in a break of 73 to reclaim the lead at 2-1.

An attempted plant from White backfired in the fourth and as a consequence, O'Sullivan compiled a frame winning break of 68 to take his lead to 3-1.

The next frame was hard work for both players as the reds began to drift to the bottom cushion making any sizeable break nigh on impossible. O'Sullivan made the most of the limited opportunities to take the frame 53-21 and grab both points to head the Premier League table with Ding. O'Sullivan took the final frame as he rounded of the match in style with a quickfire run of 51.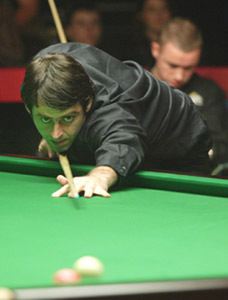 Rocket Fires Himself To The Top
2006 Betfred Premier League Snooker
Stage Two - GL1, Gloucester , September 21

Ronnie O'Sullivan 5–1 Ken Doherty

O'Sullivan's scores first
69-9 (O'Sullivan 38), 78-28 (O'Sullivan 66), 75-0 (O'Sullivan 71), 124-6 (O'Sullivan 124), 87-0 (O'Sullivan 61), 9-65
RONNIE O'Sullivan was in blistering form as he trounced Ken Doherty 5-1 to make it a win and a draw from two starts and go top of the Betfred Premier Snooker League.
The defending champion made it look effortless at times as he moved the cue ball around the table at will, leaving his opponent sitting in his chair for protracted periods.
"I played OK and I'm pretty happy with the way things went," said O'Sullivan." In the match I tried a few different things with my grip but I just do things like that to keep my enthusiasm going."
O'Sullivan took the opener with some confident potting despite missing three blacks off the spot and then opened up a two frame lead with a rampaging 67 break in the second.
A fabulous attacking safety in the third split the pack open and left Doherty snookered tight behind the yellow. The Irishman, a two-time Premier League Champion, fouled and O'Sullivan's bold ploy paid off as he knocked in a break of 71 to leave Doherty needing two snookers, which he could not get as the score moved to 3-0.
There was no respite from O'Sullivan as he tore through the balls in the fourth frame to rack up the first century of the tournament to seal all three points. The two-time World Champion show-boated his way through the colours, playing shots left handed as he totalled a 124 break, to move into a 4-0 lead.
Doherty kissed the blue while taking the cue ball into baulk in the next and O'Sullivan cashed in by rolling a red down the rail. The 'Rocket' nudged the black to block his path to the only available red so he was forced to roll the white back up the table.
O'Sullivan though, had his chance once again and slammed home a quick 61 to take the fifth. The Irishman, playing in his first Premier League for more than seven years, was anxious to avoid a whitewash and built up an aggressive 26 point lead.
He then left his opponent snookered but O'Sullivan got the better of the safety exchange as Doherty played a weak shot to leave a red on. O'Sullivan took it but missed the black into the middle pocket.
Doherty continued his good work to put together a 42 point lead but went in-off on the middle pocket. O'Sullivan presented him with another opportunity and Doherty took it to salvage some pride.
O'Sullivan added: "This feels effortless and at least I can say I've enjoyed myself and entertained a few people. I've been playing 23 years and you make yourself get in the zone. It's always there - you just have to find it."

REPORT: O'Sullivan Fights Back To Secure Draw
Ronnie O'Sullivan 3-3 Ding Jun-hui
(O'Sullivan scores first)

8-79 (Ding 41), 98-4 (O'Sullivan 98), 65-69 (O'Sullivan 65, Ding 69), 0-76 (Ding 76), 86-16 (O'Sullivan 45, 39), 86-0 (O'Sullivan 86)

REIGNING champion Ronnie O'Sullivan recovered from a 3-1 deficit to snatch a draw in the first match in the 2006 Betfred Premier League Snooker.

Chinese teenage sensation Ding Jun-hui, who many people are tipping as an outside bet to win the competition, looked like producing a stunning victory and inflicting a rare defeat on the Rocket.

However, O'Sullivan, who won the last two leagues, showed his strength of character as a break of 86 in the last frame rescued a hard-fought point.

"I'm pleased with a draw in the end," said O'Sullivan. "Ding could have won 5-1, he's a fantastically talented player and I love watching him play. He's in the Stephen Hendry league of potting and break building. Ding is a phenomenal player and a fantastic talent."

O'Sullivan is the bookmakers' favourites to clinch his third title in a row but also wants to make some history and become the first player to make a 147 break in the competition.

"I've never made a maximum in this event so that would be a nice thing to do," added O'Sullivan.

Ding broke and immediately moved into the lead with a break of 41, despite losing position on the red when he had scored 30 but recovered well as he produced a fine shot to cut the ball into the bottom left pocket.

However, he was soon back at the table when O'Sullivan left a red over the bottom right pocket and a score of 22 left The Rocket needing snookers, which he never collected.

The second frame started in nervous fashion with both players making mistakes before O'Sullivan turned on the style as he raced through the balls to reach the 90s and in sight of an extra £1,000 for collecting a century break.

However, two reds placed on the cushion were always going to be a problem and the break came to an end with the scoreboard showing 98 as the match became level.

The action continued in the same vein in the third but O'Sullivan could not wrap the frame up despite a score of 65 before he missed a tricky red into the left centre pocket while having to bridge over another ball.

Ding, the winner of the first snooker ranking event of the year – The Northern Ireland Trophy – took full advantage of this good fortunate as he cleared up with a break of 69 to steal a frame he should have lost.

That seemed to spur on the 19-year-old from China and a break of 76 in the fourth meant Ding was guaranteed at least a point from this match as he moved into a 3-1 advantage.

O'Sullivan had not been beaten in the Premier League for 20 months since he suffered a 4-2 defeat against Jimmy White in January 2005. The Rocket fought hard to avoid another loss as breaks of 45 and 39 helped him to an 86-16 victory in the fifth to keep the match alive.

For the second time in the match O'Sullivan had a chance of scoring a century break in the sixth frame but missed a shot on a red with the score at 86, although he had still done enough to secure a league point.

Hendry: Ronnie's The Man To Beat
STEPHEN Hendry has hailed Ronnie O'Sullivan as the man to beat in this year's Betfred Premier League Snooker.

O'Sullivan lost his world number one ranking to Hendry last year but the Scot believes O'Sullivan, who won both Premier League competitions in 2005, will be challenging for the trophy again.

"The bookies don't usually get it wrong and they have made Ronnie favourite as he's won it the last two times," said Hendry.

"This shot clock suits him better than anybody else because he doesn't have to move from his natural speed of play, which all the other players have to adjust to, and he is definitely the man to beat again."

O'Sullivan is involved in the first match of this year's Premier League at the Sands Centre in Carlisle on Thursday, September 14 when he faces Chinese sensation Ding Jun-hui, the winner of the first snooker ranking event of the season – the Northern Ireland Trophy.

Hendry also kicks off his campaign in Carlisle when the two Scottish players do battle as he meets current World Champion Graeme Dott. Seven-time World Champion Hendry regards the Premier League as one of the most important events in the snooker calendar and cannot wait for it to start.

He said: "I'm looking forward to it. In the last two years I've managed to get to the semi final and the final but was beaten both times by Ronnie. Hopefully I can make the semis and final again this year and try and do a lot better.

"The Premier League is a tournament you want to do well in and it has become more prestigious than some of the ranking events because it's on live television every Thursday night.

"You're playing to packed audiences wherever you go and up against some of the best players in the world. The format of the competition makes it an important one to win. You want to go and perform in front of a capacity crowd and that makes you feel more nervous but also play better."

O'Sullivan had been ranked as number one in the world for many seasons but that run was ended by Hendry who made a long-awaited return to the top. However, the Scot insists he still has the desire and determination to remain there for a long time to come.

He said: "It feels fantastic to be number one. I got there by being consistent rather than winning lots of tournaments which is what I used to do in the 90s but the figures do not lie - I'm world number one and proud to be back there.

"Only three people have ever gone down the rankings and gone back to number one again. I always wanted to get back but the rankings have become less important as my focus was on winning tournaments and the rankings would take care of themselves.

"I still believe I'm good enough to win and I'm still gutted when I lose. I hate to see other people lifting trophies, that's the way I've always been and I still have a tremendous hunger to win."
Now entering its 21st season, the Betfred Premier League Snooker is the world's only major snooker tournament played to a league format.
The field consists of seven of the very best players in the world and each player plays the others once over the best of six frames, making a total of 21 matches.
There are two points available for a win and a point for a 3 – 3 draw and following the round robin section of play, the top four players moved forward to the big money play-offs in December.
The total prize fund is £250,000, and the money for the round-robin section will be dished out on a 'frames won' basis with £1,000 awarded for each frame won. In addition, there is a 'Double Your Money' bonus for a break of 100 or over of another £1,000.
Successful players carry forward their bonuses to the play offs where the serious money is up for grabs. The £1,000 for a century bonus stays and the champion receives £50,000, the runner-up takes home an additional £25,000 and the beaten semi-finalists make an extra £12,500 each.
The semi-finals are the best of 9 frames and the final is over 13 frames.
The event will be broadcast for o

ver 50 hours LIVE coverage on Sky Sports in the UK and Matchroom Sport Television will produce 24 x 2 hour highlight programmes syndicated globally.
The seven players taking part in the 2006 Betfred.com Premier League Snooker are:
Stephen Hendry (Scotland) - World Ranked No.1
Ken Doherty (Ireland) - World Ranked No.2
Ronnie O'Sullivan (England) - World Ranked No.3
Graeme Dott (Scotland) - World Ranked No.6
Steve Davis (England) - World Ranked No.11
Ding Jun-hui (China) - World Ranked No.27
Jimmy White (England) - World Ranked No.35
Betfred Premier League Snooker

– The Fixtures
Date
Time
Venue
Matches
14th September

7.30

The Sands Centre, Carlisle

Graeme Dott v Stephen Hendry - 3-3

Ronnie O'Sullivan v Ding Jun-hui - 3-3

21st September

7.30

GL1, Gloucester

Jimmy White v Graeme Dott - 2-4

Ronnie O'Sullivan v Ken Doherty - 5-1 :-))

28th September

7.30

The Hawth, Crawley

Steve Davis v Ding Jun-hui - 0-6

Jimmy White v Ken Doherty - 2-4

5th October

7.30

Assembly Rooms, Derby

Jimmy White v Ding Jun-hui - 5-1

Stephen Hendry v Steve Davis - 1-5

12th October

7.30

Guildhall, Preston

Ken Doherty v Ding Jun-hui - 2-4

Ronnie O'Sullivan v Jimmy White - 5-1

19th October

7.30

Grimsby

Auditorium

Jimmy White v Steve Davis - 3-3

Stephen Hendry v Ken Doherty - 4-2

2nd November

7.30

Plymouth Pavilions

Graeme Dott v Ding Jun-hui - 2-4

Ronnie O'Sullivan v Steve Davis - 4-2

9th November

7.30

Warwick Arts Centre,

Coventry

Graeme Dott v Ken Doherty - 2-4

Jimmy White v Stephen Hendry - 5-1

16th November

7.30

The Loch Suite, SECC,

Glasgow

Graeme Dott v Steve Davis - 4-2

Ronnie O'Sullivan v Stephen Hendry - 4-2

23rd November

6.00

AECC, Aberdeen

Steve Davis v Ken Doherty - 5-1

Stephen Hendry v Ding Jun-hui - 3-3

Ronnie O'Sullivan v Graeme Dott - 3-3

2nd December

7.30

The Forum Centre,

Wythenshawe

The Play-Offs – Semi Finals

Ronnie O'Sullivan x Steve Davis - 5-2

Graeme Dott x Jimmy White - 4-5

3rd December

7.30

The Forum Centre,

Wythenshawe

The Play-Offs – Final

Ronnie O'Sullivan x Jimmy White - 7-0 :-)))