Nortnern Ireland Trophy 2006 A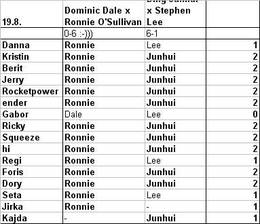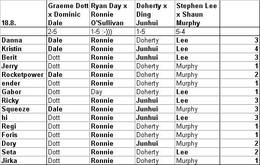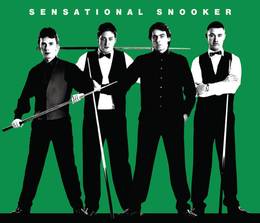 Draw of matches and other informations
Waterfront Hall - Belfast 13-20 August 2006
Sunday 13 August (Last 48) (Best of 9)
10.00am Round One Matches 2 – 1
2 – Mark Selby x Tony Drago (Eirian Williams) - 5-4
1 – David Gray x Jamie Burnett (Pete Williamson) - 2-5
2.30pm Round One Matches 3 - 8 – 4
3 – Joe Swail x Gerard Greene (Jan Verhaas) - 1-5
8 – Alan McManus x Stuart Pettman (Alan Chamberlain) - 2-5
4 – Marco Fu x Dominic Dale (Johan Oomen) - 3-5
7.30pm Round One Matches 5 - 7 – 12
5 – Joe Perry x Andrew Norman (Pete Williamson) - 4-5
7 – Mark King x Rory McLeod (Alan Chamberlain) - 5-3
12 – Robert Milkins x Rod Lawler (Eirian Williams) - 5-2

Monday 14 August (Last 48)(Best of 9)
10.00am Round One Matches 16 –15
16 – Ian McCulloch x Matthew Couch (Alan Chamberlain) - 5-1
15 – Stuart Bingham x David Roe (Johan Oomen) - 4-5
2.30pm Round One Matches 6 - 9 –14
6 – Ryan Day x Mark Allen (Jan Verhaas) - 5-1
9 – James Wattana x Jimmy Michie (Pete Williamson) - 5-4
14 – Nigel Bond x Michael Judge (Johan Oomen) - 5-1
7.30pm Round One Matches 11 - 10 – 13
11 – Ding Junhui x Paul Davies (Eirian Williams) - 5-4
10 – Michael Holt x Mike Dunn (Colin Humphries) - 2-5
13 – Andy Hicks x Tian Pengfei (Pete Williamson) - 3-5

Tuesday 15 August (Last 32) (Best of 9)
10.00am Round Two Matches 17 –18
17 – Graeme Dott x Jamie Burnett (Jan Verhaas) - 5-3
18 – Ali Carter x Mark Selby (Pete Williamson) - 2-5
2.30pm Round Two Matches 28 - 20 – 22
28 – John Higgins x Robert Milkins (Eirian Williams) - 5-3
20 – Peter Ebdon x Dominic Dale (Johan Oomen) - 3-5
22 – Barry Hawkins x Ryan Day (Colin Humphries) - 1-5
7.30pm Round Two Matches 24 - 21 – 23
24 – Ronnie O'Sullivan x Stuart Pettman (Alan Chamberlain) - 5-4
21 – Mark Williams x Andrew Norman (Johan Oomen) - 5-1
23 – Matthew Stevens x Mark King (Pete Williamson) - 5-0

Wednesday 16 August (Last 32) (Best of 9)
10.00am Round Two Matches 32 – 26
32 – Stephen Hendry x Ian McCulloch (Jan Verhaas) - 5-3
26 – Stephen Maguire x Mike Dunn (Colin Humphries) - 5-2
2.30pm Round Two Matches 19 – 27 – 30
19 – Steve Davis x Gerard Greene (Eirian Williams) - 2-5
27 – Anthony Hamilton x Ding Junhui (Pete Williamson) - 3-5
30 – Neil Robertson x Nigel Bond (Alan Chamberlain) - 5-3
7.30pm Round Two Matches 25 - 29 – 31
25 – Ken Doherty x James Wattana (Johan Ooment) - 5-4
29 – Shaun Murphy x Tian Pengfei (Colin Humphries) - 5-4
31 – Stephen Lee x David Roe (Jan Verhaas) - 5-2

Thursday 17 August (Last 16) (Best of 9)
10.00am Round Three Matches 33 – 34
33 – Graeme Dott x Mark Selby (Alan Chamberlain) - 5-4
34 – Gerard Greene x Dominic Dale (Pete Williamson) - 4-5
2.30pm Round Three Matches 35 - 36 – 37
35 – Mark Williams x Ryan Day (Colin Humphries) - 2-5
36 – Matthew Stevens x Ronnie O'Sullivan (Jan Verhaas) - 2-5 :-))
37 – Ken Doherty x Stephen Maguire (Johan Oomen) - 5-4
7.30pm Round Three Matches 38 - 39 – 40
38 – Ding Junhui x John Higgins (Johan Oomen) - 5-3
39 – Shaun Murphy x Neil Robertson (Colin Humphries) - 5-4
40 – Stephen Lee x Stephen Hendry (Eirian Williams) - 5-4

Friday 18 August (Quarter Finals) (Best of 9)
1.00pm QF1 - QF2
QF1 – Graeme Dott x Dominic Dale (Alan Chamberlain) - 2-5
QF2 – Ryan Day x Ronnie O'Sullivan (Eirian Williams) - 1-5 :-))
7.30pm QF3 - QF4
QF3 – Ken Doherty x Ding Junhui (Jan Verhaas) - 1-5
QF4 – Shaun Murphy x Stephen Lee (Johan Oomen) - 4-5

Saturday 19 August (Best of 11)
12.00pm Semi Final 1 – Dominic Dale x Ronnie O'Sullivan (Johan Oomen) - 0-6 :-)))
7.30pm Semi Final 2 – Ding Junhui x Stephen Lee (Eirian Williams) 6-1

Sunday 20 August (Best of 17 - 8/9)
2.00pm & 7.30pm FINAL
Ronnie O'Sullivan x Ding Junhui (Jan Verhaas) - 6-9

PRIZE FUND
Total Prize Fund: Ł200,500
Winner Ł30,000
Runner Up Ł15,000
Semi Finalists Ł7,500
Quarter Finalists Ł5,600
Last 16 Ł4,000
Last 32 Ł2,500
Last 48 Ł1,625
Last 64 Ł1,100
Pre-TV High Break Ł500
TV High Break Ł2,000
Pre-TV Maximum Ł1,000
TV Maximum Ł20,000

RANKING POINTS
Winner 5000
Runner Up 4000
Semi Finalists 3200
Last 16 1900
Last 32 1400 (700 seeded loser)
Last 48 1150 (575 seeded loser)
DING - I WANT TO GET BETTER
20 Aug 2006 22:53:00
www.worldsnooker.com
China's snooker wonder-kid Ding Junhui may already have three ranking titles under his belt but he believes he can keep improving.
The 19-year-old beat Ronnie O'Sullivan 9-6 in tonight's Northern Ireland Trophy final to become the only player other than John Higgins to win three ranking titles as a teenager.
"I want to get better in every match that I play," said the young genius from the Jiangsu Province. "I'm very happy tonight and pleased to equal John Higgins' record.
"I felt under a lot of pressure because Ronnie is just as tough an opponent as Stephen Hendry (his victim in last year's China Open final).
"But he missed two reds in the last two frames and that gave me the chances I needed."
Asked if he could become World Champion this season, Ding simply replied: "Maybe."
O'Sullivan was aiming for his 19th ranking title and his first in 17 months but was forced to play second fiddle, as he did in last season's Grand Prix and Masters finals.
"I made too many unforced errors and he hardly made any, that was the difference between the two of us," admitted the Rocket.
"There's no comparison between Ding and the other young players coming through. He's got a gift, he's a naturally attacking player but he doesn't make any mistakes.
"That's why he's a winner and he's already achieved more than the other emerging players.
"I enjoyed the tournament. I came here to play attacking snooker and enjoy it. That was my aim and I've achieved it."
ROCKET HITS RECORD SPEED
19 Aug 2006 14:23:00
www.worldsnooker.com
In the fastest best-off-11 match on record, Ronnie O'Sullivan produced an astonishing performance to reach the final of the Northern Ireland Trophy.
The Rocket powered his way to a stunning 6-0 victory over hapless Welshman Dominic Dale at the Waterfront Hall.
The two-times world champion took just 52min 47 sec to triumph, bettering Stephen Hendry's 6-0 semi-final win over Dave Harold at the 1993 International Open in Plymouth in 71 minutes.
He rattled home eight breaks over 60 within six frames - 65, 64, 84, 75, 63, 67, 106 and 63. The Chigwell star outscored his opponent by 608 points to 29.
O'Sullivan has now won 11 consecutive frames in the Belfast event inside 100 minutes, with three centuries and ten other breaks over 50.
He will face Ding Junhui or Stephen Lee over 17 frames in the final tomorrow.
"I'm very conscious that snooker needs to be watched and enjoyed," said an upbeat O'Sullivan, the world No 3 chasing his first ranking title since the Irish Masters 17 months ago.
"I'm sacrificing match-play because it's all about getting bums on seats. I'm going to play like that all the time as it keeps me enthusiastic.
"Snooker is a big sport. You open the papers and see three pages on cricket and that's not right - snooker is at least on a par with cricket.
"There are plenty of characters in this sport, with the likes of Stephen Hendry, Mark Williams, Shaun Murphy and John Higgins. People want to see exciting matches and I want to see players attacking rather than getting bogged down."
O'Sullivan gave away the cue that won him two world titles at the end of last season but has adapted immediately to his new model.
"I got John Parris to make me six cues. Four of them were not what I wanted but the one I've got is spot on. I've only had it for three or four weeks.
"To be honest a cue is not that important. We could play with broomhandles."
World No 40 Dale, who was aiming for his second ranking final, said: "That was the perfect performance from Ronnie. You can't play better snooker than that."
DAY LASTS UNDER AN HOUR
18 Aug 2006 15:13:00
www.worldsnooker.com"
Ronnie O'Sullivan took just 58 minutes to knock Ryan Day out of the Northern Ireland Trophy.
The Rocket gave the crowd at the Waterfront Hall plenty to savour with a potting masterclass in Belfast as he cruised to a 5-1 success against Welshman Day.
Back-to-back centuries were the platform for success as the two-times world champion racked up an impressive 455 points in five frames.
Incredibly, world No 17 Day, who started with a 50 run to take the opening frame, was then kept off the table and mustered 26 points as the former world No 1 went on the rampage.
"I played alright today. I'm going to go for my shots. I'm not going to get bogged down and drive myself mad over it," reflected O'Sullivan, seeking his first ranking title since the 2005 Irish Masters.
"I'm just going to open up the balls and try and get in with a long pot. I'm enjoying it.
"For me, it's important that I play with a smile on my face. I know if I do that everyone else will be enjoying themselves. That's my way of promoting snooker."
O'Sullivan was in the zone, pocketing breaks of 54, 82, 104, 106 and a match-clinching 67 in the sixth frame to secure a semi-final berth against Dominic Dale. At one stage he scored 379 unanswered points.
"I want to entertain. If I can do that, then I've done my bit for snooker," added O'Sullivan.
"If I keep doing that, hopefully my legacy will be left. At the end of the day I don't want to be responsible for not doing my part for the game.
"The players have all got a part to play - and I'm playing my part."
ROCKET TOO HOT FOR STEVENS
17 Aug 2006 17:00:00
www.worldsnooker.com
Ronnie O'Sullivan reeled off the last three frames in just 28 minutes to end Matthew Stevens' hopes at the Northern Ireland Trophy.
Rocket Ronnie powered his way to a 5-2 victory over Stevens at the Waterfront Hall, and in the process earned himself a showdown with another Welsh Dragon, Ryan Day in the next round.
"My game is about having fun - and I had fun out there," he said. "I'd been much happier having a barbecue than having a long slog of a match."
The first four frames were shared, O'Sullivan missing an easy blue in the fourth when he looked set to go 3-1 up.
But he stepped up a gear after the interval and blitzed in breaks of 40, 44, 71 and 103 to win the last three frames in style.
"I would have enjoyed it whether I'd won 5-2 or lost 5-2," added the world No 3. "But I enjoyed it today. I was talking to the referee, talking to the crowd and talking to Matthew. It was a bit of fun.
"The important thing is to enjoy myself. I went for my shots, but didn't go for silly shots. I shouldn't play another way, that's what I've always done."
Day, O'Sullivan's next opponent, also impressed, knocking out good friend and practice partner Mark Williams, who became the second Welshman to bow out on day five.
The Pontycymmer potter pocketed breaks of 99, 60, 79, 72 and 49 to reach the second ranking event quarter-final of his career.
O'SULLIVAN SQUEEZES THROUGH
www.sportinglife.com
Ronnie O'Sullivan found it tough going on his way to reaching the last 16 of the Northern Ireland Trophy tonight.
He fought back from 2-1 behind against Preston's Stuart Pettman to grab a 5-4 win at the Waterfront Hall, but laughed off any suggestion the match had been hard work.
"It was kind of tough, but I enjoyed it. I had a bit of fun," reflected O'Sullivan, a beaten finalist twice last season who now plays Welshman Matthew Stevens in the next round.
"It's good to be here. It was a good crowd."
Asked whether he is worried about ranking points this season having slipped to No 12 in the provisional rankings, O'Sullivan said: "If you start worrying about that you might as well be stacking shelves!"
O'Sullivan is playing with a new cue, which he picked up from legendary cue-maker John Parris last month, and has mysteriously named it 'Layla'.
Pettman was understandably downbeat that he had not won the match having made breaks of 56, 66 and 96.
But having led and then missed a glorious chance to edge 3-2 ahead, the Lancastrian qualifier was left to rue what might have been.
"I should have gone 3-2 ahead, but I missed an easy red which I should have potted. Ronnie's made a brilliant clearance to win the frame," said Pettman.
"But when it went 4-4 I had a chance to win it. I had a half-chance on a red, but Ronnie showed his class to win the match.
"I can't take too many positives from the match because I've lost, but I played okay and played well in my first-round win over Alan McManus."
O'Sullivan won a scrappy opening frame, before Pettman went 2-1 ahead, the highlight of which was a 56 break in the second frame.
A 53 break and then O'Sullivan's 71 run saw him go 3-2 ahead, before Pettman rallied to level with a 96 break.
It went 4-4, O'Sullivan taking the next with a 113 break, only for Pettman to win a scrappy eighth.
However, victory was eventually O'Sullivan's when he sunk a 55 break to make sure of a place in the next round.
Meanwhile, Welsh wizards Mark Williams and Stevens safely secured their passages into the last 16, both players easing to comfortable second round wins.
Two-time world champion Williams had a 5-1 win over Bristol's Andrew Norman, compiling 108, 75, 46, 40 and 47 breaks for victory, while fellow countryman Stevens whitewashed Romford's Mark King.
Left-hander King mustered a high break of just 33 as Carmarthen's Stevens pocketed runs of 70, 61, 62, 73 and 51 to earn a showdown with O'Sullivan on Thursday afternoon.
Ronnie's 'Rocket' to rivals..
Frank Brownlow talks to Ronnie O'Sullivan
www.sundaylife.co.uk
13 August 2006
Ronnie O'Sullivan last night fired a warning blast at his rivals ahead of the Northern Ireland Trophy - "If I'm on form no-one can touch me!"
The tournament gets under way today at the Waterfront Hall and its elevation to a ranking event cranks up the pressure on the players.
And 'The Rocket' didn't sit on the fence when asked who would win the prestigious opening event to the new snooker season.
In an exclusive interview with Sunday Life, O'Sullivan rapped: "When I'm on form I'm very, very good and there are only three other players in the world who can possibly live with me.
"Everyone knows the quality of John Higgins, Stephen Hendry and Mark Williams. When those three and myself are on top of our game we are better than everybody else.
"I need to be more consistent and that's the key to it really. When I'm good I'm very, very good but when I'm poor I'm just an average player."
O'Sullivan is a real enigma and has in the past threatened to quit the game and many people - including the man himself - feel he should have more than his two World titles to show for his prodigious talent.
He candidly admits: "I should have won more World titles by now. I could probably have doubled what I have achieved in the game but I've had my ups and downs.
"I need to get my consistency back and when it comes back I can win more World Championships," says the 30-year-old Essex boy.
And O'Sullivan knows a good run in the Northern Ireland Trophy can lay the foundations for a good season and another tilt at the World crown.
"It's now a world ranking event so all the top players will be going out all guns blazing to win it. Everybody will be keen to do really well.
"We've had a long break and I've got a new cue so it's a bit difficult at the moment but I've been working hard in practice and things are going okay," he says.
O'Sullivan will face either Alan McManus or Stuart Pettman in his opening match.
But he reveals: "I don't really look at the draws because they're all tough matches these days. I just turn up and hope to find a bit of form. You get used to playing all the players so you know what to expect."
O'Sullivan has been playing in pool tournaments over the summer to maintain his sharpness.
"I like to play a bit of pool in between snooker tournaments. If there's a gap I'll play in a few pool events. I don't treat pool as a job - it's just a bit of fun," he says.
Snooker has struggled in recent years to emulate its 1980s golden era and O'Sullivan feels the game would be boosted by greater competition for the top prizes.
"When John Higgins, Stephen Hendry, Mark Williams and myself are not on top of our game there are maybe another five or six players who are very capable of winning tournaments.
"Then there are maybe another four players behind them who have an outside chance of winning tournaments.
"Plenty of players are capable of winning tournaments but they don't all do so.
"A lot of players say they can win tournaments and some of them have never won anything.
"A lot of talking gets done but it's the results that matter.
"The fact is that there are only four people who regularly win ranking events. We are just that little bit better than everyone else.
"Some people have won four or five events but that's nothing to write home about.
"Hendry has won 36 or 37, I've managed to win about 18 or 19 and so have Higgins and Williams. That says it all really," he says.
And O'Sullivan warns that, in snooker, talk is cheap.
"A lot of players say that they are making 147s in practice. But it's one thing doing it in practice - it's when you get on the match table that it matters. You have to do it where it matters.
"The only one of the up and coming players who seems to do it where it matters is Ding Junhui. He's won the UK Championship which is a massive tournament and he's also won the China Open. So he has actually won things and is a force to be reckoned with.
"Other players have won maybe one tournament and got to semi-finals and quarter-finals. So that means Ding Junhui stands out from the others because he has proven himself.
"I've been watching the European Championship athletics this week and some of the British athletes are talking about doing better next year and the year after that - but in my view there's no time like the present. You should just get on with winning things," he stresses.
And for how long can Ronnie O'Sullivan go on winning things?
After much deliberation, he says: "I would see myself staying in the game another six or seven years because hopefully I'll still be playing top quality snooker by then.
"As long as I'm playing well and enjoying it, I'll carry on playing."
'The Rocket' is still aiming for the stars.
FORMAT OF PLAY
25 Jul 2006 15:53:00
www.worldsnooker.com
Below is the format of play for the qualifiers for the 2006 Northern Ireland Trophy at Pontin's, Prestatyn.
Saturday July 29
Round 1
11am
2 – Liu Song x Alex Borg - 5-3
3 – Judd Trump x Passakorn Suwannawat - 5-3
4 – Paul Davison x Dermot McGlinchey - 4-5
5 - Andrew Higginson x Peter Lines - 5-0
6 – Sean Storey x James Leadbetter - 5-4
7 – Christopher Norbury x Mark Boyle - 5-3
8 – Lee Page x Patrick Einsle - 5-0
4pm
9 – Mahammed Shehab x Ben Woollaston - 3-5
10 – Alfred Burden x Issara Kawaiwong - 5-4
11 – Ian Preece x Jamie Jones - 4-5
13 – Tian Pengfei x Roy Stolk - 5-0
14 – Liang Wenbo x Robert Stephen - 5-0
15 – Mark Joyce x David Morris - 5-4
16 – Matthew Couch x Jeff Cundy - 5-2
Sunday, July 30
Round 2
11am
17 – Jamie Burnett x Lee Spick - 5-3
18 – Tony Drago x Liu Song - 5-3
19 – Scott MacKenzie x Judd Trump - 0-5
20 – Shokat Ali x Dermot McGlinchey - 2-5
21 – Andrew Norman x Andres Higginson - 5-3
22 – Mark Allen x Sean Storey - 5-1
23 – Rory McLeod x Christopher Norbury - 5-4
24 – Stuart Pettman x Lee Page - 5-3
4pm
25 – Jimmy Michie x Ben Woolaston - 5-3
26 – Mike Dunn x Alfred Burden - 5-3
27 – Paul Davies x Jamie Jones - 5-1
28 – Joe Delaney x Christopher Melling - 5-3
29 – Robin Hull x Tian Pengfei - 1-5
30 – David Gilbert x Liang Wenbo - 5-0
31 – David Roe x Mark Joyce - 5-2
32 – Shailesh Jogia x Matthew Couch - 3-5
Monday, July 31
Round 3
11am
33 – Dave Harold x Jamie Burnett - 1-5
34 – Marcus Campbell x Tony Drago - 1-5
35 – Gerard Greene x Judd Trump - 5-2
36 – Dominic Dale x Dermot McGlinchey - 5-1
37 – John Parrott x Andrew Norman - 1-5
38 – Tom Ford x Mark Allen - 3-5
39 – Ricky Walden x Rory McLeod - 3-5
40 – Barry Pinches x Stuart Pettman - 4-5
4pm
41 – Jimmy White x Jimmy Michie - 3-5
42 – Mark Davis x Mike Dunn - 3-5
43 – Fergal O'Brien x Paul Davies - 3-5
44 – Rod Lawler x Joe Delaney - 5-3
45 – Jamie Cope x Tian Pengfei - 3-5
46 – Michael Judge x David Gilbert - 5-1
47 – Adrian Gunnell x David Roe - 4-5
48 – Drew Henry x Matthew Couch - 4-5