IPT North American Open 8-Ball Championship A
Official sites of the tournament and draw of groups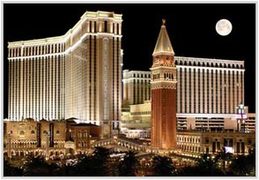 Schedule of the first day of the event
Schedule of the second day of the event
Ronnie's group of the second round
Schedule of the third day of the event
Ronnie's group of the third round
Schedule of the fourth day of the event
Rocket fired up to conquer a new world
John Duncan in Las Vegas
Saturday July 29 2006
The Guardian
www.guardian.co.uk
Ronnie O'Sullivan is happy and he isn't sure exactly why. It could be the Nevada sunshine, though he hasn't seen much of that in the past three days, playing eight-ball pool from 10 o'clock in the morning to 10 o'clock at night, stuck inside The Venetian, a windowless self- contained town that calls itself a hotel in this bit of Las Vegas. It could be the thrill of learning a newish sport, though it didn't seem to be thrilling him too much on Tuesday when, frustrated at some pretty miserable play, he broke his cue over his knee in anger.
It could be the chance to get away from the UK for a bit, away from the recognition, the pressure, the expectation that comes with being the best at a sport that people still care about despite itself. But actually he thrives off that, he says. And anyway, he misses his girlfriend Jo and their five-month-old child Lily too much to be really enjoying the break. Maybe, ironically in a town that celebrates fakery and escapism so joyously, the real reason Ronnie is happy here is that Ronnie feels he is able to just be Ronnie.
"I'm not allowed to be that person back home," he said, sipping a
bottle of iced water beside The Venetian's fourth-floor swimming pool on Friday, after failing to get through to the last 36 of the world's richest eight-ball event, the $2m (£1.1m) IPT North American Open, and taking home a mere $10,000. "When I broke the cue over my knee I thought I'd be in trouble. I thought, 'They don't need me coming over here and giving them bad press.'
But Jon [Denny, the executive director of the American pool tour] just said, 'Hey, we want Ronnie to be Ronnie. Dude, if you want to snap the cue on your knee just go ahead. It looks great on TV.' Normally I'm not allowed to be like this."
The cue was borrowed anyway - O'Sullivan hasn't bought one for himself yet because he says he doesn't know a good one from a bad one. He hadn't even played eight-ball pool until a week before this tournament.
So how did he end up here? "I was reading a snooker magazine - I'll read everything about snooker: clubs, juniors, leagues - and right at the back of the magazine is this advert about a million-dollar tournament. I thought they must be having a laugh but I rang them up. I said, 'I'm Ronnie O'Sullivan. Could I please speak to Kevin Trudeau [whose $14m is paying the prize money and bills for this first year of the tour] about the pool.' He rang back about five minutes later, we talked, boom, boom boom, and here I am."
So is he thoroughly sick of snooker and about to defect? "No. I've been telling people for 13 years that I'm sick of snooker but people still keep thinking that me saying it is interesting. The thing with me is that when I'm up it's obvious and when I'm down it's obvious. But that's just the way I am. Snooker is the guv'nor, the king of cue sports."
But can it really be a buzz to be a born-again journeyman, to go from top dog to enthusiastic puppy, back in L plates, learning his trade again, among the middle-rankers of a sport that has, up to now, clung to the small-time, smoke-and-grime feel that snooker has spent 30 years trying to scrub off its fingernails?
"It's not about winning for me, I get the buzz being out there knowing that I'm entertaining people. I don't need the cash, I invested my snooker money well, I have a nice portfolio of property. But I need the buzz. I started feeling it again here the other night when I got knocked out, I started feeling, 'This is my arena.' Like Alex Higgins, when he walked into a room, you couldn't take your eyes off him. I felt like that on Thursday. There was an atmosphere in the room, an air of danger."
And, he's too loyal to say it, the only danger in a snooker tournament nowadays is that you might catch something from all that coughing. He loves it, but sometimes, like a family, it drives you mad.
O'Sullivan doesn't want to talk about his mum and dad. Every single one of the people around him and around the IPT make it clear that I am not expected to talk about them. And it wasn't my intention to. But it's impossible to understand why he might feed off that sort of dark electricity without thinking about his dad's Soho sex shop business, the murder that put him in jail and the tax-evasion charges that put his mum inside, too. It can't have been a childhood without its share of shadows.
And under O'Sullivan's very real contentment there's still a
granite-hard street kid egging Ronnie on. While we were chatting in the cafe of the well-appointed spa, sipping banana smoothies among women in white gowns, a couple of drunken American college boys came and sat down at the table next to us, to join a couple of girls. It got noisy. Ronnie, quietly, asked if we could go somewhere else where we could hear ourselves talk.
One of the idiot college kids heard him and said something along the lines of "Eat your food or get the hell out of here" to Ronnie and me. I pretended not to hear him because I'm a thoroughly middle-class wimpy grammar-school boy who has never started a fight in his life. O'Sullivan, however, isn't. As we left, Ronnie lurched towards the college kid but didn't actually touch him. The kid shouted abuse as we moved away. Ronnie shouted some back. We walked away. Nothing happened really but, two minutes later, Ronnie was angry at himself for even thinking about getting into a situation.
Despite not talking about his mum and dad, family does obviously mean a lot to O'Sullivan. He is, after all, a dad himself now and he thinks that his daughter and girlfriend's influence have changed the way he approaches life and sport. "I'm the first to admit I was the most selfish man on earth, totally with the blinkers on. Nothing would ever have got in the way of work. I wanted to be tops, don't even talk to me about slowing down. At first after Lily was born I tried to carry on like that and I soon found out that it didn't work. Now I try to be there whenever I can, not be out at my mates' house drinking cups of tea. Now I just have to look at Lily's photo and I crumble."
All of which makes you wonder why he doesn't just pack it all in and build the house in the country with the swimming pool, horses and tennis court that he has already promised himself on Lily's behalf. In the end maybe it's all about being the best at something for even longer, keeping the buzz going as best he can despite being pulled in other directions as well.
"I've got maybe another five or six years at the top in snooker. But the guy to beat here is Efren Reyes and he's 51. You aren't going to have 51-year-olds as the guys to beat in snooker. I can have a longer career here if this ITP tour succeeds. But I won't be playing pool in minor tournaments over here if it doesn't."
And when O'Sullivan talks about what he has to learn to get better at pool you can see the passion he has for the sport, hands waving, words spilling out, you can see the kick that not being the best has given him. "I phoned Jo up on Thursday and I told her that I lost. She said that I sounded happy. She knows what I'm like when I've come home from tournaments having lost. I said I was happy, because I thought I was starting to get to grips with the game.
"I told her I'd got that old fire back, that I could feel the warrior
back in me. It's what I miss. Two days ago I thought it would take me two years to conquer this sport. Now I think I can do it in six months."
O'SULLIVAN FALLS AT THIRD HURDLE
27 Jul 2006 10:59:00
www.worldsnooker.com
Ronnie O'Sullivan's interest in the IPT North American 8-Ball Open is over.
The two-times world snooker champion heads back from Las Vegas later this week with $10,000 and a wealth more experience of the small table game.
O'Sullivan had walked a tightrope in his earlier group matches, surviving by the skin of his teeth to be among the last 60 remaining players.
But the Essex star won only one more match and suffered defeat to Quinten Hann as he bowed out of the tournament.
O'Sullivan lost 8-6 to former world 9-Ball runner-up Francisco Bustamante and 8-7 to American Mosconi Cup star Corey Deuel.
His biggest disappointment will be an 8-4 loss to Aussie Hann, who also beat Jimmy White in the first round of the competition.
O'Sullivan's solitary success came against Manchester based 8-Ball specialist Karl Boyes, winning 8-5.
Hann, who has been banned from professional snooker for eight years, goes through to the fourth group stage. His next round of matches includes a clash with volatile Americal Earl 'the Pearl' Strickland.
ROCKET SURVIVES - AND FACES HANN NEXT
26 Jul 2006 11:11:00
www.worldsnooker.com
Ronnie O'Sullivan is still going in the IPT North American 8-Ball Open - but only just.
Snooker's two-times world champion made it through the second group phase despite losing three of his five matches.
But the odds of him taking the $350,000 winner's cheque at the Venetian holiday resort in Las Vegas on Sunday appear stacked against him.
O'Sullivan is through to round three of the endurance test and one of 60 surviving players.
But he faces another four matches later today to progress towards the jackpot.
And standing in his way is former snooker rival Quinten Hann who has already helped send Jimmy White back to the UK.
Self proclaimed cue all-rounder Hann is in O'Sullivan's next five man pool when only the top three will go through.
He's lost only two of his nine outings against O'Sullivan's record of four wins and five defeats.
Three of those losses came in a testing second round. And he went through courtesy of a better average than two of his rivals.
Beaten 8-3 by 2005 Mosconi Cup skipper Johnny Archer, 8-7 by former World 9-Ball champion Mika Immonen and 8-6 against twice former World 8-Ball champion Rob McKenna, O'Sullivan scored wins over Sweden's Tom Storm (8-6) and American Shannon Daulton (8-4).
He finished with an average of 51.28 percent. Scotsman McKenna and Storm also won two and lost three but had averages of 47.83 and 44.55 percent respectively.
In addition to Hann, O'Sullivan will be up against German-based Philipino legend Francisco Bustamante and Mosconi Cup regular Corey Deuel.
The fifth member of the group is English eight baller Karl Boyes. Both Boyes and Bustamante have lost only once in nine outings while Deuel has been beaten twice.
English born former ladies snooker professional Sarah Ellerby has come through the opening games though 'Duchess of Doom' Allison Fisher and another former ladies world snooker champion, Kelly Fisher, are both out.
O'SULLIVAN MAKES POOL PROGRESS
24 Jul 2006 18:04:00
www.worldsnooker.com
Ronnie O'Sullivan safely cleared his first hurdle in the North American 8-Ball Open in Las Vegas.
But the Rocket will have to improve his form if he's to stay in contention for the inaugural title on the 2006/07 International Pool Tour.

The two-times world snooker champion is one of 200 players chasing a $350,000 jackpot at the Venetian Hotel.

He won two of his four group matches to obtain a top three finish that takes him into the next stage.

O'Sullivan defeated American pensioner 'Spanish' Mike Lebron 8-2 and Frenchman Vincent Facquet 8-5.

But the 30-year-old from Essex found it harder going on the smaller table against Lebron's compatriot Dennis Hatch and Hungary's Sandor Tot, losing 8-6 and 8-6.

Two UK players who found the going much easier were English 8-ballers Darren Appleton and Mick Hill.
Appleton, runner-up in this year's ImproveYourPool.com World 8-Ball Championship, and 2004 winner Hill-both from Yorkshire-coasted through the opening group stages winning all four games.

Jimmy White and former snooker pro Quinten Hann are in action later today. (Jimmy didn't went through, but Quinten finished on the third place in his group and went through – note Dana)
After the tournament, Whirlwind White will be jetting back from Vegas to the somewhat less glamorous surroundings of Prestatyn to compete in the Northern Ireland Trophy qualifiers.
However, the Rocket faces a tough test and has been drawn in a potential 'group of death.' Among his rivals will be Johnny Archer who skippered Team America to the Mosconi Cup last year and Mosconi Cup regular, Shannon Daulton.

He's also up against Mika 'the Iceman' Immonen, a former World 9-Ball champion from Finland, Scotland's double world 8-ball pool title winner, Rob McKenna and experienced Swede, Tom Storm.
O'Sullivan struggled with his break-off in the first batch of matches and says: "It was disheartening. But there's still time, and I can't expect miracles straightaway.

"Until I get a break, I'm always going to be chasing whoever I play. I'm not going to be putting three or four racks on the chart, which is what I think you need to be doing.

"I'm making ones and twos. It's not enough. I need threes and fours minimum. I've just got to stick in there.

"However, I can't be too disappointed, because they're seasoned eight-ball, nine-ball players, and they're used to the equipment."
Tournament Format
Player Meeting
Saturday 5pm (GMT +8, DST +9)
Round 1
Sunday and Monday 10am - LEVEL A - Match Times: 10am, 12:30pm, 3pm, 5:30pm, 8pm
200 Players start the tournament playing in 40 groups of five players each. The top three players from each group advance to the next level. The 80 players who do not advance earn $2,000 each.
Round 2
Tuesday 10am - LEVEL B - Match Times: 10am, 12:30pm, 3pm, 5:30pm, 8pm
The 120 players who advanced from level A play in 20 groups of six players each. Three players from each group advance to the next level. The 60 players in Level B who do not advance to the next level earn $5,000 each.
Round 3
Wednesday 10am - LEVEL C - Match Times: 10am, 12:30pm, 3pm, 5:30pm, 8pm
The 60 players who advanced from Level B are placed into 12 groups of five players each. Three players from each group will advance to the next round. The 24 players in Level C who do not advance to the next level earn $10,000 each.
Round 4
Thursday 10am - LEVEL D - Match Times: 10am, 12:30pm, 3pm, 5:30pm, 8pm
The 36 players who advanced from Level C are placed into six groups of six players each. The top three finishers advance to the next level. The 18 players who do not advance to the next level earn $17,000 each.
Round 5
Friday 10am - LEVEL E - Match Times: 10am, 12:30pm, 3pm, 5:30pm, 8pm
The 18 players who advanced from Level D are placed into three groups of six players each. The top two finishers in each group advance to the next level. The 12 players who do not advance to the next level earn $30,000 each.
Round 6
Saturday 10am - LEVEL F - Match Times: 10am, 12:30pm, 3pm, 5:30pm, 8pm
The final Round Robin group six players result in the top two finishers advancing to the final match to fight for the title and the $350,000 grand prize.
Final Match
Sunday 1pm- LEVEL G