World Championship 2013
Betfair World Snooker Championship 2013
20 April – 6 May, 2013
Theatre Crucible, Sheffield 
Saturday, 20 April
10,00am
1 – Ronnie O'Sullivan 7-2 Marcus Campbell
10 – Ricky Walden 8-1 Michael Holt
2,30pm
5 – Shaun Murphy 5-4 Martin Gould
15 – Barry Hawkins 6-3 Jack Lisowski
7,00pm
1* – Ronnie O'Sullivan 10-4 Marcus Campbell :-)
11 – Mark Williams 4-5 Michael White
Sunday, 21 April
10,00am
6 – Graeme Dott 6-2 Peter Ebdon
10* – Ricky Walden 10-1 Michael Holt
2,30pm
4 – John Higgins 3-6 Mark Davis
11* – Mark Williams 6-10 Michael White
7,00pm
5* – Shaun Murphy 10-5 Martin Gould
15* – Barry Hawkins 10-3 Jack Lisowski

Monday, 22 April
10,00am
6* – Graeme Dott 10-6 Peter Ebdon
13 – Mark Allen 4-5 Mark King
2,30pm
4* - John Higgins 6-10 Mark Davis
12 – Stephen Maguire 2-5 Dechawat Poomjaeng

7,00pm
2 – Ali Carter 5-4 Ben Woollaston
13* - Mark Allen 8-10 Mark King
Tuesday, 23 April
10,00am
7 – Matthew Stevens 3-6 Marco Fu
14 – Ding Junhui  7-2 Alan McManus
2,30pm
8 – Judd Trump 6-3 Dominic Dale
12* - Stephen Maguire 9-10 Dechawat Poomjaeng
7,00pm
2* - Ali Carter 10-4 Ben Woollaston
16 – Mark Selby 6-3 Matthew Selt
Wednesday, 24 April
10,00am
8* – Judd Trump 10-5 Dominic Dale
14* – Ding Junhui 10-5 Alan McManus
2,30pm
7* – Matthew Stevens 7-10 Marco Fu
9 – Neil Robertson 5-4 Robert Milkins

7,00pm
3 – Stuart Bingham 8-1 Sam Baird
16* - Mark Selby 10-4 Matthew Selt
Thursday, 25 April
1,00pm
19 – Shaun Murphy 6-2 Graeme Dott 
9* – Neil Robertson 8-10 Robert Milkins
7,00pm
3* - Stuart Bingham 10-2 Sam Baird
22 – Michael White 7-1 Dechawat Poomjaeng  
Friday, 26 April
10,00am
19 – Shaun Murphy 8-8 Graeme Dott 
24 – Barry Hawkins 3-5 Mark Selby 
2,30pm
20 – Marco Fu 2-6 Judd Trump
22* – Michael White 13-3 Dechawat Poomjaeng 
7,00pm
19* - Shaun Murphy 13-11 Graeme Dott
24 – Barry Hawkins 7-9 Mark Selby  
Saturday, 27 April
10,00am
20 – Marco Fu 7-9 Judd Trump
2,30pm
17 – Ronnie O'Sullivan 5-3 Ali Carter
24* - Barry Hawkins 13-10 Mark Selby
7,00pm
20* - Marco Fu 7-13 Judd Trump
23 – Mark King 6-2 Ding Junhui 
Sunday, 28 April
10,00am
18 – Stuart Bingham 4-4 Mark Davis 
21 – Robert Milkins 3-5 Ricky Walden  
2,30pm
17 – Ronnie O'Sullivan 9-7 Ali Carter
23 - Mark King 7-9 Ding Junhui 

7,00pm
18 – Stuart Bingham 8-8 Mark Davis 
21 – Robert Milkins 6-10 Ricky Walden  
Monday, 29 April
1,00pm
18* – Stuart Bingham 13-10 Mark Davis
23* – Mark King 9-13 Ding Junhui 
7,00pm
17* - Ronnie O'Sullivan 13-8 Ali Carter :-)
21* - Robert Milkins 11-13 Ricky Walden 
Tuesday, 30 April
10,00am
QF2 – Shaun Murphy 6-2 Judd Trump 
QF4 – Ding Junhui 3-5 Barry Hawkins 
2,30pm
QF1 – Ronnie O'Sullivan 7-1 Stuart Bingham
QF3 – Ricky Walden 6-2 Michael White
7,00pm
QF2 – Shaun Murphy 8-8 Judd Trump 
QF4 – Ding Junhui 7-9 Barry Hawkins 

Wednesday, 1 May
10,00am
QF1 – Ronnie O'Sullivan 12-4 Stuart Bingham 
QF4* – Ding Junhui 7-13 Barry Hawkins 

2,30pm
QF2* - Shaun Murphy 12-13 Judd Trump
QF3 – Ricky Walden 10-6 Michael White

7,00pm
QF1* - Ronnie O'Sullivan 13-4 Stuart Bingham :-)
QF3* - Ricky Walden 13-6 Michael White 
Thursday, 2 May
1,00pm
SF1 – Ronnie O'Sullivan 4-4 Judd Trump 
7,00pm
SF2 – Ricky Walden 6-2 Barry Hawkins  
Friday, 3 May
10,00am
SF1 – Ronnie O'Sullivan 9-7 Judd Trump

2,30pm
SF2 – Ricky Walden 9-7 Barry Hawkins 

7,00pm
SF1 – Ronnie O'Sullivan 14-10 Judd Trump

Saturday, 4 May
10,00am
SF2 – Ricky Walden 12-12 Barry Hawkins 

2,30pm
SF1* - Ronnie O'Sullivan 17-11 Judd Trump :-)

7,00pm
SF2* - Ricky Walden 14-17 Barry Hawkins

Sunday, 5 May
2,00pm
Final (8)
Ronnie O'Sullivan 5-3 Barry Hawkins

7,00pm
Final (9)
Ronnie O'Sullivan 10-7 Barry Hawkins

Monday, 6 May
2,30pm
Final (8)
Ronnie O'Sullivan 15-10 Barry Hawkins

7,00pm
Final* (10)
Ronnie O'Sullivan 17-12 Barry Hawkins :-DDD
Round 1  – all matches are the best of 19 frames (9/10)
Round 2 and QFs – all matches are the best of 25 frames (8/8/9)
SF – best of 33 frames (8/8/8/9)
Final best of 35 frames (8/9/8/10)**
*Denotes final session of match
** The number of frames indicated to be played per session is subject to change
Snooker needs another crank like me says Ronnie O'Sullivan after winning fifth world title
Every sport needs someone like your Alex Higgins or your Eric Cantona says world champion
 07 M AY 2013
World champion Ronnie O'Sullivan has said that he believes snooker needs another "crank"  like him to give the sport some much-needed pizzazz.
O'Sullivan blew away all before him – despite having had a 12-month break – to claim a fifth World Championship crown at the Crucible in Sheffield on Monday night. But the game's biggest attraction, who pocketed £250,000 for his latest triumph, said: "If I left? The standard is great out there, looking at the way Barry [Hawkins] played against me in the final. But what you are lacking is someone that adds a bit of pizzazz. Every sport needs someone like your Alex Higgins or your Eric Cantona, a real character.
"Some players are trying to do it, but it's not natural. I don't try at all. I am a bit off-key at times but it is really me. I am like that and do my thing but people like that. A lot of people are trying to put on an act and people see through it and don't buy it. You need another crank to come along."
O'Sullivan was rarely troubled as he romped to an 18-12 victory over Hawkins. His hardest test of the 17-day tournament came in the semi-final against Judd Trump, one of the players tipped to dominate the sport over the next few years.
But the 23-year-old Trump who practises at the same Essex club as O'Sullivan, was taught a lesson by the eventual champion. At 37, O'Sullivan remains the player to beat, but his threats to quit the sport often infuriate many of his fellow professionals.
Whether he does quit or not, he believes it is time for someone else to pick up his mantle as snooker's great entertainer. Asked if he considered himself an ambassador for the sport, he replied: "Ambassador? I think I have represented the sport over the last 17 days; it has been shown all round the world and I have shown I love the game.
"Hopefully I have entertained a few people, and if things were different I would go everywhere. But you get the drift: I am in and out of court [with his former girlfriend], and the better I do the more she wants. I will probably get home on Tuesday and have lawyers saying, 'Right, we want this and we want that': £50,000, £60,000– it's like burning money.
"But if I hadn't won I wouldn't have that problem and it stresses me out; I could do without it. I need some breathing space – that's why I took the year out." 
Ronnie O'Sullivan beats Judd Trump to reach World final
By Ben Dirs
http://www.bbc.co.uk/sport/0/snooker/22400372
Defending champion Ronnie O'Sullivan reached his fifth World Championship final with a comfortable 17-11 victory over Judd Trump at the Crucible.
O'Sullivan led 14-10 after the first two sessions, although Trump played his part in some gripping exchanges.
But Trump's mistakes caught up with him on Saturday, with O'Sullivan winning three of the four frames played.
O'Sullivan will play Barry Hawkins, who beat Ricky Walden 17-14, in the final, which starts at 14:00 BST on Sunday.
Stephen Hendry
"It was a very, very strong performance and a very dominant performance given that Ronnie wasn't at his best and wasn't knocking in big breaks. It was almost man versus boy.
"Judd has got huge talent and a huge future in the game, but until he learns to control the cue ball like O'Sullivan, he'll never be an O'Sullivan. But he's still young and has got the talent.
"People don't appreciate sometimes how Ronnie is playing because he makes it look so easy. But the impressive thing is the fact that he's on easy shots all the time, and there's nobody out there who can compete with that type of snooker."
"I'm quite surprised really to be sitting here talking about another world final," said O'Sullivan.
"I don't think either of us played anywhere near our best, there was a lot of tension out there. It was the newcomer, the future of the game, against someone who's been around a long time, who wears his heart on his sleeve.
"I might say some things that frustrate people sometimes but my fans always get behind me because they know I try my hardest every time I go out there."
Trump said: "I'm not going to make excuses, Ronnie played the better snooker. He's so much better than most of the other players.
"Match practice doesn't come into it; he's so good in the balls that he's never far away, so he's never got any pressure on himself. He's never out of position.
"If you watch him play the crowd hardly ever seem to clap because he's always perfect, whereas me and the other players are always having to pull out good pots.
"I don't think there was a lot in it. I've made the most centuries this season and if I was scoring like I have been it would have been a different outcome.
"I thought my safety was better than his and I created a lot more chances but he mopped up over and over again and hardly missed a ball.
O'Sullivan, 37, has never lost a Crucible final and will be a red-hot favourite to make it five world titles whether it is Walden or Hawkins who wins the other semi, which finishes on Saturday evening. 
O'Sullivan has not been behind at any stage in the tournament so far, carving through the field despite the fact that he has barely played any competitive snooker since winning the tournament last year.
World number three Trump, runner-up in 2011, was expected to be the man to push him close and the 23-year-old was brimming with confidence before the match started.
And given the break-building pedigree of both players and the pre-match intrigue - O'Sullivan said he was likely to retire after the tournament, win or lose - the match was expected to produce plenty of fireworks.
Remarkably, there was only one century break in 28 frames, but the lack of heavy scoring did not make the encounter any less dramatic, with every session brimming with high-quality snooker and tension.
The pair were locked at 4-4 after the first session on Thursday before O'Sullivan won both sessions 5-3 on Friday.
Friday's evening session had pretty much everything, including a century break from Trump, some fine safety exchanges and an "improper" gesture from O'Sullivan, which drew a verbal warning from referee Michaela Tabb.
And it was also the session which demonstrated best the difference between master and pretender, with Trump making mistakes at crucial moments and O'Sullivan stepping up time and again to punish him.
Perhaps the best example of this was in frame 20, when Trump, with the balls at his mercy, fouled the yellow with the rest and O'Sullivan cleared up to make it 12-8.
The first frame of Saturday's final session followed this pattern, with Trump missing a cut-back red on 50 and O'Sullivan clearing up for 15-10.
Trump was in the balls again in the next frame but snookered himself on his intended colour and again O'Sullivan made him pay to stand one frame from the final.
The Bristol player showed his mettle to take the next frame with a break of 77 but O'Sullivan took the next to wrap up the victory and give himself the chance to defend the world crown for the first time in his career. 
Steve Davis says Ronnie O'Sullivan needs to show more respect for snooker
2 May
http://metro.co.uk/2013/05/02/steve-davis-hits-out-at-ronnie-osullivan-for-disrespecting-snooker-3711465/
Steve Davis has suggested that Ronnie O'Sullivan wasn't showing sufficient respect for snooker when the former world champion claimed he only returned to the sport for the money and would soon be retiring for good.
After missing nearly the whole season, O'Sullivan has made a superb return to snooker, reaching another semi-final at the Crucible in Sheffield.
But he has faced criticism after his latest controversial comments on Wednesday night, when he said 'This is my last farewell, it's my swan song. I've made a little bit of money now so I can go and pay the school fees now for the next two years.'
Snooker legend Steve Davis certainly doesn't seemly overly impressed, saying: 'We know full well that Ronnie O'Sullivan's interviews are a bit like the British weather; they're changeable.
'But there's a dilemma for the snooker fan. They love what comes off the end of his cue; they sometimes hate what comes out of his mouth because it is sometimes disrespectful to snooker.
'The question to ask for every snooker fan is: "Is it better for Judd Trump to win this match rather than Ronnie O'Sullivan even though Ronnie is such a breath of fresh air when he plays great?"
'It's a tough question to ask. If he's saying he's not going to play on the table and that's true, what use is he to the future of snooker?'
When asked directly whether O'Sullivan was being disrespectful, Davis told the BBC: 'You could argue that but on the other hand it could be the mercurial talents of a genius. We'd love Ronnie O'Sullivan to be playing more snooker, not less.'
O'Sullivan shared the first eight frames of his semi-final with Judd Trump, with the match already looking full of quality.
The four-time champion won four of the first five frames, with breaks of 65, 75 and 89, with Trump's only frame early on coming courtesy of a re-spotted black. The Bristol man fought back impressively to take the final three frames of the session, making a 72 to level at 4-4.
The match will resume on Friday morning with the winner needing 17 frames to reach the final.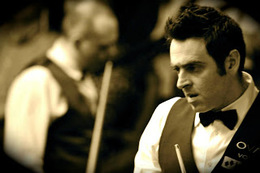 It's difficult not to jump aboard the Ronnie O'Sullivan bandwagon
http://welcometooncue.blogspot.co.uk/2013/04/rocket-power.html 
by Gary Moss
30 April, 2013
It's moving at 100 miles per hour and with an ungodly amount of class. As he strolled to a 7-1 lead in the first session of his quarter-final match against Stuart Bingham, it was difficult to do anything but sit back and enjoy the show.

As the cue ball glided effortlessly around the table and was kept in pinpoint precision by its master with the cue, we were watching the snooker of a genius to a level difficult to match.

The Rocket finished off Ali Carter in great style last night snatching his required four frames in just five to win 13-8 and then on his return today he just picked up exactly where he left off, putting on a show for a mesmerised Crucible crowd.

This dominant haul against poor and powerless Bingham was an absolute masterclass. He made big breaks, switched hands and picked off frames like a steam train.

The performance was so good he is now odds on to win the World Championship with many bookmakers and, without doubt, the man for everyone else to beat.

He has improved his level of performance with every single session here and is both quickly and terrifyingly finding his top gear after an 11-month sabbatical from the sport since winning the world title a year ago.

We've had such a fantastic season on the baize overall. It even felt at times like we might not be missing the four-time world champion Ronnie, but think again.

Michael Holt made an excellent point on Twitter this afternoon (perhaps in jest) that the game has definitely missed him, but not the players.

While Ronnie has been away, the ranking titles have been largely shared around. No-one has grabbed hold of things and dominated the trophies. We're back at the biggest event of them all right now and O'Sullivan looks like he's raised the bar and taken standard up a notch.

Ronnie performed close to his best this afternoon, showing why he is so widely adored. He showed off his swagger, was completely dominant and was absolutely unstoppable.

The way he rattles off frames when he's on form is scary. He can kill a match in a session. To be beaten at this year's World Championship, someone is going to have to perform out of their skin.

O'Sullivan is back. 
Confident Carter relishing Ronnie showdown
by Jamie Shaw
Posted 24 Apr 2013
Ali Carter admits it may be a good time to face Ronnie O`Sullivan, as he gears up for a mouth-watering repeat of the 2012 final this weekend. 
Carter, who reeled off seven consecutive frames to wrap up a 10-4 rout of Ben Woollaston in round one, will meet reigning champion O'Sullivan in the last 16 on Saturday, and admits he'd rather face him at this stage of the competition. 
"I think I'd rather be playing him in the second round than the final, definitely. It's probably a good time to play him," said Carter. 
"I won't go into it with any particularly approach. I consider myself a little bit unfortunate playing arguably the greatest player of all time in two world finals. He was unbelievably good last year," he added. 
O'Sullivan marched to a comfortable victory over Scotsman Marcus Campbell on his competitive return on day one and Carter knows that The Rocket still has gears to climb. 
"He's probably fresher than all of us put together. Rest assured he's been practising very hard for this tournament. You never really know what you're going to get. 
"His safety was spot-on and he was scoring, making everything look ridiculously easy as we know he does. 
Last year's World Championship final saw O'Sullivan produce a scintillating display which included five century breaks en route to an 18-11 victory and his fourth world title. 
Carter's run to the final came as somewhat of a surprise after he had threatened retirement following a battle with Chrohn's disease, but that kick-started a new chapter in his career as he went on to lift the German Masters title two months ago, 
"At the time I felt like I hadn't done myself justice, but that's quite a flippant comment because it's not quite as easy as that," added Carter. 
Following his first round demolition of Campbell and the huge anticipation of his return, O'Sullivan said: "I've enjoyed the last five weeks, it's been a journey and I'm just trying to go with it and see where it takes me. 
"I'm just taking each match as it comes. If you'd have said do I fancy going all the way after that first performance, then probably not, but stranger things have happened. 
O'Sullivan, has prevailed in all three of their previous Crucible encounters: in the second round eight years ago and then in the finals of 2008 and 2012. 
"That moment I had with my son after winning it last year was the most special feeling I've ever had and for me that would have been the perfect way to end my career," added the 37-year-old. 
Rocket takes off
http://welcometooncue.blogspot.co.uk/2013/04/rocket-takes-off.html
20 April, 2013
Ronnie O'Sullivan returned to snooker today and it was like he was never even away.

He beat Marcus Campbell 10-4 in his first major match since defeating Ali Carter in the World Championship final a year ago, and any signs of rustiness were curiously absent.

The cue ball was moving around the table effortlessly and in amongst the balls, Ronnie scored smoothly and efficiently.

It was almost as if he just had to flick a switch back into snooker mode. This deserves credit because playing well in practice is very different to performing in an intense competition and under the spotlights of the Crucible. He made the transition with ease.

O'Sullivan has clearly been putting the work in and was sharp in dispatching Campbell, but this wasn't the finished product.

This was a comfortable start for Ronnie but things will get a whole lot tougher yet. 

The Rocket will have to improve his long game and toughen up in the scrappy frames if he is return to win his fifth world title, but the signs so far are very good.

He took advantage of the chances he was always going to get against Campbell, who has never produced his best at televised stages of major events. This was a case of a job well done. 

His performance was good enough and he looks in a serious frame of mind to go all the way. But it could still go either way. Ronnie has other gears to glide through but also looked beatable today.

He has a whole week before his second round match against either Carter or Ben Woollaston. He will be working hard to brush up his game further.

O'Sullivan completely, and understandably, stole all he media attention today. Until next Saturday, the tournament will return to the situation the sport has been in all season: one without its star attraction.

There are many other great players bidding to become world champion this year. We can take a look at them now and prove the show goes on, as it has all year.

Ronnie created a memorable opening day at the Crucible. There is plenty more to come. 
Qualifiers
Stage One Qualifiers – non members
4-5 April, 2013
WS Academy, EIS, Sheffield 
Thursday, 4 April
10,00am
1 – Ali Bassiri 0-5 Surinder Gill
2 – Del Smith 4-5 Barry Stark
3 – Paul Wykes 5-2 Robin Hull
4 – Stephen Omerod 5-0 Bill Kelly 
2,30pm
5 – Andrew Norman 5-1 Philip Minchin
6 – Les Dodd 5-4 Surinder Gill
7 – David Morris 1-5 Joe Swail
8 –Stephen Rowlings 5-4 Barry Stark  
7,30pm
9 – Justin Astley 5-2 Tony Knowles
10 – Lucky Vatnani 3-5 Paul Wykes
11 – David Singh 2-5 Tony Chappel
12 – Patrick Wallace 5-0 Stephen Omerod
Friday, 5 April
10,00am
13 – Andrew Norman 1-5 Les Dodd
14 – Joe Swail 5-2 Stephen Rowlings
15 – Justin Astley 5-2 Paul Wykes
16 – Tony Chappel 1-5 Patrick Wallace 
4,00pm
17 – Les Dodd 1-5 Joe Swail
18 – Justin Astley 5-2 Patrick Wallace
All matches are the best of 9 frames. 
Stage Two
Badminton Hall
Saturday, 6 April
10,00am
1 – Thepchaiya Un-Nooh 6-3 Scot Donaldson
2 – Zhang Anda 6-3 Passakorn Suwannawat
3 – Thanawat Tirapongpaiboon 4-5 Jamie O'Neill
4 – Michael Wasley 4-5 Sean O'Sullivan
15 – Craig Steadman 5-3 David Grace
16 – Tian Pengfei 5-3 Martin O'Donnell 
2,30pm
7 – Tony Drago 6-3 Mohamed Khairy
8 – Aditya Mehta 4-5 Daniel Wells
9 – Luca Brecel 4-5 Fraser Patrick
10 – Robbie Williams 3-6 Li Yan 
7,00pm
1* - Thepchaiya Un-Nooh 10-6 Scot Donaldson
2* - Zhang Anda 10-6 Passakorn Suwannawat
3* - Thanawat Tirapongpaiboon 10-8 Jamie O'Neill
4* - Michael Wasley 10-6 Sean O'Sullivan
15* - Craig Steadman 10-9 David Grace
16* – Tian Pengfei 10-5 Martin O'Donnell 
Sunday, 7 April
10,00am
5 – Dechawat Poomjaeng 6-3 Michael Leslie
6 – Pankaj Advani 4-5 Joe Swail
11 – Ian Burns 5-4 Joel Walker
12 – Liam Highfield 4-5 Simon Bedford
13 – Chen Zhe 4-5 Sam Baird
14 – Paul S.Davison 4-4 Justin Astley 
2,30pm
7* - Tony Drago 10-3 Mohamed Khairy
8* - Aditya Mehta 10-7 Daniel Wells
9* - Luca Brecel 6-10 Fraser Patrick
10* – Robbie Williams 7-10 Li Yan 
7,00pm
5* - Dechawat Poomjaeng 10-4 Michael Leslie
6* - Pankaj Advani 8-10 Joe Swail
11* - Ian Burns 10-8 Joel Walker
12* - Liam Highfield 10-6 Simon Bedford
13* - Chen Zhe 7-10 Sam Baird
14* - Paul S.Davison 10-8 Justin Astley 
Monday, 8 April
10,00am
17 – Gerard Greene 3-6 Thepchaiya Un-Nooh 
18 – Cao Yupeng 5-4 Zhang Anda 
19 – Mike Dunn 5-4 Thanawat Tirapongpaiboon 
20 – James Wattana 5-4 Michael Wasley 
31 – Kurt Maflin 5-4 Craig Steadman 
32 – Jimmy White 4-5 Tian Pengfei      
2,30pm
23 – Andy Hicks 4-5 Tony Drago 
24 – Alan McManus 4-3 Aditya Mehta 
25 – Rod Lawler 6-2 Fraser Patrick
26 – Jimmy Robertson 7-2 Li Yan 
7,00pm
17* - Gerard Greene 4-10 Thepchaiya Un-Nooh 
18* - Cao Yupeng 7-10 Zhang Anda 
19* - Mike Dunn 6-10 Thanawat Tirapongpaiboon 
20* - James Wattana 10-7 Michael Wasley
31* - Kurt Maflin 10-6 Craig Steadman
32* – Jimmy White 10-7 Tian Pengfei   
Tuesday, 9 April
10,00am
21 – Liu Chuang 4-5 Dechawat Poomjaeng 
22 – Adam Duffy 5-4 Joe Swail 
27 – Yu De Lu 7-2 Ian Burns 
28 – Barry Pinches 4-5 Liam Highfield 
29 – Peter Lines 4-5 Sam Baird 
30 – Alfie Burden 4-5 Paul S.Davison   
2,30pm
23* - Andy Hicks 7-10 Tony Drago
24* - Alan McManus 10-9 Aditya Mehta 
25* - Rod Lawler 10-5 Fraser Patrick
26* – Jimmy Robertson 10-2 Li Yan 
7,00pm
21* - Liu Chuang 9-10 Dechawat Poomjaeng
22* - Adam Duffy 6-10 Joe Swail
27* - Yu De Lu 10-2 Ian Burns
28* - Barry Pinches 9-10 Liam Highfield
29* - Peter Lines 9-10 Sam Baird
30* – Alfie Burden 10-7 Paul S.Davison  
Wednesday, 10 April
10,00am
33 – Ben Woollaston 7-2 Thepchaiya Un-Nooh  
34 – Michael White 6-3 Zhang Anda 
35 – Matthew Selt 5-4 Thanawat Tirapongpaiboon 
36 – Jack Lisowski 7-2 James Wattana 
47 – Steve Davis 4-5 Kurt Maflin 
48 – Xiao Guodong 3-6 Jimmy White   
2,30pm
39 – David Gilbert 4-5 Tony Drago 
40 – Nigel Bond 4-5 Alan McManus 
41 – Anthony McGill 2-7 Rod Lawler
42 – Liang Wenbo 7-2 Jimmy Robertson   
7,00pm
33* - Ben Woollaston 10-3 Thepchaiya Un-Nooh  
34* - Michael White 10-5 Zhang Anda 
35* - Matthew Selt 10-8 Thanawat Tirapongpaiboon
36* - Jack Lisowski 10-4 James Wattana 
47* - Steve Davis 7-10 Kurt Maflin 
48* – Xiao Guodong 4-10 Jimmy White   
Thursday, 11 April
10,00am
37 – Anthony Hamilton 2-7 Dechawat Poomjaeng 
38 – Mark Joyce 6-3 Joe Swail 
43 – Jamie Burnett 3-6 Yu De Lu 
44 – Jamie Jones 6-3 Liam Highfield 
45 – Rory McLeod 4-5 Sam Baird 
46 – Dave Harold 3-5 Alfie Burden     
2,30pm
39* - David Gilbert 10-8 Tony Drago
40* - Nigel Bond 8-10 Alan McManus 
41* - Anthony McGill 9-10 Rod Lawler 
42* – Liang Wenbo 10-3 Jimmy Robertson  
7,00pm
37* - Anthony Hamilton 4-10 Dechawat Poomjaeng 
38* - Mark Joyce 10-7 Joe Swail 
43* - Jamie Burnett 6-10 Yu De Lu
44* - Jamie Jones 9-10 Liam Highfield 
45* - Rory McLeod 9-10 Sam Baird 
46* – Dave Harold 9-10 Alfie Burden    
Friday, 12 April
no play – table recovers 
Stage Three
Saturday, 13 April
10,00am
49 – Ryan Day 4-5 Ben Woollaston 
50 – Andrew Higginson 3-6 Michael White 
52 – Fergal O'Brien 3-6 Jack Lisowski 
53 – Jamie Cope 1-8 Dechawat Poomjaeng 
54 – Michael Holt 8-1 Mark Joyce 
55 – Marco Fu 5-4 David Gilbert   
2,30pm
51 – Ken Doherty 3-6 Matthew Selt
56 – Tom Ford 4-5 Alan McManus 
57 – Martin Gould 2-4 Rod Lawler 
58 – Mark Davis 5-4 Liang Wenbo 
7,00pm
49* - Ryan Day 9-10 Ben Woollaston 
50* - Andrew Higginson 4-10 Michael White 
52* - Fergal O'Brien 4-10 Jack Lisowski
53* - Jamie Cope 3-10 Dechawat Poomjaeng 
54* - Michael Holt 10-7 Mark Joyce 
55* – Marco Fu 10-6 David Gilbert      
Sunday, 14 April
10,00am
59 – Mark King 5-4 Yu De Lu 
60 – Marcus Campbell 7-2 Liam Highfield 
61 – Joe Perry 3-6 Sam Baird 
62 – Dominic Dale 7-2 Alfie Burden 
63 – Peter Ebdon 6-4 Kurt Maflin 
64 – Robert Milkins 6-3 Jimmy White   
2,30pm
51* - Ken Doherty 9-10 Matthew Selt
56* - Tom Ford 5-10 Alan McManus 
57* - Martin Gould 10-7 Rod Lawler
58* – Mark Davis 10-6 Liang Wenbo 
7,00pm
59* - Mark King 10-9 Yu De Lu 
60* - Marcus Campbell 10-4 Liam Highfield 
61* - Joe Perry 3-10 Sam Baird 
62* - Dominic Dale 10-5 Alfie Burden
63* - Peter Ebdon 10-8 Kurt Maflin 
64* – Robert Milkins 10-5 Jimmy White 
Stage One – all matches are the best of 9 frames
Stage Two and Three – all matches are the best of 19 frames (9/10)
*Denotes final session of match