Grand Prix 2006/07 A
Link to the Round Robin matches and another stages of the event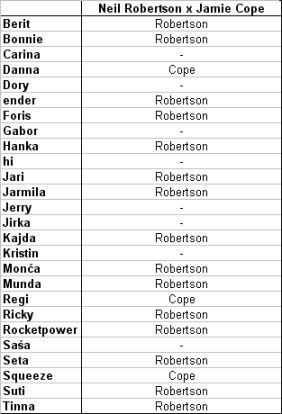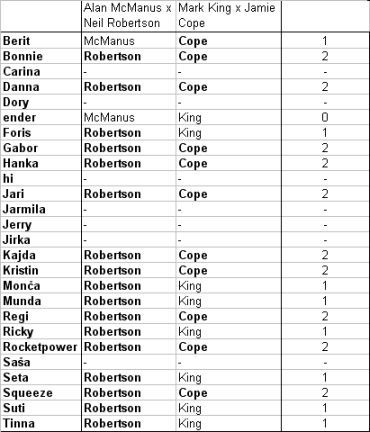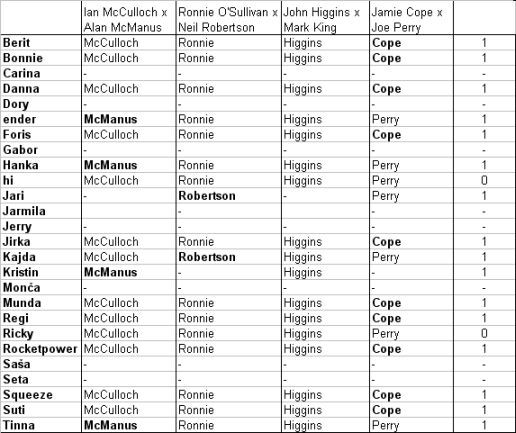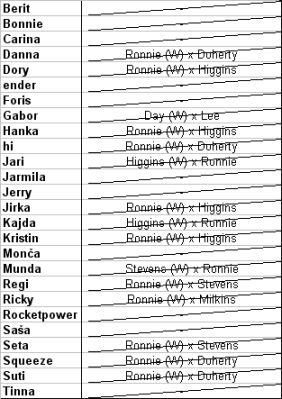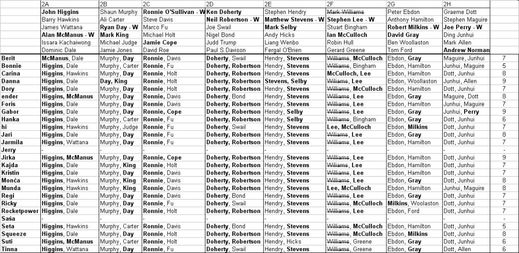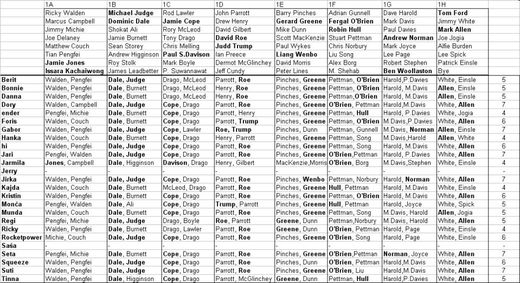 RED-HOT ROBBO STUNS ROCKET
27 Oct 2006 www.worldsnooker.com
Ronnie O'Sullivan admitted he was "blown away" as Neil Robertson produced the best performance of his career at the Royal London Watches Grand Prix today.
Last season's runner-up O'Sullivan was thumped 5-1 at the Aberdeen Exhibition and Conference Centre as the rising star from Down Under secured a place in his first-ever ranking event semi-final.
The Rocket, who had previously declared he wanted to be like gunslinger Billy the Kid, admitted: "Neil was on fire. He blew me away.
"You have to give the guy credit. He barely missed a ball abd when he did I just didn't punish him.
"Sometimes you come up against someone playing like that and there's not much you can do. He deserved his win. I wish I could have given him a better game.
"If he carries on playing like that he'll fancy his chances of winning this. He was a hard man out there today."
Robertson, who had lost in his previous five ranking quarter-finals, started well with runs of 31 and 32 to take the opener.
An excellent 46 clearance followed as the Melbourne Machine went 2-0 ahead, before O'Sullivan hit back with a break of 69 after Robertson had missed a routine black.
But the Cambridge-based Aussie won the fourth frame with an 42 break to lead 3-1 at the interval - and following the resumption the world No 13 sparkled.
Further breaks of 71 and 65 followed as the left-hander fired his way into the semis where he will now play either Scot Alan McManus or Preston's Ian McCulloch.
"I would definitely say this is the best performance of my career so far," said an understandably delighted Robertson.
"I'm very happy with the way I played. I've scored more heavily and played more explosive stuff in other matches, but I think playing like that against someone like Ronnie is so much harder to do.
"I kept my composure because I knew I was playing well and I knew I would be creating chances for myself.
"I said before the match I was probably one of the few players who can beat him when he's playing well. I definitely believed that.
"When I get in the balls and I'm concentrating and my positional play is good, then I score almost as heavily as anyone.
"Obviously long potting is my strength as well as clearing up under pressure, so there was absolutely no reason why I shouldn't think I could beat."
Asked if this was an early sporting blow for Australia ahead of the forthcoming Ashes, Robertson cheekily replied: "At least Ronnie got one today. We should win the cricket 5-0!"
ALL GUNS BLAZING
25 Oct 2006
www.worldsnooker.com
Ronnie O'Sullivan said he wants to be like Billy the Kid after shooting down David Gray at the Royal London Watches Grand Prix.
The Rocket's 5-2 success put him through to the quarter-finals where he meets Neil Robertson, a 5-3 winner over Andrew Norman.
O'Sullivan claims he has rediscovered his "love of snooker" and was in ebullient mood after knocking in breaks of 136, 51, 107, 51 and 67 to easily see off Gray in Aberdeen.
"I want to be aggressive like Billy the Kid," said world No 3 O'Sullivan, runner-up in last year's Grand Prix. "You look at all the great sportsmen - Steve Davis, Roger Federer, Tiger Woods, Michael Schumacher and Phil Taylor are all aggressive.
"They know to play a defensive game. I know how to play a defensive game, Ray Reardon has taught me that, but I don't intend on having many scrappy matches. I won't stop playing aggressively.
"I've been playing poorly for the last 10 or 11 years. I remember winning as a kid with effortless ease and that's how I need to play. I can do that if I play this type of game. I can go through players and win without it feeling like I've had to work for it. It's kind of come easy to me.
"A lot of snooker players are too intense and serious. You can catch it off them, it's like a lurgy which goes around. I want to be laid back and just enjoy it.
"I'm not in this for trophies or the money, I'm in this for the love. That means more to me. It's just the beauty of the game.
"My game needs to be a little bit stronger, but I'm really not worried whether it comes or not. I'm going out there to enjoy it and take that enthusiasm and that love for the game I had as a kid."
Meanwhile, Aussie ace Robertson came from 2-1 behind to end Norman's chances.
Bristol's Norman knocked in breaks of 44 and 59 to edge ahead. But the Melbourne Machine was up to the task and reeled off the next two frames to re-establish his advantage.
Norman rallied to draw level, but with breaks of 56 and 75 it was Robertson who made sure of victory.
"Overall I'm not too happy with the way I played, but I'm definitely looking forward to playing Ronnie," said Robertson.
"I think I'm one of the few players who can beat him even when he's playing well, providing my long game is working and I'm scoring well."
Robertson's win has seen him reach his sixth ranking event quarter-final, but he is yet to reach a semi.
"It doesn't bother me at all," added the world No 13. "I think it's a good sign if you keep getting to quarter-finals.
"Eventually I'll start to break through. I've lost a few close ones, but it's definitely not a stumbling block."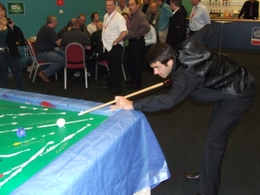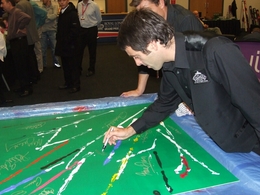 ART ATTACK
24 Oct 2006 10:16:00
Snooker's leading stars created unique pieces of artwork on Monday for charity group the Willow Foundation.
The Foundation (http://willowfoundation.org.uk/home.shtml) organises special days out for seriously ill young adults. Leading sports figures such as footballer Thierry Henry and golfer Ian Poulter have recently contributed pieces of art, combining paint and canvasses with sporting equipment.
The snooker players took their turn in the players' lounge at the Royal London Watches Grand Prix in Aberdeen. A canvas was laid horizontally on to a snooker table and the players hit painted balls across it to make spectacular patterns.
Ronnie O'Sullivan (pictured signing his contribution), Stephen Hendry, Steve Davis, John Higgins, Ken Doherty, Peter Ebdon, Terry Griffiths and Dennis Taylor were among those to take part.
The original pieces as well as 50 prints were signed and they will be auctioned to raise money for the Willow Foundation.
ROUND ROBIN MEANS A SNOOKER FEAST FOR FANS
17 Oct 2006 10:06:00
The Royal London Watches Grand Prix starts this Saturday - and there's still time to buy tickets to see the world's best players in action.
The event at the Aberdeen Exhibition and Conference Centre embraces a new Round Robin format. All matches in the initial round are best-of-five frames.
The action will take place on six tables simultaneously and every player will play five matches over the first four days.
For example:
Ronnie O'Sullivan plays Saturday 3.30pm (v Steve Davis); Sunday 1.35pm (v Michael Holt); Sunday 8.30pm (v Jamie Cope); Monday 1.35pm (v Marco Fu); Monday 8.30pm (v David Roe)
Stephen Hendry plays Saturday 7pm (v Mark Selby); Sunday 3.30pm (v Andy Hicks); Monday 3.30pm (v Matthew Stevens); Tuesday 11.45am (v Fergal O'Brien); Tuesday 7pm (v Liang Wenbo)
John Higgins plays Saturday 11.45am (v James Wattana); Sunday 1.35pm (v Issara Kachaiwong); Sunday 7pm (v Dominic Dale); Monday 1.35pm (v Barry Hawkins); Tuesday 1.35pm (v Alan McManus)
Steve Davis plays Saturday 3.30pm (v Ronnie O'Sullivan); Saturday 8.30pm (v Jamie Cope); Sunday 11.45am (v David Roe); Monday 1.35pm (v Michael Holt); Tuesday 7pm (v Marco Fu)
Ding Junhui plays Saturday 1.35pm (v Graeme Dott); Sunday 11.45am (v Andrew Norman); Monday 7pm (v Stephen Maguire); Tuesday 1.35pm (v Mark Allen); Tuesday 7pm (v Joe Perry)
A day ticket entitles you to watch the first three sessions (11.45am, 1.35pm and 3.30pm) on any of six tables, and an evening ticket is for the 7pm and 8.30pm sessions.
A ticket costs just £10 (concessions £5), to purchase call 0870 2726600 or visit www.secxtra.com
RECORD BREAKER HIGGINS HOPES FOR GRAND PRIX REPEAT
04 Sep 2006 10:20:00
www.worldsnooker.com
John Higgins will reflect on his best ever performance in snooker when he defends his title in the Royal London Watches Grand Prix next month.
The Wizard of Wishaw stunned Ronnie O'Sullivan 9-2 with a magical display in last year's final. He rewrote snooker's record books by rattling in four consecutive century breaks and scoring 494 unanswered points.
"It was probably the best I've ever played, especially in a big match against a great player like Ronnie," said Higgins. "At the time I didn't realise that I'd set two new records.
"But having found out afterwards, it became something I'm very proud of, particularly when I think of all the great players who have played snooker down the years."
This year's Grand Prix is being staged in Aberdeen for the first time. "It's brilliant to have a major tournament in Scotland again," added former world champion Higgins. "All the players, not only the Scottish boys, are glad to be coming back here.
"The tournaments staged in Aberdeen in the past were always a success, it's a great venue and the crowds should be good."
World No 4 Higgins also won the Masters last season and reached the final of the Malta Cup and China Open, but has set his sights on even more success this time.
"At the start of every season you always want to do better than the one before. That will be hard for me but that's my aim and I want to keep moving up the rankings," he added.
The World Snooker Tour ranking event runs from October 21 to 29. Tickets are now on sale, they start at £10 (£5 concessions) and can be ordered at www.secxtra.com or by calling 0870 272 6600.
The top 32 players, including world No 1 Stephen Hendry, World Champion Graeme Dott, Ronnie O'Sullivan, Ding Junhui and Steve Davis will be joined by 16 qualifiers.
The tournament has a unique new format. The 48 players will be split into eight groups of six for the round robin stage. All matches will be best of five frames, with the top two in each group going through to the last 16, when the event reverts to a knockout format.
The round robin matches will be played on six-tables on a roll-on roll-off basis, so fans will have the chance to see several of the world's top players in action with a single ticket. The new format has been devised to provide a fresh and exciting spectacle for viewers on BBC Sport and spectators at the AECC.
Date: Monday, September 4, 2006
Contact: Ivan Hirschowitz, World Snooker media office, 07766 656133
www.worldsnooker.com
GRAND PRIX MOVES TO ABERDEEN
01 Jun 2006 12:20:00
www.worldsnooker.com
The Grand Prix, one of snooker's major tournaments, will be staged in Aberdeen for the first time in October.
The World Snooker Tour ranking event will be held at the Aberdeen Exhibition and Conference Centre from October 21 to 29.
A public sector partnership involving Event Scotland, Aberdeen City Council and the AECC has agreed an investment package of £80,000 and the provision of the AECC to secure the event for Scotland and Aberdeen.
The Grand Prix will receive extensive television coverage from BBC Sport. The top 32 players in the world will qualify automatically so world No 1 Stephen Hendry, Ronnie O'Sullivan, Ken Doherty, Steve Davis and Ding Junhui will be among those trying to wrestle the title from John Higgins' grasp.
Graeme Dott, who beat Peter Ebdon in the Crucible final last month to win the 888.com World Snooker Championship, was present at today's launch at the AECC and said: "Snooker is so popular in Scotland and we have produced a lot of great players, so it's really important that there is a major tournament here and this is excellent news."
World Snooker director Jim McMahon added: "We know that support for snooker is strong in Aberdeen and we look forward to enthusiastic support from local fans. We're very pleased to be back in Scotland."
Paul Bush, EventScotland's Deputy Chief Executive, said: "Staging a major World Snooker Tour ranking event in Aberdeen is a real coup for the city and Scotland.
"The Grand Prix is one of snooker's most prestigious tournaments and that is why we are delighted to invest £15,000 towards the cost of additional infrastructure and promotion of the event outside Scotland. The event is expected to attract an audience of millions through live television coverage and will provide further evidence of Scotland's ability to successfully host major international sporting events."
Louise Scott, Economic Promotion Manager of Aberdeen City Council, said: "We are delighted to be welcoming this prestigious tournament to Aberdeen and to be among the key partners.
"Hosting an event of this calibre gives us an unrivalled opportunity to showcase Aberdeen City and Shire as a great sporting centre as well as a great place to work and do business."