'He loves me and I love him and we're best mates, and everybody else will fit around what we do.'
MAVERICK SNOOKER PLAYER Ronnie O'Sullivan has revealed that one of the unlikely reasons behind his decision to return to the sport is his friendship with controversial British artist Damien Hirst.
Hirst, whose works include a bisected cow and calf suspended in formaldehyde, has regularly attended O'Sullivan's matches in the past and has compared his friend to late Spanish artist Pablo Picasso.
O'Sullivan faces Scotland's Marcus Campbell in the first round of the World Championship in Sheffield, northern England, on Saturday, when he will begin his defence of the trophy he won for the fourth time last year.
Although he has not played in a major match since defeating Ali Carter in the 2012 final, he says he is more excited about the social aspect of the tournament than the competition itself.
"The only person in my corner will be Damien Hirst," O'Sullivan said. "He loves me and I love him and we're best mates, and everybody else will fit around what we do.
"That's why I'm coming back to snooker, because I miss seeing Damien, I miss seeing (Hirst's personal assistant) Sylvia. I miss seeing all of my little friends that used to love getting away to snooker tournaments. The minute I said 'I'm not playing', I knew I'd miss out on those trips with my friends.
"I know it's 10 o'clock Saturday morning and I'll be there, and if Damien's not there I'll be on my own, but I'll be all right. I'm 37 years of age, I'm sweet. Nothing scares me."
Hirst was reportedly drawn to O'Sullivan out of fascination with the 37-year-old's impulsive behaviour, but the cueman from Chigwell, east of London, says work with sports psychiatrist Dr Steve Peters has helped curb his more erratic tendencies.
"Since I decided to come back to playing snooker, I see Steve quite a bit," O'Sullivan said. "We're more friends now. There's nothing really I can be told now. Once I've sucked knowledge up, I've sucked it up. I just need to put into practice what I've learnt in that year I had last year. We're just friends and he's here to support me."
O'Sullivan announced that he would be taking time away from snooker in November, only to reveal in February that he had decided to make a comeback. He spent time working as a farm hand during his career hiatus and said the experience only made him appreciate his snooker career more.
"It's better than working on the farm," he said. "I tried that one. That did my head in."

World Snooker Championship: Inside Ronnie O'Sullivan's mind
18 April 2013
WORLD CHAMPIONSHIP
Venue: The Crucible Theatre, Sheffield 
Coverage: Live on BBC Two, Red Button and online on the BBC Sport website, mobile, BBC Sport app and Connected TV. Updates on BBC Radio 5 live
After a year's sabbatical from snooker, Ronnie O'Sullivan is back to defend his world title at the Crucible Theatre in Sheffield on Saturday.
The four-time world champion, 37, spoke to Rob Walker for a BBC Radio 5 live special, broadcast at 19:30 BST on Thursday.
Below is a selection of the best bits, including why he quit, why he is back and his chances of winning a fifth world title.
On why he quit snooker for a year
It is quite a demanding circuit but I never found it demanding in the sense I couldn't cope, at no point did I feel burnt out. There is a responsibility on me when I am playing snooker and I understand that, but it was getting a bit too pressurised. I was also getting it in my personal life.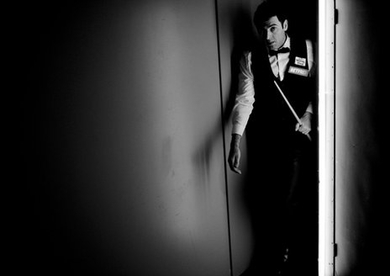 I was like an elastic band; at some point I was going to snap so I decided that the best thing was to remove myself from that situation.
But my decision was largely based on the fact that I'd just won the greatest event there is to win in probably the greatest style that anybody has ever done it.
And, with my little boy there as well, it just all fitted - it couldn't get any better than that. And it probably can't and probably never will. So I was happy to walk away on those terms.
On why he is returning to the game
I realised that snooker gave me lots of opportunities and once I finished playing I got lazy, I got comfortable, I had too much time on my hands. It was nice to have the year out but in hindsight I wish I hadn't.
But it's helped me get perspective and appreciate what snooker did give me; not necessarily in terms of titles and success on the table but what it allowed me to do off the table, which means more to me than playing snooker. It's allowed me to see different parts of the world and meet people I probably wouldn't have met.
On his current state of mind
The last two years have probably been the best two years I've ever had, because I've managed to play to a level I always knew I was capable of.
But I've always lived worrying about whether my game will be there one day to the next. There's a panic and anxiety I put on myself. Every day is different - some days you're great, some days you're not so great.
Since working with [sports psychologist] Steve Peters, it's probably the best I've played consistently for a whole year and I feel much more in control of my emotions. It comes and goes. When it's good, I go with it; when it's not so good, I just try to get some kind of perspective on it. Sometimes when it's not so good I think I'm like some ordinary club player, but it's probably not the case.
When I feel like throwing the towel in, I now realise it's not me that wants to throw the towel in, it's just part of my brain that takes control for that moment and it seems so real. I now know if I stay patient, stick in there, it can quickly turn around and I can get through matches that in the past I might have lost.
On practising with Peter Ebdon
It wasn't a matter of choosing Peter, I happened to be in Sheffield and he happened to be there as well. I think he was more enthusiastic about playing me, he felt he was getting more out of it than I was.
As soon as I walked in there, he was like 'I'm just finishing off this best of seven and I'll play you'. And I was like 'no worries, no stress, I'm just going to have a knock by myself'. But Peter's really intense, likes his practice and I like that; it gave me the motivation to want to play as well.
If someone like that wasn't around me, it would be easy to settle into my comfort zone. I just enjoy playing anyway, whether it's Peter or anybody else. But it's been good fun.
In some ways it was a bad time to retire because I was probably playing my best snooker last year. So it's like I've got a second chance because I didn't intend to come back, it's all icing on the cake.
I haven't played any matches for a year, so there's no point in me saying I'm going to do this or do that.
"But I feel I'm playing as well now as when I was 15 or 16, I'm cueing as well now as I have for a long time.
It's going to be a fantastic moment, going out there as reigning champion and having not played for a year, a unique type of experience.
"They'd probably charge you a lot of money in a shop for that experience.
I'm going to be a little more mature, I've done what I wanted to do, I've got nothing left to prove, I can probably enjoy it a lot more.
"I feel I'm in a lot better space, a bit wiser and I still feel good. I still feel like I can compete, I still think when I look out there: 'You know what? I'm up for this.'
On what winning would mean to him
My best achievement was winning the world title last year. When everyone fancies you to win it and you do win it, that's the mark of a great champion. This year no-one expects me to do much, so in some ways I have nothing to lose. It's easy to do it when you've got nothing to lose. Winning it when you've got everything to lose is more impressive than doing it as an underdog.
On whether he is back for good
I'm not sure how long I'm going to be playing for; I'm just taking it one tournament at a time. That was it for me last year, but a few changes have been made within the game which has given me the chance to play in the amount of tournaments I'm willing to play in and still compete with the top guys.
I'm enjoying my practice and it's given me some kind of direction in life. I'm not sure how many events I'm going to be playing in. I could just practise and play in a few events, I don't need to prove myself to anybody, it's just about getting through life now and having fun and doing it on my terms. If I happen to play in a few events, great, if I don't, I don't.
If I could find something else to do away from snooker - which I'm working on, it won't just happen overnight - that would be a nice transition. Whatever that may be - journalism, having my own shows, something to fill my time up. I probably wouldn't give snooker up until that was in place and I would like to win another world title in my 40s.

The 2013 World Snooker Championship Media Launch in Pictures
Ronnie O'Sullivan not sure if his return to the Crucible will be "car crash" or "good", with the four-time champion likening his appearance to reality TV 
The 2013 World Championship begins on Saturday, with Ronnie O'Sullivan back at the Crucible to defend his crown after spending the best part of twelve months away from the tables. 
It remains to be seen whether playing a few exhibition matches against Jimmy White will be enough to see The Rocket go all the way in Sheffield, although the 37-year-old is looking forward to competing on the professional stage again.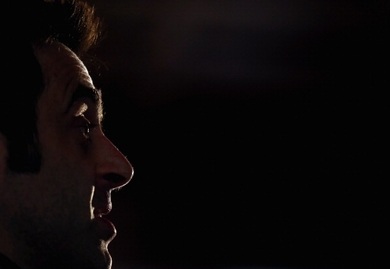 "It's like my own reality TV show," the four-time champion said. 
"It could be car crash, it could be good. You just don't know. 
"If I'm cueing all right and feeling all right, then I should be a match for anyone, but who knows? 
"The World Championship is a one-off event and the form book usually goes out the window." 
O'Sullivan claimed during a pre-tournament press conference that it was nice to be returning to the game after a lengthy absence and that playing snooker will give him a focus again. 
"There's a part of me that wants instant success," he said. 
"That would be nice, but for me it's just about having fun. 
"I felt it was time to have some sort of focus in my life.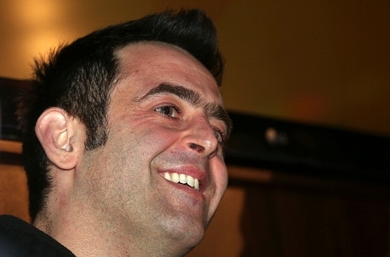 "Running was a massive part of my life and I found I got that lazy having nothing to do I had too much time to even go and run in the end. I started putting weight on. 
"I realised that snooker gave me an opportunity to meet some good people, to travel and that's kind of what I missed, missing the routine." 
O'Sullivan plays his first round match against Marcus Campbell on Saturday, with the reigning champion now looking to continue playing into his forties. 
"I'd like to win another world title in my forties," he said. 
"I've not set myself the goal to win this year's world title, because that would be a bit of a silly goal.
"I'd like to be a world champion when I'm 40. It gives me a bit of leeway. 
"It's the long game I'm looking at, rather than just the short-term. This is just the start." 
Mark Selby is also among the favourites to win the World Championship despite failing to win a Crucible title during his career to date. 
The world number one is pleased to see O'Sullivan back in Sheffield, with World Snooker chief Barry Hearn having described Selby as an "invoicing operation" after the Jester from Leicester's recent victories in the UK Championship and Masters.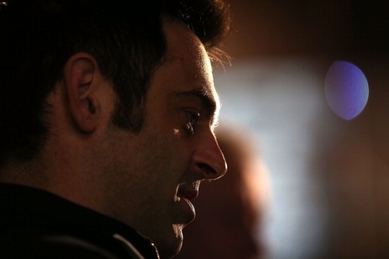 The 29-year-old from Leicester, who plays Matthew Selt in the first round, said: "It's a tough tournament to win. There's a lot of great players in it. 
"It's great to have Ronnie back playing as well, so it's going to be tough. 
"He's one of the most natural players to ever play our game. If any one player can do it (win after a year out), Ronnie's the person."
JIMMY WHITE: RONNIE O'SULLIVAN THE MAN TO BEAT
7th April 2013
By Hector Nunns
RONNIE O'SULLIVAN will need just one match at the Crucible to hit top gear - according to Jimmy White.
The Rocket is back after a year out, to defend his world title in Sheffield in two weeks' time.

The snooker world is waiting to see how the four-time champion, 37, will cope after 12 months on the sidelines.

White, a six-time world championship runner-up, reckons O'Sullivan may be vulnerable in the first round - where he will play a qualifier from a random draw.

"The first match for him is the potential banana skin - but after that you have to beat him over three sessions," said White.

"After having the time off he will be a bit nervous about that first match over the best of 19 frames. It will be the first time out in a proper match for a year, after all.

"Even then a qualifier will have to play out of their skin to beat him - but if he gets over that hurdle he will be the man to beat and can play himself into top form."

White, 50, is attempting to qualify for the world championships for a 26th time and is playing at the Crucible this week in a Snooker Legends event.
RONNIE O'SULLIVAN TO DOMINATE FIELD ON RETURN SAYS PETER EBDON
4th March 2013
By Daily Star Reporter
RONNIE O'SULLIVAN will scorch through the field on his grand Crucible return – according to Peter Ebdon.
http://www.dailystar.co.uk/othersport/view/305281/
The Rocket makes his comeback at next month's World Championships in Sheffield after taking 12 months out. 
And the Essex Exocet, 37, picked former world champion and renowned grinder Ebdon as a ­sparring partner last week to ready himself for battle. Four-time and defending Crucible king O'Sullivan has slipped to world No.26 through his long spell on the sidelines. 
And his year-long lack of match practice has led some to wonder if he would be vulnerable in Sheffield – especially in the early rounds. 
But world No.29 Ebdon, 42, who defends his own China Open title this week in Beijing, believes O'Sullivan is unquestionably the man they all have to beat. Ebdon said: "I practised with him on Sunday and again on Tuesday and he was phenomenal. I think it was 5-1, 5-1, 5-1 on Sunday, and he made about six centuries. 
"Having seen him at close quarters and the way he is playing and the mood he is in, I think they have all got it all to do to beat him in Sheffield. 
"I'd make him a very strong favourite to win the title again. It would take one of the top eight players to play out of their nut to get near him."
Rocket Ronnie's back to defend his world crown
Published on Tuesday 26 February 2013 21:32
Ronnie O'Sullivan dramatically called off his snooker sabbatical, but admitted he may well end up "getting smashed" when he returns to the table to defend his world title in seven weeks' time.
O'Sullivan won his fourth World Championship in May, but then announced he was taking a break from the sport to deal with personal issues that have dogged him throughout his career.
The 37-year-old made a brief comeback in September at a tournament in Gloucester, but he once again decided to walk away from the sport following a defeat to Simon Bedford.
The Essex potter, widely regarded as the best player in the history of the game, vowed not to return before the end of the season, but he went back on that decision, revealing at a press conference in London that he intended to return to the action for this year's event at the Crucible.
'The Rocket' says he has played snooker on just 10 days out of the 302 have passed since he posed with the famous trophy in Sheffield last May. For that reason, he knows he is taking a massive gamble. "I'm very match rusty. I haven't played any matches. I have not been in any intense situations so it's going to be a tough call to go in there with no match practice behind me," O'Sullivan said.
"I might get smashed in Sheffield. I'm going in to the unknown. It's a massive challenge."
O'Sullivan's career has been a dramatic rollercoaster of emotions. The Chigwell star made his first century break at 10-years-old, his first 147 came five years later – 12 months before he turned professional.
He then went on to win four world titles and 27 ranking tournaments, but off-the-table problems, including a battle with depression coupled with several disciplinary issues, meant O'Sullivan often made the headlines for the wrong reasons.
O'Sullivan sought the care of psychologist Dr Steve Peters to help him, but he admits he cannot be sure that his personal problems will affect his play when he returns.
"They (the personal issues) possibly could (affect me)," he said. "That's the reality of it. All I know is that I have to make a start. I have tried to put everything on hold, get things resolved.
"Hopefully they will be resolved. If they are not I will re-address it and see if I am still capable of taking on a commitment of being a professional sportsman.
"Have the personal problems been resolved? No."
He added: "Boredom was a big factor (in deciding whether to come back)," he continued.
"Three or four months ago I was sitting there thinking: 'I'd take getting beat 10-0 in Sheffield just to be back playing rather than not doing anything'.
"I was a bit bored just going out for lunches and chilling out.
"I needed the rest but I just thought it was time to get back to doing what I've done for a lot of my life. I have a different perspective on it now. I thought it was worth giving it another whirl. I hope a few people do write me off because that'll make me stronger."
Ronnie O'Sullivan to return to snooker and defend his world title
Ronnie O'Sullivan has reversed his decision not to defend the world title after admitting that life without snooker was worse than his "darkest moments" in the sport.
10:30PM GMT 26 Feb 2013
Two days before the deadline for entry to this year's World Championship, O'Sullivan confirmed that he had ended his self-imposed exile from the professional circuit less than four months after insisting he would not play again this season.
The 37-year-old temporarily put away his cue for health and personal issues and, despite declaring his desire to play for another "seven or eight years", he confessed those matters might not be fully resolved. He also feared that his comeback could yet be short-lived.
But the four-time world champion, notorious for his threats to quit snooker altogether, insisted his sabbatical had also reinforced his love for the game.
O'Sullivan, who has suffered from clinical depression, said at a press conference to announce his return: "Sometimes, it did feel like the end of the world when I was playing, because that's how much it meant to me. Maybe, I'll appreciate it a bit more." He added: "There was a point when I just sat there and I thought: 'Even in my darkest moments of snooker, I'd probably take them back now.'
"What I need to keep in my mind when it's not going great is that, four months ago, I probably would've done anything to have been at a venue."
O'Sullivan refused to go into detail about his personal problems, promising all would become clear in a forthcoming book. He was hopeful they were resolved but added: "If they're not, I'll have to kind of readdress it and see if I'm capable of taking on a commitment which is to be a professional sportsman and play. As a professional sportsman, you want your private life to be kind of settled."
O'Sullivan's decision to go into exile coincided with his struggles with thesnooker calendar introduced by World Snooker chairman Barry Hearn.
The change from a points-based to a prize-money rankings list convinced him to return full-time, as it allows him to cherry-pick events and avoid the kind of travel that was affecting his family life.
He admitted he would arrive at the Crucible Theatre in Sheffield "rusty" from a lack of match play, revealing he had resorted to playing his local takeaway delivery driver. "He's not a snooker player," he said. "He comes round and plays me in the day, and then delivers Chinese food in the evening. His name is Alex, and he's a good lad."
Upon announcing his comeback, O'Sullivan was immediately installed among the favourites for the World Championship. Victory last year ensures that he will also be top seed.
He admitted he could get "smashed" by his rivals, adding that clinching a fifth title would rank alongside his greatest achievements.
"If I win a match in Sheffield I will be happy – and to win it would be up there with winning the [2009] Masters with the new cue," he said.
O'Sullivan was flanked by good friend and fellow crowd favourite Jimmy White. "Anyone who says they want to play him is lying," said White, who backed O'Sullivan to beat Stephen Hendry's record of seven world titles. "I think he'll beat Hendry's record, definitely."
STEPHEN HENDRY WARNING
ABOVE: O'Sullivan will return to the snooker circuit this year after time away from the game 
He has got six weeks now so he has plenty of time to be ready in order to compete and be sharp 
Stehen Hendry
28th February 2013
By Hector Nunns
The Rocket, 37, confirmed on ­Tuesday he will make a sensational return to action in April to ­defend his world title after a year out. 
O'Sullivan's absence has allowed others to hog the limelight – and dominate the top of the rankings. 
But all that is about to change – with the potential embarrassment of seeing a player with no match practice sweeping all before him. 
And seven-time world champion Hendry, 44, reckons challengers will have to show a huge ­improvement to have any hope against the game's most natural talent. 
Hendry, now retired, was once one of those ­rivals – and on one occasion was told he would be "sent back to his sad little life" in Scotland by O'Sullivan. 
However, the two have long since patched up any differences and are now good friends, a relationship based on strong mutual respect for each other's achievements. 
Scot Hendry said: "It will say a lot about the other guys, if he can take a year out with no match ­practice and come back and still win the one all his rivals want. 
"It will show so clearly how much a better player he is than them. And I think he can do it, make no mistake. 
"He has got six weeks now so he has plenty of time to be ready in order to compete and be sharp. 
"He will practice for that time and can pick up matches at the various academies. 
"When John Higgins was off with his six-month ban he came back and won virtually every ­tournament. 
"So I don't see it ­affecting Ronnie's chances at the Crucible. 
"If he did win that would really hurt and sting a bit. If this, him coming back, doesn't stir the ­others into action then nothing will. 
"They should all want to get their games together in the build-up to Sheffield because they want to beat O'Sullivan. 
"He is the defending champion, the best player, and there will be a few players that won't like the fact that it will be all about Ronnie. 
"You will have the world No.1, world No.2, and they won't be ­getting a look-in. 
"They will think, 'What about us?'. But he is the best and they have to get their a**e into gear. 
"I am glad and delighted that the best player in the world is back playing at the world championship. The standard will go up as a ­result. 
"That is what Ronnie brings, he brings the game to a ­level that everyone else will have to match to ­compete and he will force all the other players to play their best game."
Snooker - 'Ronnie missed the game and it missed him'
Eurosport commentator and former world champion Joe Johnson is one of many relieved to see that Ronnie O'Sullivan will return to defend his title at the Crucible.
Johnson raised aloft the trophy O'Sullivan has claimed four times just the once, back in 1986 when he defeated Steve Davis 18-12, before losing the 1987 final to Davis 18-14.
As a player whose career was cut short by injury, Johnson can emphasize with O'Sullivan, who withdrew from active competition last year thanks in part to battles with depression.
"I'm very excited that he's come back and that he'll open the tournament as defending champion," Johnson told Eurosport-Yahoo!. "It will be great to see Ronnie O'Sullivan back playing snooker again and doing what he does best.
"He says he's come back because he's bored and I can totally believe that. I was forced into retirement because I broke my ankle, so I can understand exactly where he's coming from.
"It's like you've had one of your legs cut off. One minute you've been playing snooker all your life and next you don't have anything to do. There's nothing you can do to replenish the feeling you get from tournament play. 
"So although it was Ronnie's own decision to take time off, I can fully understand it when he says he missed competition play because there really is nothing, absolutely nothing, which can take the place of that competitive edge that you've grown used to over your professional career."
Johnson also believes O'Sullivan's decision to return proves that 'The Rocket' will never fully retire from the sport of his own accord.
He explained: "He always threatened in the past to retire and take time out from the game because he was losing passion for the game and now that he's done that he's found out that he does miss it and that he needs to be playing.
"He may have been bored playing, but he's much more bored not playing!
"You can never be sure what Ronnie will do, but I'm fairly confident from now on he'll play in most events. He's had the time off he needed and will want to get back playing competitively on a regular basis.
"He also has to think about his age, he's 37 now and only got a few years left really at the highest level so he'll also want to make the most of that.
"I think his attitude will be exactly the same, he's always been controversial and I think he always will be, but I do think he's re-found his hunger for the game. He's missed the game and the game has missed him."
The 60-year-old from Bradford is also predicting that O'Sullivan can become a five-time Crucible kingpin, in what would be his most remarkable world title yet.
"I really believe he can win it," Johnson said. "He is the defending champion and the spotlight will be on him which he loves and thrives on.
"The number two and three seeds are likely to be Judd Trump and Mark Selby and they will also be kept away from him in the other half of the draw. 
"He wouldn't have returned without believing he can win it, he has great belief in his own ability.
"Obviously Ronnie's return is bad news for the player who is ranked 16th in the rankings,as being defending champion he automatically becomes the number one ranked player for the tournament, which means the 16th ranked player moves down to 17th and then has to go through qualification.
"Nowadays qualifying for a tournament is incredibly difficult and a top 16 player can easily lose to a player much lower down the rankings."
The seeding for the 2013 World Championships will be determined by the provisional world rankings after the China Open event, which concludes on March 30.
This year's World Championships, the traditional season finale, runs from April 20 to May 6.
O'Sullivan To Compete At World Championship
The Rocket Returns
26th Febuary 2013
www.worldsnooker.com 
Ronnie O'Sullivan today declared his intention to defend his World Championship title in Sheffield in April, a decision welcomed by World Snooker Chairman Barry Hearn. 
Four-time Crucible King O'Sullivan took a break from snooker after beating Ali Carter in last year's final, but will make a much-anticipated return on the sport's biggest stage. 
Hearn said: "We're delighted that Ronnie has decided to enter the World Championship, it is fantastic news for the sport. The event would not be the same without the defending champion. 
"We have had a series of outstanding tournaments this season, with record ticket sales and superb viewing figures. There are many great players contesting the big titles. But Ronnie remains a fans' favourite and we welcome him back. 
"The atmosphere when he steps into the Crucible arena on the first morning of the Championship will be electric. Anyone who hasn't got tickets booked for the tournament should do so immediately because it's building up to be the best ever." 
As defending champion, O'Sullivan will be number one seed and will be scheduled to play on the opening day of the tournament, Saturday April 20, at 10am and 7pm. 
The World Championship runs from April 20 to May 6 and will feature the top 16 seeds and 16 qualifiers.
There are lots of theories coming from all angles as to the reasons why he will make his mind up in one direction or the other, the majority of players that have voiced an opinion either publicly or on Twitter seem to believe that he will play, but my pal Steve Davis perhaps tellingly given his relationship with Barry Hearn and the Rocket himself seemed to be swaying in the other direction and said he didn't believe he would play. So who to believe?
What are the arguments for and against? What might sway the man? Is it money? Is it the love of the sport? Have I done this post as a shameless and ultimately desperate call for attention during a rather lacklustre Welsh Open?
Well here goes a totally unscientific assessment of the knowns, the unknowns, the known-unknowns, the known-knowns, the unknown-knowns, the unknown-unknowns and the don't mind if I do's and don't mind if I don't's.
They are seperated into neat little categories and given an 'Importance' weighting as well as a very scientific percentage on which way each factor swings the argument.
Don't get upset, it's just for fun. Here comes the science bit.
To describe Ronnie as a complexed character is something of an understatement, it's like saying that Hitler wasn't really all that nice a bloke or that Michael McIntyre isn't all that funny. He could turn round after the deadline has passed and ask what all the fuss has been about, oblivious even to this in-depth study of the man. He is on record as saying that he isn't playing and that is the end of that. But this is Ronnie, he changes with the wind-direction and he is just as likely to come out of his self-enforced retirement for his own personal reasons.
Argument Percentages: He won't play 65%. He will play 35%.
Ronnie has often said that money doesn't motivate him, this is understandable as he has been surrounded by it for almost the whole of his life, he also says that records don't motivate him either so it's anyone's guess what actually does other than his enjoyment of the sport. On the other hand the governing body are still actively seeking and in negotiations with potential new sponsors for the event to replace the excellent BetFred, who for me will be greatly missed for their presence around the Crucible and their excellent and generous relationship with the sport down the years. The truth is that the tournament is significantly more attractive to sponsors with Ronnie in it and while there is much talk of nobody being bigger than the sport, one could argue that Ronnie is as close to that in snooker as say, Phil Taylor is in darts. Like him or loathe him, when he hasn't been at a major tournament this season there has always been that element of doubt as to what the result would have been had he been (didn't think it was possible to say been that many times in short proximity and for it to still make sense, quite an achievement on my part). I have no doubt that potential new sponsors will dangle a very large and attractive financial carrot in his direction and whilst I don't think this will be his deciding factor, he might just take it. I mean at the end of the day, who wouldn't?
Argument Percentages: He won't play 35%. He will play 65%.
Personally, I think this is the least relevant argument. The move to flatter structures next season means that he would have to start in the early rounds whatever he entered and I think the changes suit him and his attitude towards the game. Whether he plays in this World Championship or not for me is therefore irrelevant.
Argument Percentages: He won't play 50%. He will play 50%.
Ronnie's depression is well-documented and often he states that it is directly linked to snooker and his relationship with the game he has played since he was a small kid. He has also on the other hand said how great it makes him feel when it all goes well, again illustrating how his moods shift. His surprise appearance in the media centre at Ally Pally when the Masters was being played may be an indication that he is missing it and misses the buzz of a great venue, Stephen Hendry certainly thought so. My guess is that he is missing it a little more than he thought he might and that the old song 'Big Yellow Taxi' might come into play here when 'you don't know what you've got 'til it's gone'.
Argument Percentages: He won't play 30%. He will play 70%.
Many people dream of the lifestyle of a rich and famous person, but the reality many say is a little different. Ronnie has always struck me even as a kid as a person who needs to have a busy mind and a clear focus, to a large extent I am very similar or I wouldn't keep returning to write this nonsense. He's been playing the Legends, he's just got engaged and I'm sure he has been spending some quality time with his kids and his friends. But he has been largely out of the spotlight now for longer than he has been since he was about 16. That is some lifestyle change and he has more leisure time on his hands now than he may know what to do with, my guess is that this might be a contributing factor. I wish I was rich and famous and had these kind of problems.
Argument Percentages: He won't play 45%. He will play 55%.
I'm sure Ronnie appreciates the adulation he gets from fans, he probably doesn't take too kindly to some of the more obsessive ones, but then again who would? Some of them should be under lock and key such is the level of their clear insanity. But I'm sure despite his general 'I'm not arsed' look when entering the playing arena that this is just the way he holds his face (I'm not sure at all). This won't play any part in his decision, because it's his decision and fans pleading with him to come back might as well be talking to the wall.
Argument Percentages: He won't play 50%. He will play 50%.
Muhammad Ali is a sporting hero of Ronnie's, the man who defied the odds on more than one occasion and fought against adversity both in and more importantly out of the boxing ring to become 'The Greatest'. Now I am not going to pretend for one minute that Ronnie coming back and winning his fifth title after a season off the baize and sticking one to John Higgins is like going to the jungle and bashing the shit out of the 'unbeatable' George Foreman after taking a pounding that would have floored a rhinoceros, but if he were to do just that he would be 'Snooker's Ali' and will have roped many a dope in the process. In my totally biased opinion this achievement would be up there with the greatest ever in sport if he were to carry it off and it would also make Simon Bedford a great pub quiz answer in years to come. This one could just sway him.
Argument Percentages: He won't play 5%. He will play 95%.