Zásnuby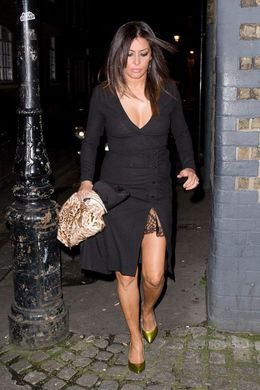 Zdroj: http://www.mirror.co.uk/news/uk-news/ronnie-osullivan-proposes-to-former-holby-1571864 
Snookrová slučka: Ronnie O´Sullivan žiada o ruku herečku Lailu Rouass, bývalú hviezdu seriálu Holby City, s 55 karátovým prsteňom 
Preklad: Simona Záhumenská 
2.2.2013
"Raketa" pokľakol na jedno koleno po tom, ako vyzdvihol trochu iný kameň z klenotníctva Harrods 
Snookrovú hviezdu Ronnieho O'Sullivana zamestnáva prekvapivá otázka na krásnu herečku Lailu Rouass.  
Ronnie, prezývaný The Rocket, pokľakol na jedno koleno s diamantovým prsteňom od obchodného domu Harrods, ktorého hodnota je 55 000 libier, pred bývalou hviezdou seriálu Holby City. 
Pár, ktorý svoje zasnúbenie oslávil minulý týždeň romantickou večerou v jednej z londýnskych reštaurácií v časti West End, je teraz zaneprázdnený robením si spoločných plánov do budúcnosti.  
Kúpili si už aj svoje hniezdočko lásky.... Rezidencia so šiestimi spálňami má hodnotu dva milióny libier a nachádza sa v meste Essex, ktoré je Ronnieho rodiskom. 
Ich zasnúbenie prišlo po ťažkých 12 mesiacoch, kedy úradujúci štvornásobný svetový šampión v snookri opustil svoj šport. Exmanželka futbalistu  Wives star, Laila, ktorá skončila v roku 2009 na štvrtom mieste v show Strictly Come Dancing, mu pomáha udržiavať jeho náladu. 
A zjavne sa jej to darí. Počas ich slávnostnej večere v čínskej reštaurácii Hakkasan v stredu večer vyzeral uvoľnený a šťastný. 
Štyridsaťjedenročná Laila, mamička jedného dieťaťa, ktorú čitatelia časopisu FHM dvakrát v hlasovaní zaradili medzi sto najpríťažlivejších žien na svete, vyzerala v čiernych šatách so zlatými topánkami na ihličkovom podpätku očarujúco. 
Tridsaťsedemročný Ronnie bol nedbalo oblečený v džínsoch a mikine s kapucňou, čím porušil reštauračný dress code, ktorý mužom predpisuje, aby mali pri návšteve reštaurácie oblečenú košeľu.   
Zdroj povedal: "Ronnie strávil noc nakláňajúc sa cez stôl a pozerajúc sa na Lailu. Oni boli veľmi uvoľnený a nemohol z nej odtrhnúť zrak. Skvele mu pomáhala v boji s jeho stresom a depresiami." 
Ronnie sa v roku 2008 rozišiel s Jo Langley, štyridsaťjedenročnou matkou svojich dvoch detí.   
Pred tromi mesiacmi jeho manažér Django Fung potvrdil. že víťaz bol v dobrovoľnom snookrovom exile kvôli jeho zdravotným a osobným problémom, povedal: "Mal infekčnú mononukleózu, ktorá sa vlečie už dlhšiu dobu.

"My všetci máme osobné problémy, ale niektorí sa s nimi vedia vyrovnať lepšie ako ostatní.
"Keď má tieto osobné problémy Ronnie, je pre neho ťažké sústrediť sa na snooker."

Rozvedená Laila sa rozišla s obchodným magnátom Nasirom Khanom. Ten bol v roku 2007 na deväť rokov uväznený za podvod, ktorý dosahoval výšku 250 miliónov libier s DPH. On je otcom jej päťročnej dcéry.