Soccer Aid
Ronnie at Dundalk FC
Ronnie and Jimmy White visited soccer club Dundalk FC in February.
http://www.dundalkfc.com/News/090202_Snooker.asp
SOCCER AID RAISES 2 MILLION
09 Jun 2006 10:40:00
www.worldsnooker.com
Ronnie O'Sullivan, Robbie Williams, Diego Maradona and co raised a tremendous total of £2million for UNICEF through Soccer Aid.
The week-long football event pitched an England squad of ex-pros and celebrities, including the Rocket, against a Rest of the World outfit.
O'Sullivan played in a warm-up game against ex-England internationals and survived the daily, gruelling training sessions under the watchful eye of ex England supreme Terry Venables.
But when the final teams clashed in front of 72,000 spectators at Old Trafford, the former world champion and world number one was missing.
A spokesman for the ITV programme explained O'Sullivan's absence saying: "He came down with a really bad cold and had to withdraw on the Friday prior to the game.
"It was a real shame because Ronnie was looking really sharp. He played in the practice match at Craven Cottage and was really up for it.
Goals from former Newcastle and QPR striker Les Ferdinand plus actor, singer and presenter, Jonathan Wilkes, helped England to a 2-1 win over the Rest of the World. Argentine legend Maradona scored for the opposition.
The £2million total was more than double the target set. Funds went to UNICEF's global health, education and protection work with vulnerable children.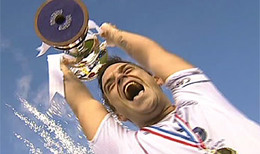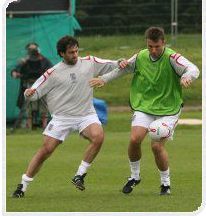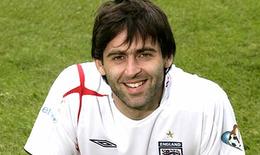 Last weekend
'I played football like Maradona (well, not really), met Robbie Williams, watched the Cup Final with Gazza'
Ronnie O'Sullivan
Saturday May 20, 2006
The Guardian
It was a weekend of football and babies. Well, baby - my little Lil is only three months old, and she's lovely. She's also an amazing little sleeper - 11-hour shifts, from 7pm-6am - allowing me and my girlfriend Jo to get a good night's kip.
I was training at the weekend. Nothing to do with snooker, mind. It's the end of the snooker season and I'm still recovering from losing in the semis of the Worlds earlier this month. I knew I wasn't playing so well, but because I was just about edging games, I really thought I was going to nick my third world championship. It wasn't to be, though - a bit of a sickener.
So, for now, I'm concentrating on football. I'm playing in a charity match for Unicef at Old Trafford next Saturday - it's an England 11, made up of footballing legends and celebrities, against a World 11. And I tell you what, we're taking it quite seriously: we've got a proper manager - Terry Venables - proper positions and proper routines.
I always fancied myself as a bit of a footballer when I was a kid. I even got myself (with the help of my dad) a trial at Spurs - I did all right, but then didn't turn up for three weeks because I was playing snooker, so I blew it really with the Spurs. Still, I was an Arsenal fan and I loved my snooker.
On Saturday morning, the car picked me up at 7.30am and took me to the hotel in Chelsea where we were meeting up to get to know each other and have a training session. Gazza, John Barnes, Jamie Redknapp, Tony Adams, David Seaman, Les Ferdinand: they all looked tasty, despite the years. The celebrities included Robbie Williams, Jamie Theakston, Angus Deayton, Damien Lewis and David Gray.
As a player, I'm like Maradona crossed with Pele with a bit of Franz Beckenbauer chucked in. But seriously, I was a bit naff - I'mon the right wing, and I'm OK when I've got the ball, but I don't go looking for it or like tackling.
We watched the Cup Final in the afternoon - fantastic. I fancied West Ham for an upset, but was glad Liverpool pulled through in the end. I like winners winning. I'ma winning man.
On Sunday we were allowed a sleep-in - the car didn't pick me up until 8.30am. At the training ground, we had a massage (not the Kevin Costner type), and there was good banter, with Gazza making everyone laugh. Terry took us through our drills, we had lunch and I got back to Lil for the afternoon. I like being a dad - the more time I spend with her, the more I want to spend with her. In the evening, I went to a mate's house for a game of poker.
Next week, I'm training for the big match every day. I'm already nervous: with snooker, I know roughly what to expect; here, I'm just hoping something goes right.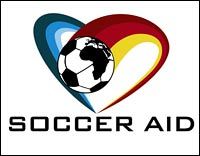 Stars' Soccer Aid line-up unveiled
(Sunday May 14, 2006 11:28 PM)
more on www.itv.com
The event, on May 27, launches a summer of football on ITV with World Cup legends and top celebrities teaming up to go head-to-head in England versus The Rest of The World, all in aid of charity UNICEF and its partners.
Pop star Robbie Williams and celebrity chef Gordon Ramsay have unveiled their line-ups for Soccer Aid.
Port Vale fan Robbie captains the England team, which is managed by past England boss Terry Venables.
Glasgow-born Gordon Ramsay, a former Glasgow Rangers footballer, captains the Rest of the World team, which is managed by former Chelsea and Newcastle United supremo Ruud Gullit.
The former Take That's star's team includes best friend Jonathan Wilkes, GMTV presenter Ben Shephard, DJ Jamie Theakston and snooker champ Ronnie O'Sullivan.
Among the former England players lending a hand are David Seaman, Tony Adams, Paul Gascoigne and John Barnes.
TV chef Gordon Ramsay has picked ex-F1 racer Eddie Irvine, Tony Blair's former spin doctor Alistair Campbell, retired rugby star David Campese and pop star Brian McFadden.
Among the ex-football stars joining the foul-mouthed chef are ex-Chelsea players Gianfranco Zola and Marcel Desailly, former Newcastle United winger David Ginola and German World Cup winning captain Lothar Matthaus.
The squads will train together for one week with daily shows starting May 22 at 9pm on ITV1.
Presented by Ant and Dec (Ant McPartlin and Declan Donnelly), the programmes will follow all the players as they look to prove they have got what it takes to be in the starting line-up for the big match, which is being shown live from Old Trafford on May 27.
Here are the team lists for this event:
Robbie Williams will captain an England with Terry Venables taking up the role of manager.
The England team consists of Jamie Theakston, David Gray, Bradley Walsh, Damian Lewis, Angus Deayton, Ronnie O'Sullivan, Ben Shephard, Jonathan Wilkes, Dean Lennox Kelly, David Seaman, Tony Adams, Paul Gascoigne, Jamie Redknapp, Les Ferdinand and John Barnes.
Ruud Gullit will manage a Rest of the World side captained by celebrity chef Gordon Ramsay.
The Rest of the World team is made up of David Campese, Alastair Campbell, Lessandro Nivola, Ben Johnson, Patrick Kielty, Brian McFadden, Sergei Fedorov, Craig Doyle, Eddie Irvine, Gianfranco Zola, Marcel Desailly, David Ginola, Dunga, Lothar Matthaus and Peter Schmeichel.
Chigwell's O'Sullivan, 30, said: "It's for a great cause and it should be a lot of fun so I'm looking forward to it."