Prince Naseem Hamed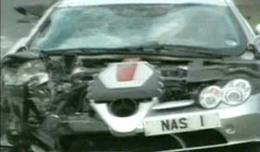 EX-CHAMPION HAMED JAILED FOR 15 MONTHS
Friday 12th May 2006
Naseem Hamed has been jailed for 15 months.
The former WBO featherweight champion admitted a charge of dangerous driving and was handed the sentence in Sheffield Crown Court this morning.
Sheffield-born Hamed had already pleaded guilty to the charge in April following a crash on the outskirts of the city last May that saw his £300,000 sports car with two other cars, including a Volkswagen driven by Anthony Burgin.
The court heard how Hamed was anxious to impress a businessman Asif Ayub, 46, who was a passenger in the McLaren-Mercedes at the time of the crash.
Both had an interest in cars and Hamed was showing what his could do when he crossed a solid white line at a speed of at least 90mph and crashed head-on into Burgin's Volkswagen Golf that emerged from a dip in the road.
The car was immediately stopped and propelled backwards by the impact of the collision.
Hamed's car then hit a second vehicle, a Ford Mondeo he had been trying to overtake.
The court heard that the driver of the Mondeo, Michael Wood, described Hamed's overtaking manoeuvre as "stupid, suicide, ridiculous".
Burgin's injuries included bruising to the frontal lobe of his brain and was said to "have broken every bone in his body". He spent more than three weeks in intensive care.
Mr Burgin, a painter and decorator who may never be able to work or drive again, told today's Daily Mirror: "He walked away from the wreckage without even checking if I was alive or phoning for help."
Mr Burgin, whose wife Claire was also seriously hurt in the crash, said Hamed had not even said sorry, except through his lawyer in court.
"If he really wanted to say sorry he would have done so, but he has no idea how much damage he has done to us."
Hamed has also been banned from driving for four years.
In passing sentence, Honorary Recorder of Sheffield, Judge Alan Goldsack QC said: "I have to balance the many features in this case; the aggravating features of hugely excessive speed, a blatantly dangerous manoeuvre, your persistent disregard of the speeding laws and the dreadful consequences of this offence for your victims against the mitigating features of a guilty plea, your good character in all respects other than motoring matters and the absence of some features present in many such cases - the most obvious being drink.
"I have no doubt the only possible sentence here is an immediate custodial sentence. It is far too serious for anything else.
"Having performed that balancing exercise, there will be a prison sentence of 15 months."
The 32-year showed no emotion as the sentence was delivered. He left the dock with two security guards.
Members of his family, who were sitting in the packed public gallery, broke down in tears as the judge jailed the former world champion. Hamed's pregnant wife Eleasha had to be comforted by family and friends.
The father-of-two will still be serving his sentence when his third child is born.
The Prince was the star or British boxing in the 1990's, rising to the very peak of his game with his brash, flash and powerful performances.
He was crowned WBO featherweight champion in his 21st professional fight and went on to defend the belt 15 times, including memorable successes over Kevin Kelley and Wayne McCullough.
But his reign came to an end in April 2001 when he was on the end of a schooling at the hands of Marco Antonio Barrera.
Hamed returned 11 months later but was booed out of the ring after an uninspiring points win over Manuel Calvo and has sinced hinted at several more comebacks, the latest coming in March when he vowed to bring the sparkle back to the featherweight scene.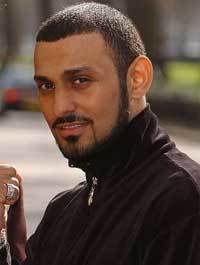 PRINCE NASEEM FACES JAIL OVER CRASH
31 March 2006
By Mirror.co.uk
FORMER world boxing champion Naseem Hamed was told today he could face jail, after pleading guilty to a charge of dangerous driving.
The 31-year-old appeared at Sheffield Magistrates Court, charged over a crash involving his £300,000 Mercedes McClaren sports car and two other vehicles in April 2005.
One man was seriously injured in the incident.
Warning the sports star he could face jail, Judge Alan Goldsack said: "Do not take bail as any indication that you will receive anything other than a custodial sentence".
The flamboyant boxer was released on bail, with sentencing set for May 12.