Princ Naseem Hamed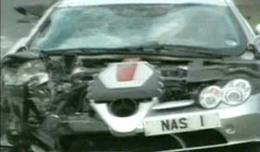 Bývalý šampión Hamed uvězněn na 15 měsíců
12. května 2006
Naseem Hamed uvězněn na 15 měsíců
Bývalý WBO šampión pérové váhy přiznal vinu z nebezpečné jízdy a byl dnes ráno u Sheffieldského královského soudu vzat do vazby.
Rodák ze Sheffieldu Hamed učinil již v dubnu prohlášení o své vině na květnové nehodě na okraji městě svého vozu za 300 000 liber s dalšími dvěma auty, včetně Volkswagenu řízeného Anthony Burginem.
Soud nyní vyslechl, jak Hamed chtěl učinit dojem na 46tiletého obchodníka Asif Ayuba, který s ním byl v době nehody v jeho Mercedesu McLaren.
Oba se zajímají o auta a Hamed předváděl, co dokáže, když přejel plnou bílou čáru v rychlosti minimálně 90 mph (téměř 145 km/h) a čelně se srazil s Burginovým Volkswagenem Golf, který se vynořil zpoza kopce.
Auto bylo po srážce odhozeno zpět.
Hamedovo auto se pak střetlo s druhým vozidlem, Fordem Mondeo, které se snažil předjet.
Soud vyslechl řidiče Mondea, Michaela Wooda, který popsal Hamedův předjížděcí manévr jako "hloupý, sebevražedný, absurdní".
Burgin utrpěl mnohá zranění včetně zhmoždění čelního mozkového laloku a bylo řečeno, že "měl zlomenou každou kost v těle". Strávil více než 3 týdny na jednotce intenzivní péče.
Pan Burgin, malíř a dekoratér, který možná už nebude schopen vykonávat svou práci a nebo řídit auto, řekl pro Daily Mirror: "Utekl od vraku aniž by se přesvědčil, jestli jsem naživu a nebo zatelefonoval pro pomoc."
Pan Burgin, jehož žena Claire byla při srážce také těžce zraněna, řekl, že Hamed se dokonce ani neomluvil, pouze přes svého právníka u soudu.
"Kdyby se opravdu chtěl omluvit, mohl to udělat, ale jeho ani nenapadlo, jakou škodu nám způsobil."
Hamedovi bylo také zakázáno řízení na 4 roky.
V závěrečné řeči soudce Alan Goldsack QC řekl: "Musím v tomto případě zvážit mnoho věcí; popuzující rys ohromně nepřiměřené rychlosti, nehorázně nebezpečný manévr, vaši stálou lhostejnost k rychlostním pravidlům a strašné následky tohoto deliktu na vaše oběti proti rysu připuštění viny, vašeho dobrého charakteru ve všech ohledech kromě automobilů a absence jakýchkoli jiných přestupků v minulosti – včetně opilosti."
"Nemám žádné pochyby o tom, že jediný případný rozsudek je okamžitá vazba. Je to příliš vážné na cokoliv jiného."
"Po zvážení všech těchto okolností je to uvěznění na 15 měsíců."
32letý muž neprojevil po pronesení rozsudku žádné emoce. Opustil lavici obžalovaných se dvěma muži z ochranky.
Členové jeho rodiny, kteří seděli v naplněném hledišti, začali po přednesení rozsudku vůči bývalému mistru světa plakat. Hamedova těhotná manželka musela být utěšována rodinou a přáteli.
Dvojnásobný otec si bude ještě odpykávat trest, až se jeho třetí dítě narodí.
Princ byl hvězdou britského boxu v 90. letech, kdy se dostal na vrchol tohoto sportu díky jeho neomalenému, výbušnému a rychlému stylu.
Byl oceněn WBO šampiónem pérové váhy při jeho 21. profesionálním boji a 15x tento titul obhájil, včetně nezapomenutelného úspěchu nad Kevinem Kellerem a Wayne McCulloughem.
Ale jeho vláda skončila v dubnu 2001, kdy byl nakonec vyškolen rukama Marco Antonia Barrera.
Hamed se vrátil o 11 měsíců později, ale po nudné bodové výhře nad Manuelem Calvo byl vypískán z ringu a od té doby několikrát naznačil návrat, naposledy v dubnu, kdy slíbil vnést opět jiskru do scény pérové váhy.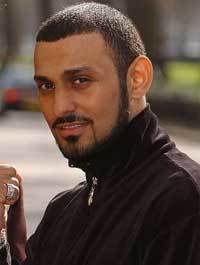 Princ Naseem čelí vězení kvůli bouračce
31. března 2006
Mirror.co.uk
Bývalému světovému šampiónovi v boxu Naseem Hamedovi bylo dnes sděleno, že by po přiznání viny z nebezpečné jízdy mohl být uvězněn,.
31letý sportovec se objevil v dubnu 2005 před Sheffieldským soudem, obviněný z nehody svého sportovního Mercedesu McClaren za 300.000 liber a dvou dalších aut.
Jeden muž byl při nehodě vážně zraněn.
Soudce Alan Goldsack varoval sportovní hvězdu, že může čelit uvěznění a řekl: "Neberte kauci jako známku toho, že dostanete něco jiného než rozsudek vazby."
Skvělý boxer byl propuštěn na kauci a rozsudek bude vyhlášen 12. května.