Maria Catalano A
CATALANO COMPLETES CONNIE GOUGH TREBLE
05 Mar 2008 14:09:00
www.worldsnooker.com
Ladies snooker star Maria Catalano continued her brilliant run in the Connie Gough National Championship by winning it for a third time on Saturday.
The Dudley-based potter beat world champion and world number one Reanne Evans 3-2 in the final.
Evans is going through a lean spell by her own remarkable standards. She recently lost 3-2 to Emma Bonney in the semi-finals of the South Coast Classic.
And she suffered another deciding frame defeat in the final at Rileys SC in Luton.
Catalano achieved her fifth World Ladies Billiards & Snooker Association ranking title the hard way. The 26-year-old trailed 2-0 as mum-of-one Evans knocked in a useful 51 break. But Ronnie O'Sullivan's determined cousin levelled with 47 and left Evans needing snookers with one red left in the decider.
"I won it quite comfortably in the end," said Catalano, a 3-2 semi-final winner over June Banks. Reanne is a great player and to do it against the world champion, you can't wish for anything better. Against players like Reanne you just have to dig deep and give it your best.
"I love winning this tournament, especially as it's a memorial tournament for Julie Hemmingway's mum. It's a little bit more special than all the others, apart from the World Championship."
Bonney's bid for back to back titles ended in the quarter-finals against Banks. But her recent success and Catalano's latest victory should make for a fascinating World Championship.
Due to a clash of dates, the tournament at Cambridge snooker centre has been moved to May 3.
"I don't know whether I can enter it," explained Catalano. "I have to start work usually in April seeing as I work for my dad and it's an ice-cream business. He always gives me until April off."
Evans won the high break break with 74, her prize presented by Julie Hemingway, daughter of Connie Gough.
She remains top of the rankings with Catalano up to fourth.
RESULTS
Last 16:
Maria Catalano bt Marianne Williams 3-2, Jenny Poulter bt Tina Owen-Sevilton 3-2, June Banks bt Charlotte Holloway 3-0, Katie Henrick bt Vicky Ashby 3-0, Chris Sharpe bt Maureen Logan 3-0, Hannah Jones bt Eva Palmius 3-2, Reanne Evans bt Martina Lumsden 3-1, Emma Bonney w/o Suzie Opacic.
Quarter-finals: Catalano (31, 32, 36) bt Poulter 3-1, Banks bt Bonney 3-2, Henrick bt Sharpe 3-2, Evans (74) bt H Jones 3-0.
Semi-finals: Catalano bt Banks 3-2, Evans bt Henrick 3-0
Final (£240/£120): Catalano bt Evans 3-2
MARIA IS BEST OF BRITISH
11 Nov 2007 13:38:00
www.worldsnooker.com
Maria Catalano was crowned British Open Ladies champion at Rushden Snooker Centre on Saturday to prove that three weeks on the US pool circuit has not dulled her snooker skills.
After a hard-fought 3-2 victory over two-times world billiard champion Emma Bonney, Catalano admitted there was a touch of revenge about the result.
"I owed her one," she laughed. "She knocked me out of the World Championship last year."
A fourth women's title and a first since the Connie Gough in March this year took the 25-year-old from Dudley, West Midlands, to fourth in the WLBSA rankings.
"It's been a while," said Catalano, who is Ronnie O'Sullivan's cousin. "I was due one. I was 2-1 up and playing alright. She pulled it back to 2-2 and it started to go a little bit tight, but I managed to pull through in the end. I'm just happy to have won."
Catalano, who pocketed £250, did not drop a frame until the final and scored the highest break of 90 against Chelmsford's Chris Sharpe in the semis.
World number one Reanne Evans is competing in the IBSF Championship in Thailand.
Marianne Williams beat Maureen Logan in the Plate final and Eva Palmius took the seniors trophy.
Results
Preliminary round:
Maureen Logan (Wallsend) bt Pam Wood (Newcastle) 3-0
Katie Henrick (Bickley, Kent) bt Mary Hawkes (Eaton Bray, Beds) 3-0
Emma Bonney (Portsmouth) bt Eva Palmius (Royston, Herts) 3-0
Jenny Poulter (Maidstone) bt Marianne Williams (Smallfield, Surrey) 3-0
Joanne Davies (Derby) bt Georgina Holloway (Ashbourne, Derbyshire) 3-0
Last 16:
June Banks (Orpington, Kent) (48) bt Logan 3-0
Julia Betteridge (Derby) bt Jan Hughes (St Neots, Cambs) 3-1
Henrick (43) bt Tina Owen-Sevilton (Taunton) 3-0
Bonney bt Vicky Ashby (Hemel Hempstead) 3-0
Poulter by Charlotte Holloway (Ashbourne, Derbyshire) 3-0
Chris Sharpe (Chelmsford) by Julie Kightley (Derby) 3-0
Suzie Opacic (Brambridge, Hants) bt Martina Lumsden (Eastbourne) 3-0
Maria Catalano (Dudley, West Midlands) (54) bt Davies 3-0
Quarter-finals
Banks (52) bt Betteridge 3-0
Bonney bt Henrick 3-0
Sharpe bt Poulter 3-2
Catalano bt Opacic 3-0
Semi-finals
Catalano (90) bt Sharpe 3-0
Bonney bt Banks 3-2
Final
Catalano bt Bonney 3-2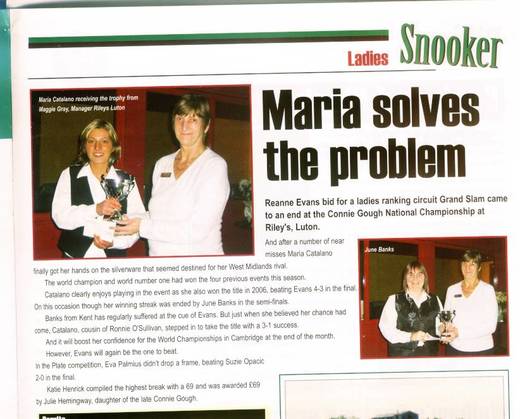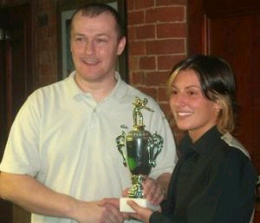 Ronnie O'Sullivan may have lost his last two finals but cousin Maria Catalano regained family honour by winning the Northern Championship.
09 Feb 2006
The World Ladies Billiards and Snooker Association event took place at the Regal Snooker Club in Preston.
West Midlander Catalano defeated June Banks 4-1 in the final to capture her first ever ladies ranking title.

Prior to that she lost in the 2005 UK final to Reanne Evans and to Belgian star Wendy Jans in the 2003 Scottish Ladies Open.

World No 1 Evans was missing from the competition through illness.

Catalano produced breaks of 55 and 42 in the final. Banks, who had won the previous ladies event, the East Anglian Championshiop, contributed runs of 41 and 43.

The tournament will also be remembered for the debuts of Derby duo Joanne Davies and nine-year-old Hannah Jones,both members of the WLBSA scholarship scheme.

And they got a chance to meet local professional and 2005 World Championship semi-finalist Ian McCulloch, who presented the trophies.