Maria Catalano
Catalano získala třetí titul Connie Cough
05. března 2008 14:09:00
www.worldsnooker.com
Ženská snookerová hvězda Maria Catalano pokračovala na Connie Gough National Championship ve svých výborných výsledcích a v sobotu ho vyhrála potřetí.
Hráčka z Dudley porazila ve finále světovou šampiónku a světovou jedničku Reanne Evans 3-2.
Evans prochází horším obdobím své formy. Nedávno prohrála 3-2 s Emmou Bonney v semifinále South Coast Classic.
A utrpěla i porážku v rozhodujícím framu finále na Rileys SC v Lutonu.
Catalano získala svůj 5. bodovaný titul World Ladies Billiards & Snooker Association obtížně. 26tiletá hráčka zaostávala už 0-2 s maminkou jednoho dítka Evans, která nahrála pěkných 51 bodů. Ale odhodlaná sestřenka Ronnie O'Sullivana srovnala 47 body a v rozhodujícím framu nechala Evans v nutnosti jednoho snookeru, kdy na stole už zbývala jen jedna červená.
"Nakonec jsem to vyhrála docela pohodlně," řekla Catalano, vítězka semifinále nad June Banks poměrem 3-2. "Reanne je skvělá hráčka a dokázat tohle proti ní, tak si nemůžete přát nic lepšího. Proti hráčům jako je Reanne musíte prostě zalovit hluboko a vydat ze sebe to nejlepší."
"Ráda vyhrávám tenhle turnaj, zvláště proto, že je to memoriál maminky Julie Hemmingway. Je trochu speciálnější než ostatní, krom Mistrovství světa."
Snaha Bonney o výhru dvou titulů po sobě skončila ve čtvrtfinále proti Banksové. Ale její nedávný úspěch a poslední vítězství Catalano ukazují na fascinující Mistrovství světa.
Kvůli kolizi dat je turnaj v Cambridgském centru přesunut na 3. května.
"Nevím, jestli do něj nastoupím," vysvětluje Catalano. "Obvykle musím začít pracovat v dubnu, pracuji pro svého otce v obchodě se zmrzlinou. Až do dubna mi dává vždycky volno."
Evans vyhrála cenu za nejvyšší náběh turnaje - 74 bodů, cenu jí předala Julie Hemingway, dcera Connie Cough.
Zůstala na špičce žebříčku, Catalano postoupila na 4. místo.
VÝSLEDKY:
Last 16:
Maria Catalano porazila Marianne Williams 3-2, Jenny Poulter porazila Tina Owen-Sevilton 3-2, June Banks porazila Charlotte Holloway 3-0, Katie Henrick porazila Vicky Ashby 3-0, Chris Sharpe porazila Maureen Logan 3-0, Hannah Jones porazila Eva Palmius 3-2, Reanne Evans porazila Martina Lumsden 3-1, Emma Bonney w/o Suzie Opacic.
Quarter-finals: Catalano (31, 32, 36) porazila Poulter 3-1, Banks porazila Bonney 3-2, Henrick porazila Sharpe 3-2, Evans (74) porazila H Jones 3-0.
Semi-finals: Catalano porazila Banks 3-2, Evans porazila Henrick 3-0
Final (£240/£120): Catalano porazila Evans 3-2
Maria je nejlepší na British
11. listopadu 2007
www.worldsnooker.com
Maria Catalano byla korunována šampiónkou British Open Ladies v neděli v Rushden Snooker Centre, kde dokázala, že 3 týdny na americkém poolovém okruhu neponičily její snookerové schopnosti.
Po těžkém vítězství nad dvojnásobnou světovou šampiónkou Emmou Bonney 3-2, Catalano připustila, že to byla trochu odplata.
"Jednu prohru jsem jí dlužila," smála se. "Vyřadila mě na loňském Mistrovství světa."
Čtvrtý ženský titul a první od letošního březnového Connie Gough, dostal 25letou hráčku z Dudley, West Midlands na 4. místo WLBSA žebříčku.
"Byla to chvilka," řekla Catalano, která je sestřenicí Ronnie O'Sullivana. "Byla jsem připravena. Vedla jsem 2-1 a hrála jsem dobře. Srovnala na 2-2 a začalo to být docela těsné, ale nakonec jsem to zvládla. Jsem šťastná, že jsem to vyhrála."
Catalano, která získala 250 liber, neztratila ani frame až do finále a nahrála v semifinále proti Chris Sharpe z Chllmsfordu nejvyšší break turnaje 90ti bodů.
Světová jednička Reanne Evans soutěží na IBSF Championship v Thajsku.
Marianne Williams porazil Maureen Logan ve fiálen Plate a Eva Palmius získala seniorskou trofej.
Výsledky
Kvalifikační kolo:
Maureen Logan (Wallsend) bt Pam Wood (Newcastle) 3-0
Katie Henrick (Bickley, Kent) bt Mary Hawkes (Eaton Bray, Beds) 3-0
Emma Bonney (Portsmouth) bt Eva Palmius (Royston, Herts) 3-0
Jenny Poulter (Maidstone) bt Marianne Williams (Smallfield, Surrey) 3-0
Joanne Davies (Derby) bt Georgina Holloway (Ashbourne, Derbyshire) 3-0
Last 16:
June Banks (Orpington, Kent) (48) bt Logan 3-0
Julia Betteridge (Derby) bt Jan Hughes (St Neots, Cambs) 3-1
Henrick (43) bt Tina Owen-Sevilton (Taunton) 3-0
Bonney bt Vicky Ashby (Hemel Hempstead) 3-0
Poulter by Charlotte Holloway (Ashbourne, Derbyshire) 3-0
Chris Sharpe (Chelmsford) by Julie Kightley (Derby) 3-0
Suzie Opacic (Brambridge, Hants) bt Martina Lumsden (Eastbourne) 3-0
Maria Catalano (Dudley, West Midlands) (54) bt Davies 3-0
Čtvrtfinále
Banks (52) bt Betteridge 3-0
Bonney bt Henrick 3-0
Sharpe bt Poulter 3-2
Catalano bt Opacic 3-0
Semifinále
Catalano (90) bt Sharpe 3-0
Bonney bt Banks 3-2
Finále
Catalano bt Bonney 3-2
Maria řeší problém
Snaha Reanne Evans na ženském bodovaném okruhu Grand Slam došla ke konci na Connie Gough National Championship v Riley's, Luton.
Po množství těsných minel se nakonec Marii Catalano dostala stříbrná trofej do rukou, i když už to vypadalo, že je určena její soupeřce z West Midlands.
Mistryně světa a světová jednička vyhrála 4 prestižní akce této sezóny.
Catalano si jasně užila hru na tomto turnaji, který vyhrála už v roce 2006, kdy Evans porazila 4-3 ve finále. Tentokrát byla její vítězná řada přerušena June Banks v semifinále.
Banks z Kentu pravidelně na tágu Evansové trpí. Ale hned jak uvěřila, že její šance přichází, Catalano, sestřenice Ronnie O'Sullivana, vykročila k titulu vítězstvím 3-1.
A to oživí její sebevědomí pro Mistrovství světa v Cambridge, které se koná koncem tohoto měsíce. Nicméně Evans bude opět jednou z těch, které je potřeba porazit.
Na Plate soutěži, Eva Palmius neztratila ani frame a porazila Suzie Opacic 2-0 ve finále.
Katie Henrick nahrála nejvyšší break 69 bodů a bylo oceněna 69 librami od Julie Hemingway, dcery zesnulé Connie Gough.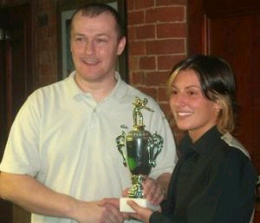 Ronnie O'Sullivan svá poslední dvě finále sice prohrál, ale jeho sestřenice Maria Catalano obnovila rodinnou slávu vítězstvím na Northern Championship
9. února 2006
Akce Světové ženské kulečníkové a snookerové asociace se konala v Prestonu v Regal Snooker Club.
Catalano z West Midlandu porazila June Banksovou ve finále 4-1 a zajistila si svůj první bodovaný ženský titul.
Předtím prohrála ve finále UK 2005 s Reanne Evans a belgickou hvězdou Wendy Jans na Scottish Ladies Open v roce 2003.
Světová jednička Evansová se akce neúčastnila kvůli onemocnění.
Catalano nahrála ve finále breaky 55 a 42. Banksová, která vyhrála předchozí ženský turnaj – East Anglian Championship, nahrála náběhy 41 a 43 bodů.
Turnaj bude také pamětihodný debuty dvojice z Derby Joanne Davies a devítileté Hannah Jones, obě členky WLBSA projektu stipendia.
Měly šanci se střetnout s místním profesionálem a semifinalistou Mistrovství světa 2005 – Ianem McCullochem, který předával trofeje.