Press conference before the Masters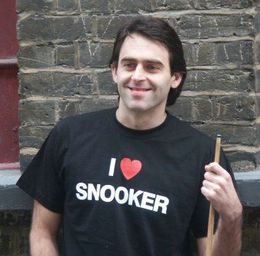 O'Sullivan tries to put dark days behind him
The Times
January 14, 2006
By Phil Yates
RONNIE O'SULLIVAN has made a new year's resolution, which, if carried through, would lead to his reputation as a loose cannon and unpredictable genius being replaced by a legacy of excellence untainted by comments unbecoming the sport's showcase figure.
O'Sullivan, 30, whose girlfriend, Jo, is expecting their first child next month, is bursting with positive thoughts, prematurely full of the joys of spring and determined to reinvent himself. On the face of it, the whining malcontent is no more. O'Sullivan has apparently woken up to the fact that snooker is what defines him, a gift rather than a cross to bear.
Yesterday, wearing an "I love snooker" T-shirt — he will also wear an "I love snooker" logo during the Masters, which begins at Wembley Conference Centre tomorrow — O'Sullivan repeatedly impressed upon a gathering of invited journalists that, you've guessed it, he loves snooker and always has.
In the boardroom of a PR company in London, a player known for regularly throwing his toys out of the pram delivered a message that he has decided to grow up and appreciate his privileged lifestyle.
No reason was given for the press conference, but O'Sullivan clearly felt the need to apologise to his many followers and snooker devotees. He was "gutted" by booing that greeted his entrance to the Grand Prix final in October, a day after claiming that he was "bored with the game" and "would rather be at home gardening".
"That hurt," he said. "I'm not used to that kind of reception, but they were entitled to do what they did. It was totally down to what I'd said.
"I've made some remarks that I shouldn't have and that I regret, but no one should ever question my commitment to snooker. It's my life and I'll never quit. I'll be around for the next ten of 15 years."
The speed of O'Sullivan's mood swings is beyond rapid and whether the dark side overwhelms O'Sullivan's personality in the future must remain open to question. But given his present optimistic outlook, a successful defence of the Masters title must be likely.
The prospect of triumphing at Wembley for the third time has O'Sullivan "really excited", but his overriding priority is to regain the world championship at the Crucible. "I didn't go there in the right frame of mind last year," he said. "I don't intend to make the same mistake twice."
If "Repenting Ronnie" is as good as his word and his long craved for emotional stability is achieved, big things lie ahead. However, as everyone knows, maintaining a new year's resolution in May is different from outlining one in mid-January.
O'Sullivan who said he was 'gutted' at being booed, is promising to be a happier character in future (IAN NICHOLSON / PA)
• Saga Insurance is the new sponsor of the Masters, which this year carries a total prize fund of £400,000, with £125,000 going to the winner.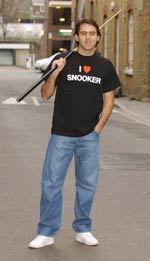 O'Sullivan eyes snooker academy
By Saj Chowdhury
Ronnie O'Sullivan plans to establish his own UK-wide snooker academy.
The world number two, who opens his Masters title defence on Monday, said it would be a great feeling to unearth a future world champion.
"I've got a couple of snooker clubs in Liverpool and Blackburn and am planning to set up an academy to find the next genius," O'Sullivan told BBC Sport.
"It would be nice to give the kids somewhere to go and maybe we'll be able to find the next world champion."
O'Sullivan added: "We want to add a few more clubs, so we're working on that. In the meantime, if someone wants my services, then great, I'm only a phone call away." (Damn, he forgot to say his number :-) Dana)
The 30-year-old was eager to underline his commitment to snooker, despite plans to take part in pool competitions this season in the United States.
"You should never question my love for the game," said the two-times world champion.
"If you do anything that well, then you must enjoy it. When I played some exhibitions in Ireland with Jimmy White, we both came away thinking, 'that was great'.
"I'll never quit snooker. My heart's still in the game and I still want do well. I can see myself sticking around for a while.
"My aim is to win 50 titles, so that people can talk about me in the same breath as snooker's other greats."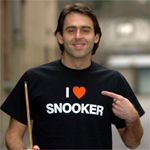 ROCKET CHARGED UP FOR DEFENCE
13th January 2006
Ronnie O'Sullivan will be giving it his best shot when he begins the defence of his Masters title next week.
Last month the 30-year-old hit the headlines in his first-round defeat against Mark King at the UK Championship when he spent much of the match with a wet towel over his head, when not at the table, but he insisted that his mind will be on the job at Wembley.
"It was just one of those days. I was disappointed when I got home not to still be playing at York so I carried on practising even over Christmas so I'd be ready for the Masters," explained the world number one.
"It is one of our best tournaments and I am excited by the prospect of playing in it."
O'Sullivan's commitment to the sport has been questioned but to emphasise that he still has a passion for the game he arrived at a press conference in a T-shirt which read 'I Love Snooker'.
"Deep down I love snooker. I think everyone knows that," he added. "Apart from the UK I've had a pretty good season.
"I reached the final at Preston and won the Betfred Premier League. And such is the standard these days that you are doing well to win even one event a season."
The Essex star will play either Joe Perry or Wembley debutant Ian McCulloch while Paul Hunter will also be competing having confirmed his appearance.
The Leeds player, who is still undergoing chemotherapy for cancer, will face another former champion Mark Williams.
GOT THE T-SHIRT!
Ronnie O'Sullivan reaffirmed his love for snooker at a pre-Masters press conference this morning.
13 Jan 2006
"I'll never quit playing snooker, it's what I love. It's given me so much joy and I hope the way I play snooker has given others a lot of joy," said the Rocket.
The I Love Snooker t-shirt sported by the world No 1 will be available from the World Snooker merchandise stand during the Masters at Wembley Conference Centre next week.
Two-times world champion O'Sullivan begins the defence of his Masters crown on Monday afternoon against Joe Perry or Ian McCulloch.
"It's one of our biggest tournaments and I would love to win it again," said the 30-year-old, who beat John Higgins 10-3 with an outstanding performance in last year's final.
"It's an elite tournament and Wembley is a great stage for the best players, I really enjoy the one-table set-up. Sometimes the atmosphere makes the players feel like we are gladiators, it makes your hair stand on end."
O'Sullivan has admitted in recent months that he has thought about taking a season away from snooker and has also considered heading to America to play in eight-ball pool tournaments.
"I will never swap snooker for pool," he added. "First and foremost I am a snooker player. Sometimes I get frustated and I say things on the spur of the moment.
"After I lost to Mark King in the (Travis Perkins) UK Championship I went home and didn't want to do anything. But Jimmy White called me a couple of days later and convinced me to go to Ireland and play some exhibitions.
"Once I was there I loved it. The crowds were great and we were both playing great snooker and it was amazing, I loved that feeling. I get disappointed in myself when I can't reproduce that.
"Sometimes the game feels ridiculously easy and when it's not there I get frustrated. I remember recently making a 147 in practice and ripping the tip off my cue afterwards because I still wasn't happy with how I was hitting the ball.
"The only was I would quit snooker is if I was forced out by better players, but I can't see that happening for a long time. The younger players coming through are attacking and exciting and that keeps you on your toes. I'm sure I'll be around for another 10 or 15 years."
Tickets for the Masters are still available. To sample the electric atmosphere at Wembley and see snooker's stars in action, call the box office on 0870 060 0870. Alternatively, you can log on www.whatsonwembley.com or visit the Wembley Box Office in person. Car parking is free to all ticket holders.