Recapitulation of the year 2005
How to beat Ronnie O'Sullivan
21 February, 2005
By Willie Thorne
BBC snooker commentator
It is difficult with Ronnie. When he's good, he's the best, and when he's not so good, he's very beatable.
It all depends on what game he takes with him. If you can bully Ronnie at the table you can beat him.
When I say bully I mean dominate the table - win successive frames on one visit.
He then tends to sit back in his seat more than the others because he's not used to it - he's used to doing that to all the others.
I think that the only people who can beat Ronnie are those who take him on at his own game. If it goes alternate frames you haven't got a chance.
If you manage to make 80 or above three frames on the trot, you'll see him getting worried, and he simply doesn't look the same player.
You've got to look the part too. When Ronnie is in control he saunters around the table as if he owns it and without a care in the world.
The biggest problem - as it was with Steve Davis in the 1980s and Stephen Hendry in the 1990s - is that people are beaten before they play him.
But look what happens when he meets a player with some attitude, like Scotland's Stephen Maguire. He stood up to Ronnie on more than one occasion this season.
However, those glitches have been few and far between.
Ronnie never twitches to the extent that he can't pot a ball, but if you put him under pressure you can see him getting uncomfortable.
He's only vulnerable when he is on his back foot. In many respects he's like Michael Schumacher in Formula One - he's always used to leading the pack.
The mental aspect in snooker is crucial.
I would suggest that of the top 20 players there are probably 15 capable of winning a tournament.
Out of that 15, five will probably never win a tournament because they are not mentally tough enough.
But essentially the key is break building. There is not a negative player capable of beating Ronnie.
Fluency and mental strength is also important - and there are probably only 10 players out there who can boast both qualities.
Rocket 'not after Hendry record'
Friday, 15 April, 2005
By Saj Chowdhury
Ronnie O'Sullivan is not interested in breaking Stephen Hendry's record of seven world title wins, according to the player's mentor Ray Reardon.
"I don't think he's after records," said the 72-year-old, who won six world titles in the 1970s.
"He wants to be the best and he is the best. He'll go on as long as he loves the game. If he loses all that, then he'll walk away from it.
"He's a bit special. We get on with one another and we talk the same language."
Reardon was approached by O'Sullivan prior to last year's World Championship.
"I wanted to see someone who knows the game and my dad told me I might as well go to the best," O'Sullivan said in April 2004.
"He made a few calls and he told me to speak to the 'Guvnor.' I asked him who he meant and he said 'Ray Reardon'."
Reardon told the BBC about the unique relationship they have developed.
"I'm surprised other people haven't come to me"
Snooker legend Ray Reardon
"He came to me. It was quite a treat," added the Welshman.
"I understand him and understand his game. He's outstanding as a person as well.
"We lay down certain rules for one another. I wanted certain things and he wanted certain things."
Reardon believes he is under-employed as an ex-professional who can lend advice to other players.
"I'm surprised other people haven't come to me," he said.
"Some of the players have lost their form. I'm sure they would love to talk to someone who can see what's going wrong and could help them."
HENDRY DETHRONES THE ROCKET
24th December 2005
Stephen Hendry has knocked Ronnie O'Sullivan off provisional top spot in the world snooker rankings, while Ding Jun-hui has entered the top 32 after winning the UK title.
The Rocket's early exit from the UK Championship in York at the hands of Mark King has seen him lose his grip on the number one spot.
Hendry made the semi-finals at the Barbican Centre, losing to old enemy Steve Davis, but the points have still taken him to the top of the rankings.
Ding fulfilled his huge promise with a superb victory over Davis in the final at York, and it had a great effect on his world ranking position.
The 18-year-old from China has moved up 29 places to number 31 after his 10-6 victory over The Nugget, and he said afterwards: "It gives me great joy.
"This is the second most important ranking tournament and I felt more pressure than I did when I won in China."
Davis' reward for his resurgent form is to move up three places to number three.
It was a 100th career final for the 48-year-old, and he is now on target to become the oldest player to be involved in the top four since Ray Reardon in 1984.
York semi-finalist Joe Perry is also a major mover as he jumped up from number 32 to 17.
Young Australian left-hander Neil Robertson also had a good run at York and has moved up seven places to enter the top 10 at number nine.
Quarter finalists Stuart Bingham and Ali Carter both moved up the rankings to numbers 22 and 11 respectively.
SNOOKER REVIEW OF THE YEAR 2005
24th December 2005
By Simon Yau
The year began with a familiar story as world number one Ronnie O'Sullivan looked in ominous form, but it was to be the turn of the young guns by the end of the 12 months. A fairytale story at The Crucible for Rotherham's Shaun Murphy, while the future of the game looks in good hands as China's rising star Ding Jun-hui won two ranking titles. Away from the table the sport was united in hope that Leeds potter Paul Hunter would overcome his battle with cancer.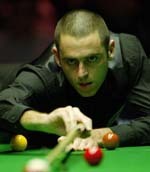 Welsh Open
The year began with a bang for world number one Ronnie O'Sullivan, who retained his Welsh Open title in another thrilling final in Cardiff. The Rocket edged Stephen Hendry 9-8, a year after defeating veteran Steve Davis by that same scoreline. It was another ding-dong battle for the Chigwell ace who came from 7-5 down to lead 8-7 before a break of 67 in the 17th frame earned him victory. The Scotsman had produced a 140 clearance early in the final but Ronnie replied with two tons himself to take his tally to 10 for the tournament.
Malta Cup
Stephen Hendry claimed his first ranking title since the British Open in 2003 with a hard-fought 9-7 victory over Graeme Dott. It was the ninth all-Scottish world ranking final and Hendry looked in ominous form with a 92 break in the opening frame followed by a 114 - one of three centuries during the contest, (he hit eight in total for the week). Dott was in the midst of a scintillating fightback and looked poised to level the match at 8-8, having trailed 7-4, but he missed a crucial blue down the side cushion with the rest. And the Scotsman pounced to clear the remaining three colours to lift his 36th world ranking trophy.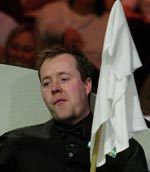 The Masters
Ronnie O'Sullivan put on a masterclass performance at Wembley to storm to a 10-3 victory over John Higgins, whose white handkerchief surrender was apt. It was a case of déjà vu for the Lanarkshire man, who suffered a 9-3 defeat to the Essex ace ten years ago in the same event. The "Wizard of Wishaw" managed to pot just one ball in the final three frames as the Rocket fired in three centuries (107, 102 and 134) and had further scores of 95, 58, 97, 79, 75 and 79. The tournament also showcased China's rising star Ding Jun-hui, who pocketed a £10,000 cheque for the highest break of 141 - a clearance made against Ken Doherty.
CityWest Irish Masters
Ronnie O'Sullivan was made to battle hard for his third title of the year when he held off a Matthew Stevens fightback to prevail 10-8. The Rocket looked to be cruising at 6-1 up before the Welshman won five frames in a row and the match appeared to be heading to a final frame decider with Stevens 68-0 up in frame 18. Stevens though was careless with a red to the side pocket and his miss was punished severely by O'Sullivan, who was ruthless with a superb 69 clearance to steal the frame and match. One incident marred the final which was interrupted when a spectator was asleep and his mobile phone rang, he was eventually escorted out of the arena and the two players were given a brief interval.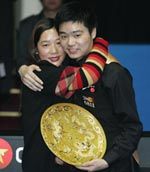 China Open
Teenage sensation Ding Jun-hui became the second youngest player - after Ronnie O'Sullivan - to win a world ranking event, when he delighted the home crowd at the Haidian Stadium with a 9-5 win over Stephen Hendry. The Chinese star entered the final in fine fettle after whitewashing Peter Ebdon (5-0) in their last 32 encounter and also blanked Ken Doherty 6-0 in the semis. It was Hendry though who started with a bang taking a 4-1 lead in the final with breaks of 92, 108, 46 and 57. However, Ding kept his composure and won eight of the next nine frames and aptly finished the match with his sixth century of the week to a standing ovation. The only downside for Ding, who had only turned 18 two days ago, was that his wild card entry prevented him from picking up the £30,000 winner's cheque.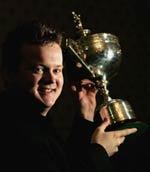 World Championship
The Crucible was witness to a fairytale story as Shaun Murphy became the first qualifier since Terry Griffiths in 1979 to win the World Championship - defeating Matthew Stevens 18-16 in the final. The 22-year-old from Rotherham had been winless in his previous visits to Sheffield's famous theatre but overcame the impressive trio of John Higgins, Steve Davis and Peter Ebdon on his way to the last two. It was more final heartbreak for Stevens, he lost by the same scoreline in 2000 to Welsh compatriot Mark Williams, who had established a 10-6 lead during the final. Murphy though showed tremendous resilience on the second day taking five frames in the afternoon session with scores of 51, 56, 80 and a superlative 137 clearance in the 21st frame. Entering the evening 12-11 down, Murphy continued his brilliant play - the highlight a 107 in frame 24 - that brought him level. Stevens responded with a ton himself (124) as the two players were tied at 16 apiece before the Rotherham potter clinched the title with totals of 93 and 87. The tournament produced 63 centuries - only five behind the all-time record of 68 set in 2002.
Defending champion Ronnie O'Sullivan again spoke of his disenchantment with the game after letting slip a 6-2 lead against Peter Ebdon in the quarter-finals. Ebdon, noted for his slow play occasionally, fought tooth and nail to triumph 13-11 despite never passing three figures in a break. Away from the green baize everyone's thoughts were with Leeds cueman Paul Hunter, who would be taking a break away from the game having been diagnosed with cancer.
Premier League I
Sky Sports broadcasted a new format of the Premier League Snooker that had players contending against a 25-second shot clock as well as the top stars of the game. Perhaps fittingly it was the Rocket Ronnie O'Sullivan who claimed first prize after a stunning performance in the knockout stages of the competition, whitewashing former world champions Stephen Hendry and Mark Williams 5-0 and 6-0 respectively. In the final he recorded the tournament's highest break of 134, surpassing Marco Fu's earlier effort of 133. The Hong Kong player had topped the round-robin stage of the tournament with three wins, two draws and just one defeat.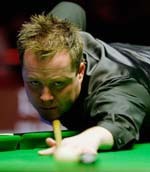 Grand Prix
Records tumbled in the Grand Prix final as John Higgins avenged his Masters loss to Ronnie O'Sullivan with a wizardly performance himself, as he became the first player to score four consecutive centuries. His 9-2 victory also saw him amass 494 points without reply from his beleaguered opponent - the most ever unanswered points in a ranking event and the most unanswered points in any match, (the previous best was Stephen Hendry's 487 against Jimmy White in the 1996 Masters). It was Higgins' first ranking title for four years.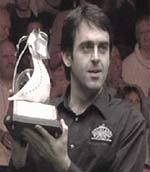 Premier League II
It was another weekend to remember for Ronnie O'Sullivan who produced four centuries in his semi-final win over Steve Davis before whitewashing former world champion Stephen Hendry 6-0 in the final to retain his title. The Rocket had topped the round-robin stage and also produced the high break of the tournament, 136, totalling eight centuries for the entire competition. On the final day of the group stage world champion Shaun Murphy required just two frames to secure his place in the last four at the expense of Davis, but having won the opening frame against O'Sullivan, he lost the remaining five for a shock exit. The Nugget had earlier beaten Ding Jun-hui 4-2 in Cardiff to edge out the world champion.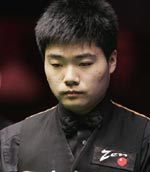 UK Championship
Rising star Ding Jun-hui won high praise once again as he claimed the second most prestigious prize in snooker, defeating veteran Steve Davis 10-6 in the final at York. The showdown was a clash of the generations as Davis, playing in his 100th career final, took on a player 30 years his junior. Ding's potting power was eventually too much for the Nugget, who gave a vintage performance in the second round against Stephen Maguire. The six-times UK champion registered the joint-highest break of the tournament in coming back from 7-4 and 8-6 down against the defending champion. And it was an early exit for the second straight year for Ronnie O'Sullivan, who lost his opening match against Mark King. Perhaps the biggest cheer of the tournament came when Paul Hunter won his opening match against Jamie Burnett. It was only his second competitive appearance after undergoing treatment for cancer.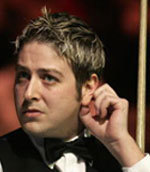 Northern Ireland Trophy
Matthew Stevens made up for his World Championship disappointment by taking the opening event of the 2005/6 campaign, but it was a non-ranking event. The Welshman edged out seven-time world champion Stephen Hendry 9-7 in the final.
Pot Black
Matthew Stevens gained revenge over Shaun Murphy for his World Championship defeat in the unique one-frame format tournament. The world champion did have the consolation of recording the highest break in the competition's 36-year history with 111.
Snooker loopy
Former world champion Alex Higgins made his professional comeback in the Irish Professional Championship in Dublin in October but unfortunately the Hurricane lost 5-2 to Garry Hardiman.
Steve Davis had a faux pas in November when he was unwittingly knocked out of next year's China Open. The Nugget failed to turn up for his qualifying match against Ricky Walden in Prestatyn, apparently unaware he had to participate in the final qualifying round.