Welsh Open 2006 A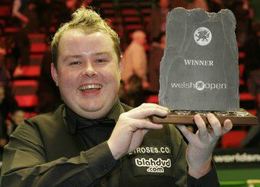 LEE SECURES WELSH TITLE
Stephen Lee captured his first title in four years with a 9-4 victory over Shaun Murphy in the Welsh Open final at Newport.
Lee's trophy cabinet had been bare since he scooped the 2002 Scottish Open but the world number 10 got off to the best possible start against Murphy by storming into a 4-0 lead.
This was reduced to 4-3 but Murphy failed to find the sort of form which helped him triumph at The Crucible 10 months ago and Lee took advantage to claim the Ł35,000 top prize.
"I fancied my chances from the start and managed to pot a few nervy balls early on," Lee said.
"I felt I had gears to move through if Shaun made it close. I haven't felt like that for a long time.
"At 8-4, I knew Shaun was good enough to turn it around but all you can ask for in any frame is a chance and I knew I had to stay in control. I kept myself in the zone until the end."
Capitalising on Murphy's apparent edginess, Lee raced into a three-frame lead and made it 4-0 through a break of 120.
In the fifth, Lee snookered himself on the green when potting the yellow and a relieved Murphy finally broke his duck by clearing to the blue.
A botched black off its spot, when looking good in the sixth, only served to intensify Lee's frustration and there was a strong feeling the 31-year-old from Trowbridge might be losing his way when Murphy snatched it on the colours before runs of 47 and 43 made it 4-3.
Lee, 57-0 ahead in the eighth, jawed a long red but Murphy, looking to deliver a potentially telling blow, missed the final black using the rest to be denied a clearance.
His slip-up gave Lee the simplest of pots to carry a 5-3 lead into the final session.
Lee also won the first on the resumption to pull away to 6-3 before Murphy knocked in a long yellow on the way to winning the 10th.
But Murphy's excellent form of his 6-1 semi-final success over Barry Hawkins, which included two centuries, failed to materialise.
Lee needed several chances before making it 7-4 and he coolly cleared the table when Murphy left the last red close to a corner pocket in the next frame.
That made it 8-4 and a stylish 71 saw Lee collect the fourth ranking title of his career, having also won the 1998 Grand Prix, 2001 LG Cup and 2002 Scottish Open.
"I lost my concentration at 4-0 and I was lucky Shaun missed the black to make it 4-4," Lee said.
"It wasn't an easy black but I expected him to pot it. In the end I'm pleased that I brought out glimpses of my best form. That's encouraging for the rest of the season."
Murphy, 23, was appearing in only the second ranking tournament final of his career and was philosophical in defeat.
"It was my first time playing in Wales so it wasn't a bad week," he said.
"It's just a shame I couldn't finish the job off.
"I had some good results but you're judged by what you do on the day and I wasn't good enough in the final.
"When I was 5-3 down I still fancied the job because I didn't think it could go as badly again but it did."
Murphy collected Ł17,500 as runner-up and rises to fifth in the provisional rankings, while Lee rockets up eight places to ninth.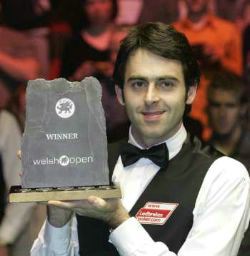 Schedule and results of matches
Below is the format and times of play for the Welsh Open at the Newport Centre from February 27 to March 5.
16 Nov 2005
Monday, February 27
12pm
1 – Ian McCulloch x Dave Harold - 5-3
6 – Nigel Bond x Liang Wenbo - 0-5
15 - Quinten Hann DSF x Jamie Cope - Jamie Cope
16 – Andy Hicks x Patrick Wallace - 5-3
4 – Anthony Hamilton x Fergal O'Brien - 5-3
5 – Mark King x Joe Swail - 4-5
9 – Barry Hawkins x David Roe - 5-4
13 – David Gray x Mark Davis - 2-5
7pm
2 – Robert Milkins x Judd Trump - 5-3
3 – Michael Holt x Dominic Dale - 5-2
7 – Marco Fu x Drew Henry - 2-5
8 – Neil Robertson x Mark Selby - 3-5
Tuesday, February 28
1pm
10 – John Parrott x Ryan Day - 1-5
14 – Allister Carter x Alfred Burden - 4-5
32 – Shaun Murphy x Andy Hicks - 5-3
11 – James Wattana x Ricky Walden - 5-4
17 – Ronnie O'Sullivan x Ian McCulloch - 1-5 :-(((((
20 – Paul Hunter x Anthony Hamilton - 3-5
22 – Graeme Dott x Liang Wenbo - 5-3
7pm
12 – Barry Pinches x Scott MacKenzie - 4-5
21 – Peter Ebdon x Joe Swail - 0-5
25 – Stephen Hendry x Barry Hawkins - 3-5
31 – Steve Davis x Jamie Cope - 4-5
Wednesday, March 1
1pm
18 – Alan McManus x Robert Milkins - 4-5
19 – Ken Doherty x Michael Holt - 5-4
29 – Matthew Stevens x Mark Davis - 5-0
23 – Stephen Lee x Drew Henry - 5-2
24 – Stephen Maguire x Mark Selby - 3-5
26 – Jimmy White x Ryan Day - 0-5
7pm
27 – Joe Perry x James Wattana - 2-5
28 – John Higgins x Scott MacKenzie 5-2
30 – Mark Williams x Alfred Burden - 5-3
Thursday, March 2
1pm
36 – Stephen Lee x Mark Selby - 5-2
39 – Matthew Stevens x Mark Williams - 1-5
33 – Ian McCulloch x Robert Milkins - 5-3
34 – Ken Doherty x Anthony Hamilton - 3-5
35 – Joe Swail x Graeme Dott - 2-5
7pm
37 – Barry Hawkins x Ryan Day - 5-3
38 – James Wattana x John Higgins - 5-4
40 – Jamie Cope x Shaun Murphy - 4-5
Friday, March 3
10am QF 2– Graeme Dott x Stephen Lee - 2-5
1pm QF 4 – Mark Williams x Shaun Murphy - 2-5
4pm QF 3 – Barry Hawkins x James Wattana - 5-3
7pm QF 1 – Ian McCulloch x Anthony Hamilton - 2-5
All quarter-finals to be played on this day (roll-on roll-off). Matches will not start before the times indicated
Saturday, March 4
1pm
SF1 – Stephen Lee x Anthony Hamilton - 6-5
6pm
SF2 – Barry Hawkins x Shaun Murphy - 1-5
Sunday, March 5
1.30pm
Final (8 frames) Stephen Lee x Shaun Murphy - 9-4
7.30pm
Final (9 frames)
MURPHY MARCHES INTO WELSH FINAL
Shaun Murphy oozed class in Newport on Saturday night as he reached his first major final since capturing the world title 10 months ago.
Murphy finished off with two century breaks to complete a 6-1 victory over Barry Hawkins in the Welsh Open semi-finals.
It was a top-drawer performance reminiscent of Murphy's golden form which saw him land the Crucible title as a 150-1 outsider.
"That's the sort of snooker I've been producing in the practice room and I was very pleased to bring it out in the match," he said.
"My all-round game was very good. My potting, break-building and safety were all strong so I'm very pleased."
Hawkins, also a semi-finalist in Newport last year, won the opening frame and cleared up to force a re-spotted black in the second.
But the Kent professional bungled his first shot at the extra black and Murphy stroked it home to level at 1-1.
A run of 93 put Murphy 2-1 ahead and he produced a steely 42 clearance to clinch the fourth for a two-frame advantage.
The 23-year-old from Rotherham added the fifth before efforts of 134 and 102 carried him over the winning line and through to a best-of-17-frames clash with Stephen Lee.
"Stephen's a very good potter and he knows the game inside out so I imagine it'll be a close one," said Murphy, through to only the second ranking event final of his professional career.
"I seem to be hitting a good patch of form. I've gone into every tournament this season having worked really hard and ready to play but it's started to happen for me this week."
Murphy was beaten in the last 16 of the campaign's first three world ranking events and stuttered his way into the Newport quarter-finals with a 5-3 victory over Andy Hicks and 5-4 defeat of Jamie Cope.
However, a 5-2 quarter-final win over former world champion Mark Williams provided signs that his A-game had returned and his performance against Hawkins ensured he would start the final as favourite for the Ł35,000 top prize.
Lee had earlier staved off a spirited comeback from Anthony Hamilton to book his place in the final.
World number 10 Lee held his nerve in a tense finish to edge past Hamilton 6-5 after a four-and-a-half-hour battle, to reach the final of a world ranking tournament for the first time since he was crowned Scottish Open champion in 2002.
At 5-3 up, the 31-year-old from Trowbridge was in the driver's seat but, playing an exhibition power shot on the blue in the eighth frame, managed to dislodge his tip.
Play was suspended for 15 minutes as Lee dashed backstage to repair the tip - and when he returned momentum shifted.
Lee explained: "I started to do stupid things with the white and my tip flew off.
"That knocked me back a bit but luckily I managed to get across the line.
"Relieved - that's probably the best way to describe how I feel at the moment.
"Now I've got to decide whether to keep the same tip on for the final - I've played well with it on - or put on a new one."
Hamilton had runs of 55 and 68 in the ninth frame before forcing a decider with a 72 break after Lee, seemingly in to win, had jawed a straightforward red.
Suddenly Lee was under huge pressure but the former LG Cup and Grand Prix champion handled it coolly.
When Hamilton overcut a mid-range red early in the all-important 11th frame, Lee stepped in with a 55 break which set up victory.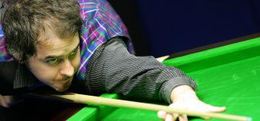 SHERIFF STRIDES INTO WELSH SEMIS
Sheriff of Pottingham Anthony Hamilton reached his first ranking semi-final for four years with an impressive 5-2 victory over close pal Ian McCulloch at Newport tonight (Friday).
03 Mar 2006
World No 17 Hamilton had not won a match since October before this week's tournament, but pocketed breaks of 100, 64, 66 and 64 to make it four wins in the space of five confidence-boosting days.
"I'm buzzing after that win," said a delighted Hamilton, who now meets Trowbridge cueman Stephen Lee in the first of tomorrow's semi-finals.
"Ian was a bit unfortunate with a couple of bad kicks, but you've got to make the most of it. Thankfully I did.
"It was quite a scrappy match, but I was happy with my scoring in the balls. I was quite controlled, which is great because that's my strength."
Hamilton won a scrappy opener before McCulloch sunk a break of 50 to level at 1-1.
In the next frame Lancastrian left-hander McCulloch made a run of 38, but Hamilton stung him with a wonderful century break.
McCulloch squared the match again with an excellent 60 break, but then Hamilton turned on the style, winning three frames on the trot to secure victory.
The key turning point was in the sixth frame when the Preston potter led 60-0, only for his opponent to clear the table with 66 to go 4-2 ahead.
Hamilton, whose last semi was the 2002 China Open when he beat Mark Selby before losing to Mark Williams, added: "I've just been waiting for this happen. I've had a bad run of form, but been playing people who have been flying.
"The way I've been playing I've been waiting for something like this to happen all season. I'm glad it has because I'm absolutely skint."
The 34-year-old from Nottingham will now meet compatriot Stephen Lee, who defeated Graeme Dott 5-2, in the next round.
"I'm looking forward to playing Stephen. He's playing well and his long-potting is good. Sometimes Stephen doesn't look up for it, but he does this week. When he's like that he's dangerous."
Despite defeat, McCulloch paid praise to his conqueror after the match. "I didn't play too badly, but if you're going to lose it's best losing to a friend," he said.
"Ant's a good mate and I hope he goes on and wins the tournament now. I've played three exceptional matches this week, but it just didn't happen for me tonight.
"But I've picked up some useful ranking points which should hopefully help me stay in the top 16 next season."
Earlier on Friday, Barry Hawkins reached the final four of the tournament for the second successive season as he edged out James Wattana 5-3.
The Sydenham-born potter seemed to be cruising through when he raced out to a 4-1 lead.
Wattana, who had knocked out John Higgins in the last round, then threatened to launch a comeback when he quickly claimed the next two frames to move within one of his opponent.
However, Hawkins managed to stumble over the line when he claimed the eighth frame, although he admitted afterwards he had not been at his best against the man from Thailand.
"I can't believe I won," he said. "It must be my worst performance as a professional.
"Neither of us seemed to get up for the match but lady luck seems to be with me at the moment."
Wattana stuns Higgins in Newport
James Wattana caused a major upset at the Welsh Open on Thursday with a dramatic last-16 win over John Higgins.
The Thai player edged to a 5-4 win against Higgins, who has already won the Grand Prix and Masters this season.
"I don't even feel that bad, it was just a nothing sort of game," said Higgins. "Apart from in a couple of frames I really struggled badly.
"It was one of those days where I just couldn't play. James didn't have to do much to beat me."
Wattana said: "It was tough playing John because he's been the most consistent player this season.
"My form has always been there, it's just about getting the results. No matter how well you play the hardest thing is to win."
Matthew Stevens' blistering return to form proved short-lived as he crashed out to compatriot Mark Williams.
The Welshman, so impressive in his 5-0 whitewash of Mark Davis on Wednesday, scored a top break of just 27 as he bowed out tamely 5-1.
"I was looking forward to the match but at times it doesn't work out," he said.
Williams now faces reigning world champion Shaun Murphy, who battled to a 5-4 win over Jamie Cope.
Williams comfortably won the first two frames before Stevens stole a scrappy third on the pink.
However, a break of 66 saw Williams regain his two-frame lead and the 30-year-old closed the match out with a clearance in frame five and a break of 57 in the last.
And the twice world champion, who has not lifted a trophy since the 2003 LG Cup, said: "I played OK in patches but Matthew missed a lot of balls he wouldn't normally have a problem with.
"At the moment I'll take any win, no matter how I get them."
Stevens conceded: "This game is so weird. I went from thinking I was going to pot everything to missing a lot of balls. I never got the pace of the table but that's the way it goes."
In the evening's other match Barry Hawkins, a semi-finalist in Newport last year, beat Bridgend's Ryan Day 5-3.
Day inflicts whitewash on White
Jimmy White bowed out of the Welsh Open after suffering a 5-0 whitewash at the hands of local favourite Ryan Day.
Day fired in breaks of 90, 135, 84 and 73 to complete the victory in only 82 minutes at the Newport Centre.
White struggled after failing to win the second frame, despite a break of 54, and could now struggle to retain his place in the world's top 16.
Matthew Stevens crushed Mark Davis 5-0 and Mark Williams beat Alfie Burden 5-3 to complete a fine day for the Welsh.
Carmarthen star Stevens has tumbled to 20th in the provisional rankings but clinched victory in only 89 minutes over Davis with a 138 total clearance.
"I'd be lying if I said I wasn't feeling the pressure but I haven't played badly this season," Stevens said.
"I've come up against people playing well so I haven't been panicking. It would be worse if I was playing badly."
Meanwhile, Williams admitted to being affected by nerves before scoring a scratchy victory over little-known Burden.
"At 3-3 I was feeling a lot of pressure because I knew I should've won by then," said Williams.
"You get edgy when you're not winning many matches and I was definitely edgy out there."
Although not at his sharpest, Scot John Higgins also avoided an opening-match banana skin.
Higgins, seeking his third trophy of the campaign after triumphing at the Grand Prix and Masters, beat fellow countryman Scott Mackenzie 5-2.
Ken Doherty, who won the Malta Cup last month, narrowly avoided an early defeat when he fought from 0-3 and 2-4 down to beat Nottingham's Michael Holt 5-4.
And Robert Milkins got the better of Scotland's Alan McManus 5-4 to set up a meeting with Ian McCulloch, conqueror of 2005 champion Ronnie O'Sullivan.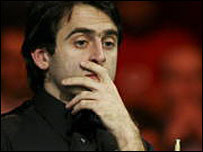 BIG MAC FRIES CHAMP
Ronnie O'Sullivan's two-year reign in Wales is over - he was stunned 5-1 by Ian McCulloch at the Newport Centre today (Tuesday).
28 Feb 2006
The Rocket, aiming to become the first player to win the Welsh Open three times on the bounce, suffered a surprise early exit as McCulloch raced through to the last 16.

The world No 1 sported a wrist support during the first four frames, but removed the aid after the interval. The Chigwell star refused to cite his injury as a reason for the result.
"I've got a little problem. It's just something the doctors are looking into," revealed O'Sullivan, who managed a high break of 58.
"When you're not doing the business you make life difficult for yourself. I struggled because I didn't put him under pressure and missed too many balls.
"I'm very disappointed to have lost at this tournament. It's an important tournament and I've done well here over the last couple of years.
"But that's the way it goes sometimes. You just have to get on with it."
McCulloch, the world No 16, reached the quarter-finals of the Welsh Open in 2000. He hopes he can progress even further this year.
"I've beaten Ronnie before, so I'm not going to get too carried away," said the Preston left-hander, who had breaks of 47, 94 and 72 to move into the next round.
"He pulled my pants down at the Masters and embarrassed me, so it was nice to win here. He said to me at the interval he'd fractured his hand, but to be honest I don't think it made too much difference. I played really well.
"You've got to clear up when Ronnie misses, and I managed to do that today.
"I've played him a lot of times, but I was able to relax after I'd beaten Dave Harold in a tough first round match.
"There's no easy games in the tournament, but I'm looking to go as far as I can."
Nottingham's Anthony Hamilton grabbed his second win in as many days by overcoming Paul Hunter.
Boosted by his first victory since October having beaten Fergal O'Brien in the first round yesterday, Hamilton fought back from 2-0 down to beat the three-times Masters champion 5-3, and will now meet either fellow Nottingham player Michael Holt or Malta Cup winner Ken Doherty in the last 16.
Hamilton sunk runs of 43, 56, 64 and 80, while Hunter, undergoing treatment for cancer, compiled breaks of 56 and 61.
Glasgow's Graeme Dott ended the run of China's world under-21 champion Liang Wenbo. The Pocket Dynamo's best breaks were 76 and 70.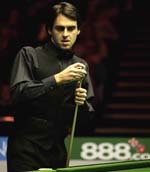 ROCKET MISFIRE LIFTS McCULLOUGH
Ian McCulloch boxed clever to pull off a huge shock with victory over Ronnie O'Sullivan at the Welsh Open in Newport today.
McCulloch beat the defending champion 5-1, although O'Sullivan seemed to be struggling with an injury.
The 'Rocket' wore a strap on his right wrist and missed several balls he could normally be expected to pot although the world number one refused to confirm he had sustained a fracture while boxing in the gym.
"It's just a little problem the doctors are looking into," he said. "It's just a bit sore. I did something years ago and it feels a bit achy.
"I struggled. I was put under pressure and didn't put Ian under any. You can't afford to miss easy balls and if you don't do the business you'll get punished.
"He made a couple of good clearances and it was tough out there for me. It's very disappointing to lose."
McCulloch, the world number 16 from Preston, had lost his five previous meetings with O'Sullivan but took advantage of the chances that came his way.
He fired in a 94 clearance to win the third frame and claim a 3-0 lead and secured the sixth for victory with a run of 72 after O'Sullivan ran out of position on 58.
"I didn't know Ronnie had a problem until I spoke to him at the interval but I don't think it would have made any difference," said McCulloch, a semi-finalist in last season's World Championship.
"You have to do what I did, which is clear up when he misses. I've played him several times but haven't often played well against him.
"But it's just one win. I won't get carried away unless I'm here for the final."
Paul Hunter, who has recently finished his latest spell of chemotherapy treatment for neuro endocrine tumours on the lining of his body, was beaten 5-3 by Anthony Hamilton.
Hunter has only won one match all season and although he produced breaks of 56 and 61 he was a long way off his best.
Stephen Hendry failed to take advantage of O'Sullivan's shock exit from the when he was knocked out by Barry Hawkins in the second round.
O'Sullivan's loss gave Hendry a chance to extend his lead at the top of the provisional rankings but the Scot was beaten 5-3 by Kent-based Hawkins.
"It was a normal performance for me," said a downbeat Hendry, yet to win a title this season.
"It's a miracle I'm provisional number one. If I started to play well I'd go miles ahead but I got there by not playing well.
"It's the other players' fault that I'm top. Ronnie has thrown it away rather than me doing anything. I don't want to get to number one by only getting to quarter-finals.
"I wasn't thinking about Ronnie losing because I knew it would be a tough match against Barry."
Hendry was the victim of a refereeing error in the third frame when he was awarded four points rather than six when Hawkins fouled the pink.
The frame came down to a re-spotted black, which Hawkins potted to lead 2-1 and he pulled away to 4-1 with the help of a 128 break in the fifth.
Hendry's 133 total clearance reduced the gap to two frames and the seven-times world champion also won the seventh but Hawkins finished off in style with a well-crafted 86.
"I didn't fear Stephen after beating him in a long match," said Hawkins, who stands ninth in the provisional rankings.
"I'm getting more used to the TV conditions and I'm pleased with how I played overall. I got a bit shaky at 4-1 up but finished off well."
Another snooker legend, six-times world champion Steve Davis, suffered a shock exit when he was edged out 5-4 by 20-year-old Jamie Cope, who was making his television debut.
The Stoke potter did not betray any signs of nerves as he established a 2-0 lead with breaks of 94 and 92.
Davis fought back to lead 3-2, constructing a run of 131 in the fifth frame but despite also making it 4-4, Cope's 63 helped the newcomer clinch victory.
WENBO WALTZES PAST BOND
Liang Wenbo demonstrated that teenage star Ding Junhui is not China's only exciting snooker prospect by racing into the second round of the Welsh Open.
Wenbo, winner of the World Under-21 Championship in Bahrain last year, brushed aside former Crucible finalist Nigel Bond 5-0.
Runs of 64, 49 and 73 twice enabled the fast-potting left-hander to humble veteran campaigner Bond, who in contrast to his fluent opponent managed a top break of only 16 in being outscored 348-69.
Wenbo, who had never previously qualified for the final stages of a ranking event, now looks set to retain his place on snooker's 96-man tour next season.
"That result was so important because it means I've kept my card. That's why I'm so happy with how I played," said Wenbo, who has drawn inspiration from the success of 18-year-old compatriot Ding, winner of the UK Championship in December.
"I'd like to follow in Ding's footsteps. He's shown all of us Chinese players what's possible."
The 250/1 pre-tournament outsider advances to play Scotland's Graeme Dott, runner-up to Ronnie O'Sullivan at the 2004 World Championship.
While Wenbo safeguarded his main tour playing rights for the 2006/07 season, the relegation of Northern Ireland's Patrick Wallace was confirmed.
Wallace, whose career highlight was a run to the quarter-finals of the 2001 World Championship, lost 5-3 to Plymouth's Andy Hicks after building a 3-1 lead at the mid-session interval.
Hicks compiled breaks of 70, 75, 46 and 55 in setting up a round-two meeting with world champion Shaun Murphy.
O'Sullivan will launch his bid for a third straight Welsh title against Preston's Ian McCulloch, who beat friend and regular practice partner Dave Harold 5-3 after a three-hour marathon.
McCulloch, the world number 16, moved 4-1 ahead and having been pegged back to 4-3 held his nerve with a run of 96.
Harold had the consolation of setting an early target for the event's Ł2,000 highest-break award with his 141 total clearance in the sixth frame.
Northern Ireland's Joe Swail recovered from a poor start to squeeze past Mark King 5-4 in a contest that turned on one glaring error.
King led 3-0 and looked certain to steal the fourth frame until he inexcusably jawed a simple, slowly-rolled black along the top cushion when poised to clear the colours.
After that the momentum shifted, King began to toil and Swail, twice a Welsh Open semi-finalist, rallied to set up a second-round clash with Peter Ebdon.
Sussex pro Mark Davis will tackle Matthew Stevens in the last 32 after beating David Gray 5-2 while Anthony Hamilton, a 5-3 conqueror of Fergal O'Brien, plays Paul Hunter.
The 16-year-old prodigy from Bristol Judd Trump went down 5-3 to Milkins, who now faces Alan McManus.
"I just couldn't get going. I didn't play well. Every time I got in the balls I just missed, and I don't know why," admitted Trump, who broke a host of records during his junior career including the youngest player to make a competitive 147.
"I wasn't nervous out there although there were a lot of people watching us. Robert's a good player, but neither of us played well, it was very scrappy.

"I'm just looking forward to next season now. My aim will be to qualify for a few more venues and get used to the conditions."

Gloucester's world No 25 Milkins pulled away from 3-3 to win the last two frames, finishing with a 92, the highest break of the match.

"Judd's a good potter, but he's a little bit naive," said the former Irish Masters semi-finalist. "It's not a criticism, but he was hitting the balls too hard and you can't do that on tournament tables.

"His safety play was excellent, which really surprised me. He's definitely a player for the future. I'm sure he'll come on leaps and bounds.
"I had to win today to make sure of my top 32 place so I'm relieved to do that as I don't want to drop down the rankings."
Aussie left-hander Neil Robertson crashed out at the first hurdle, squandering a 3-0 lead as he lost 5-3 to Leicester's Mark Selby.
Melbourne's Robertson started well enough with breaks of 52 and 111, but Selby hit back with runs of 66, 81 and 97 to book a second round showdown Stephen Maguire on Wednesday afternoon.
Nottingham's Michael Holt is also through. He beat Welsh hope Dominic Dale 5-2 in their first round clash, knocking in breaks of 40, 59 and 44.
"Dominic had the crowd behind him, which was expected because he's Welsh, but that didn't bother me. I played really, really well. I'm chuffed with that performance," said Hitman Holt.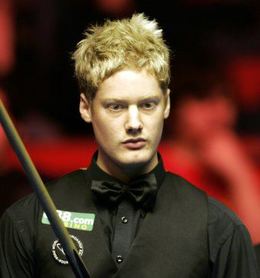 ROBERTSON READY FOR WELSH SUCCESS
Australian hot-shot Neil Robertson believes he is playing some of the best snooker of his career going into the Welsh Open, which starts on Monday.
24 Feb 2006
The 24-year-old from Melbourne knocked Jimmy White and John Higgins out of the event at the Newport Centre last year before losing narrowly 5-4 to Ronnie O'Sullivan in the quarter-finals.
Former world under-21 champion Robertson has stormed up the rankings over the past two seasons and stands in tenth position in the latest list. He is part of snooker's emerging wave of talent alongside the likes of Stephen Maguire, Shaun Murphy and Ding Junhui and hopes to join those three as a ranking event winner.
"I'm playing as well as I have ever played in practise and I'm really looking forward to the Welsh," said the confident left-hander. "I've been working hard on the positional side of break-building and it's going very well.
"My target for the season is to get into the top eight and I'm not far off that. There are still a few tournaments to go and I've got a great chance. It's a good venue at Newport and I got a lot of support there last year so hopefully I can get a run going next week."
Robertson faces Leicester's Mark Selby in his opening match on Monday at 7pm and victory would set up a meeting with Maguire on Wednesday afternoon.
"It's a tough draw but you know you are not going to get an easy match because there are so many good players," added the Cambridge-based player. "If I play well I should get through to face Maguire which would be a cracking match."
Also playing on Monday evening is Bristol's 16-year-old prodigy Judd Trump, the youngest player ever to qualify for the final stages of a ranking tournament. He is up against Gloucester's Robert Milkins.
World No 1 Ronnie O'Sullivan enters the fray on Tuesday and will be defending his title against the likes of Stephen Hendry, John Higgins, world champion Shaun Murphy, Malta Cup champion Ken Doherty, Steve Davis and Jimmy White.
The home challenge will be led by Carmarthen's world No 4 Matthew Stevens and Cardiff's two-times world champion Mark Williams.
Tickets for the tournament are still available. They start at just £8 and rise to £25 for the concluding session of the final. For more details call the box office on 01633 656 757.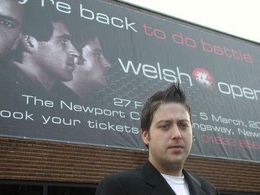 NEWPORT BRINGS NEW HOPE FOR STEVENS
Matthew Stevens hopes some home comforts will kick start a season that promised so much but has delivered little success of late.
22 Feb 2006
The Carmarthen cueman began the 2005-06 campaign with a bang, winning the inagural Northern Ireland Trophy and following up with victory in Pot Black.
However, defeats against Dave Harold at the Grand Prix in Preston, Stuart Bingham in the Travis Perkins UK Championship and Nigel Bond in the recent Malta Cup have placed the Welshman's top 16 ranking in serious jeopardy.
"If I'd played badly I'd be more worried," says world No4 Stevens ahead of the Welsh Open in Newport, which starts next Monday.
"My opponents have just played better than me. Dave Harold was awesome," adds the father of one.
"Stuart Bingham has been in great form so far this season and Nigel Bond hardly did anything wrong in Malta.
"I've probably played six bad shots in those three games. All you can do is work hard in practice and hope you produce your form in matches," said the 27-year-old.
"However, it's important to get some results together with the World Championship coming up."
Stevens has frequently been the man for the big occasion at Sheffield; five semi-finals since 2000 and those final defeats against Mark Williams and Shaun Murphy.
"I keep getting to the business end at Sheffield," he sighs. "Next time I get to the final it will be third time lucky.
"Everyone wants to be world champion and I'm no exception. Hopefully, I can get a few wins in Newport to get me going again."
Stevens, who meets David Gray or Mark Davis in his opening match, is looking forward to playing on home soil.
"I always enjoy playing in Wales. It's a great chance for your friends and family to come and see you play. And I obviously get more support there than most other places."
Stevens is just one of numerous world class Welsh players past and present. And the former UK and Masters winner believes the game is in good hands in the future.
"I practice with a lad called Jamie Jones. He's only 17 but already a great player.
"And then there's Michael White. He's just 14 and has been knocking in loads of centuries. I think both are worth keeping an eye on."
But all eyes next week are on the Newport Centre. Ronnie O'Sullivan defends his title, John Higgins chases his third trophy of the season, Ken Doherty looks to build on his Malta Cup success while Judd Trump makes his first appearance in the final stages of a ranking tournament.
And Stevens? He just wants a win no matter how scrappy to begin his season again.
O'Sullivan relishes return to Wales
Feb 18 2006
Snooker's brilliant world No 1 Ronnie O'Sullivan explains to Paul Williams why he holds a special affinity for the Welsh Open
Paul Williams, Western Mail
IT IS little wonder Ronnie O'Sullivan is relishing a return to Wales later this month.
O'Sullivan, the most talented player ever to pick up a snooker cue, might have achieved almost all there is to accomplish in the game, but he breaks off in the Welsh Open bidding for his first hat-trick of tournament titles.
Having waited 12 years for his first professional success in Wales, when he beat Steve Davis 9-8 in a thrilling 2004 final, O'Sullivan waited only another 12 months to collect his second slate trophy, and he edged out that other great legend of the modern era, Stephen Hendry, by the same scoreline in the final.
While the world No 1 gained great satisfaction from the stature of his vanquished opponents on those occasions, the stage also provided an immense source of pride to this enigmatic character whose reverence for snooker's history is at odds with his occasional rebellions against the sport he was born to play.
O'Sullivan said, "I love coming back to play in the Welsh Open, and it's not just because I've had such success in the tournament over the last two years.
"It's because Wales is such a special place to play snooker. It's like going to Las Vegas to box because Wales has got such a great pedigree in snooker.
"A lot of great players have come out of Wales over the years - world champions like Mark Williams, Terry Griffiths and Ray Reardon.
"It means the fans there are very knowledgeable and I've always noticed that extra bit of support. The fans are pretty good most places we play, but they really love their snooker in Wales."
O'Sullivan has a further motive to rack up a Welsh Open three-peat at Newport Centre from February 27 to March 5.
One of those former Welsh world champions he mentions is none other than his own coach. Reardon, who hails from nearby Tredegar, linked up with O'Sullivan just before the World Championship in 2004 and is widely accredited with harnessing snooker's most explosive talent to a more resilient temperament as the Rocket completed a supremely dominant march to his second Crucible title.
Things have been pretty good thereafter as O'Sullivan enjoyed the most successful year since the heyday of Hendry when he scooped five of the 10 major titles up for grabs last season.
Reardon's six world titles in the 1970s are ample evidence that he was no slouch himself on the green baize, but many are surprised Dracula can have made such an impact on a player who could have trounced him in his pomp... playing cack-handed.
"Sometimes, it's like being a big kid and having your dad tell you that you've just got to go out there and play well," offered O'Sullivan, giving an insight into his sometimes troubled ego.
"It's having someone of his experience to tell you you're doing all right, even when you think you're playing badly.
"I trust his instincts for the game and it's worked out really well. Ray's been a tremendous help to me."
And for those who think the mentor relationship may have run its course, the Rocket adds, "Ray is as hungry as I am to do well.
"He's as excited as ever about seeing me win . He doesn't travel with me to every tournament, but there's a good possibility we'll be featuring together again at the Welsh Open."
With six 147 breaks in competition and comparisons to Mozart from rival player Peter Ebdon, who ironically ended the Rocket's Crucible defence with more prosaic qualities last year, O'Sullivan has always had the cue mastery to surpass Stephen Hendry's record seven world titles.
But he goes to Sheffield this April aged 30, the same milestone at which Hendry claimed his last big one. O'Sullivan - to the surprise of everyone who marvelled at him winning the 1993 UK Championship as a 17-year-old - is still five short of matching Hendry's mark.
While his talent has never been in question, O'Sullivan's temperament has always been suspect. But with Reardon having made him a more durable match player, there is evidence the Rocket is embracing a new way of winning matches.
"The best games to win are the ones where you are not playing at your best but manage to grind out the victory," he said.
"Those are the ones that give you the most gratification. When you play well, you can often win matches without really thinking about it.
"But the matches where you are forced to think your way though the game are the most satisfying ones to win."
O'Sullivan nearly pulled one such a match out of the bag at last month's Masters at Wembley, but instead John Higgins came back one more time to pip him 10-9, his second final defeat to the Scot this season.
"I've reached a couple of finals and found John in good form," acknowledged the Essex man. "It would have been nice to win one, but it's good to see John back where he belongs after a few poor seasons by his standards.
"He's back playing really well now and, if I don't win it, he's got the best chance at this year's world championship.
"There's a lot of good players who can win it, but I think, on current form, we'd have to start as the favourites."
While Higgins has re-established himself towards the top end of snooker's rankings, Wales' Mark Williams has gone in the opposite direction.
World champion less than three years ago, Williams is in danger of falling out of the world's elite top 16 and playing qualifiers at Pontins in Pwllheli come the autumn.
"I'm really surprised by how long Mark's slump in form has gone on," said O'Sullivan, whose autobiography revealed there is little love lost between the two twice world champions.
"For a year or so I thought maybe he'd got a bit lazy, but I can't work out how he's struggled for two years or more.
"Mark seems too good a player not to come good before too long. He should never be fighting for a top-16 place.
"But it's amazing what a little bit of confidence can do in snooker. He could even go and win at Sheffield - he's got the pedigree and the bottle, when his game comes together, he's world class."
Tickets for the Welsh Open start at just £8 and rise to £25 for the concluding session of the final. Box office: 01633 656 757
CAN THE ROCKET FIRE A WELSH TREBLE?
Ronnie O'Sullivan will aim to make snooker history in March when he competes in the 2006 Welsh Open in Newport.
10 Dec 2005
No player has won the Welsh Open, or its predecessor the Welsh Professional Championship, three times in succession in the 28-year history of the event.
The Rocket will have the chance to do just that when he defends his title at the Newport Centre. The tournament runs from February 27 to March 5 and will be televised by BBC Wales.
World No 1 O'Sullivan won the 2004 title when he beat Steve Davis 9-8 in the final and he edged out another snooker legend, Stephen Hendry, by the same scoreline in last year's final.
"I was delighted to win my second Welsh Open. The fans at the Newport Centre are always brilliant and I'm looking forward to going back next year," said the sport's most naturally gifted player.
All of snooker's leading players will be aiming to take the title from O'Sullivan, including Hendry, Davis, John Higgins, world champion Shaun Murphy, Stephen Maguire and Jimmy White.
The home challenge will be led by Carmarthen's world No 4 Matthew Stevens and Cardiff's two-times world champion Mark Williams.
Stevens, a former UK and Masters champion, has already won the Northern Ireland Trophy and Pot Black Cup this season. Left-hander Williams will be aiming for his third Welsh Open title having lifted the trophy in 1996 and 1999.
Tickets for the tournament go on sale on Monday (December 12). They start at just £8 and rise to £25 for the concluding session of the final. For more details call the box office on 01633 656 757.