The 3 Ronnies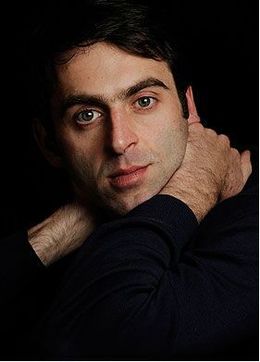 By DAVE MASTERS
Published: 30 Nov 2010
RONNIE O'SULLIVAN was only 16 when his dad Ronnie Snr was jailed for stabbing a man to death at a London nightclub.
The snooker prodigy had just turned professional and had to forge his career without his mentor.
It is fair to say he did a pretty good job - 18 years on, he has won 22 ranking titles including three World Snooker Championships.
But despite his success on the green baize, the former world No1 has struggled to come to terms with the fact his dad has been in jail through his career.
Ronnie Snr was recently released from HMP Sudbury, Derbys, and Ronnie met up with him last week to go for a run in Essex.
Ronnie, 34, has a family of his own now - Lily, four, and Ronnie Jnr, three, with girlfriend Jo Langley, 40, and daughter Taylor-Ann, 13, from a previous relationship.
And speaking exclusively to The Sun, the Rocket - famous for his lightning play around the table - revealed he is planning to slow life down as the "three Ronnies" get to know each other.
Ronnie said: "I won't change overnight. I've got used to my life over the last 20 years and I've adapted. I haven't known any different.
"I've got the same responsibilities to all my family that I've always had.
"I'm just trying to be strong. Playing professional snooker you learn to block everything out - and that's all I've done all my life.
"Today I feel content in myself, I've got my kids and my life how I want it.
"My life couldn't improve - that's why I'm trying to keep it all nice and cool at the moment."
Ronnie has praised his dad for moulding him into a snooker superstar.
He said in 2008: "Champions are made, not born. I give my dad credit because he made me what I am. Dad instilled in me how to be a winner.
"I think about his release all the time. I have thought about it every hour of every day since he was locked up."
Many pundits have blamed Ronnie Snr's absence for his son's temperamental personality. The Rocket has battled drink, drugs and depression over the years, leading some to poke fun at his Jekyll and Hyde character.
Despite the snipes, Ronnie says his up and down attitude is usually only about one thing - his snooker.
Speaking at the launch of the new social betting exchange Bettor.com shop in central London, Ronnie said: "People can read into my emotions what they like. A lot of my emotions depend on how I'm playing. If my game's not good, then I'm a little bit off key."
Ronnie Snr - who ran a Soho sex shop empire - may have missed seeing his gifted son lift a trophy but he wasn't forgotten. After his third World Snooker Championship win at the Crucible Theatre, Sheffield, in 2008, Ronnie - who was cheered on by his mum Maria - said: "The only one missing tonight was my dad. I love you dad."
So will Ronnie Snr be watching from the audience from now on?
Ronnie said: "He's his own person - but I'm going to be turning up."
The Rocket was back to his brilliant best at the weekend, regaining his Premier League crown from Shaun Murphy with a 7-1 thrashing in the final. It is the sixth time he has won the trophy in seven seasons. He picked up a Ł59,000 cheque to add to his Ł6million-plus career earnings.
Despite making a lucrative living from sport, Ronnie is fiercely critical of money-grabbing agents for driving footballers' wages sky-high in recent years.
But he believes some responsibility has to rest with the star players, who often sell out and agree to portray the "perfect" image in exchange for a quick - albeit huge - buck.
He said: "If someone says to a 17-year-old on Ł10,000-a-week, 'I can get you Ł50,000 around the corner' they're going to say, 'Oh really... '. It's the agents working the money. The players are going to take it.
"But these days it's big business, with huge companies like Nike, who obviously want people with good PR. They're told if they want to rake in money with these big companies you need to be seen in a certain light.
"I think to myself, 'If it ain't me, I don't want to live a lie'. You end up getting found out. I'd much rather have less money but be able to live my life and do what I like."
Ronnie clearly enjoys following this mantra. He is keeping himself fit by going for daily eight-mile runs around his home town of Chigwell, Essex, and is spending lots of time with Lily and Ronnie Jnr.
The Rocket racked up his first century break aged ten and hit his first 147 maximum at 15.
But even though he enjoyed incredible success at snooker from a very young age, Ronnie is determined to NOT let his son follow him into the sport.
Ronnie said: "I'd like to support my son but I really hope he doesn't take up snooker.
"I hope he tries tennis or golf. It's just more interesting. Not only that, you're out in the fresh air.
"Snooker can be anti-social. Sometimes I'm in a room on my own practising for three or four hours and I'm thinking to myself, 'Is this really that healthy?'
"It makes you more introverted. You live a solitary life and maybe don't mix as well as golfers and tennis players do. But I've been doing it for years and have learned to get my head around it.
"I'll carry on playing as long as I can, but it's a job at the end of the day and I have kids and a family.
"I've been doing it for 20 years now but I don't want to be playing snooker for the rest of my life.
"Maybe I'd try being a pundit, but not full-time. I'd turn up and give my opinion, Cliff Thorburn-style.
"But I'd have to watch my swearing - especially on the BBC. Luckily they've got a 20-second delay.
"I'm sure they can have somebody with their finger on the button."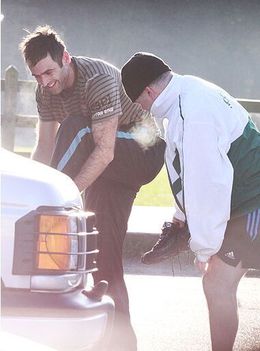 Ronnie on ….
... his dad Ronnie Snr's release from jail: "I've got used to my life over the last 20 years. It won't change."
... his own battle with depression: "I feel really content. My life's how I want it. It's cool."
... his son Ronnie Jnr's future: "I want him to take up tennis or golf. Anything but snooker."
________________________________________
1975 - born in Wordsley, West Midlands, December 5.
17 - age he becomes youngest player to win ranking tournament.
613 - number of 100 breaks.
16 - age he turned professional.
2001 - year he wins his first World Championship.
16 - age when his dad was jailed for murder.
12 - age when he wins his first pro-am tournament.
320 - seconds it took to achieve faster 147 ever, in 1997.
8 - current world ranking.