Shoot-Out*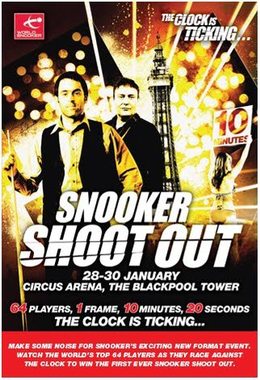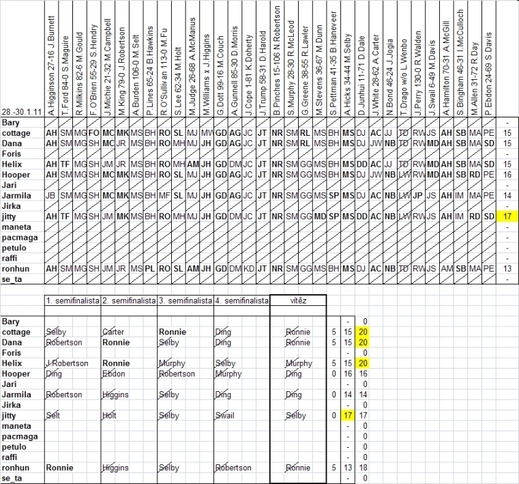 Match Schedule
The match schedule for the Snooker Shoot-Out is below.

There is only one table and matches will be played in the order they appear below. Each match is one frame, with a ten-minute time limit.
Friday, January 28
6pm start
Tony Drago w/o Liang Wenbo
Mark Allen 31-72 Ryan Day
Stephen Lee 62-34 Michael Holt
Nigel Bond 46-24 Joe Jogia
Stephen Hendry 29-55 Fergal O'Brien
Robert Milkins 82-6 Martin Gould
Andrew Higginson 27-16 Jamie Burnett
Tom Ford 84-0 Stephen Maguire
Ding Junhui 11-71 Dominic Dale
Jimmy White 28-62 Ali Carter
Michael Judge 26-68 Alan McManus
Mark Williams 0-93 John Higgins
Ronnie O'Sullivan 113-0 Marco Fu :-)
Peter Ebdon 24-69 Steve Davis
Jimmy Michie 21-32 Marcus Campbell
Mark King 79-0 Jimmy Robertson
Saturday, January 29
12pm start
Barry Pinches 15-106 Neil Robertson
Peter Lines 65-24 Barry Hawkins
Shaun Murphy 28-30 Rory McLeod
Alfie Burden 106-0 Matt Selt
Ricky Walden 0-130 Joe Perry
Judd Trump 58-31 Dave Harold
Graeme Dott 99-16 Matthew Couch
Jamie Cope 1-81 Ken Doherty
Adrian Gunnell 85-30 David Morris
Gerard Greene 38-55 Rod Lawler
Matthew Stevens 36-67 Mike Dunn
Stuart Pettman 41-35 Bjorn Haneveer
Joe Swail 6-49 Mark Davis
Andy Hicks 34-44 Mark Selby
Anthony Hamilton 70-31 Anthony McGill
Stuart Bingham 46-31 Ian McCulloch
6pm
All last 32 matches (a random draw for the last 32 will be made once the first round is completed).
1. Nigel Bond 96-0 Stephen Lee
2. Mark Davis 30-31 Judd Trump
3. Marcus Campbell 1-67 Andrew Higginson
4. Mike Dunn 66-59 Alfie Burden
5. Rob Milkins 54-9 Tom Ford
6. Stuart Bingham 37-34 Adrian Gunnell
7. Rory McLeod 61-57 Tony Drago
8. Mark Selby 89-6 Stuart Pettman
9. Peter Lines 54-47 John Higgins
10. Alan McManus 49-50 Neil Robertson
11. Rod Lawler 34-93 Ronnie O'Sullivan :-)
12. Ali Carter 48-57 Fergal O'Brien
13. Dominic Dale 15-52 Anthony Hamilton
14. Mark King 112-0 Steve Davis
15. Joe Perry 25-83 Ken Doherty
16. Ryan Day 53-40 Graeme Dott
Sunday, January 30
2pm
All last 16 matches
Fergal O'Brien 5-61 Mark King
Nigel Bond 47-45 Rory McLeod
Mike Dunn 52-6 Stuart Bingham
Peter Lines 37-39 Judd Trump
Robert Milkins 48-22 Ryan Day
Neil Robertson 63-13 Ken Doherty
Ronnie O'Sullivan 129-0 Mark Selby :-)
Anthony Hamilton 0-88 Marcus Campbell
7pm
Quarter-finals
Robert Milkins 50-27 Judd Trump
Mark King 23-29 Nigel Bond
Neil Robertson 49-57 Marcus Campbell
Ronnie O'Sullivan 94-14 Mike Dunn :-)
Semi-finals
Nigel Bond 55-14 Marcus Campbell
Robert Milkins 72-35 Ronnie O'Sullivan :-(
Final
Nigel Bond 58-23 Robert Milkins
O'Sullivan To Face Fu In Shoot-Out
www.worldsnooker.com
Ronnie O'Sullivan will meet Marco Fu in the first round of the Snooker Shoot-Out in Blackpool in January.
The random draw for the 64-man event took place ahead of the PartyCasino.com Premier League final in Norfolk.
Mark Williams and John Higgins will go head to head while another clash between two former World Champions will see Steve Davis take on Peter Ebdon.
Crowd favourite Jimmy White meets Ali Carter and quick-fire potter Tony Drago plays Liang Wenbo. Other ties to look out for include Jamie Cope against Ken Doherty, Neil Robertson against Barry Pinches and Mark Allen against Ryan Day.
The innovative one-frame knockout event runs from January 28 to 30 at the Circus Arena in Blackpool. The draw for each round will be random. Frames will last a maximum of ten minutes, with a 20 second shot-click for the first five minutes, and 15 seconds for the last five.
The match schedule and box office details will be announced shortly.
First round draw:
Andrew Higginson v Jamie Burnett
Tom Ford v Stephen Maguire
Robert Milkins v Martin Gould
Fergal O'Brien v Stephen Hendry
Jimmy Michie v Marcus Campbell
Mark King v Jimmy Robertson
Alfie Burden v Matthew Selt
Peter Lines v Barry Hawkins
Ronnie O'Sullivan v Marco Fu
Stephen Lee v Michael Holt
Michael Judge v Alan McManus
Mark Williams v John Higgins
Graeme Dott v Matthew Couch
Adrian Gunnell v David Morris
Jamie Cope v Ken Doherty
Judd Trump v Dave Harold
Barry Pinches v Neil Robertson
Shaun Murphy v Rory McLeod
Gerard Greene v Rod Lawler
Matthew Stevens v Mike Dunn
Stuart Pettman v Bjorn Haneveer
Andy Hicks v Mark Selby
Ding Junhui v Dominic Dale
Jimmy White v Ali Carter
Nigel Bond v Joe Jogia
Tony Drago v Liang Wenbo
Joe Perry v Ricky Walden
Joe Swail v Mark Davis
Anthony Hamilton v Anthony McGill
Stuart Bingham v Ian McCulloch
Mark Allen v Ryan Day
Peter Ebdon v Steve Davis