UK Championship 2010*
UK Championship 2010
The International Centre, Telford
4-12 December, 2010
Format of Play
Saturday, 4 December
12,30pm
1 - Ding Junhui 7-1 Matthew Stevens
2 - Mark Allen 5-3 Tom Ford
5 - Stephen Maguire 6-2 Ken Doherty
6 - Mark Selby 4-4 Ricky Walden
7 - Graeme Dott 3-5 Martin Gould
8 - John Higgins 4-4 Stephen Lee
15 - Peter Ebdon 4-4 Andrew Higginson
16 - Neil Robertson 7-1 Rory McLeod
not before 7pm
1* - Ding Junhui 9-4 Matthew Stevens
2* - Mark Allen 9-5 Tom Ford
5* - Stephen Maguire 9-6 Ken Doherty
6* - Mark Selby 9-6 Ricky Walden
Sunday, 5 December
12,30pm
7* - Graeme Dott 9-5 Martin Gould
8* - John Higgins 9-6 Stephen Lee
15* - Peter Ebdon 7-9 Andrew Higginson
16* - Neil Robertson 9-1 Rory McLeod
3 - Marco Fu 4-4 Barry Hawkins
9 - Ali Carter 4-4 Mark Joyce
11 - Stephen Hendry 4-4 Jimmy White
12 - Mark Williams 6-2 Mark Davis
not before 7pm
4 - Ronnie O'Sullivan 4-4 Stuart Bingham
10 - Jamie Cope 3-5 Judd Trump
13 - Shaun Murphy 5-3 Patrick Wallace
14 - Mark King 3-5 Ryan Day
Monday, 6 December
12,30pm
3* - Marco Fu 9-7 Barry Hawkins
9* - Ali Carter 6-9 Mark Joyce
11* - Stephen Hendry 9-8 Jimmy White
12* - Mark Williams 9-3 Mark Davis
4* - Ronnie O'Sullivan 6-9 Stuart Bingham :-(
10* - Jamie Cope 6-9 Judd Trump
13* - Shaun Murphy 9-5 Patrick Wallace
14* - Mark King 8-9 Ryan Day
not before 7pm
17 - Ding Junhui 2-6 Mark Allen
19 - Stephen Maguire 5-3 Mark Selby
20 - Graeme Dott 4-4 John Higgins
24 - Andrew Higginson 1-7 Neil Robertson
Tuesday, 7 December
12,30pm
18 - Marco Fu 2-6 Stuart Bingham
21 - Mark Joyce 5-3 Judd Trump
22 - Stephen Hendry 5-3 Mark Williams
23 - Shaun Murphy 5-3 Ryan Day
17* - Ding Junhui 8-9 Mark Allen
19* - Stephen Maguire 9-7 Mark Selby
20* - Graeme Dott 8-9 John Higgins
24* - Andrew Higginson 5-9 Neil Robertson
not before 7pm
18* - Marco Fu 2-9 Stuart Bingham
21* - Mark Joyce 9-7 Judd Trump
22* - Stephen Hendry 6-9 Mark Williams
23* - Shaun Murphy 9-8 Ryan Day
Wednesday, 8 December
1,30pm
QF1 - Mark Allen 5-3 Stuart Bingham
QF2 - Stephen Maguire 3-5 John Higgins
7pm
QF1* - Mark Allen 9-7 Stuart Bingham
QF2* - Stephen Maguire 7-9 John Higgins
Thursday, 9 December
12,30pm
QF3 - Mark Joyce 4-4 Mark Williams
QF4 - Shaun Murphy 4-4 Neil Robertson
7,00pm
QF3* - Mark Joyce 7-9 Mark Williams
QF4* - Shaun Murphy 9-7 Neil Robertson
Friday, 10 December
12,30pm
SF1 - Mark Allen 4-4 John Higgins
7pm
SF1* - Mark Allen 5-9 John Higgins
Saturday, 11 December
1,00pm
SF2 - Shaun Murphy 3-5 Mark Williams
7pm
SF2* - Shaun Murphy 8-9 Mark Williams
Sunday, 12 December
2pm and 8pm - Final
John Higgins 2-6 Mark Williams
John Higgins 10-9 Mark Williams
* denotes final session of match
From 4-7 December 2010 all matches are played on a roll on/roll off basis. Play will start at the allocated time each day with a 15 minute interval between matches. The 5th, 6th, 7th and 8th match each day will not start before 2pm. Evening session each day will not start before the time indicated on the format.
Order of play and table numbers for all matches up to the quarter-finals will be determined the day before and published by the Tournament Director.
All matches up to and including Semi Finals – best of 17 frames (8/9), Final – best of 19 frames (8/11).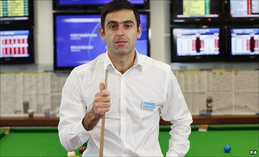 Ronnie O'Sullivan set to sacrifice ranking for family
30 November 2010
www.bbc.co.uk
UK Snooker Championship
Venue: Telford International Centre Date: 4-12 December
Coverage: Live action and highlights on BBC Two; updates and reports on BBC Radio 5 live and this website
________________________________________
Ronnie O'Sullivan has told the BBC that he will continue to miss snooker events in order to spend time with his family - even if he drops down the rankings.
The three-time world champion, 34, did not defend his Shanghai crown in September for that same reason.
"I'm a single parent and I'm not going to be taking them around the world to events to win ranking points," he told BBC Radio 5 live in a frank interview.
"I might slide down the rankings but at least I will have peace of mind."
He added that as a result of a court judgement involving his former partner in the past year, he made the decision to sacrifice playing in some events for his children Lily and Ronnie.
"If I had an understanding ex-missus [girlfriend] then it may have been different [regarding playing in tournaments] but she said I have to have the kids a during certain periods," added the player nicknamed The Rocket.
But speaking ahead of the UK Championship in Telford, which begins on 4 December, the current world number eight said the he was now "content" after what he has described as a difficult period.
"It has been stressful and it has cost a lot of money," he continued.
"It didn't seem fair but that's the way the system is and I fought for a year to see my kids - fought so hard. They stay Friday, Saturday and Sunday with me and then I drop them off.
"If you have children then you know the love you have for children - it's much stronger than a game of snooker, so I'm pretty content."
And regarding his current world ranking, the former world number one remained philosophical.
"I'm not bothered by rankings," he added. "I've won the world title three times, four Masters titles and four UKs. If it all ended tomorrow, I'll know I've had a great career."
With his father having been released from prison recently and practice sessions going well, O'Sullivan said he is mentally prepared to challenge for what would be a fifth UK title.
"I've had four fantastic wins," said the Essex player.
"It's where my career started off. I beat Stephen Hendry in 1993 to win my first UK and ranking title. No-one had heard of me - I was only 17. I'll always have great memories of the UK." (I doubt it after UK 2010 – note of webmaster)
Bingham Springs O'Sullivan Shock
www.worldsnooker.com
6 December, 2010
Stuart Bingham sent four-times winner Ronnie O'Sullivan crashing out of the 12BET.com UK Championship by a 9-6 scoreline in Telford.
World No 23 Bingham won the last five frames for a shock victory over his fellow Essex cueman and is rewarded with a last 16 tie against Marco Fu.
O'Sullivan, watched by his father Ronnie Snr, played superbly to win the Premier League just eight days ago, but his form deserted him in the closing stages today.
He won the first two frames today with breaks of 62 and 77, but made a series of mistakes in the next five and Bingham ran through them with top runs of 40, 45, 44 and 48.
"I was just second to the punch all day and felt as if I was being bullied around the table," admitted O'Sullivan, who now faces the possibility of dropping out of the top eight of the world rankings.
"I was second to Stuart in every department. He's played in all of the PTC events and I haven't so he was a lot sharper than me. I've got no divine right to turn up to a tournament and expect to play well."
Bingham, who had lost his three previous meetings with O'Sullivan, said: "It's surreal because yesterday I played really well and finished up 4-4, and today I felt anxious and didn't play half as well but I've ended up winning. I thought if I beat Ronnie I'd be doing a Peter Ebdon and shouting 'come on!' but it doesn't feel like that now.
"At 6-6 I could see he was annoyed with himself and he started throwing his arm at shots. I knew it was my chance to beat him.
"In the past I've been an under-achiever and my head has been in bits, partly because of things that have happened off the table. I recently got engaged and feel very happy, which has helped my snooker."
Bingham also revealed that he fired himself up for the match with thoughts of what he perceives as a lack of etiquette at the table from O'Sullivan.
"When you fluke a ball or fluke a snooker, 99 out of 100 players apologise to their opponent, but Ronnie doesn't do that," added Bingham. "Before the match I said to my manager that if I get a fluke and say sorry, he can slap me round the face. A couple of times in the match Ronnie fluked a ball and never said a word.
"We used to practise together, he would text me and ask if I wanted a game. But he hasn't texted me for nearly a year."
Shaun Murphy, champion here two years ago, saw off Patrick Wallace 9-5, winning four of the six frames today with breaks of 60, 56 and 71.
"I said at the start of the PTC series that the standard of play would go through the roof because we're playing so much more, and that is starting to permeate through now," said Murphy. "Stuart beating Ronnie is not that much of a shock."
Ryan Day gained much-needed ranking points with a 9-8 defeat of Mark King. Welshman Day made an 80 to go 8-8 then edged the decider 59-53 on the final black.
The format for the UK Championship qualifiers is below.
Tuesday 23 November 2010
10.00 am
1 - Paul Davies 5-3 Patrick Einsle
2 - Liam Highfield 5-3 Kuldesh Johal
3 - Jamie Jones 6-2 Dermot McGlinchey
4 - Andrew Pagett 7-1 Noppon Saengkham
5 - Ben Woollaston 6-2 Thanawat Thirapongpa
6 - Igor Figueiredo 1-4 Liu Chuang
2.30 pm
7 - James Wattana 5-3 Kurt Maflin
8 - David Gilbert 5-3 Issara Kachaiwong
9 - Mark Joyce 5-3 Jak Jones
10 - Xiao Guodong 7-1 Reanne Evans
7.00 pm
1* - Paul Davies 9-7 Patrick Einsle
2* - Liam Highfield 9-7 Kuldesh Johal
3* - Jamie Jones 9-4 Dermot McGlinchey
4* - Andrew Pagett 9-2 Noppon Saengkham
5* - Ben Woollaston 9-2 Thanawat Thirapongpa
6* - Igor Figueiredo 4-9 Liu Chuang
Wednesday 24 November 2010
10.00 am
11 - Joe Delaney 2-6 Adam Wicheard
12 - James McBain 6-2 Simon Bedford
13 - Patrick Wallace 7-1 Jamie O'Neil
14 - Michael White 4-4 Justin Astley
15 - Jack Lisowski 6-2 Zhang Anda
16 - Kyren Wilson 5-3 Paul S. Davison
2.30 pm
7* - James Wattana 9-4 Kurt Maflin
8* - David Gilbert 9-3 Issara Kachaiwong
9* - Mark Joyce 9-7 Jak Jones
10* - Xiao Guodong 9-1 Reanne Evans
7.00 pm
11* - Joe Delaney 3-9 Adam Wicheard
12* - James McBain 8-9 Simon Bedford
13* - Patrick Wallace 9-4 Jamie O'Neil
14* - Michael White 9-6 Justin Astley
15* - Jack Lisowski 9-4 Zhang Anda
16* - Kyren Wilson 9-6 Paul S. Davison
Thursday 25 November 2010
10.00 am
17 - Matt Couch 4-4 Paul Davies
18 - Tony Drago 6-2 Liam Highfield
19 - Joe Jogia 2-6 Jamie Jones
20 - Peter Lines 3-5 Andrew Pagett
21 - Rod Lawler 6-2 Ben Woollaston
22 - Jimmy Michie 3-5 Liu Chuang
2.30 pm
27 - Jimmy White 7-1 Adam Wicheard
28 - Bjorn Haneveer 4-4 Simon Bedford
29 - Anthony McGill 3-3 Patrick Wallace
30 - David Morris 2-6 Michael White
7.00 pm
17* - Matt Couch 9-8 Paul Davies
18* - Tony Drago 9-4 Liam Highfield
19* - Joe Jogia 6-9 Jamie Jones
20* - Peter Lines 9-8 Andrew Pagett
21* - Rod Lawler 9-3 Ben Woollaston
22* - Jimmy Michie 5-9 Liu Chuang
Friday 26 November 2010
10.00 am
23 - Jimmy Robertson 4-4 James Wattana
24 - Andy Hicks 5-3 David Gilbert
25 - Alfie Burden 3-5 Mark Joyce
26 - Michael Judge 1-4 Xiao Guodong
31 - Matthew Selt 4-4 Jack Lisowski
32 - Ian McCulloch 4-4 Kyren Wilson
2.30 pm
27* - Jimmy White 9-1 Adam Wicheard
28* - Bjorn Haneveer 4-9 Simon Bedford
29* - Anthony McGill 4-9 Patrick Wallace
30* - David Morris 3-9 Michael White
7.00 pm
23* - Jimmy Robertson 6-9 James Wattana
24* - Andy Hicks 8-9 David Gilbert
25* - Alfie Burden 7-9 Mark Joyce
26* - Michael Judge 1-9 Xiao Guodong
31* - Matthew Selt 9-8 Jack Lisowski
32* - Ian McCulloch 8-9 Kyren Wilson
Saturday 27 November 2010
No Play - table recovers
Sunday 28 November 2010
10.00 am
35 - Fergal O'Brien 5-3 Jamie Jones
36 - Nigel Bond 4-3 Peter Lines
37 - Anthony Hamilton 1-5 Rod Lawler
38 - Alan McManus 3-5 Liu Chuang
39 - Dave Harold 2-6 James Wattana
40 - Barry Pinches 3-5 David Gilbert
2.30 pm
33 - Robert Milkins 5-3 Matt Couch
34 - Tom Ford 4-4 Tony Drago
47 - Dominic Dale 5-3 Matthew Selt
48 - Rory McLeod 4-4 Kyren Wilson
7.00 pm
35* - Fergal O'Brien 9-4 Jamie Jones
36* - Nigel Bond 7-9 Peter Lines
37* - Anthony Hamilton 3-9 Rod Lawler
38* - Alan McManus 5-9 Liu Chuang
39* - Dave Harold 4-9 James Wattana
40* - Barry Pinches 4-9 David Gilbert
Monday 29 November 2010
10.00 am
41 - Marcus Campbell 3-5 Mark Joyce
42 - Stuart Pettman 4-4 Xiao Guodong
43 - Adrian Gunnell 2-6 Jimmy White
44 - Joe Swail 6-2 Simon Bedford
45 - Michael Holt 3-5 Patrick Wallace
46 - Jamie Burnett 4-4 Michael White
2.30 pm
33* - Robert Milkins 9-4 Matt Couch
34* - Tom Ford 9-6 Tony Drago
47* - Dominic Dale 9-6 Matthew Selt
48* - Rory McLeod 9-4 Kyren Wilson
7.00 pm
41* - Marcus Campbell 8-9 Mark Joyce
42* - Stuart Pettman 5-9 Xiao Guodong
43* - Adrian Gunnell 4-9 Jimmy White
44* - Joe Swail 9-2 Simon Bedford
45* - Michael Holt 4-9 Patrick Wallace
46* - Jamie Burnett 9-6 Michael White
Tuesday 30 November 2010
10.00 am
49 - Matthew Stevens 4-4 Robert Milkins
50 - Gerard Greene 2-6 Tom Ford
55 - Martin Gould 4-4 James Wattana
56 - Stephen Lee 5-3 David Gilbert
57 - Steve Davis 2-6 Mark Joyce
58 - Judd Trump 4-4 Xiao Guodong
2.30 pm
51 - Barry Hawkins 6-2 Fergal O'Brien
52 - Stuart Bingham 5-3 Peter Lines
53 - Ken Doherty 5-3 Rod Lawler
54 - Ricky Walden x Liu Chuang
7.00 pm
49* - Matthew Stevens 9-4 Robert Milkins
50* - Gerard Greene 2-9 Tom Ford
55* - Martin Gould 9-8 James Wattana
56* - Stephen Lee 9-4 David Gilbert
57* - Steve Davis 2-9 Mark Joyce
58* - Judd Trump 9-7 Xiao Guodong
Wednesday 1 December 2010
10.00 am
59 - Joe Perry 2-6 Jimmy White
60 - Mark Davis 7-1 Joe Swail
61 - Mike Dunn 1-7 Patrick Wallace
62 - Ryan Day 4-4 Jamie Burnett
63 - Andrew Higginson 3-5 Dominic Dale
64 - Liang Wenbo 3-5 Rory McLeod
2.30 pm
51* - Barry Hawkins 9-3 Fergal O'Brien
52* - Stuart Bingham 9-4 Peter Lines
53* - Ken Doherty 9-7 Rod Lawler
54* - Ricky Walden 9-8 Liu Chuang
7.00 pm
59* - Joe Perry 7-9 Jimmy White
60* - Mark Davis 9-7 Joe Swail
61* - Mike Dunn 1-9 Patrick Wallace
62* - Ryan Day 9-5 Jamie Burnett
63* - Andrew Higginson 9-6 Dominic Dale
64* - Liang Wenbo 6-9 Rory McLeod
All matches are the best of 17 frames (8/9)
*denotes final session of match