UK Championship 2010
UK Championship 2010
The International Centre, Telford
4.-12. prosince, 2010
Rozpis zápasů
Sobota, 4. prosince
13,30
1 - Ding Junhui 7-1 Matthew Stevens
2 - Mark Allen 5-3 Tom Ford
5 - Stephen Maguire 6-2 Ken Doherty
6 - Mark Selby 4-4 Ricky Walden
7 - Graeme Dott 3-5 Martin Gould
8 - John Higgins 4-4 Stephen Lee
15 - Peter Ebdon 4-4 Andrew Higginson
16 - Neil Robertson 7-1 Rory McLeod
ne před 20,00
1* - Ding Junhui 9-4 Matthew Stevens
2* - Mark Allen 9-5 Tom Ford
5* - Stephen Maguire 9-6 Ken Doherty
6* - Mark Selby 9-6 Ricky Walden
Neděle, 5. prosince
13,30
7* - Graeme Dott 9-5 Martin Gould
8* - John Higgins 9-6 Stephen Lee
15* - Peter Ebdon 7-9 Andrew Higginson
16* - Neil Robertson 9-1 Rory McLeod
3 - Marco Fu 4-4 Barry Hawkins
9 - Ali Carter 4-4 Mark Joyce
11 - Stephen Hendry 4-4 Jimmy White
12 - Mark Williams 6-2 Mark Davis
ne před 20,00
4 - Ronnie O'Sullivan 4-4 Stuart Bingham
10 - Jamie Cope 3-5 Judd Trump
13 - Shaun Murphy 5-3 Patrick Wallace
14 - Mark King 3-5 Ryan Day
Pondělí, 6. prosince
13,30
3* - Marco Fu 9-7 Barry Hawkins
9* - Ali Carter 6-9 Mark Joyce
11* - Stephen Hendry 9-8 Jimmy White
12* - Mark Williams 9-3 Mark Davis
4* - Ronnie O'Sullivan 6-9 Stuart Bingham :-(
10* - Jamie Cope 6-9 Judd Trump
13* - Shaun Murphy 9-5 Patrick Wallace
14* - Mark King 8-9 Ryan Day
ne před 20,00
17 - Ding Junhui 2-6 Mark Allen
19 - Stephen Maguire 5-3 Mark Selby
20 - Graeme Dott 4-4 John Higgins
24 - Andrew Higginson 1-7 Neil Robertson
Úterý, 7. prosince
13,30
18 - Marco Fu 2-6 Stuart Bingham
21 - Mark Joyce 5-3 Judd Trump
22 - Stephen Hendry 5-3 Mark Williams
23 - Shaun Murphy 5-3 Ryan Day
17* - Ding Junhui 8-9 Mark Allen
19* - Stephen Maguire 9-7 Mark Selby
20* - Graeme Dott 8-9 John Higgins
24* - Andrew Higginson 5-9 Neil Robertson
ne před 20,00
18* - Marco Fu 2-9 Stuart Bingham
21* - Mark Joyce 9-7 Judd Trump
22* - Stephen Hendry 6-9 Mark Williams
23* - Shaun Murphy 9-8 Ryan Day
Středa, 8. prosince
14,30
QF1 - Mark Allen 5-3 Stuart Bingham
QF2 - Stephen Maguire 3-5 John Higgins
20,00
QF1* - Mark Allen 9-7 Stuart Bingham
QF2* - Stephen Maguire 7-9 John Higgins
Čtvrtek, 9. prosince
13,30
QF3 - Mark Joyce 4-4 Mark Williams
QF4 - Shaun Murphy 4-4 Neil Robertson
20,00
QF3* - Mark Joyce 7-9 Mark Williams
QF4* - Shaun Murphy 9-7 Neil Robertson
Pátek, 10. prosince
13,30
SF1 - Mark Allen 4-4 John Higgins
20,00
SF1* - Mark Allen 5-9 John Higgins
Sobota, 11 prosince
14,00
SF2 - Shaun Murphy 3-5 Mark Williams
20,00
SF2* - Shaun Murphy 8-9 Mark Williams
Neděle, 12. prosince
15,00 a 21,00 - finále
John Higgins 2-6 Mark Williams
John Higgins 10-9 Mark Williams
* označuje závěrečnou část zápasu
Od 4. do 7. prosince budou všechny zápasy hrány za sebou. Zápasy začnou podle rozpisu a mezi zápasy bude 15ti minutová pauza. 5., 6., 7. a 8. prosince nezačnou zápasy před 15,00. Večerní části nezačnou před časem uvedeným v rozpise.
Pořadí zápasů a čísla stolů pro všechny zápasy až do čtvrtfinále budou upřesněny den předem a zveřejněny turnajovým ředitelem.
Všechny zápasy až do a včetně semifinále budou hrány na best of 17 framů (8/9) a finále na best of 19 (8/11).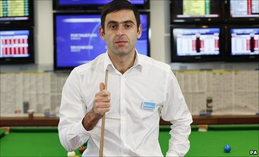 Ronnie O'Sullivan je připraven obětovat postavení v žebříčku kvůli rodině
30. listopadu, 2010
www.bbc.co.uk
UK Snooker Championship
Místo: Telford International Centre
Datum: 4.-12. prosince
Ronnie O'Sullivan řekl pro BBC, že bude pokračovat ve vynechávání snookerových akcí, aby mohl trávit více času se svou rodinou – i když to bude znamenat pád v žebříčku.
Trojnásobný mistr světa, 34letý, neobhajoval ze stejného důvodu svůj titul v září v Shanghai.
"Jsem svobodný otec a nebudu je vozit po celém světě s sebou na akce, abych vyhrával body," řekl Rádiu 5 BBC v upřímném rozhovoru.
"Možná lehce spadnu v žebříčku, ale budu mít klid na duši."
Dodal, že z důvodu rozhodnutí soudu, na který se jeho partnerka obrátila vloni, se rozhodl obětovat hraní na některých akcích kvůli svým dětem Lily a Ronnie.
"Kdybych mě chápavou ex-přítelkyni, pak by to mohlo být jiné (co se týče hraní na turnajích), ale řekla, že musím mít děti u sebe v určitých obdobích," dodal hráč s přezdívkou Raketa.
Ale když mluví o UK Championship v Telfordu, který začíná 4. prosince, současná světová osmička řekla, že je nyní spokojený poté, co popsal jako složité období.
"Bylo to stresující a stálo to spoustu peněz," pokračoval
"Nevypadalo to fér, ale takový je systém a já rok bojoval o možnost vídat své děti – tvrdě bojoval. Od pátku do neděle budou se mnou a pak je vrátím."
"Když máte děti, pak znáte tu lásku, co k nim cítíte – je mnohem silnější, než láska ke snookeru, takže jsem opravdu spokojený."
A co se týče jeho současného postavení v žebříčku, bere to bývalá jednička filozoficky.
"Nezajímá mě žebříček," dodal. "Třikrát jsem vyhrál mistrovství světa, 4x Masters a 4x UK Championship. Kdyby to zítra skončilo, budu vědět, že jsem měl skvělou kariéru."
Vzhledem k nedávnému propuštění jeho otce z vězení a dobré tréninkové sezóny, řekl O'Sullivan, že je psychicky připraven na výzvu, kterou by mohl být 5. titul UK Championship.
"Uhrál jsem tam 4 fantastická vítězství," řekl hráč z Essexu.
"Tam moje kariéra začala. Porazil jsem v roce 1993 Stephena Hendryho a získal první titul UK a také bodovaný titul. Nikdo mě neznal – bylo mi teprve 17. Vždycky budu mít na UK skvělé vzpomínky." (o tom dost pochybuji po UK 2010 – pozn. webmastera)
Bingham šokoval O'Sullivana
6. prosince, 2010
www.worldsnooker.com
Stuart Bingham poslal 4násobného vítěze Ronnie O'Sullivana z 12BET.com UK Champiosnhipu v Telfordu domů poměrem 6-9.
Světová 23ka Bingham vyhrál posledních 5 framů a neočekávaně zvítězil nad svým krajanem z Essexu a vysloužil si v posledních 16ti souboj s Marco Fu.
O'Sullivan, sledovaný svým otcem Ronnie Snr., předvedl před 8mi dny skvělou hru, když vyhrál Premier League, ale jeho forma mu zmizela v dnešní závěrečné fázi utkání.
Vyhrál první 2 framy dnešní části náběhy 62 a 77, ale v dalších 5ti udělal sérii chyb a Bingham se jimi prohnal náběhy 40, 45, 44 a 48.
"Dneska jsem prostě ve všem zaostával a cítil jsem se, jak kdyby mě někdo u stolu týral," připustil O'Sullivan, který nyní čelí možnosti vypadnutí z top osmičky světového žebříčku.
"Zaostával jsem za Stuartem ve všem. Hrál na všech akcích PTC a já ne, takže byl mnohem rozehranější, než já. Neměl jsem žádné boží právo jít do turnaje a očekávat, že budu hrát dobře."
Bingham, který ve všech třech předchozích utkáních s O'Sullivanem prohrál, řekl: "Je to neskutečné, protože včera jsem hrál opravdu dobře a skončilo to 4-4 a dneska jsem byl nervózní a nehrál jsem ani zpoloviny tak dobře a skončilo to výhrou. Myslel jsem si, že když Ronnieho porazím, tak to udělám jako Peter Ebdon a budu křičet "come on", ale teď se tak necítím."
"Za stavu 6-6 jsem viděl, že je sám sebou otrávený a začal ve strcích házet rukou. Věděl jsem, že to je moje šance ho porazit."
"V minulosti jsem byl outsider a měl jsem to v hlavě, částečně i kvůli soukromému životu. Nedávno jsem se zasnoubil a cítím se šťastný, což pomohlo i mé hře."
Bingham také odhalil, že do utkání nastoupil s myšlenkami na to, co vnímá jako O'Sullivanův nedostatek etikety u stolu.
"Když zahrajete šťastnou kouli nebo snooker, 99 hráčů ze 100 se svému soupeři omluví, ale Ronnie to nedělá," dodal Bingham. "Před zápasem jsem řekl svému manažerovi, že jestli zahraju šťastnou kouli a řeknu "sorry", tak ať mi nafackuje. Párkrát za zápas Ronnie šťastnou kouli zahrál a nikdy neřekl ani slovo."
"Byli jsme zvyklí spolu trénovat, napsal mi sms a zeptal se, jestli si chci zahrát. Ale už mi nenapsal asi rok."
Shaun Murphy, který tady vyhrál před dvěma lety, odepsal Patricka Wallace 9-5, když vyhrál 4 z dnešních 6ti framů breaky 60, 56 a 71.
"Na začátku série PTC jsem řekl, že standard hry se rapidně zvýší, protože budeme hrát tak často a teď se to začíná projevovat," řekl Murphy. "Porážka Ronnieho od Stuarta tak není až tak šokující."
Ryan Day získal tolik potřebné body do žebříčku porážkou Marka Kinga 9-8. Velšan Day nahrál 80 bodů a srovnal na 8-8 a rozhodující frame vyhrál na černé poměrem 59-53.
Níže máte rozpis zápasů kvalifikace na UK Championship.
Úterý, 23. listopadu 2010
11,00
1 - Paul Davies 5-3 Patrick Einsle
2 - Liam Highfield 5-3 Kuldesh Johal
3 - Jamie Jones 6-2 Dermot McGlinchey
4 - Andrew Pagett 7-1 Noppon Saengkham
5 - Ben Woollaston 6-2 Thanawat Thirapongpa
6 - Igor Figueiredo 1-4 Liu Chuang
15,30
7 - James Wattana 5-3 Kurt Maflin
8 - David Gilbert 5-3 Issara Kachaiwong
9 - Mark Joyce 5-3 Jak Jones
10 - Xiao Guodong 7-1 Reanne Evans
20,00
1* - Paul Davies 9-7 Patrick Einsle
2* - Liam Highfield 9-7 Kuldesh Johal
3* - Jamie Jones 9-4 Dermot McGlinchey
4* - Andrew Pagett 9-2 Noppon Saengkham
5* - Ben Woollaston 9-2 Thanawat Thirapongpa
6* - Igor Figueiredo 4-9 Liu Chuang
Středa, 24. listopadu 2010
11,00
11 - Joe Delaney 2-6 Adam Wicheard
12 - James McBain 6-2 Simon Bedford
13 - Patrick Wallace 7-1 Jamie O'Neil
14 - Michael White 4-4 Justin Astley
15 - Jack Lisowski 6-2 Zhang Anda
16 - Kyren Wilson 5-3 Paul S. Davison
15,30
7* - James Wattana 9-4 Kurt Maflin
8* - David Gilbert 9-3 Issara Kachaiwong
9* - Mark Joyce 9-7 Jak Jones
10* - Xiao Guodong 9-1 Reanne Evans
20,00
11* - Joe Delaney 3-9 Adam Wicheard
12* - James McBain 8-9 Simon Bedford
13* - Patrick Wallace 9-4 Jamie O'Neil
14* - Michael White 9-6 Justin Astley
15* - Jack Lisowski 9-4 Zhang Anda
16* - Kyren Wilson 9-6 Paul S. Davison
Čtvrtek, 25. listopadu 2010
11,00
17 - Matt Couch 4-4 Paul Davies
18 - Tony Drago 6-2 Liam Highfield
19 - Joe Jogia 2-6 Jamie Jones
20 - Peter Lines 3-5 Andrew Pagett
21 - Rod Lawler 6-2 Ben Woollaston
22 - Jimmy Michie 3-5 Liu Chuang
15,30
27 - Jimmy White 7-1 Adam Wicheard
28 - Bjorn Haneveer 4-4 Simon Bedford
29 - Anthony McGill 3-3 Patrick Wallace
30 - David Morris 2-6 Michael White
20,00
17* - Matt Couch 9-8 Paul Davies
18* - Tony Drago 9-4 Liam Highfield
19* - Joe Jogia 6-9 Jamie Jones
20* - Peter Lines 9-8 Andrew Pagett
21* - Rod Lawler 9-3 Ben Woollaston
22* - Jimmy Michie 5-9 Liu Chuang
Pátek, 26. listopadu 2010
11,00
23 - Jimmy Robertson 4-4 James Wattana
24 - Andy Hicks 5-3 David Gilbert
25 - Alfie Burden 3-5 Mark Joyce
26 - Michael Judge 1-4 Xiao Guodong
31 - Matthew Selt 4-4 Jack Lisowski
32 - Ian McCulloch 4-4 Kyren Wilson
15,30
27* - Jimmy White 9-1 Adam Wicheard
28* - Bjorn Haneveer 4-9 Simon Bedford
29* - Anthony McGill 4-9 Patrick Wallace
30* - David Morris 3-9 Michael White
20,00
23* - Jimmy Robertson 6-9 James Wattana
24* - Andy Hicks 8-9 David Gilbert
25* - Alfie Burden 7-9 Mark Joyce
26* - Michael Judge 1-9 Xiao Guodong
31* - Matthew Selt 9-8 Jack Lisowski
32* - Ian McCulloch 8-9 Kyren Wilson
Sobota, 27. listopadu 2010
Žádné zápasy - obnova stolů
Neděle, 28. listopadu 2010
11,00
35 - Fergal O'Brien 5-3 Jamie Jones
36 - Nigel Bond 4-3 Peter Lines
37 - Anthony Hamilton 1-5 Rod Lawler
38 - Alan McManus 3-5 Liu Chuang
39 - Dave Harold 2-6 James Wattana
40 - Barry Pinches 3-5 David Gilbert
15,30
33 - Robert Milkins 5-3 Matt Couch
34 - Tom Ford 4-4 Tony Drago
47 - Dominic Dale 5-3 Matthew Selt
48 - Rory McLeod 4-4 Kyren Wilson
20,00
35* - Fergal O'Brien 9-4 Jamie Jones
36* - Nigel Bond 7-9 Peter Lines
37* - Anthony Hamilton 3-9 Rod Lawler
38* - Alan McManus 5-9 Liu Chuang
39* - Dave Harold 4-9 James Wattana
40* - Barry Pinches 4-9 David Gilbert
Pondělí, 29. listopadu 2010
11,00
41 - Marcus Campbell 3-5 Mark Joyce
42 - Stuart Pettman 4-4 Xiao Guodong
43 - Adrian Gunnell 2-6 Jimmy White
44 - Joe Swail 6-2 Simon Bedford
45 - Michael Holt 3-5 Patrick Wallace
46 - Jamie Burnett 4-4 Michael White
15,30
33* - Robert Milkins 9-4 Matt Couch
34* - Tom Ford 9-6 Tony Drago
47* - Dominic Dale 9-6 Matthew Selt
48* - Rory McLeod 9-4 Kyren Wilson
20,00
41* - Marcus Campbell 8-9 Mark Joyce
42* - Stuart Pettman 5-9 Xiao Guodong
43* - Adrian Gunnell 4-9 Jimmy White
44* - Joe Swail 9-2 Simon Bedford
45* - Michael Holt 4-9 Patrick Wallace
46* - Jamie Burnett 9-6 Michael White
Úterý, 30. listopadu 2010
11,00
49 - Matthew Stevens 4-4 Robert Milkins
50 - Gerard Greene 2-6 Tom Ford
55 - Martin Gould 4-4 James Wattana
56 - Stephen Lee 5-3 David Gilbert
57 - Steve Davis 2-6 Mark Joyce
58 - Judd Trump 4-4 Xiao Guodong
15,30
51 - Barry Hawkins 6-2 Fergal O'Brien
52 - Stuart Bingham 5-3 Peter Lines
53 - Ken Doherty 5-3 Rod Lawler
54 - Ricky Walden 4-4 Liu Chuang
20,00
49* - Matthew Stevens 9-4 Robert Milkins
50* - Gerard Greene 2-9 Tom Ford
55* - Martin Gould 9-8 James Wattana
56* - Stephen Lee 9-4 David Gilbert
57* - Steve Davis 2-9 Mark Joyce
58* - Judd Trump 9-7 Xiao Guodong
Středa, 1. prosince 2010
11,00
59 - Joe Perry 2-6 Jimmy White
60 - Mark Davis 7-1 Joe Swail
61 - Mike Dunn 1-7 Patrick Wallace
62 - Ryan Day 4-4 Jamie Burnett
63 - Andrew Higginson 3-5 Dominic Dale
64 - Liang Wenbo 3-5 Rory McLeod
15,30
51* - Barry Hawkins 9-3 Fergal O'Brien
52* - Stuart Bingham 9-4 Peter Lines
53* - Ken Doherty 9-7 Rod Lawler
54* - Ricky Walden 9-8 Liu Chuang
20,00
59* - Joe Perry 7-9 Jimmy White
60* - Mark Davis 9-7 Joe Swail
61* - Mike Dunn 1-9 Patrick Wallace
62* - Ryan Day 9-5 Jamie Burnett
63* - Andrew Higginson 9-6 Dominic Dale
64* - Liang Wenbo 6-9 Rory McLeod
Všechny zápasy budou hrány na best of 17 framů (8/9)
*označuje závěrečnou část zápasu