Malta Cup 2006 A
Schedule and results of matches
EXCLUSIVE: DRUNKEN SNOOKER STARS IN JET SHAME
7 February 2006
Champions Higgins and Doherty kicked off flight home after all-night bender
By Pete Samson
SNOOKER stars Ken Doherty and John Higgins were booted off a plane yesterday when they turned up drunk after an all-night boozing session.
The friends went on a bender together after Doherty, 36, beat Higgins, 30, in the Malta Cup final.
They spent all Sunday night drinking then went straight to Valletta airport for the 7.15am flight back to London.
But passengers complained they were drunk and rude. Airport security staff accused Higgins of being "nasty and abusive".
Police warned them about their behaviour before they got on the Air Malta plane. A passenger then complained to cabin crew and the captain ordered them and an aide off the flight.
They returned to the airport in the afternoon after spending the day sobering up and caught a 3.50pm KLM service back to Heathrow.
Yesterday Higgins said: "It's perfectly reasonable for the captain to be thinking about the safety of his passengers but I honestly thought we were fine."
One passenger said: "John had obviously had a fair amount to drink. He was allowed on to the plane but the stewards seemed to think he'd cause problems for the other passengers.
"He wasn't aggressive towards anybody and accepted the decision without any aggravation. Ken didn't seem to be drunk and it looked like he was trying to help John out but the crew told him that if he didn't like the decision he could leave as well."
An onlooker saw them later at the airport drinking iced tea. He said: "They were very apologetic and said they didn't mean any harm, they'd just had a bit too much to drink."
Doherty, ranked fourth in the world, had fought from 8-5 down to beat his mate 9-8.
A source said: "The match didn't finish until late into the evening and when they arrived for the flight it was clear they'd been drinking all night.
"Police warned them about their behaviour before they boarded, then a lot of other passengers complained about them being drunk and rude.
"Airport security staff said Higgins was rather nasty and abusive and complained angrily when the captain wouldn't let them on the flight.
"They were taken to the VIP lounge by security staff to calm them down, then went to the hotel where they spent the day sobering up."
Air Malta said: "Three passengers were asked to disembark following complaints on their fitness to travel by other passengers.
"In the interest of both the offloaded passengers and all other passengers, it was decided to re-route the offloaded passengers on a later flight."
Higgins and Doherty refused to comment when they finally touched down at Heathrow. A passenger said: "It had obviously been a big night because they looked absolutely shattered. They spent the flight catching up on some much-needed sleep."
Governing body World Snooker is unlikely to take any action. It said: "This isn't a matter for us."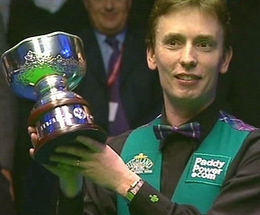 Doherty fightback stuns Higgins
Ken Doherty staged a superb comeback to sink John Higgins in a nail-biting Malta Cup final on Sunday.
The Irishman came from 8-5 down to triumph 9-8 for his first ranking title since the 2001 Thailand Masters.
Doherty made a blistering start against his Scottish opponent, opening up an 5-2 lead after the first session.
But Higgins reeled off six frames in a row to stand on the verge of the title only to miss a great chance to wrap up victory in frame 14.
The Scot unexpectedly missed a simple red on 43 and Doherty clinched the frame on the blue to give himself a lifeline.
A 61 gave Doherty greater hope as he closed to 8-7 before winning a scrappy 16th to take the contest its full distance.
He had to pot several difficult balls in the decider but put together 63 to clinch the title, the sixth ranking crown of his career, which moves him up to fourth in the provisional rankings.
"I was dead and buried at 8-5 down because John was playing really well and I thought I'd blown it," said Doherty, the 1997 world champion.
"I told myself to stick in there and the break I made in the last frame was one of my best ever because I was potting balls from everywhere.
"To beat someone like John, who's the man in form, from 8-5 down in a major final is fantastic."
"This means more than any title I've ever won apart from the World Championship because I've beaten the man in form."
Higgins could not explain how he had let victory slip from his grasp after performing so well in the middle of the match.
"It was a crazy, crazy game," he said. "I'm completely numb. This probably won't hit home for a couple of days.
"But I didn't deserve to win after the performances I put in this week. I wouldn't have been a worthy winner."
Below is the format of play for the 2006 Malta Cup.
01 Nov 2005 12:55:00
Monday, January 30
4pm
WC1 – Mark Allen x Joe Grech - 5-1
WC2 – Robin Hull x Simon Zammit - 5-2
3 – Alan McManus x Allister Carter - 5-2
8pm
Q1 – Tony Drago x Shokat Ali - 5-2
4 – John Higgins x Robert Milkins - 5-4
5 – Paul Hunter x Dominic Dale 3-5
Tuesday, January 31
4pm
1 – Stephen Hendry x Neil Robertson - 5-1
6 – Joe Perry x James Wattana - 5-2
7 – Mark Williams x Gerard Greene - 5-3
8pm
Q2 – Barry Pinches x Tony Drago - 5-2
8 – Matthew Stevens x Nigel Bond - 2-5
9 – Stephen Maguire x Marco Fu - 5-2
Wednesday, February 1
12pm
10 – Ian McCulloch x Mark King - 2-5
11 – Ken Doherty x Joe Swail - 5-3
4pm
12 – Peter Ebdon x Stuart Bingham - 4-5
14 – Steve Davis x Robin Hull - 4-5
16 – Shaun Murphy x Mark Allen - 5-2
8pm
2 – Stephen Lee x Barry Pinches - 1-5
13 – Jimmy White x Barry Hawkins - 2-5
15 – Graeme Dott x John Parrott - 5-2
Thursday, February 2
12pm
21 – Stephen Maguire x Mark King - 5-3
22 – Ken Doherty x Stuart Bingham - 5-4
4pm
20 - Mark Williams x Nigel Bond - 5-1
23 – Barry Hawkins x Robin Hull - 3-5
24 – Graeme Dott x Shaun Murphy - 5-4
8pm
17 – Stephen Hendry x Barry Pinches - 5-2
18 – Alan McManus x John Higgins - 0-5
19 – Dominic Dale x Joe Perry - 5-4
Friday, February 3
4pm
QF4 – Robin Hull x Graeme Dott - 0-5
QF3 – Stephen Maguire x Ken Doherty - 4-5
8pm
QF1 – Stephen Hendry x John Higgins - 2-5
QF2 – Dominic Dale x Mark Williams - 5-3
Saturday, February 4
3pm
SF2 – Ken Doherty x Graeme Dott - 6-3
8pm
SF1 – John Higgins x Dominic Dale - 6-3
Sunday, February 5
2pm
Final (7 frames) Ken Doherty x John Higgins - 5-2 up to now
7pm
Final (10 frames) Ken Doherty 9-8
Higgins seals clash with Doherty
John Higgins will play Ken Doherty in the final of the Malta Cup after seeing off dogged Welshman Dominic Dale.
The Scot, who won last month's Masters at Wembley, was level at 3-3 before winning the final three frames.
Doherty reached his first ranking final since the 2003 World Championship with a 6-3 win over Scotland's Graeme Dott.
The Irishman, who has not won a ranking title since 2001, showed glimpses of his best to beat Dott, who was runner-up to Stephen Hendry last year.
Higgins bemoaned the quality of the table after beating Dale 6-3.
"I don't know how many times we have to say it, the cloth was so bad you could not screw back and the cushions were pinging all over the place," he said.
"It really was a lottery. Basically everything was guesswork. I just had to try and batten down the hatches and prepare for a grim struggle. "At least I'm winning so no one can say it's sour grapes."
Doherty, meanwhile, paid tribute to his opponent after a tough match.
"Graeme made it tough and didn't give anything easy so I had to work for every point," said Doherty.
After a scrappy start, Doherty constructed a break of 98 to win the fourth frame and lead 3-1.
Efforts of 50 and 44 made it 4-1 and a superbly crafted 119 two frames later put the 36-year-old 5-2 ahead.
Glaswegian Dott threw himself a lifeline by making 54 to close to 5-3 but Doherty controlled the ninth to reach the 17th ranking tournament final of his professional career.
Dott, who beat John Parrott, world champion Shaun Murphy and Robin Hull to reach the semi-finals, was furious about the way he played.
"I was pathetic. My whole performance was abysmal," he said
Higgins too consistent for Hendry
John Higgins took a major step towards his third title this season by breezing past fellow Scot Stephen Hendry 5-2 in the Malta Cup quarter-finals.
Hendry stole the opening frame on the black with a 31 clearance that proved to be his highest break of the night.
A 102 break got Higgins level and he eased home as Hendry failed to pot a ball during the final three frames.
Higgins will now play Dominic Dale, who got the better of fellow Welshman Mark Williams 5-3 to reach the last four.
"I think it's because I've got low expectations," said Dale.
"We all know that Mark's struggled in recent years but he was back to his old self against Nigel Bond in the last round and I thought he would carry that on.
"Luckily I got out of the blocks fast and put him under a bit of pressure."
Although happy with his result, Higgins was unhappy with the performance.
"We always seem to serve up a rubbish game for the fans. It was mistake after mistake. I can't explain it," he said.
"We both missed a lot but when I got a chance I always felt I could do something. That's what winning on a regular basis does for you."
Ireland's Ken Doherty claimed a hard-fought 5-4 victory over Scotland's Stephen Maguire to clinch his place the semi-finals.
"I would have been gutted to lose because I played so well in the early part of the match," said Doherty.
"I made a good break to win the sixth frame and that gave me real confidence. It was a tough match and a good win."
Graeme Dott, desperate to arrest a dramatic decline in his world ranking, produced a fine display to beat Finnish number one Robin Hull 5-0.
Higgins overcomes illness to win
Masters champion John Higgins battled through a bout of food poisoning to reach the last eight at the Malta Cup.
Higgins, who had been unable to eat for two days, beat fellow Scot Alan McManus 5-0 and will next meet Stephen Hendry.
Hendry was a 5-2 winner over Barry Pinches while England's Stephen Maguire beat compatriot Mark King 5-3.
Welshman Mark Williams claimed a 5-1 victory over Nigel Bond but world champion Shaun Murphy lost 5-4 to Graeme Dott after leading 4-2.
"I feel totally drained," said Higgins, recent winner of the Masters event at Wembley and the bookmakers' favourite to claim the first world-ranking title of the year.
"In all the time I've been playing snooker I've never felt like this. I felt as though I could miss anything and on certain shots I had double vision.
"Right from the start I was really light-headed but thankfully Alan didn't play well enough to put me under pressure."
Maguire put his win over King down to his greater maturity.
It is the first time the 24-year-old has reached the last eight of a world-ranking event since he won the UK Championship title in December 2004.
"I've been acting like a spoiled brat but now I'm trying to win or lose like a man," said Glaswegian Maguire.
"This season my head's not been right. Now I'm determined to play properly."
Maguire used his new sense of focus to battle back from 2-1 down with breaks of 76 and 66.
Then King levelled the match to 3-3 before the Scot controlled the seventh frame and took the next on the green to wrap up the match.
Maguire now meets former world champion Ken Doherty for a place in the last four after he beat in-form Stuart Bingham 5-4.
Bingham had amassed a 3-0 lead before leaving a final black in the jaws of a top-corner pocket.
Doherty wrapped up the frame and then won four of the next frames with only one half-century break.
"It was a gritty performance that's given me a chance to get a run going and build my confidence," said the Dubliner.
Finland's Robin Hull, the first round conqueror of Steve Davis, secured only the second world ranking event quarter-final of his 13-year professional career with a 5-3 win over Barry Hawkins.
Murphy survives Malta Cup scare
World champion Shaun Murphy survived a scare against Northern Irish teenager Mark Allen to clinch his place in the second round of the Malta Cup.
Murphy lost the opening two frames to the former world amateur champion but bounced back for a 5-2 win.
Afterwards Murphy said: "It was a lottery out there - the cushions were giving off really strange bounces and there was bad contact every other shot.
"In the end it really made it hard to play your normal game."
It was an average and heavily defensive performance from the 23-year-old, whose highest break of the match was 54.
Steve Davis, however, missed out on a place in the second round when he succumbed 5-4 to Finnish number one Robin Hull.
Davis was left needing five snookers to have a chance of winning the deciding frame but stumbled on the last of them when Hull fluked a red.
Jimmy White's hopes of avoiding relegation from the elite top 16 were dealt another blow as he lost 5-2 to Barry Hawkins.
Hawkins trailed 1-0 but soon levelled before storming 4-1 ahead.
With thoughts on a maximum 147, White missed the 10th red in frame six and Hawkins could only respond with a 60 break.
But the 26-year-old did not dwell on his mistake and quickly clinched a place in the last 16 with an 81 break in the seventh frame to seal a clash with Hull.
Peter Ebdon was another early big-name exit in Portomaso, coming off second best in a 5-4 scoreline to Stuart Bingham despite having held a 3-0 lead.
Another former world champion Ken Doherty beat Belfast's Joe Swail 5-3 to seal a place in the last 16.
The Irishman, 36, compiled two century breaks as he avenged defeats to Swail in this season's Grand Prix and the Irish Professional Championship final.
"It was nice to get one over on Joe because he's had the better of our meetings lately," said Doherty. "I knew it would be tough because he's having a really good season.
"It hurt when he beat me in the Irish final but I don't look at this as revenge because he's such a good friend."
Meanwhile, world number 20 Mark King overcame fellow Englishman Ian McCulloch 5-2 to set up a meeting with Stephen Maguire.
And two-time Malta winner John Parrott, went down 5-2 against Graeme Dott, who ended a run of seven consecutive defeats in ranking tournaments.
He now plays Shaun Murphy in the last 16.
Maguire fights back for Malta win
Scotland's Stephen Maguire clinched a morale-boosting 5-2 win over Marco Fu to reach round two of the Malta Cup.
The Glaswegian, who was thrashed 6-0 by Stephen Lee at the Masters a fortnight ago, fought back brilliantly from 2-1 down to secure his last 16 place.
Defending champion Stephen Hendry romped to a 5-1 win over Neil Robertson to book his progression.
But Malta's top player, Tony Drago, was beaten 5-2 by Barry Pinches in the final qualifying round.
Maguire was delighted to bounce back to form against Fu at the Portomaso Hilton.
"I was determined to put the first half of the season behind me tonight and as far as I'm concerned I've done that now," said the world number three.
"It was a good match and I played solidly. My safety was good and I didn't miss many balls."
Earlier, fellow Scot Hendry became only the fifth player to construct four century breaks in a best-of-nine match and the first in a ranking tournament on television.
Australian Robertson lost the first two frames but hit back for the third.
But he potted only one more ball in the match as Hendry then rattled in a 142 clearance before finishing off with 103 and 131 totals to seal the rout.
"Neil is a very dangerous player and I went into the match knowing that a good performance might not be enough, but I played fantastic snooker all day," Hendry said.
"It took me a few chances to win the first frame but, after that, I was brilliant.
"When I play like that nobody can beat me but I haven't been doing it often enough to win tournaments lately."
Former world number one Mark Williams was mightily relieved after beating Northern Ireland's Gerard Greene 5-3.
Williams has slumped to 19th in the provisional rankings and would have fallen further had he lost his opening match.
But the Welshman forged 4-1 ahead and won a scrappy eighth frame after Greene recovered to 4-3.
"I need every win I can get and that was a good one," said Williams, a twice world, UK and Masters champion.
"I'm just pleased to win and take some of the pressure off."
Joe Perry, the world number 14 from Cambridgeshire, defeated Thailand's James Wattana to book his second-round place.
Nigel Bond sprang a surprise in the last match of the day by knocking out former UK champion Matthew Stevens 5-2.
Bond, the 1996 British Open champion, cleared with 33 from last red to black to pinch the seventh frame, having won the 52-minute sixth on the pink.
It means world number four Stevens has not won a match in a ranking event since reaching the World Championship final last May.
HOUDINI HIGGINS DOES IT AGAIN
Eight days after his remarkable SAGA Insurance Masters victory over Ronnie O'Sullivan, John Higgins completed another tremendous fight-back to see off Robert Milkins at the Malta Cup tonight (Monday).
30 Jan 2006 22:49:00
The Wizard of Wishaw trailed 4-2 against qualifier Milkins but battled back to win the last three frames and book a last 16 tie against Alan McManus at the palatial Hilton Conference Centre.
Gloucester's Milkins, the world No 26, made breaks of 62, 49, 85 and 63 in going 4-2 ahead. Higgins pulled one back with a 61 but looked set for an early flight back to Scotland when he trailed 50-0 in frame seven.
But a missed black from former Irish Masters semi-finalist Milkins proved the turning point. Grand Prix champion Higgins hit back to win that frame on the blue then took a scrappy decider 59-14.
"When things are going well for you, you tend to get bits of luck here and there," said 30-year-old Higgins, whose match-winning break of 64 gave him a 10-9 victory at Wembley over O'Sullivan last Sunday.
"Winning the Masters was fantastic and the money was great, but I would have been gutted to lose my first match here, especially with ranking points at stake.
"I only practised for a couple of hours on two days last week, but I still felt good coming here and to be knocked out would have been very disappointing. Now I feel I am in the tournament so I can practise for a few days before my next match.
"At 4-2 down I was thinking I'd won matches by playing worse than this - Robert was playing really well. But luckily for me the game turned around."
Tony Drago raised a cheer for a packed crowd with a 5-2 defeat of Shokat Ali. The Tornado recovered from 2-1 down to reel off the last four frames with 69, 50 and 55.
"I'm a venue player, I like playing in front of a big crowd," said the charismatic Maltese potter. "My ranking has gone down a lot and I have to deal mentally with playing in qualifiers at Prestatyn.
"My game is as good as ever and Steve Davis and Jimmy White are still in the top 16 so there's no reason why I can't climb back up."
Welshman Dominic Dale scored a 5-3 victory over Paul Hunter. The Spaceman's top break was just 49 but he made several vital clearances, including a 39 in the eighth and final frame.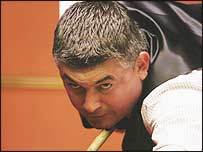 Parrott out to find form in Malta
Former world champion John Parrott is hoping to emulate fellow veterans Jimmy White and Steve Davis in recovering the form of his early career.
White ended 11 years without a trophy at the 2004 Players Championship, while Davis reached the UK Championship final at 48 six weeks ago.
Now Parrott believes he can have a good run in this week's Malta Cup - the first world ranking event of the year.
"Doing well in Malta would be great and give me some confidence," he said.
"Steve is seven years older than me so I can't see any reason why I can't do something similar to what he did at the UK."
Liverpudlian Parrott, 41, has great memories of Malta having won the both the 1996 European Open and the 1993 Malta Grand Prix on the island.
"As you get older it's tougher getting the enthusiasm to put in the necessary hours of practice," he explained.
"The longer you go without getting results, the harder it is to keep trudging down to the club, but with Malta, the Welsh Open and the World Championship qualifiers all coming up in quick succession that's given me an incentive to practice."
Having slipped to 47th in the provisional world rankings Parrott will do well to get past last year's runner up Graeme Dott in the opening round.
"I know I won't go into my first match there as favourite, but I'm really looking forward to giving it a real go," he said.
John Higgins has been installed as favourite after his dramatic 10-9 black ball win over Ronnie O'Sullivan in the final of the Saga Insurance Masters last week.
Higgins, who also won the Grand Prix in October, launches his challenge for a third trophy this season against Gloucester's Rob Milkins. (Higgins x Milkins – 5-4)
But O'Sullivan did not enter because of a conflict with an 8-ball pool tournament in America, although that has since been postponed.
The title holder and world number one, Stephen Hendry, faces dangerous Australian Neil Robertson in his first round match.
DEFENDING CHAMP HENDRY FACES TOUGH DRAW
Stephen Hendry's defence of his Malta Cup title will be no Mediterranean cruise for the seven-times world champion.
26 Jan 2006 11:26:00
The Scottish legend has yet to win a title this season; in fact it's 12 months since Hendry last hoisted a piece of silverware-his 36th ranking title.

But even though world No 1 Ronnie O'Sullivan won't be in Portamaso for the seven-day tournament there are plenty of players capable of taking Hendry's crown - many of them in his half of the draw.

Indeed, Hendry faces one of the qualifiers most of the top seeds want to avoid, Aussie left-hander Neil Robertson, who has a fine record in the event having reached the quarter-finals in 2004 and 2005.

The two met at the World Championship in April when Crucible debutant Robertson put up a battling show before going down 10-7.

Hendry is seeded to play rejuvenated SAGA Insurance Masters semi-finalist Stephen Lee in the last 16 followed by a possible quarter-final against champion John Higgins.

The Wizard of Wishaw, chasing his third title of the season, starts against Robert Milkins.

In the bottom half of the draw are last year's runner-up Graeme Dott and yet another Scot, Stephen Maguire.

Malta was where it all began for world No 3 Maguire, beating Jimmy White to win the 2004 European Open.

And what wouldn't he give for another extended run, especially after last week's 6-0 Wembley drubbing by Wiltshire based Lee.

World Champion Shaun Murphy shouldn't be discounted though he could be faced with a tough first game.

Murphy meets the winner of the wild card match between IBSF World Champion Mark Allen or local favourite Joe Grech.

Grech is one of three Maltese players in the field, none more so popular than 'L'istella ta Malta,' Tony Drago.

'Tornado' Tony meets former Asian Games gold medallist Shokat Ali in a qualifier held over from Prestatyn. And then he would tackle Barry Pinches for the right to meet Lee.

With the qualification of John Parrott, all winners of the six world ranking tournaments hosted in Malta over the past 10 years will contest the Malta Cup.
And the 2006 event marks the 10th anniversary since Parrott, in 1996, won the first of the four editions of the European Open held in Malta, with John Higgins (1997), Stephen Hendry (2001) and Stephen Maguire (2004) winning the others.