UK Championship 2005 A
Schedule and results of matches
Ding beats Davis to win UK title
Ding Junhui lived up to his rich promise by beating Steve Davis 10-6 to win the UK Championship title.
The 18-year-old Chinese sensation became the first non-British or Irish winner of the prestigious York event.
Trailing 5-3 at the interval, Davis fought back at the start of the evening session in his 100th career final.
But Ding managed to match the six-times world champion in some epic safety exchanges before potting his way to a deserved and memorable victory.
There was pre-match talk that Ding might struggle to handle the tactical nous of an opponent 30 years his senior.
But he consistently coped with the best safety Davis had to offer and answered with even better positional play of his own.
And veteran Davis was left to tap the table in appreciation regularly in a match lacking in century breaks but not quality.
Ding's third-frame 111 proved to be the highest of the match, although he sunk countless pressure pots to clinch frames.
The key problem for Davis was his break-building.
"I didn't make the most of my breaks and kept slipping out of position," he told BBC Sport afterwards.
"But he played fantastic. I've had a great week, but Ding was stronger on the day."
Speaking through an interpreter, Ding thanked a largely pro-Davis York crowd for their support of him.
"This is the second-most important ranking tournament, so it is a great pleasure to win it," said Ding, who won the China Open earlier this year.
"York is a big step for me. I've gained loads of confidence and experience here."
Relieved Davis makes 100th final
Steve Davis survived a scare to reach his 100th final by beating Stephen Hendry 9-6 at the UK Championship.
The Englishman came into the evening session 7-1 ahead, but he began to wobble under severe pressure in York.
Playing below his best, Hendry did just enough to close the gap to 8-4 and then rattled in a superb break of 130.
The Scot took the 14th frame as well and was on course to take the next, but he missed an easy black and Davis clinched the match with a cool 66.
In a battle of snooker legends, breaks were at a premium early on, but Davis showed more tactical nous to move into a commanding lead.
Without sealing frames in one visit, he dictated proceedings with his tight safety play, leaving Hendry scratching around for difficult long pots.
Hendry got into the match after the break and started to find his usual fluidity among the balls.
But just as he looked set to close to 8-7, he failed to sink a simple black and Davis needed no second invitation to progress to the final.
The "Nugget" now faces Ding Junhui or Joe Perry in the final.
"It's a double bonus for me - I've reached 100 finals and beaten my nemesis," said Davis.
"I owed him one. I owed him about 30 actually. This afternoon I've never seen Stephen play so badly against me or against anyone.
"He didn't look like potting a ball and it was a shock.
"I played a really great frame to go 8-2 up and everything was going nicely, but I botched chances in the next two and then Stephen started playing better.
"I had a couple of smelly shots that were missable and I left him in to score big each time."
Hendry revealed he had been indecisive when he missed the key black.
"I changed my mind about what shot to play and it's a fatal mistake to make," said the world number two.
"I fancied winning the match in the end because I had started to play better, but Steve deserved to win."
Ding through to York semi-finals
Ding Junhui continued his superb run at the UK Championship by beating Neil Robertson 9-5 to reach the semi-finals.
The 18-year-old Chinese star took a 5-3 interval lead with breaks of 77, 102, 65 and 54 and rattled in a decisive 92 to clinch the match in York.
Ding appeared more at ease than his Australian rival, who had ousted world champion Shaun Murphy.
The teenager will take on Joe Perry, who edged past Stuart Bingham 9-8.
"It's my first time in the semi-finals here so I'm very happy," said Ding, who will rise into the top 40 after this event.
"I felt quite relaxed but still not at my best. I will need to practice more to produce my best form.
"This tournament is more important to me than winning the China Open because of the ranking points available."
Robertson paid tribute to his opponent's consistent form.
"I kept losing control of the cue ball and running out of position, which made it hard," said the Melbourne player.
"In contrast, Ding's white-ball control was absolutely fantastic. It's maybe not quite as good as Ronnie O'Sullivan's but I don't know if anyone else is quite so good at that."
Perry ended an inspired run by Bingham, who had won his last 13 matches in all competitions.
He knocked in a cool century to tie the match 8-8 and then prevailed in the decider 79-14.
"If someone had told me last week I would reach the semi-finals I would have bitten their hand off and I don't want it to end here," he said.
Davis to face Hendry in last four
Steve Davis survived a dramatic fightback by Ken Doherty to set up a semi-final clash with Stephen Hendry at the UK Championship in York.
Davis, 48, had built up a 6-1 lead against the Irishman in the afternoon.
But a resurgent Doherty took six of the next eight frames to trail 8-7 before Davis closed out the final frame by doubling the black.
Earlier, Hendry battled past Ali Carter 9-7 to become the first man to reach the last four of this year's event.
Davis, who stunned the reigning UK champion Stephen Maguire on Tuesday, completed another tremendous, albeit a nervy, win in the quarter-finals.
The 48-year-old took nearly an hour to clinch the first frame but went on a 5-0 lead thanks to solid contributions of 54 and 81.
Doherty fluked a black on a re-spot to offer himself a semblance of hope at 5-1.
But Davis, who first won the event in 1980 and last in 1987, took the last frame of the shortened afternoon session to regain his five-frame advantage.
When the pair resumed in the evening, former world champion Doherty began to show more of the form which helped him dismiss John Higgins in the previous round, pulling the lead back to 7-4 and then 8-7.
But Davis held his nerve and secured the win in the 16th frame, thanks to a fantastic double when the frame came down to the final black.
"I'm so happy to be playing well at the minute," said Davis afterwards.
"It sounds daft, but if I'd have played like this in the 80s then I think I could have been even more accurate.
"I'm in the best playing shape that I have been for a long time, and I'm just looking forward to being among the balls and clearing up at the minute."
Hendry was 5-3 ahead at the halfway point of their clash, with the talking point of the first session being Carter's spurned 147 attempt.
The world number 19 rattled the jaws of the pocket with the 14th black, ruling himself out of the running for the £26,000 prize fund on offer for a maximum.
Number four seed Hendry then led 8-4 at one stage, but a lapse of concentration allowed Carter to close the gap to 8-7.
But in the 16th frame, the five-time winner produced a polished break of 64 to close out the match.
"I don't think I played too well all day," said Hendry afterwards.
"In a lot of the frames we had two or three chances each, but as I've said before you have to win those matches as well as the ones where you're knocking in the big breaks.
"The important thing is I'm still here and I'm still in with a chance of winning the tournament."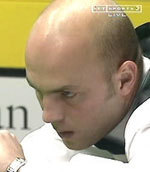 KING RULES AS RONNIE FLOPS AGAIN
10th December 2005
Mark King held his nerve to beat world number one Ronnie O'Sullivan 9-8 in the second round of the UK Championship - the second time in two years that the former world champion has failed to win a match at York.
King won the first frame of the match, but O'Sullivan levelled with a 116 break, before adding runs of 52, 51, 48 and 42 to stay ahead. King's top break of the afternoon was 64 to pull it back to 3-2, but O'Sullivan moved 5-3 clear at the interval.
But King went ahead after winning the first three frames in the evening, including a run of 60 in the second frame.
O'Sullivan hit back to level at 6-6, but King had runs of 61 and 80 to go 8-6 ahead as the three-time champion - frequently with a wet towel over his head while King was at the table - appeared to lose interest.
But the Essex man hit back with breaks of 105 and 56 to level the match. The deciding frame was a scrappy, tense affair, but King built up a 66-14 lead and O'Sullivan decided not to pursue the snookers he needed to stay alive.
"Ronnie played right-handed, left-handed and put a towel over his head, but that didn't bother me," said King. "I played well. I missed a red at 8-6 in front, and at 8-7 I twitched, but I thought if I got in during the last frame and got a good break, I'd win.
"It doesn't affect me what he does. If he wants to put a towel on his head, then fair enough. I just had to concentrate on my own game. We've played five or six times and to be honest, I'm not bothered about playing him."
"Maybe he put the wet towel on his head because it was hot in the arena, but I think it might have been because I was putting him under pressure."
O'Sullivan will now face disciplinary action after failing to show up for a compulsory press conference after the match.
King will play Cambridgeshire's Joe Perry in the last 16 on Tuesday.
World champion Shaun Murphy survived a scare, beating his close friend Nigel Bond 9-7.
The Rotherham man made breaks of 75, 55 and 78 to move into a 5-3 lead after the first session, but lost the first three frames of the evening to Bond.
A run of 102 got Murphy level and although Bond went ahead again at 7-6, Murphy levelled with a break of 66, then edged ahead 8-7.
Murphy was in no mood to be denied and a run of 70 sealed his place in the last 16. He will play Australian Neil Robertson next week, after the left-hander beat Wiltshire's Stephen Lee 9-4 in the second round on Thursday.
Also on Saturday, defending champion Stephen Maguire moved into a 6-2 lead over Joe Swail after the opening session of their second round clash.
Maguire won the first five frames, making breaks of 42, 69, 95, 58 and 86, while Swail's top run was just 46.
But seven-time world champion Stephen Hendry is facing a battle with James Wattana after the Thai potter opened up a 5-3 lead.
Wattana knocked in breaks of 54, 48 and 46, while the Scot made a 114 break in winning the third frame.
Hunter snatches dramatic victory
Crowd favourite Paul Hunter won a final-frame decider to defeat Glasgow's Jamie Burnett 9-8 in their UK Championship second-round clash.
Hunter, playing his second competitive game of the season following treatment for cancer, sealed victory after a decisive snooker on the pink.
The 27-year-old had battled back from 8-6 down and received a standing ovation from the York crowd.
Peter Ebdon, John Higgins and Ken Doherty are also into the third round.
An emotional Hunter said afterwards that he was delighted with his victory.
"I'm lucky that the tournament fell this Wednesday rather than last Wednesday," he said.
"I wasn't very well last week. I just kept thinking to myself while I was out there that I'd worked too hard to just throw it all away.
"I feel really drained. My legs were shaking, my head was shaking and I'm very proud of myself for pulling through."
Seventh seed Higgins began his pursuit of a second ranking event of the season by sweeping aside Northern Ireland's Gerard Greene 9-3.
Higgins made 145 in the 10th frame to put himself on course for the tournament's highest break prize of £6,000.
The 30-year-old, who as a top-16 seed had a first-round bye, admitted that he is relieved to be back in action, having not played a competitive game since the Grand Prix final seven weeks ago.
"It's the longest break that I've ever known," he said. "As I'm not involved in the Premier League I have just been sitting around practising.
The Scot will now meet Ireland's Ken Doherty, who secured his place in the next round after a narrow victory over Marco Fu.
Doherty led 8-5 but Fu levelled at 8-8 before the Dubliner took the deciding frame.
"To say I'm relieved would be an understatement," said Doherty.
Ebdon, seeded eight, is in the next round after defeat of Dominic Dale 9-4.
Welsh stars Mark Williams and Matthew Stevens endured mixed fortunes as they began their campaigns.
Former world champion Williams, who began the season as world number 22, needs two more frames for victory after going 7-1 clear of Michael Holt.
However, Stevens goes into Thursday's second session 5-3 behind Basildon's in-form star Stuart Bingham.
Alan McManus is 6-2 down to Ali Carter, Mark Davis leads Graeme Dott 5-3 and Joe Perry and Barry Hawkins are at 4-4.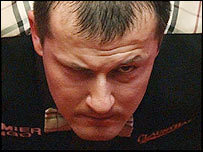 McCulloch in surprise York exit
World number 16 Ian McCulloch was a surprise casualty on the opening day of the UK Championship in York.
The Englishman, who reached the last four of this year's World Championship, lost 9-7 to Scotland's Jamie Burnett, who will now take on Paul Hunter.
World number 18 Barry Pinches lost out 9-3 to Welshman Dominic Dale.
There were also victories for Ali Carter and Marco Fu while Gerard Greene advanced after Australian Quinten Hann failed to turn up for their match.
Carter, a quarter-finalist in 2004, trounced Jamie Cope 9-3 and goes forward to face Alan McManus in round two while Fu won 9-6 against Michael Judge and will face former world champion Ken Doherty.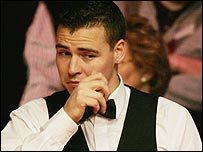 Hann misses UK Championship match
Australia's Quinten Hann failed to show up for his UK Championship first-round match against Gerard Greene on Monday.
The world number 22, who also missed October's Grand Prix, citing medical reasons, has not yet given a reason for his withdrawal from the tour event.
Kent-based Greene receives a walkover into the second round at York and will now face Scot John Higgins.
Hann is being investigated by the sport's governing body over allegations of match-fixing, which he denies.
Discussion forum on the Eurosport
Eurosport
Eurosport team
Run up to UK Championship
________________________________________
Widely regarded as the second biggest tournament behind the World Championship in snooker, the UK Championship gets underway on the 5th of December. Who will win? Register your free vote on the quickpoll in the bottom right-hand corner of the snooker page (http://www.eurosport.com/snooker/ )This thread can also be used for general queries and discussion!
All the best,
J. Mattocks
Snooker Editor
Eurosport
vorpax
unfortunately i don't think that ronnie will win the UK Championship because lately he realy lost his interest in snooker. i don't like this but i have to admit that he'll lose this championship also
Spliff
RONNIE's time over ?
________________________________________
i think that Ronnie's time is over ... every big champ live to see the moment when someone beat him ... that's why some put an end on the carier when they're on the top of their form
Maria O'Sullivan
If he in that season has won much that it well. But earlier he won on 1 or 2 tournaments so not all so poorly. And he has not surrendered yet.Ronnie
Dina
Quote:
Originally Posted by Spliff
i think that Ronnie's time is over ... every big champ live to see the moment when someone beat him ... that's why some put an end on the carier when they're on the top of their form
Sorry, but I'm afraid you're wrong. He is obviously out of form now, and his motivation is low, but nevertheless he is a great player still. It is impossible now to reign through years in rankings as Stephen Hendry did. To my mind, this will never be again, I can't name one player from the list who can be on the top spot for so long time. Even Ronnie. There are plenty of youngsters who play pretty well, and all of them have a desire to beat top players.
vorpax
i think that Mathew Stevens will win. i hope that he will. he deserves to win. he's good.i like him.
Kym
Quote:
Originally Posted by Spliff
i think that Ronnie's time is over ... every big champ live to see the moment when someone beat him ... that's why some put an end on the carier when they're on the top of their form
How can you say that Ronnie's time is over . I think he maybe lost some interest in the game but I'm sure that will all come back. I still think he's one of the greatest snooker we got right now. Maybe even the greatest. I think Ronnie has got a chance to win the UK championships .Matthew Stevens and John Higgins are also snookerplayers who have a chance of winning. Have you seen how impressive John was at the GP in Preston. I've never seen him play like that . Ronnie was impressed by that as well. Anyway I certainly think that Ronnie is not over yet . He 's a great snooker player and a great entertainer . I like him a lot.
Dina
Quote:
Originally Posted by Kym
I still think he's one of the greatest snooker we got right now. Maybe even the greatest.
Kym, this words are rather ill-advised on snooker forums. Usually there are some other players' fans (Hendry fans like me, for example ) who can't agree with you. This provides a great discussion which leads to nothing. By the way. why haven't you mention Hendry? Doesn't he have a chance to win this event?
samsemilia
Hi...
Great, your discussion about Ronnie O´Sullivan. I like him too and I hope he win much tournements this season like the last one. But his comments, that he´s bored and unmotivated, make me sad. I hope he will see, that pool is more boring to him and he cames back to the snooker-circute .
Bye the way...my favourite for the UK Championchip is also Ronnie, but there are many top players like Matthew Stevens (he won 2 tournements in THIS season and he´s Vize-World Champion), Stephen Hendry, John Jiggins is also in a great condition....
And I´m curios to see, which youngsters will reach the final rounds...Mark Allen for example...
Regards, Sammy
pmco01
John Higgins...
________________________________________
Hi...Personally my money is on John Higgins, but wouldnt be surprised at all if O'Sullivan takes the title...
Admitted, he's said a lot of jumbo about being tired and bored with the sport, but I for one is used to hearing these sort of things from him...usually right before he makes another 147 og something like that...about his form, he has been playing fantastic in the Premier League with 6-0 and 5-1 victories over Davis and White who, while not the greatest players of our time, still knows how to play the game
If I should try to predict the winner and go with my heart...I would like to see Steve Davis take another title...I think he's done so much for the sport that he practically deserves it....Peter Ebdon or Graeme Dott are two players I would like to see make it to the semi's...but thats just my personal oppinion and aren't based on any form of facts whatsoever
Kym
Quote:
Originally Posted by Dina
Kym, this words are rather ill-advised on snooker forums. Usually there are some other players' fans (Hendry fans like me, for example ) who can't agree with you. This provides a great discussion which leads to nothing. By the way. why haven't you mention Hendry? Doesn't he have a chance to win this event?
I didn't think what I wrote here a few days ago would lead into a discussion like that. I just wanted everyone to know how a feel about Ronnie O' Sullivan and the way he has been playing lately.I do think he will play great at the UK championships and maybe even win it but I want you to know Dina that I have nothing against Stephen Hendry . I think he's a great player.But there are a lot of snookerplayers out there who also like the win the UK champs.Yes Hendry has probably a chance to win this event but there is also Matthew Stevens, Shaun Murphy and many others who would like to claim the trophy .I'm looking forward to see John Higgins playing because what he did at the GP in Preston was absolutely wonderful. I just want to say that my personal favourites for the UK championship titel are Ronnie and John Higgins .Everybody has his or her favourite and those are mine . Didn't think that there would be so much fuss about it.
Dina
Kym, I see your point of view. Well, I hope Ronnie will be OK on this event. His play is always so spectacular..
As for me, I'd like to see young players like Robertson or Maguire winning the Grand Prix.
Rocketpower51275
Hello Snookerfans
________________________________________
I came from the german Forum and want vist you we are many Snookerfans in Gremany.I hope you visit us too we are very happy when we can commonication.
We are very Big Fan from Snookersport and his Player.
Ronnie Paul Matthew and all the other.
We want the Snookersport make famos how in England.
I hope we write us soon.
I look sometimes in your Forum.
Good bey Rocketpower.
faramus25
Watching Ronnie in the Premier League Snooker he looks unstoppable this year and i think he will win the UK Championship
Rocketpower51275
Quote:
Originally Posted by faramus25
Watching Ronnie in the Premier League Snooker he looks unstoppable this year and i think he will win the UK Championship
I hope to he wins the Uk Championchip.
I Love Him soo much.
faramus25
Quote:
Originally Posted by Rocketpower51275
I hope to he wins the Uk Championchip.
I Love Him soo much.
He will win it! It's in the bag for Ronnie!
n_dmtrsc
Quote:
Originally Posted by Spliff
i think that Ronnie's time is over ... every big champ live to see the moment when someone beat him ... that's why some put an end on the carier when they're on the top of their form
over?!? only because he's lost a few tournaments? I think you're overreacting a little...he may not have played very well until now this season, but he's surely not done... i guess it's all in the mind: if he thinks like a leader, if he is confident he is the best, if he goes at the table thinking that no one can stop him, he will win. i think he hasn't played too well because he's got a bit too much pride: if he can' be the best, he stops fightin because he doesn't want to be seen as a mediocre player.. but he loves too much this sport to give up... at least that's what i hope...
Juta from latvia
I' can't speek englich, but I'think Mattew Stevens is winnner
In-form Ding earns place in York
Chinese teenager Ding Jun Hui produced some brilliant break-building to reach the final stages of next month's UK Championships in York.
The 18-year old had runs of 91, 127, 58 and 65 to go 4-0 up on Fergal O'Brien and 91, 121 and 74 in the second session to wrap up a 9-4 victory.
He now meets Anthony Hamilton with the winner going on to face Jimmy White.
Jamie Burnett hit back from 3-0 down to beat Mark Selby 9-4 and Stuart Bingham and Ryan Day also went through.
Bingham, who beat world champion Shaun Murphy in last month's Grand Prix, saw off Andrew Norman 9-4.
Day's reward for his 9-2 victory over Tom Ford could be a meeting with world number one Ronnie O'Sullivan, if he can beat Mark King at the Barbican Centre.