Power Snooker 2010*
How being a father has given tough-guy Ronnie O'Sullivan a soft side
Matt Majendie
26.10.10
http://www.thisislondon.co.uk
Snooker will undergo its most dramatic overhaul of the Barry Hearn revolution at the O2's Indigo Arena on Saturday with Power Snooker, the green baize's answer to Twenty20.
Points rather than frames will decide each half-hour encounter at an event complete with blaring music and Page Three models, and where the poster boy of the whole show will be Ronnie O'Sullivan.
It was O'Sullivan who was called upon to make the draw for the competition and, as arguably the game's only true remaining character, Hearn will rely heavily on snooker's most talked-about player to bring the ailing sport kicking and screaming into the 21st century.
For O'Sullivan's part, he is genuinely excited. "I really like the concept and I love the idea of playing in London at the 02," he said. "Hopefully, it suits my game better than the others. It's difficult to make predictions but it's going to be an exciting event to watch. It will show snooker in a different light and the sport desperately needs that."
For the three-time world champion, the key to its success lies in snooker discovering new personalities.
"There's definitely a lack of characters now," said The Rocket. "With a lot of players years ago, you could really see what they went through and I think people could relate to that.
Nowadays, players can be robotic making 100-plus breaks all the time and I think maybe fans want to see something else. I don't know what but something different to just potting balls.
"The problem is that today players just desperately don't want to lose and it can come across that they're not actually enjoying snooker. If you see someone enjoying it, you can relate to that and think I want to watch that'.
"Barry Hearn is trying to change that. I think he wants what they have on X-factor. Okay, not the singing but the situation where you get to know the performers, and you start to like certain characters. I think snooker fans would love to have someone like James Hunt with a bit of comedy and character."
O'Sullivan knows he has a responsibility to help return snooker to its 80s heyday when a staggering 18.5 million people tuned in to watch Steve Davis take on Dennis Taylor in the 1985 World Championship Final.
Prior to our interview, it is made clear that O'Sullivan only plans to talk about Power Snooker and his Future Stars project, aimed at bringing British talent up through the system. But once he gets going, the 34-year-old waxes lyrical on everything from his family life to John Higgins' return to the game after the match-fixing allegations.
Four years before his first world title, O'Sullivan became a dad with the arrival of Taylor-Ann in 1997. However, it was the birth of his two other children — Lily, who is now four, and Ronnie, three — and the split from their mother Jo Langley in 2008 after an eight-year relationship, that made him reassess his life.
He said: "My favourite time is with my kids — it really is the best feeling in the world. I'm not with my partner any more and I've had to go through the courts to be with the kids, and it's something that had to be done. But I made the decision that if I never potted another ball to be with my kids then that would be okay as they have to come first. Don't get me wrong, I've always loved snooker and will always love the game but it's just I've changed my priorities."
O'Sullivan believes being a more hands-on parent has affected his game and that he will never again be the player that could seemingly win every tournament just by turning up.
"I was at my best when I was completely dedicated to snooker and doing everything I needed to do," he said. "In the last two years, I've not had the same dedication, so there's not the same burning desire to tough out games.
"If I'm there and I fancy it, I still feel I can be unbeatable. I still feel I can always make the quarters or semis but now, if someone brings their A-game, they'll punish me. Don't get me wrong, I'm not about to pack up and start working in Tesco. I still get that buzz when I'm playing well it's just in the past I think I won tournaments I didn't deserve to win. That doesn't really happen any more."
O'Sullivan describes life as good but it hasn't always been. His father recently came out of prison after serving 18 years for a murder conviction, while his mother has also served time behind bars for tax evasion.
Then there's the battle with depression, which he is currently winning —"life's good, well I feel good 95 per cent of the time". O'Sullivan credits his mostly positive outlook not to medication or the psychiatrist's couch but, quite simply, to running.
He has got obsessed to the extent that he can run a half-marathon in 85 minutes and his idols are no longer Jimmy White or Ray Reardon but Ethiopia's Tirunesh Dibaba, the 5000metres and 10,000m Olympic champion, with whom he got to run back in February.
"Meeting her and getting to run with her was amazing and I've since been invited to Ethiopia by her," he said with child-like excitement. "But I'm not that fit at the moment and I'm probably only doing about 30 miles a week compared to 50 at my peak. Running's legal high, and it's definitely helped the depression with the natural endorphins released when you're running."
By the evening of our interview, he has twice been out running that day. "It's good to have a different hobby away from the game and mine just so happens to be a healthy one," he said.
Snooker, though remains his first sporting love despite interviews in which he regularly seems to be on the verge of quitting.
"The problem with those interviews is that they're just after I've lost," he said. "I talk a bit of nonsense at the time and don't tend to feel the same way later in the day."
O'Sullivan, has no doubt that the greatest player he has faced is Stephen Hendry, and he still talks about the seven-time world champion with a certain degree of awe.
"He is still phenomenal — the best out there when you watch him in practice but for some reason he hasn't quite converted that in matches," said O'Sullivan. "The first time I saw him play — I think he was 15 — I went back to my dad and said this Hendry guy's the absolute geezer. Everyone was like no Ronnie that's Steve Davis' but I was proved right in the end wasn't I?"
O'Sullivan, not known for lavishing praise on his peers, also has nothing but respect for reigning world champion Neil Robertson. He said: "Neil's had some tough times but he's such a great cueist and has such a great attitude, and he believed he was capable of beating everyone and was proved right."
Robertson will line up alongside O'Sullivan at the O2 but there will be no place for Higgins as he bids to return to the sport following his very high-profile fall from grace. Higgins, while cleared of match-fixing claims, was given a six-month ban for failing to report an illegal approach made to him to discuss throwing frames.
His punishment ends next month and O'Sullivan warned: "Listen, it's going to be difficult for John. It's not nice for him to have gone through what he did. People can make their own mind up about John but the fact is that no bets were placed on the match in question. He's been punished and it's right he's coming back.
Once he finds his feet, he'll get right back up there again. He's too good a player but it will be tough with that cloud over him. The top results will come his way again."
For his part, O'Sullivan is confident he can get back to winning ways on Saturday.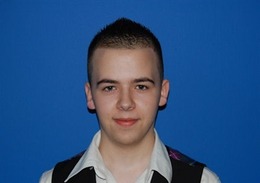 Brecel To Face O'Sullivan In Power Snooker
www.worldsnooker.com
The draw for the inaugural Power Snooker event has pitched Ronnie O'Sullivan against teenage sensation Luca Brecel.
Belgian champion Brecel (pictured), who is just 15 years old, will go head to head with his hero O'Sullivan.
Brecel said: "I was delighted to be one of the eight players to get into Power Snooker, and to go head to head with Ronnie is fantastic. This is not traditional snooker, this is a real shoot out and I think I can beat Ronnie."
O'Sullivan has had a lot of input into the Power Snooker game and feels it plays to his strengths. He said: "I was hoping to get one of the more well-known lads as I don't think Power Snooker will suit them. Luca is a real wildcard and I think he will be waiting to put me on my backside!"
The rest of the draw will make for great viewing when it's broadcast live on ITV4 on 30th October. China's finest, Ding Junhui, will take on the wildcard Jimmy White, Pokerstars.com Masters Champion Mark Selby is to play Ali Carter and there's a real champions shoot out with current Betfred.com World Champion Neil Robertson drawing former Crucible king Shaun Murphy.
Organisers of Power Snooker are hoping for a big TV audience to match the crowd at the Indigo2.
Rod Gunner, chairman of Power Snooker, said: "We have over 25 countries taking Power Snooker TV coverage, including Europe, Middle East, Far East and China, Latin America and Australasia, plus a big radio audience with Talksport, and a live audience of 2,000."
With spectacular theatrical lighting, the hottest music tracks and the Power Snooker players kitted out in designer outfits, accompanied by the stunning "Power Girls" and the fabulous female referees, Power Snooker will bring a fantastic new look to the sport.
The players will also be mic'd up throughout the event and the audience will be encouraged to interact with them, all adding to the overall atmosphere and glamour of the event.
Power Snooker is at the Indigo2 arena in London on 30th October. There are two sessions; the afternoon session is between 1 - 5pm and will include all eight players in the first round knock out. The evening session is between 6 – 10pm and will feature the two semi finals, 3rd and 4th play offs and concluding with the Grand Final.
POWER (SNOOKER) TO THE PEOPLE
http://snookerscene.blogspot.com
Dave H.
In terms of the professionalism of the launch, Power Snooker today made a promising start.
Journalists gathered at the Courtyard Hotel in the heart of central London were treated to a video presentation of the new concept by Ronnie O'Sullivan plus a press conference featuring O'Sullivan, Power Snooker promoter Rod Gunner, Barry Hearn, ITV head of sport Niall Sloane and Maurice Kelly of Rileys Clubs.
Power Snooker consists of matches of 30 minutes duration where points count rather than frames. There are nine reds racked in a diamond formation. The middle red is a 'powerball' and if it is potted all points scored in the next two minutes are worth double.
Any balls potted from the 'powerzone' – baulk – are worth double. A century is worth 50 bonus points.
There is a 20 second limit per shot and the audience at the O2 arena are required to make noise, rather than remain silent.
Power Snooker is designed to appeal to a more youthful audience than the traditional game. Players will wear microphones to catch their reactions.
The field is expected to consist of O'Sullivan, Neil Robertson, Ali Carter, Ding Junhui, Shaun Murphy, Mark Selby, Jimmy White and Luca Brecel.
It will be screened live on October 30 in two four programmes on ITV4, marking ITV's return to snooker after nine years.
Trevor East, a former ITV head of sport, is in charge of international television distribution.
Gunner said that the plan was to stage a launch event and, if all goes well, have a global series taking in China, Europe, the Middle East and the USA with a grand finals in the UK.
So what do we make of all this, then?
It wasn't Hearn's idea but he is supporting it. "When Rod came to me with Power Snooker I was very receptive, as we should be to anything new," he said.
"I was excited that this could help bring a new, young audience to snooker, which the game needs."
However, Hearn stressed several times that Power Snooker was not designed to threaten the established form of snooker.
He said he had ring-fenced the 'crown jewels' – the World Championship, UK Championship and Masters – and left them immune to format changes.
O'Sullivan was less diplomatic. "I find the World Championship a bore," he said.
"I know it's the pinnacle of the sport and I've won it three times but 17 days in Sheffield is draining.
"People want to turn up, have a buzz and move on.
"Power Snooker is a challenge. It's the future of snooker. People have to realise it's the year 2010. We're not stuck in the 1970s any more."
Actually, Power Snooker is not intended to be the future of the game. It's a standalone concept that nevertheless dovetails with Hearn's ambitions to globalise the sport and better project the personalities of the players.
The truth is, Ronnie gets bored easily. Most things seem to bore him in the end. If he was playing Power Snooker every week it would bore him eventually.
That's just how he is. If I were promoting a tournament he'd be the first name on my list of players but PR isn't his thing.
I like Ronnie's honesty and willingness to just speak his mind but I don't agree with him. The World Championship remains a hugely popular sporting event because of the slow burning drama it generates.
As Hearn said, "it has created moments you couldn't buy. It isn't boring, it's just different to Power Snooker."
He added: "Ronnie's not out of leftfield. He's from somewhere else entirely. That's why I love him so much."
The first line of O'Sullivan's obituary will mention the number of world titles he has won. This remains the ultimate achievement of any player.
His glib comments may have overshadowed the launch, which is a shame because Gunner, who has a very successful background in the entertainment and marketing sector, is clearly a man with bags of enthusiasm and the resources to back it up.
"We want people to get into snooker through Power Snooker," Gunner said. "Twenty/20 cricket has encouraged people to watch Test matches and we hope to do similar."
Perhaps the most significant part of this whole enterprise is the return of ITV to the fold.
Sloane has worked with Hearn through the PDC Grand Slam of Darts, which brought a large audience to ITV4.
"I didn't need too much persuading," Sloane said. "Every sport needs to look at itself on a regular basis.
"The trick with reinvention is not to destroy what made it popular in the first place. We don't want to destroy the traditional game."
15 red snooker will always be my preferred version of snooker but I am not against any form of innovation if it gives the players more opportunities and raises the overall profile of the sport.
Not everyone will agree – and they are perfectly entitled not to – but I think people should at least watch Power Snooker and give it a chance.
And it's worth remembering that snooker only exists because other cue sports were changed and adapted.
100 years ago, billiard players regarded snooker as a fad that wouldn't last.
Well, the 'fad' has done pretty well for itself and it should be relaxed about genuine attempts such as this to expand its reach.
I'll leave the last word to Hearn, because he invariably has it.
"We live in a sh*t world," he said. "It's depressing. But every now and again you can do something to put the smiles back on people's faces. And life's always better when you smile."
POWER SNOOKER – CUE THE REVOLUTION
On October 30th 2010, London's IndigO2 will host a snooker revolution when the world's top players go head to head in the eagerly anticipated Power Snooker knock out tournament.
Ronnie O'Sullivan will front this high-octane version of the sport. invitations have gone out to the sport's elite, Neil Robertson, Ding Junhui, Ali Carter, Luca Brecel, Mark Selby, Shaun Murphy & Jimmy White. Final line up to be announced very soon.
WHAT IS POWER SNOOKER?
In Power Snooker points count, frames don't – the player scoring the most points in half an hour wins.The clock starts as the reds are broken and stops when the final black of each frame drops.
A PowerZone delivers double points and when the PowerBall is potted, it triggers a two minute "PowerPlay" during which every ball potted counts double.
The game is presented in an energetic, contemporary style, which will deliver excitement, tension and spectacle.
For more information see www.powersnooker.com
THE LIVE EVENT
The much anticipated live event at London's Indigo at the O2 will consist of two sessions:
The afternoon session from 1pm to 5pm will include all eight players in the first round knock out.
The evening session from 6pm to 10pm will feature the two semi finals, 3rd & 4th play offs and the Grand Final.