PTC - Final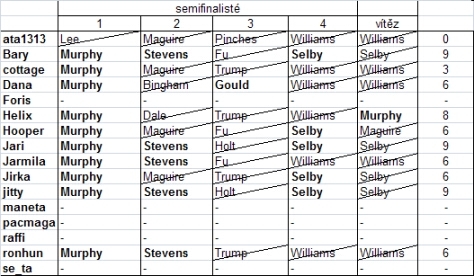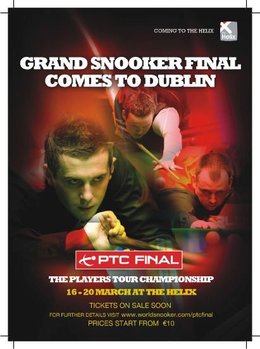 The format of play for the PTC Grand Final
Wednesday, 16 March 2011
10.00 am - 5 Marco Fu 1-4 Michael Holt
NB 11.30 am - 1 Ricky Walden 4-1 Liang Wenbo
NB 1.30 pm - 2 Mark Davis 4-0 Joe Jogia
NB 3.00 pm - 7 Anthony Hamilton 4-2 Tom Ford
7.00 pm - 3 Matthew Stevens 4-2 Gerard Greene
NB 8.30 pm - 4 Stuart Bingham w/o Stephen Maguire
Thursday, 17 March 2011
10.00 am - 6 Jamie Jones 0-4 Martin Gould
NB 12.00 pm - 8 Andrew Higginson 4-1 Jack Lisowski
NB 3.00 pm - 9 Shaun Murphy 4-2 Ricky Walden
NB 6.30 pm - 11 Dominic Dale 1-4 Matthew Stevens
NB 8.00 pm - 15 Mark Williams 4-0 Anthony Hamilton
Friday,18 March 2011
10.00 am - 12 Marcus Campbell 4-3 Stuart Bingham
NB 12.00 pm - 13 Barry Pinches 3-4 Michael Holt
NB 3.00 pm - 10 Stephen Lee 4-1 Mark Davis
NB 6.30 pm - 16 Mark Selby 4-0 Andrew Higginson
NB 8.00 pm - 14 Judd Trump 2-4 Martin Gould
Saturday, 19 March 2011
10.00 am - QF - Martin Gould 4-2 Michael Holt
NB 1.00 pm - QF - Matthew Stevens 4-0 Marcus Campbell
6.00 pm - QF - Shaun Murphy 4-3 Stephen Lee
NB 7.30 pm - QF - Mark Williams 3-4 Mark Selby
Sunday, 20 March 2011
12.00 pm - SF - Shaun Murphy 4-0 Matthew Stevens
NB 3.00 pm - SF - Martin Gould 4-3 Mark Selby
7.30 pm - Final
Shaun Murphy 4-0 Martin Gould
NB = not before
All matches are the best of 7 frames (no intervals).
From 16-19 March 2011 all matches are played on a roll on/roll off basis. Play will start at the allocated time each day with a 15 minute interval between matches. The remaining matches each day will not start before the times indicated above. Evening session each day will not start before the time indicated on the format.
Order of play and table numbers for all matches up to the semi-finals will be determined the day before and published by the Tournament Director.
Players Tour Championship Grand Finals Qualifiers
www.worldsnooker.com
Shaun Murphy has finished top of the PTC Order of Merit - and read on to find out the other 23 players who have qualified for the Grand Finals in March.
The last of the 12 short events finished in Prague yesterday, with Michael Holt taking the title and leaping from 96th place into the promotion zone. The 12 events were won by 12 different players.
Below is the list of the 24 to go through to the televised event in March. Note that John Higgins, Ronnie O'Sullivan and Ding Junhui were not eligible as they did not meet the criteria of playing in at least three PTC and three EPTC events.
Shaun Murphy
Mark Selby
Barry Pinches
Marcus Campbell
Judd Trump
Mark Williams
Dominic Dale
Stephen Lee
Tom Ford
Stephen Maguire
Michael Holt
Liang Wenbo
Martin Gould
Marco Fu
Ricky Walden
Anthony Hamilton
Stuart Bingham
Jack Lisowski
Jamie Jones
Andrew Higginson
Mark Davis
Matthew Stevens
Gerard Greene
Joe Jogia