PTC - finále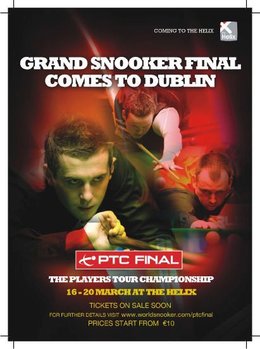 Rozpis zápasů Velkého finále PTC
Středa, 16. března 2011
11,00 - 5 Marco Fu 1-4 Michael Holt
ne před 12,30 - 1 Ricky Walden 4-1 Liang Wenbo
ne před 14,30 - 2 Mark Davis 4-0 Joe Jogia
ne před 16,00 - 7 Anthony Hamilton 4-2 Tom Ford
20,00 - 3 Matthew Stevens 4-2 Gerard Greene
ne před 21,30 - 4 Stuart Bingham w/o Stephen Maguire
Čtvrtek, 17. března 2011
11,00 - 6 Jamie Jones 0-4 Martin Gould
ne před 13,00 - 8 Andrew Higginson 4-1 Jack Lisowski
ne před 16,00 - 9 Shaun Murphy 4-2 Ricky Walden
ne před 19,30 - 11 Dominic Dale 1-4 Matthew Stevens
ne před 21,00 - 15 Mark Williams 4-0 Anthony Hamilton
Pátek, 18. března 2011
11,00 - 12 Marcus Campbell 4-3 Stuart Bingham
ne před 13,00 - 13 Barry Pinches 3-4 Michael Holt
ne před 16,00 - 10 Stephen Lee 4-1 Mark Davis
ne před 19,30 - 16 Mark Selby 4-0 Andrew Higginson
ne před 21,00 - 14 Judd Trump 2-4 Martin Gould
Sobotva, 19. března 2011 - QFs
11,00 - Michael Holt 2-4 Martin Gould
ne před 14,00 - Matthew Stevens 4-0 Marcus Campbell
19,00 - Shaun Murphy 4-3 Stephen Lee
ne před 20,30 - Mark Williams 3-4 Mark Selby
Neděle, 20. března 2011
13,00 - SF - Shaun Murphy 4-0 Matthew Stevens
ne před 16,00 - SF - Martin Gould 4-3 Mark Selby
20,30 - Finále
Shaun Murphy 4-0 Martin Gould
Všechny zápasy budou hrány na best of 7 framů (bez přestávky).
Od 16. do 19. března 2011 budou všechny zápasy hrány jeden za druhým. Zápasy začnou každý den v uvedený čas s 15ti minutovou přestávkou mezi zápasy. Ostatní zápasy nezačnou před dobou uvedenou v tomto rozpise. Večerní část nezačne před dobou uvedenou v tomto rozpise.
Pořadí zápasů a čísla stolů všech zápasů až do semifinále budou stanoveny den předem a oznámeny turnajovým ředitelem.
Kvalifikanti do Velkého Finále Players Tour Championship
www.worldsnooker.com
Shaun Murphy skončil na špici žebříčku PTC Order of Merit - a čtěte dál, abyste se dozvěděli dalších 23 hráčů, kteří se kvalifikovali do březnového Velkého Finále.
Poslední ze 12ti krátkých akcí skončila v neděli 21.11. v Praze, Michael Holt získal titul a poskočil z 96. místa do postupové zóny. Všech 12 akcí mělo odlišných 12 vítězů.
Níže máte seznam 24 hráčů, kteří se dostali do březnové akce přenášené televizí. Povšimněte si, že John Higgins, Ronnie O'Sullivan a Ding Junhui nemají právo účasti, protože nesplnili kritéria účasti na alespoň 3 akcích PTC a 3 akcích EPTC.
Shaun Murphy
Mark Selby
Barry Pinches
Marcus Campbell
Judd Trump
Mark Williams
Dominic Dale
Stephen Lee
Tom Ford
Stephen Maguire
Michael Holt
Liang Wenbo
Martin Gould
Marco Fu
Ricky Walden
Anthony Hamilton
Stuart Bingham
Jack Lisowski
Jamie Jones
Andrew Higginson
Mark Davis
Matthew Stevens
Gerard Greene
Joe Jogia