Focus on ..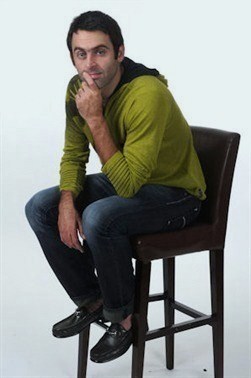 ..RONNIE O'SULLIVAN
http://snookerscene.blogspot.com
Dave H.
Love him or hate him – and plenty seem to do either – Ronnie O'Sullivan is snooker's greatest gift.
He is the only player who can regularly command a full house and the only one outside of those associated with the 'golden era' of the 1980s who attracts the interest of the wider media.
At 34, O'Sullivan is approaching veteran status but it would take an extraordinary collapse in form to see him end the season much below where he is now.
Last season he won only one title, the Shanghai Masters. He was beaten by John Higgins in three other ranking events and by Mark Selby in the Masters final and World Championship quarter-finals. Shaun Murphy beat him in the Premier League final while the manner of his exit from the China Open was not exactly his finest hour.
Overall, this wasn't a bad campaign but Ronnie is no longer world no.1, neither is he world champion.
His future fortunes may well depend on the extent to which he embraces the Barry Hearn revolution.
It was O'Sullivan who set the ball rolling at the 2009 Masters with his very public appeal for snooker to open itself up to entrepreneurship and shake some life into a sport may felt had gone stale.
O'Sullivan has a very good relationship with Hearn. He has said the promoter 'was like a dad to me' when he managed him as a teenager.
When Hearn called him a 'miserable bastard' he took it as it was meant: as a bit of banter between a couple of mates.
The new formats for the World Open and Sky Shootout are likely to excite Ronnie more than the run of the mill ranking events he's been playing in for nearly two decades. They will be something different, a new experience, something he usually likes.
He has already played in one Players Tour Championship event – although he hasn't entered the second one – and has a full calendar of tournaments to keep him going if he wants them.
But analysing O'Sullivan is not a job I or most others are qualified to do. He remains a complex soul: a mass of contradictions who tests the patience even of those who idolise him.
His search for perfection on the table is fruitless. He will never find it, at least not over a sustained period.
Snooker, to put it crudely, is a bloody hard game and even a player blessed with the mercurial talents of O'Sullivan can't win everything, neither can they play brilliantly all the time.
It seems that Ronnie's performances these days depend largely on who he is playing.
Two of his best displays last season came against Mark Williams, first at the Masters and then at the World Championship. Williams is a player he grew up with and one who he greatly respects.
In both events he then lost to Selby, whose reliance on defence as well as attack – a perfectly reasonable approach – seems to frustrate him greatly.
I think most players would still regard O'Sullivan as the best player on the circuit. He probably wouldn't and therein lies the central paradox of his career.
Everyone can see how frighteningly good he is apart from Ronnie O'Sullivan himself.
Maybe he's right and we're all wrong. Or maybe he should stop chasing perfection and just be satisfied with being, at his best, the best