Zaostřeno na ..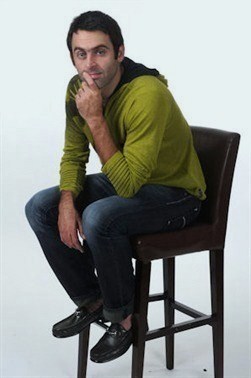 ..Ronnie O'Sullivana
http://snookerscene.blogspot.com
Dave H.
Milujte ho nebo nenáviďte – a spousta lidí evidentně dělá oboje – Ronnie O'Sullivan je největším snookerovým darem.
Je jediným hráčem, který pravidelně poskytuje nabité hlediště a jediný z těch, kteří jsou spojovaní s tzv. "zlatou érou" 80. let, který přitahuje zájem médií.
Ve 34 letech už se O'Sullivan blíží k označení veterána, ale musel by přijít nějaký extra kolaps formy, aby zakončil tuhle sezónu o moc níže, než je teď.
Minulou sezónu vyhrál jen jeden titul – Shanghai Masters. 3x ho porazil na bodovaných turnajích John Higgins a a Mark Selby ho porazil ve finále Masters a ve čtvrtfinále Mistrovství světa. Shaun Murphy ho porazil ve finále Premier League, ale jeho odchod z China Open určitě nebyl jeho nejlepší hodinou.
Celkově to nebyla špatná sezóna, ale Ronnie už není světová jednička, ani není mistr světa.
Jeho štěstěna budoucnosti možná dost záleží na rozsahu toho, jak přijme revoluci Barry Hearna.
Byl to O'Sullivan, kdo spustil lavinu na Masters 2009 svou veřejnou výzvou pro otevření snookeru podnikatelským aktivitám a otřásl některými životy v tomto sportu, které už byly trochu cítit zatuchlinou.
O'Sullivan má s Hearnem velmi dobré vztahy. Řekl, že tento promotér pro něj byl jako otec, když ho v mládí vedl.
Když ho Hearn nazval "mizerným bastardem" vzal to tak, jak to bylo míněno: jako trocha škádlení mezi párem kámošů.
Nové formáty World Open a Sky Shootout by mohly Ronnieho nalákat více, než honba za bodovanými akcemi, které už hraje skoro 2 desetiletí. Bude to něco jiného, nová zkušenost, něco, co má obvykle rád.
Už hrál na akci Players Tour Championship – i když do druhé nenastoupil – a má plný kalendář turnajů na které může jet, když bude chtít.
Ale analyzovat O'Sullivana není práce ani pro mě ani pro nikoho jiného. Ponechává si složitou duši: spousta rozporů, které testují trpělivost i toho, kdo si ho idealizuje.
Jeho honba za dokonalostí u stolu je marná. Nikdy ji nenajde, určitě ne nastálo.
Snooker, když to řekneme krutě, je zatraceně tvrdá hra a i když je hráč obdařen nevypočitatelným O'Sullivanovým talentem, nemůže vyhrát vše, ani nemůže pokaždé hrát skvěle.
V současnosti to vypadá, že Ronnieho vystoupení závisí hodně na tom, s kým hraje.
Dvě z jeho nejlepších výkonů poslední sezóny přišly s Markem Williamsem, první na Masters a další pak na Mistrovství světa. Williams je hráč, se kterým vyrostl a hráč, kterého obrovsky respektuje.
Na obou akcích pak prohrál se Selbym, jehož závislost na obraně stejně jako útoku – perfektně opodstatněný přístup – ho asi strašně frustruje.
Myslím, že většina hráčů by stále považovala O'Sullivana za nejlepšího hráče na okruhu. On sám asi ne a tady leží základní paradox jeho kariéry.
Každý vidí jak hrozivě je dobrý, krom samotného Ronnie O'Sullivana.
Možná má pravdu a my všichni se mýlíme. A nebo možná by měl přestat hledat dokonalost a být spokojen s tím, že když je ve formě, tak je nejlepší.