Jimmy Robertson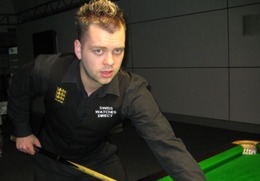 Otázky a odpovědi
Jaká je tvoje nejranější vzpomínka?

Mám za to, že malá bitka s mým bratrancem, když mi bylo asi 6. Předtím se nestalo nic, co by mi uvízlo v paměti - jen nějaké hraní s kamarády nebo Vánoce.

Koho nejvíce obdivuješ?

Jimmy White a Ronnie 'O'Sullivana. Už od dětství jsou mými idoly. Talent těch dvou je neuvěřitelný. Doufám, že dosáhnu také tolika úspěchů.

Čeho se bojíš?

Rozhovorů a mluvením s médii. Vím, že to musím dělat, ale vůbec mi to není příjemné. Doufám, že se to časem změní!

Kdyby se o tvém životě točil film, koho bys chtěl do hlavní role?

Hugh Granta, protože to je legenda úplně mě pobláznil. A nebo Ronnie O'Sullivana, čistě pro jeho schopnosti. Nejtalentovanější hráč, jakého kdy svět viděl!

Tvůj nejhříšnější požitek?

Ležení v posteli, koukání na DVD, totální lenost a nacpávání se čokoládou a dalším nezdravým jídlem.

Jaké největší trable jsi měl ve škole?

Nadávali mi za mluvení a nepořádek kolem po celou dobu. Nesoustředěnost a nedělání domácích úkolů. A za uličnictví!

Jakou nejdražší věc krom domu, jsi si koupil?

Auto. Je to jen Ford Focus, ale doufám, že si koupím Ford Focus ST, jako malou odměnu. Už roky jeden chci, ale nemohl jsem si ho dovolit. Ve skutečnosti stále nemohu, ale je to příjemná kára!

Máš nějakou hudbu, která tě inspiruje?

Něo od Ushera nebo Chrise Browna, protože to je kvalitní taneční hudba. Klubová hudba mě burcuje.

Kdybys měl stroj času a mohl se přesunou kamkoliv dopředu nebo dozadu, kam by jsi se přesunul?

Asi o 20 nebo 30 let dopředu, abych viděl, jak jsem dopadl. Vidět, jestli jsem měl největší úspěch jako snookerový hráč, vidět, koho jsem si vzal a s kým mám rodinu. Kdyby to nebylo to, co bych chtěl, měl bych snad možnost změnit budoucnost, ha!
Kdyby ses mohl v příštím životě vrátit jako zvíře, co bys byl?

Pes. Mívali jsme Springer Spaniela, který se jmenoval 'Benson' (mí rodiče měli rádi George Bensona) když jsem vyrůstal a byl to rozmazlený mizera. Byl to milý pes a byl zvyklý na spoustu mazlení a lahůdek a pak sebou jen praštil a usnul, buď na tobě nebo na gauči. To je život!
Otázky a odpovědi
www.worldsnooker.com
24letý hráč ze Sussexu se těší, že naváže na slibnou sezónu 2009/10.
Jak by jsi shrnul uplynulou sezónu?
Měl jsem slušnou sezónu. Bylo jen šest bodovaných akcí, takže mým hlavním cílem bylo zůstat na Tour. Bylo to sice těsné, ale zvládl jsem to. Mám pocit, že jsem teď lepším hráčem. Vyhrál jsem 3 zápasy na prvním turnaji a hrál jsem s Graeme Dottem, abych se dostal v Číně do své první hlavní herny; vedl jsem 4-1, ale prohrál jsem 5-4. Prohrál jsem jen jeden zápas 1. kola a to bylo dobré pro moje body do žebříčku.
Byla nějaká zklamání?
Prohra v tom jednom zápase prvního kola. Po výhře v prvních třech zápasech na Shanghai, v dalším turnaji - Grand Prix, jsem prohrál svůj první zápas s Mattem Couchem. Neříkám, že bych s ním stejně neprohrál, ale necítil jsem se dobře, byl jsem nemocný. V kvalifikaci na Svěťák jsem prohrál s Markem Joycem, prohrával jsem už 5-9 a srovnal jsem na 9-9 a pak jsem prohrál 9-10, což byl špatný způsob, jak zakončit tu část.
Jaké máš cíle pro novou sezónu?
Chci se dostávat na hlavní herny a hrát tak dobře, jak to půjde. Při současném způsobu bodování, je důležité, abych se dostal co nejvýše, protože pak budu lépe nasazován do akcí po každém přepočítání.
Jaké máš plány na léto?
Po pár měsících klidu se vracím k trénování a hraju i golf. Hrál jsem v Gloucesteru na akci "Růžová stužka" a tenhle víkend hraju na akci PTC.