World Open 2010*
Format of play
The World Open runs from September 18 to 26 at the SECC in Glasgow. Details of the playing format are shown below.
There is only one table. Play will start at the allocated time each day with at least a 5 minute interval between matches.
The draw up to and including the Semi Finals will be made on a random basis.
All matches up to and including the SFs will be best of 5 frames and the Final will be best of 9 frames.
Saturday September 18
2.30pm
Neil Robertson 3-1 Graeme Dott
Ali Carter 3-1 Thepchaiya Un-Nooh
Stephen Maguire 3-2 Stuart Pettman
Not before 7pm
Steve Davis 1-3 Peter Ebdon
Shaun Murphy 0-3 Dave Harold
Sunday September 19
2pm
Stephen Hendry 3-0 Bjorn Haneveer
Mark Williams 3-0 Igor Figueiredo
Ding Junhui 3-0 Adrian Gunnell
7pm
Jimmy White 3-1 Paul Davison
Mark Selby 2-3 Barry Hawkins
Monday September 20
12.30pm
Ronnie O'Sullivan 3-0 Mark King (10th 147) :-)
Matthew Stevens 2-3 Alan McManus
Joe Jogia 1-3 Liu Song
7pm
Jamie Cope 3-2 Dave Harold
Mike Dunn 1-3 Marcus Campbell
Tuesday September 21
1pm
Ali Carter 1-3 Mark Williams
Jimmy Michie 1-3 Ding Junhui
Stephen Lee 3-2 Nigel Bond
7pm
Stephen Hendry 3-0 Mark Davis
Peter Ebdon 3-2 Fergal O'Brien
Wednesday September 22
12.30pm
Neil Robertson 3-1 David Morris
Not before 2pm
Ken Doherty 1-3 Barry Hawkins
James McBain 0-3 Ricky Walden
7pm
Judd Trump 2-3 Stephen Maguire
Martin Gould 3-0 Matthew Couch
Thursday September 23
12.30pm
Ronnie O'Sullivan 3-1 Jimmy White :-)
Marco Fu 1-3 Andrew Higginson
Marcus Campbell 0-3 Ding Junhui
7pm
Mark Williams 3-2 Barry Hawkins
Peter Ebdon 3-2 Liu Song
Friday September 24
12.30pm
Jamie Cope 1-3 Ricky Walden
Stephen Hendry 1-3 Ronnie O'Sullivan :-)
Alan McManus 0-3 Stephen Maguire
7pm
Neil Robertson 3-2 Andrew Higginson
Stephen Lee 0-3 Martin Gould
Saturday September 25
1pm
Mark Williams 3-2 Ding Junhui
Peter Ebdon 3-1 Martin Gould
7pm
Stephen Maguire 1-3 Ronnie O'Sullivan :-)
Ricky Walden 1-3 Neil Robertson
Sunday September 26
2pm
Semi-final - Peter Ebdon 1-3 Ronnie O'Sullivan :-)
Semi-final - Mark Williams 2-3 Neil Robertson
8pm
Final - Ronnie O'Sullivan 1-5 Neil Robertson :-(
He can sound potty but at least Ronnie O'Sullivan tells it like it is
http://www.guardian.co.uk/sport/blog/2010/sep/21/ronnie-osullivan-147-break - video
Snooker's box-office star has a wonderful ability to create drama in a sport that can easily become a bore – as he demonstrated with his 147 outburst
Let's get one thing straight. What Ronnie O'Sullivan did at the World Open in Glasgow yesterday was bloody daft. Refusing to complete a 147 break when you've scored 140 and you've got an easy black on the table is petulant, spoilt and an insult to snooker fans. Not the kind of behaviour we need at a time when the sport's reputation is at its nadir and snooker is desperately trying to crawl out of a slough of despond.
As for his argument that winning four grand for the highest break is not worth the time it takes to pot the black because after taxes he can't even get a decent holiday out of it, do us a favour Ronnie – put a sock in it.
But having said all that, his reluctance to complete the 147 (he was eventually persuaded to finish off by the referee Jan Verhaas who "guilt-tripped" him into doing it) is one of the reasons I love Ronnie. While so many sportsmen have been accused of being on the make in some sly, devious, or downright dishonest manner, Ronnie is the polar opposite. All his loopy behaviour is thoroughly transparent. So where other players are accused of throwing frames, he simply retires from one that he could easily win because he's so disgusted by his own form. And when others want to screw everything they can out of their sport, he turns down a quick four grand to make a political point of sorts.
After all, what better way of drawing attention to the fact that there is virtually no money in snooker these days? Yes, he makes a very good living out of the game, as do the handful of players who win competitions. But take away the top 10 and it's virtually impossible to make a living from the sport.
The transparency is almost an affliction with Ronnie. He can't help himself. He has to say how things are – or at least how he sees them. When I was ghosting his autobiography, he told me about the time he was in the Priory trying to get to grips with his addictions, naked under the bed sheets, and an elderly nurse walked in and he got a "semi". Strictly speaking, this was not essential information for a snooker memoir. But as far as he was concerned it was. So this is how the conversation went with his mother Maria, the book's taste monitor:
Ronnie: "Mum, d'you think I should keep my semi in the book?"
Maria: "Well, it's your semi, Ron, you've got to make the choice."
So we kept the semi in.
Which almost takes us back to yesterday's 147. Ronnie says making a maxi is a special achievement – and should be marked with a special bonus. (At the world championship, a 147 is traditionally rewarded with £147,000.) And he's got a point. But so have the snooker authorities who say the standard is so high these days that a 147 isn't sufficiently special to merit a reward in every tournament (plus, they can no longer insure against a 147).
Ronnie has always had a wonderful ability to create drama out of a sport that can easily become a snore bore. And yesterday he did it again. After all, in almost refusing to complete his 147 he made more news than he would have done if he'd quietly, politely made a record-breaking 10th maximum in competition. And however much the snooker overlord Barry Hearn might protest that Ronnie is in danger of bringing the game into disrepute, he must be thankful that snooker's presiding genius has once again got the country talking about the sport for (almost) the right reasons.
Perfect Ten For Ronnie
www.worldsnooker.com
Ronnie O'Sullivan scored a sensational 147 break at the 12BET.com World Open - setting a new record with his tenth official maximum.
The Rocket fired his brilliant break in the final frame of a 3-0 victory over Mark King as he stormed into the last 32 and set up a mouth-watering clash with fellow crowd favourite Jimmy White.
O'Sullivan took the first frame with a break of 75, added a scrappy second on the pink and then lit up the tournament at the SECC in Glasgow. The three-times World Champion potted 15 reds with blacks, the key positional shot coming on the 13th black when he floated the cue ball in and out of baulk to finish perfectly on the penultimate red.
From that point he was never out of position, though the break had a bizarre end as he shook hands with King after potting the pink on 140 and looked set to walk out of the arena, before deciding to thump in the black at such pace that it might have jumped out of the pocket.
It's the 73rd official maximum in snooker history and third of the season after two in the PTC events from Kurt Maflin and Barry Hawkins. O'Sullivan was previously tied with Stephen Hendry on nine but becomes the first player to get to double figures.
"After potting the first red and black I wanted to go for it so I asked the referee if there was a prize," said O'Sullivan, who revealed that he considered turning down the final black because there is no bonus for the 147 at this tournament, other than the £4,000 high break prize. "It would have been nice to have £25,000 so I could go on holiday," he joked. "I would have got a kick out of just making a 140 and leaving the black. I don't think 147s are that difficult but everyone else thinks they are.
"I've been watching the tournament on TV and it looks good, it's exciting with the flashing lights and music. I said Barry Hearn would make changes for the better and there's a good atmosphere, although it doesn't make me want to play any more or less."
World Open
Qualifying Format, 21-24 August2010
World Snooker Academy, Sheffield
Format of Play
Saturday, 21 August, 2010
10 am
1 - J.Jones 3-0 T.Knowles
2 - M.Williams 1-3 P.Davison
3 - J.Whitty 0-3 T.Thirapongpa
4 - N.Sangkham 3-1 L.Brecel
5 - I.Figueireo 3-2 L.Chuang
6 - L.Higfield 3-1 M.White
12 pm
7 - J.Astley 3-2 M.Wasley
8 - Ch.Norbury 3-0 R.Beckham
9 - A.Wicheard 2-3 J.McBain
10 - D.Wells 3-1 J.O'Neil
11 - J.Jones 1-3 J.Jogia
12 - P.Wallace 3-0 K.Maflin
4 pm
13 - J.Lisowski 3-1 R.Causton
14 - X.Guodong 3-0 J.Loft
15 - T.Un-Nooh 3-1 R.Evans
16 - J.Logue 1-3 J.Walker
17 - M.Finn 0-3 K.Wilson
18 - H.Subah 1-3 D.Morgan
6 pm
19 - M.Mann 0-3 B.Woollaston
20 - A.Pagett 2-3 K.Johal
21 - A.Gokool 0-3 S.Harvey
22 - P.Einsle 2-3 D.McGlinchey
23 - I.Kachaiwong 2-3 J.McGouran
24 - S.Baird 3-2 Z.Anda
Sunday, 22 August, 2010
10 am
25 - G.Thomson 0-3 L.Munstermann
26 - A.McGill 3-1 I.Glover
27 - M.Geudens 3-2 J.Devaney
28 - A.Rizzuti 0-3 A.Burden
29 - A.Morgan 0-3 L.Song
30 - M.Davis 0-3 M.Couch
12 pm
31 - W.Jans 1-3 S.Bedford
32 - J.Edwards 1-3 C.MacGillvary
33 - J.Burnett 0-3 A.Gunnell
34 - D.Dale 3-1 S.Harvey
35 - B.Woollaston 3-0 J.Astley
36 - L.Song 3-1 B.Pinches
4 pm
37 - A.Hamilton 1-3 J.McBain
38 - J.White 3-0 M.Judge
39 - D.McGlinchey 1-3 P.Davison
40 - M.Geudens 1-3 A.McGill
41 - T.Ford 1-3 A.Burden
42 - P.Davies 3-2 J.McGouran
6 pm
43 - B.Haneveer 3-2 J.Swail
44 - T.Un-Nooh 3-0 P.Lines
45 - S.Bedford 3-2 J.Robertson
46 - L.Higfield 2-3 F. O'Brien
47 - N.Sangkham 0-3 M.Gould
48 - M.Couch 3-0 I.McCulloch
Monday, 23 August, 2010
10 am
49 - J.Michie 3-2 M.Joyce
50 - J.Jones 3-0 S.Baird
51 - D.Morgan 3-2 X.Guodong
52 - T.Drago 3-1 J.Walker
53 - J.Delaney 2-3 T.Thirapongpa
54 - Ch.Norbury 1-3 A.McManus
12 pm
55 - S.Pettman 3-0 K.Wilson
56 - M.Selt 3-1 L.Munstermann
57 - R.Lawler 2-3 N.Bond
58 - M.Campbell 3-0 D.Wells
59 - J.Lisowski 1-3 A.Hicks
60 - R.McLeod 3-1 K.Johal
4 pm
61 - I.Figueiredo 3-0 D.Gilbert
62 - R.Milkins 1-3 D.Morris
63 - P.Wallace 1-3 J.Jogia
64 - C.MacGillvary 0-3 J.Wattana
Tuesday, 24 August, 2010
10 am
65 - J.Trump 3-0 T.Thirapongpa
66 - M.Fu 3-2 A.Burden
67 - S.Murphy x D.Harold (Glasgow)
68 - M.Selt 0-3 M.Gould
69 - P.Davison x J.White (Glasgow)
70 - F. O'Brien 3-1 D.Dale
12 pm
71 - R.Walden 3-1 A.Hicks
72 - D.Morgan 2-3 M.Stevens
73 - A.Higginson 3-1 L.Wenbo
74 - D.Junhui x A.Gunnell (Glasgow)
76 - G.Greene 2-3 J.Jogia
78 - M.Campbell 3-1 S.Bedford
79 - L.Song 3-1 M.Holt
4 pm
80 - A.McManus 3-0 A.McGill
82 - J.Wattana 2-3 J.Michie
84 - R.McLeod 1-3 N.Bond
87 - M.Davis 3-0 J.Jones
88 - T.Drago 1-3 S.Lee
89 - M.Dunn 3-1 R.Day
6 pm
91 - D.Morris 3-0 B.Woollaston
92 - M.Allen 2-3 J.McBain
93 - M.Couch 3-0 P.Davies
94 - K.Doherty 3-2 J.Perry
95 - S.Bingham 2-3 J.Cope
96 - M.Williams x I.Figueiredo (Glasgow)
Matches held over to Final venue 75,77,81,83,85,86,90 plus 3 further Round 3 matches from those shown above

All matches will be the best of 5 frames.
Draw for the first three rounds of the turnament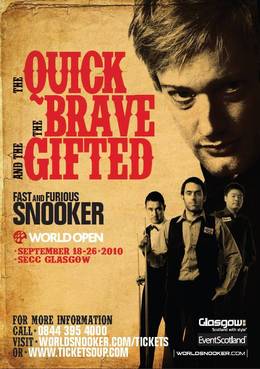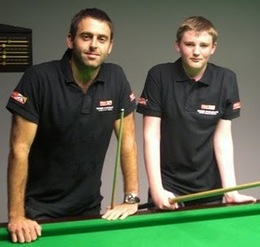 BIG TURNOUT FOR WORLD OPEN
http://snookerscene.blogspot.com
Dave H
I'm pleased to see the World Open qualifiers have already attracted more than 500 entrants from the UK.
In recent years, participation levels in Britain have fallen, even though snooker remains a popular television sport.
Snooker clubs are not just places to go to pot balls. They are social hubs.
The smoking ban in the UK certainly hit them hard with many now closed down. The general decline of the sport's image has also had a negative effect.
The World Open is being touted as the FA Cup of snooker as it gives 20 players the chance to take part in the pro qualifying rounds in August, with a chance to battle through to the TV stages.
This development, along with the new Players Tour Championship, also open to amateurs, may well help to reignite interest in the amateur ranks.
Snooker, like the black pudding industry, relies on a steady supply of fresh blood.
There is much competitive snooker going on that is barely reported but it serves as a training ground for stars of the future.
The champions of tomorrow need to believe that all the effort is worthwhile. They also need to have stars they can look up to.
Ronnie O'Sullivan would accept he has not always been the perfect professional but his mentoring of Joel Walker through the Rileys Future Stars scheme gives that youngster an enviable insight into the game.
Ronnie, at his best, is an inspirational person to be around. He can help improve Joel's game but also help build confidence, such an important commodity in any sport.
It is also another link between the pro and amateur games. For too long they have existed in isolation. The fact is, it's one game and deserves recognition at all levels.
Usually at this time of the year there is nothing happening. This year there is a sense that snooker is beginning to get back on its feet with new ideas and – crucially – more playing opportunities for players wherever they are in their careers.
The World Open is a controversial addition to the tournament calendar but what it does do is open the door of top level snooker to hundreds of hopefuls and give them a peek of what is waiting inside if they ultimately make the grade.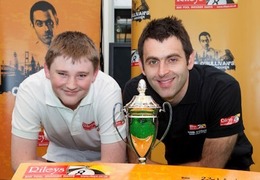 Brecel And Walker Handed World Open Slots
www.worldsnooker.com
Belgian prodigy Luca Brecel and Rileys Future Stars Of Snooker champion Joel Walker have been awarded places in the qualifying rounds of the World Open.
The unique new tournament will see 32 amateur players enter the professional qualifying rounds at the World Snooker Academy in Sheffield from August 21-24, when they will be battling to get through to the televised stages at the SECC in Glasgow in September.
Two amateur places have been allocated to juniors, with Brecel and Walker selected for those slots.
Considered one of the most promising talents in snooker, 15-year-old Brecel recently became the youngest ever winner of the European Championship, beating several experienced players including Holland's Roy Stolk 7-4 in the final. He is also the current Belgian champion and has beaten the likes of Jimmy White and Ken Doherty in invitation events.
Sheffield's 16-year-old Walker was selected by Ronnie O'Sullivan as the most promising player in the nationwide 'Future Stars' competition run by Rileys, which was entered by over 1000 juniors. The final stages of the rigorous selection process took place at the Crucible during the Betfred.com World Snooker Championship, when Walker showed off his skills to beat the opposition and earn a year of training and mentoring from O'Sullivan.
"I'm over the moon to have been picked to play in the World Open, it's a great chance for me," said Walker. "I feel good about my game and hopefully I will get through to the venue and play against one of my idols I have watched on TV. I'll be practising with Ronnie a couple of times before then, I'm always learning from him."
Rileys Chief Executive Maurice Kelly said: "It's a great break for Joel. Everyone at Rileys is delighted for him.
"We are particularly pleased with the way Joel is coming along under Ronnie O'Sullivan's influence. We hope our Future Stars winner is now on the road to becoming a star in his own right."
The remaining 30 amateur places in the qualifiers will be made up by two former World Champions, two women, six international players and 20 winners of regional pre-qualifying events staged by Rileys and other snooker clubs.
For full details see www.worldsnooker.com/qualifierswanted.
Tickets for the final stages, which run from September 18 to 26, can be bought by calling 0844 395 4000 or visiting www.worldsnooker.com/tickets
The World Open receives equal funding and support from EventScotland and Glasgow City Marketing Bureau.
Tickets For New World Open On Sale
www.worldsnooker.com
Tickets are on sale for a unique and innovative new tournament on the World Snooker calendar: the World Open in Scotland in September.
The world ranking tournament runs from September 18 to 26 at the SECC in Glasgow and is set to feature the sport's top stars, including Ronnie O'Sullivan, Mark Selby, Scottish legend Stephen Hendry and Betfred.com World Champion Neil Robertson.
The pioneering format includes:
Scope for 32 amateur players to join the 96 professionals in the qualifying phase. These amateurs will include junior, international and women players, as well as winners from tournaments staged at Rileys and other independent snooker clubs. Matches involving some of the top players will be held over to the venue.
A completely random FA Cup – style draw for all rounds, raising the possibility of top seeds going head-to-head early in the tournament.
The action promises to be fast and furious, with all matches best-of-five frames, up until the final which will be best-of-nine.
World Snooker Chairman Barry Hearn said: "We wanted to come up with something really special to replace the Grand Prix event, and we believe we've done just that with the World Open.
"It will be fascinating to see how the best amateurs fare against the professionals. We could get a rags-to-riches story of an unknown player getting to the business end or giving one of the top stars a shock. The random draw has worked well in the past and the best-of-five matches will provide virtually non-stop action for the fans. (The man obviously knows the Paul Hunter Classic in Germany, but that event is much better due to groups – note of webmaster)
"I'd recommend anyone who loves snooker to get their tickets booked straight away because THIS EVENT CANNOT BE MISSED! The tournaments we've staged in Glasgow in recent years have been well supported but we want to see a full house this time! I can't wait to see all the fans cheering their heroes on."
Secure your seats by calling 0844 395 4000 or visiting www.ticketsoup.com. You can find more details on the format at http://www.worldsnooker.com/site_files/websiteFormatv2.pdf

The World Open receives equal funding and support from EventScotland and Glasgow City Marketing Bureau.
Paul Bush OBE, Chief Operating Officer at EventScotland, the national events agency, said: "Snooker generates hours of valuable broadcast exposure for the city of Glasgow and is watched by millions of people around the world. We're delighted to be hosting this new and exciting tournament in Scotland and we're confident that it will attract impressive spectator numbers from across the UK. The new format of this event also means that amateurs will be given the opportunity to play against and alongside legends in the world of snooker which will ensure exciting clashes and fierce competition for spectators and viewers."
Scott Taylor, Chief Executive, Glasgow City Marketing Bureau, said: "Having just been officially ranked as a key player in the world league of Ultimate Sports Cities, and having scooped the top award for its sports event marketing, Glasgow is the perfect host city for the new format, newly-named World Open.
"Glasgow City Marketing Bureau is proud to continue its support of the event, which is set to bring around 4,000 fans to the SECC, as well as around £335,000 to Scotland's economy and almost £1million worth of TV exposure."
The qualifying phase will run from August 21 to 24 at the World Snooker Academy in Sheffield. The competitions run by Rileys and other clubs will be completed by July 31 – details on how to enter will be available soon at www. worldsnooker.com