World Seniors Snooker Championship 2010
The schedule for the Wyldecrest Park Homes World Seniors Championship is:
Friday November 5
4.15pm: The draw
7.30pm: Peter Ebdon 0-2 Nigel Bond
Saturday November 6
11am
Ken Doherty 0-2 Nigel Bond
followed by
Steve Davis 2-0 Joe Johnson
3pm
Dennis Taylor 0-2 John Parrott
followed by
Jimmy White 2-0 Cliff Thorburn
7.15pm: Semi-final 1
Nigel Bond 1-3 Steve Davis
Sunday November 7
12pm: Semi-final 2
John Parrott 2-3 Jimmy White
3pm: Final
Steve Davis 1-4 Jimmy White
The quarter-finals are best of three frames, semi-finals best of five and the final best of seven.
Wyldecrest To Sponsor World Seniors
World Snooker is delighted to announce Wyldecrest Park Homes as the title sponsor of next week's World Seniors Championship.
The new tournament, which will be called the Wyldecrest Park Homes World Seniors Championship, will feature many of the sport's legends, with seven former world champions in the line up.
Steve Davis, Dennis Taylor, Cliff Thorburn, Joe Johnson, John Parrott, Peter Ebdon, Ken Doherty, Nigel Bond and People's Champion Jimmy White will be battling for the £20,000 top prize in the event which runs from November 5 to 7 at the Cedar Court Hotel in Bradford.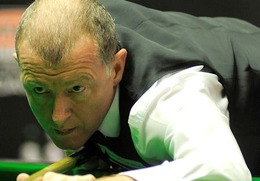 Your Chance To See Snooker Legends
www.worldsnooker.com
Tickets are now on sale for the new World Seniors Snooker Championship, which will feature some of the greatest names in the history of the sport in a unique and intimate environment.
Former World Champions Steve Davis, Dennis Taylor, Cliff Thorburn, Joe Johnson, John Parrott, Ken Doherty and Peter Ebdon, as well as People's Champion Jimmy White and winner of the qualifying tournament Nigel Bond, will compete in AN EVENT NOT TO BE MISSED!
It runs from November 5 to 7, 2010, at the Cedar Court Hotel in Bradford. For details on how to buy tickets, including information on special accommodation rates for ticket holders, click here http://www.worldsnooker.com/the_academy.htm
With many of the great names from the sport's golden era in action, including several players who are still competitive on the professional tour, the snooker promises to be of the highest quality. And there's plenty more to enjoy with autograph sessions, refreshments and John Virgo's famous trick-shots included within certain ticket prices.
Six times World Champion Steve Davis said: "It will be a relaxed atmosphere and a celebration of snooker. It's an opportunity for the players to entertain and enjoy the lighter touch. Having said that, there will be competitiveness among the players."
And 1991 Crucible king John Parrott added: "It will be a great chance for fans to see some of their heroes who are perhaps not on the box as often as they used to be. There will be some great characters there and no doubt a lot of banter between the players and with the crowd. It will be a lot of fun for everyone and not to be missed by anyone who likes snooker. All of the guys were great champions in their day and they can still make breaks as well so there will be some good quality snooker played."
The draw and format for the World Seniors Championship qualifiers is as follows:
Saturday May 29
from 11.30am (roll-on / roll-off)
1. Peter Lines 2-0 Mike Hallett (60,53, 66-16)
2. Tony Drago 2-0 Tony Knowles (67-9, 64-49)
3. Joe Swail 2-0 David Taylor (67-9, 64-49)
4. Nigel Bond 2-0 Dave Harold
approx 7pm
SF1: Peter Lines 3-0 Tony Drago
Sunday May 30
11.45am
SF2: Joe Swail 2-3 Nigel Bond
3pm
Final
Peter Lines 3-4 Nigel Bond
QUALIFIERS
www.worldsnooker.com
See some of the greatest players from the Golden Age of Snooker battle against each other for the right to call them self the World Seniors Champion.
The World Seniors Qualifying event will be held in Cue Gardens, Bradford on 28-30 May. The players set to feature include Tony Knowles, Tony Drago, Mike Hallett, David Taylor, Dave Harold, Nigel Bond, Joe Swail plus another to be announced.
Former World Snooker Champion, Joe Johnson, one of the key people behind this new event stated: "Snooker fans have been crying out for this type of event and I am sure that we will do our best to put on an entertaining Championship. There are only a limited number of tickets available so fans should book their seats now!"
General admission and hospitality tickets are on sale now from www.worldsnooker.com/tickets. Alternatively, tickets can be purchased in person or by telephone from Cue Gardens, Stadium Road, Bradford (01274 607990) or the Telegraph and Argus office, Hall Ings, Bradford (01274 729511).
World Snooker reminds you only to purchase tickets from the World Snooker appointed Box Offices. Tickets bought from unauthorised sources may not be valid and admission to the event may not be permitted.