German Masters 2011*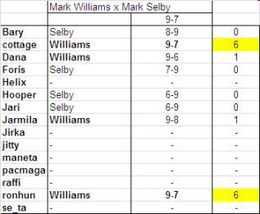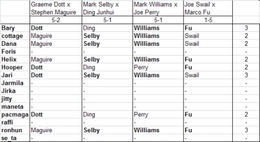 German Masters 2011
Tempodrom, Berlin
2-6 February, 2011
Wednesday, 2 February, 2011
20,00
WC3 - Jack Lisowski 5-2 Luca Brecel
WC1 - Anthony Hamilton 5-1 Pavel Leyk
WC2 - Thanawat Thirapongpa 5-3 Tomasz Skalski
WC5 - Nigel Bond 5-2 Stefan Kasper
WC7 - Joe Swail 5-0 Hans Blanckaert
Thursday, 3 February, 2011
10,00
8 - Ding Junhui 5-1 Matthew Stevens
6 - Stephen Hendry 5-2 Judd Trump
WC4 - Liu Song 2-5 Daniel Wells
WC6 - Anthony Hamilton 5-0 Mario Wehrmann
WC8 - Robert Milkins 5-1 Lasse Munstermann
15,00
10 - Ronnie O'Sullivan x Dominic Dale w/o
5 - Mark Selby 5-1 Nigel Bond
2 - Graeme Dott 5-1 Thanawat Thirapongpa
14 - Mark Allen 3-5 Joe Swail
7 - Peter Ebdon 5-3 Andrew Higginson
20,00
1 - Neil Robertson 4-5 Anthony Hamilton
13 - Shaun Murphy 5-3 Ryan Day
3 - Ricky Walden 5-2 Jack Lisowski
12 - Ali Carter 5-4 Stephen Lee
11 - Jamie Cope 3-5 Joe Perry
Friday, 4 February, 2011
10,00
16 - John Higgins 5-3 Robert Milkins
9 - Mark Williams 5-1 Anthony McGill
15 - Mark King 1-5 Marco Fu
4 - Stephen Maguire 5-2 Daniel Wells
14,30
17 - Anthony Hamilton 2-5 Graeme Dott
19 - Mark Selby 5-3 Stephen Hendry
20 - Peter Ebdon 2-5 Ding Junhui
23 - Shaun Murphy 2-5 Joe Swail
20,00
18 - Ricky Walden 0-5 Stephen Maguire
21 - Mark Williams 5-2 Dominic Dale
22 - Joe Perry 5-1 Ali Carter
24 - Marco Fu w/o John Higgins
Saturday, 5 February, 2011
12,30
QF1 - Graeme Dott 5-2 Stephen Maguire
QF2 - Mark Selby 5-1 Ding Junhui
QF3 - Mark Williams 5-1 Joe Perry
QF4 - Joe Swail 1-5 Marco Fu
20,00
SF1 - Graeme Dott 4-6 Mark Selby
SF2 - Mark Williams 6-3 Marco Fu
Sunday, 6 February, 2011
14,00 a 20,00 - Final
Mark Williams 5-3 Mark Selby
Mark Williams 9-7 Mark Selby
All matches up to and including QFs best of 9 frames, semi-finals best of 11 frames, final best of 17 frames (8/9).
O'Sullivan Withdraws From German Masters
2 February, 2011
www.worldsnooker.com
The three-times World Champion was due to face Dominic Dale in the first round on Thursday afternoon. Dale receives a bye to the last 16.
This can't go on!
http://www.dailymail.co.uk
Snooker chief Hearn hits out at O'Sullivan after the 'Rocket' pulls out of German Masters at last minute
By Nick Metcalfe
3rd February 2011
Ronnie O'Sullivan has received a stinging rebuke from World Snooker chairman Barry Hearn after pulling out of the German Masters on the eve of the tournament.
O'Sullivan was due to play Dominic Dale on Thursday in the new ranking event, which is being staged in Berlin, but cancelled his participation at the last minute.
His decision is believed to be on medical grounds, but Hearn is far from impressed.
'When I took over he was my flag-bearer but now he's dropped the flag,' he said.
'I don't care if Ronnie doesn't play but what he can't do is enter and pull out at the last minute, without very good reason.
'It's his face on all the posters in Germany; it's a very important tournament for us as we try to develop the European market and an awful lot of people are going to be disappointed he's not there.'
Hearn took over as chairman last year, with the sport desperately in need of a fresh direction.
Ronnie O'Sullivan is the modern game's most recognisable figure, and with optimism surrounding this event beforehand, his decision is an undoubted blow.
And Hearn added in the Guardian: 'This can't go on. Ronnie's very likeable when he wants to be but he should start considering his future in the game and his responsibilities to it.'
Hearn's worries increased further when news emerged that the participation of world champion Neil Robertson was in doubt due to a lost passport.
Despite these blows, a number of other top stars have admitted they are looking forward to the new event, particularly with news that around 15,000 tickets have been snapped up.
John Higgins said: 'It's fantastic we're playing a ranking tournament here in Berlin.'
I believe the attendance figures we're going to get will be good for the five days we are here, so all in all it's great," he added.

German Masters qualifiers
www.worldsnooker.com
The format for the German Masters qualifiers is shown below.
GERMAN MASTERS 2011
QUALIFYING FORMAT 14-17 DECEMBER 2010
WORLD SNOOKER ACADEMY, SHEFFIELD
Tuesday, 14 December 2010
10,00
1 - Anthony Hamilton 5-4 Kurt Maflin
2 - Fergal O'Brien 2-5 Adam Wicheard
3 - Patrick Wallace 0-5 Thanawat Thirapongpa
4 - Alfie Burden 5-2 Zhang Anda
5 - Mike Dunn w/o
6 - Jack Lisowski 5-2 James McBain
2,30
7 - Jamie Burnett 5-4 James Wattana
8 - Bjorn Haneveer 3-5 Liu Song
9 - Barry Pinches 4-5 Kyren Wilson
10 - Nigel Bond 5-0 Reane Evans
11 - Jimmy White 5-2 Liam Highfield
7,00
12 - Jimmy Robertson 5-2 Igor Figueiredo
13 - Tony Drago 5-4 Kuldesh Johal
14 - Ian McCulloch 5-1 Issara Kachaiwong
15 - Rod Lawler 2-5 Simon Bedford
16 - Andy Hicks 5-1 Paul S. Davison
Wednesday, 15 December 2010
10,00
17 - Joe Jogia 1-5 Jamie O'Neil
18 - Anthony McGill 5-2 Michael White
19 - Stuart Pettman x Xiao Guodong w/o
20 - Dominic Dale 5-4 David Morris
21 - Mark Joyce 5-1 Andrew Pagett
22 - Alan McManus 5-0 Jak Jones
2,30
23 - Matthew Selt 5-3 Ben Woollaston
24 - Michael Holt 3-5 David Gilbert
25 - Rory McLeod 3-5 Matt Couch
26 - Steve Davis w/o Michael Judge
27 - Peter Lines 2-5 Joe Delaney
7,00
28 - Joe Swail 5-1 Justin Astley
29 - Dave Harold 5-0 Dermot McGlinchey
30 - Adrian Gunnell 5-0 Noppon Saengkham
31 - Robert Milkins 5-4 Jimmy Michie
32 - Jamie Jones 5-2 Liu Chuang
Thursday, 16 December 2010
10,00
33 - Anthony Hamilton 5-1 Adam Wicheard
34 - Thanawat Thirapongpa 5-1 Alfie Burden
35 - Mike Dunn 3-5 Jack Lisowski
36 - Jamie Burnett 4-5 Liu Song
37 - Kyren Wilson 2-5 Nigel Bond
38 - Jimmy White 1-5 Jimmy Robertson
2,30
39 - Tony Drago w/o Ian McCulloch
40 - Simon Bedford 5-2 Andy Hicks
41 - Jamie O'Neil 1-5 Anthony McGill
42 - Xiao Guodong 3-5 Dominic Dale
43 - Mark Joyce 3-5 Alan McManus
7,00
44 - Matthew Selt 5-3 David Gilbert
45 - Matt Couch 2-5 Steve Davis
46 - Joe Delaney 2-5 Joe Swail
47 - Dave Harold 5-2 Adrian Gunnell
48 - Robert Milkins 5-3 Jamie Jones
Friday, 17 December
10,00
49 - Stuart Bingham 1-5 Anthony Hamilton
50 - Barry Hawkins 2-5 Thanawat Thirapongpa
51 - Marcus Campbell 3-5 Jack Lisowski
52 - Ken Doherty 4-5 Liu Song
53 - Liang Wenbo 2-5 Nigel Bond
54 - Judd Trump 5-3 Jimmy Robertson
2,30
55 - Andrew Higginson 5-2 Tony Drago
56 - Matthew Stevens 5-3 Simon Bedford
57 - Tom Ford 2-5 Anthony McGill
58 - Gerard Greene 3-5 Dominic Dale
59 - Joe Perry 5-3 Alan McManus
7,00
60 - Stephen Lee 5-2 Matthew Selt
61 - Ryan Day 5-0 Steve Davis
62 - Martin Gould 0-5 Joe Swail
63 - Marco Fu 5-3 Dave Harold
64 - Mark Davis 4-5 Robert Milkins
All matches will be the best of 9 frames.
The seeding cut off for the German Masters 2011 is after the 12Bet.com UK Championship which finishes on Sunday, 12 December. Therefore, the draw for the German Masters 2011 will be performed on the morning of Monday 13 December, and placed on the website as soon as possible.
The updated rankings will be placed on the website after the completion of play on the 12 December so that players may check their seeding position against the round structure below for an indication of the date of their first match.
For the German Masters 2011, the round structure will be as follows:
Qualifiers:
Round 1 - last 96 = seeds 33-64 x seeds 65-96
Round 2 - last 64 = round 1 winners x each other
Round 3 - last 48 = seeds 17-32 x 16 Round 2 winners
Final Venue
Wildcard Round = 8 qualifiers x 8 wildcards
Round 4 - last 32 = seeds 1-16 x 16 Round 3 winners
The eight lowest seeded qualifiers at the final venue will be required to play a wildcard match.
www.worldsnooker.com
Given the immense interest of snooker in Germany Ronnie O'Sullivan, John Higgins, Stephen Hendry and the rest of the World Snooker stars are coming to Berlin in February 2011.
For the first time in 14 years Germany will host a World Snooker Professional Ranking event The German Masters, one of the seven ranking events on the World Snooker tour.
The top 16 of the World Rankings plus 16 qualifiers from the professional tour will play in the 2500 seater Berlin Tempodrom on 2nd-6th February. Eight more places are available for German amateur players who qualify for the tournament. The prize fund for the event will be 300,000 Euros.
The new agreement was announced by World Snooker and Dragonstar.de on Thursday 29th April 2010 at the Betfred.com World Snooker Championship. The sports blue ribbon event is currently taking place in Sheffield, UK and millions of Germans are following live coverage on Eurosport.
Barry Hearn, chairman of World Snooker, said: "We know that there is a huge interest for snooker in Germany. We can see this from our viewing figures on Eurosport, the number of German registered users on Worldsnooker.com and the German fans who come over to the UK to watch our events. It is time to give something back to our German fans. I am sure the event will be a great success!"