Grand Prix 2005 A
Walker rejects O'Sullivan's fears
www.bbc.co.uk
October 6, 2005
Ronnie O'Sullivan's description of snooker as "a sinking ship" was "ill-informed", according to World Snooker chairman Rodney Walker.
O'Sullivan said he fears for the future of the game and plans to play on the American pool circuit in addition to the regular snooker tour.
"I know that's a selfish way to look at it but I've got to look after my own interests and well-being," he said.
But Walker told Five Live: "Some of his remarks are, at best, ill-informed."
He added: "Some of it I don't blame him for because we haven't announced our results for last year, nor have I announced a new broadcast contract, nor have we announced any new sponsors.
"Two of those announcements are imminent. His timing is unfortunate at a time when the sport is about to make some very positive statements."
O'Sullivan will play in the four BBC-covered events in the coming season as well as the Betfred League, but has not committed beyond that.
"Snooker's a great game but I see a lot of things are not happening," the world number one told Five Live.
"I see a sinking ship and I don't want to be part of that. I don't want to hang around for another year, two years, and find we haven't got any tournaments."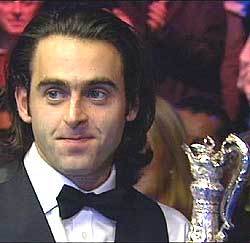 information about times of matches, price money and other
TV broadcasts of the Grand Prix 2005 on Eurosport
8.10.
16,00 – 17,00 - thrilling battle with happyend - 5-3
19,00 – 21,45
9.10.
00,30 – 01,00
19,15 – 22,30
10.10.
14,30 – 17,30
20,00 – 23,00
11.10.
11,00 – 13,00 - replay
14,30 – 18,00 - Ronnie x Anthony Hamilton - 5-2 :-))))
20,00 – 22,00
12.10.
11,15 – 13,00 - replay
14,30 – 18,00
23,00 – 01,30
13.10.
00,30 - 02,58 - replay
08,30 – 10,00 - replay
14,30 – 18,00 - Ronnie x Joe Swail (retribution of August's match on the NIT) - 5-2 :-)))
20,00 – 22,00
14.10.
14,30 - 17,00 - Ronnie x Barry Pinches - 5-2 :-)))
20,00 - 23,00
15.10.
00,30 - 01,58 - replay
10,00 - 11,00 - replay
19,00 - 20,00 - replay - Ronnie x Barry Hawkins - 6-5 :-))) (71-49, 102-17 (96), 0-73 (73), 113-4 (113), 48-71, 0-145 (145), 92-32, 0-72 (72), 77-47 (77), 8-104 (75), 117-0 (117).) There were a frightful nerves, but with happyend.
20,00 - 23,00
16.10.
16,00 - 19,00 - Ronnie x John Higgins - 2-9 :-((
21,00 - 00,00
17.10.
19,00 - 21,00 - replay
18.10.
09,30 - 11,30 - replay
19.10.
00,30 - 01,58 - replay
O'Sullivan battles past Haneveer
World number one Ronnie O'Sullivan was forced to battle hard against Belgium's Bjorn Haneveer in order to book his berth in the Grand Prix second round.
The Rocket was 2-1 down, before breaks of 128 and 76 helped him to a 5-3 win.
Meanwhile, world champion Shaun Murphy eased to a 5-2 win over Mark Selby, making breaks of 91 and 139.
There was a surprise as last year's world finalist Matthew Stevens lost 5-4 to veteran Dave Harold, while Gerard Greene whitewashed Stephen Lee 5-0.
"It was nice to get through and it was a good workout, but it's a game of snooker," said O'Sullivan, who confirmed last week that he would be playing both on the American pool circuit and snooker tour this season.
"Of course I want to win, but I'm not putting myself under any pressure.
"I feel the pressure is off me and I've got nothing to lose. I'm in a very lucky position."
O'Sullivan will now face Nottingham's Anthony Hamilton, who recorded a 5-1 win over Joe Jogia.
Murphy said he was relieved to have made it through to next round, where he will face either Andy Hicks or Sean Storey.
"It's a mad free-for-all to get over the winning line at this stage in the competition, so I'm just glad to have got through," said Murphy.
"My competition play has been few and far between, but I've played a little bit of snooker in the Betfred Premier League this season.
"I'm looking to get as far as I can in Preston. I was pleased with the way I played considering I've not had much tournament play."
Stevens, the world number four, raced into a 3-0 lead with breaks of 69, 53 and 51 before Harold, ranked 41 places lower, hit back with runs of 55 and 45.
A break of 58 put Stevens clear again, but two efforts of 77 saw Harold take the match to a deciding frame.
It lasted almost 45 minutes and after missing a black off its spot and going in-off, Harold looked to have blown his chance, only to sink a cool blue and pink.
Rocket Returns
Hamilton Hopeful Of Downing Rocket
Tue 11 Oct, 5:12 AM
Defending champion Ronnie O'Sullivan returns to action today in his continued bid to win the Grand Prix in Preston for the second year running.
The world champion meets Anthony Hamilton at the Guild Hall in the second round this afternoon, hoping to humble his Nottingham opponent and reach the last 16.
The pair practice together, but make no bones about it - both players will be looking to progress to the next stage of the Lancashire-based competition.
Hamilton can't wait to play the Rocket and said: "I fancy the job! I'm really looking forward to it. You always look forward to playing Ronnie.
"He's had the better of our previous meetings, but I played really well against Joe Jogia and fancy my chances.
"Ronnie's the favourite and the last time we played he beat me 5-3. That was at the Welsh Open last season, but I've got nothing to lose.
"I played my best snooker all season when I played Ronnie last, so I wasn't too disappointed to have lost."
Hamilton has spent the summer "completely chilling out" before returning to the practice table.
Northern Ireland's Joe Swail has been a regular visitor to his home and the pair have spent valuable practice time together during out-of-season months.
"I left my cue alone for three months and just relaxed, but I've been practising hard before the new season," said Hamilton.
"I just want to keep going forward like I did last season and if I play well against Ronnie, then I can beat him and progress.
"The pressure's on Ronnie as the defending champion, so hopefully I can relax and hit my stride early."
Meanwhile, former world champion Peter Ebdon locks horns with Barry Hawkins, while Devon left-hander Andy Hicks takes on world champion Shaun Murphy in their first-ever meeting.
Young guns Chris Norbury and Jamie Cope clash in the fourth and final match of the afternoon session, before Ken Doherty makes a quick turnaround and plays Swail in an all-Irish second-round clash.
The remaining matches on day four of the Grand Prix will see Barry Pinches, from Norwich, take on Wellingborough's Rory McLeod, Adrian Gunnell face Gerard Greene, while Stoke's Dave Harold has a clash with last season's UK Championship runner-up David Gray to look forward too.
TOP DUO THROUGH
World number one Ronnie O'Sullivan and world champion Shaun Murphy both battled back from behind to secure their places in the last 16 of the Grand Prix in Preston.
Crucible winner Murphy trailed Devonian left-hander Andy Hicks 2-0 after his opponent ran in breaks of 42 and 106 to forge ahead, while O'Sullivan lost his opening frame against opponent Anthony Hamilton.
But both the seeds safely navigated their way into the next stage with some special break-building.
Murphy turned on the style with century breaks of 120, 127 and one of 90, while O'Sullivan knocked in runs of 94, 100 and 96 to beat his former practice partner.
Hamilton started well with a 56 break which helped him win the opening frame of the afternoon, but the Rocket hit back to level after pinching a scrappy second.
O'Sullivan stretched his lead to 3-1, the highlight of which was his 94 break, but Hamilton hit back with a 49 run to reduce the arrears.
However, O'Sullivan finished the match in style with his two other high runs to secure his place in the last 16.
"He's going to take some stopping," said Hamilton.
"Shaun Murphy is playing well, but Ronnie can beat anyone if he puts his mind to it and focuses.
"He'd have won the World Championship last season if he had not lost his head against Peter Ebdon."
O'Sullivan was "pleased" with his progress, but admitted he had only found a low gear in his match.
However, he feels the way he is currently playing is enough to win the tournament.
"I'm having to be a bit patient out there [in the arena]," he added.
"I've done what I had to do by beating Anthony, but I'm only into the last 16 and there's still a lot of work to do.
"If I play like that though, that will be good enough to win it [the tournament]."
Former world champion Peter Ebdon was beaten 5-3 by Barry Hawkins, while emerging youngster Jamie Cope defeated Chris Norbury 5-2.
Hawkins started with a tournament high break of 141 in the opening frame and edged 3-1 ahead, before Ebdon hit back with a 93 run.
Hawkins snatched a scrappy sixth and Ebdon stayed in contact with a 65 break.
But Hawkins clinched the match and a place in the next round with a 50 run.
Cope led 2-0 until Norbury knocked in breaks of 117 and 66 to stay within touching distance.
Even though Cope only managed a high break of 50, it was still enough for the youngster to progress.
ROCKET BACKS MURPHY TO SHINE
12th October 2005
Ronnie O'Sullivan has described world champion Shaun Murphy as a breath of fresh air in snooker, and would love to face him in a major final.
Both players have made smooth progress into the last 16 of the Grand Prix in Preston's Guild Hall (but Stuart Bingham beated Murphy 5-4), and the number one and two seeds are on schedule for a meeting in the final (not yet).
The Rocket has been impressed with what he has seen of Murphy so far, with the 23-year-old already showing that his Crucible win in May was no fluke.
Murphy's free-flowing attacking style is very much in the same vein as that of world number one O'Sullivan, who is a big admirer of the Rotherham-based potter.
"He's been a breath of fresh air," O'Sullivan said of Murphy. "He's a great long-ball potter - he's a great attacking player who's got loads of ability.
"He's been brushing people aside with great confidence and ability - I remember I was like that when I was 17.
"But his standards will get higher and higher, and there will be a time when he's in the top four and he wants to get to number one.
"There's a big difference between being number four and number one, believe me because I've pondered around four in the world and I know what it's like, but he's certainly got the ability and he's got the game."
Murphy was in great touch as he beat Andy Hicks on Tuesday, while O'Sullivan made short work of Anthony Hamilton in his second round clash.
However, the other big names have been struggling so far in Preston, and O'Sullivan believes Murphy could capitalise on the lack of form being shown by the big players to be a real contender for the Grand Prix.
"The way he's started this week he'll be a contender, but to be honest there's not really a lot out there to beat. The standard of the top players is not as good as they are not really producing it like they can do.
"John Higgins will be the first to admit that he's not playing the way he was when he was number one in the world and winning tournaments. John will be aware of it and if he came back to form then I'd have my money on him if he played Shaun Murphy.
"And Mark Williams - he's a top, top player but he's not doing it at the moment.
"Even Stephen's (Hendry) been a bit patchy, and he's not as invincible as he used to be.
"So definitely the path is clear in that respect and Shaun is one of the contenders this week.
"He's obviously a class act and he's capable of winning it. If he can win in Sheffield he can win anything. He's got everything there."
O'Sullivan would relish a final showdown with the new world champion, saying Murphy's style would bring out the best in his own game.
"I'd certainly rather play him than a lot of the other players. I think he plays the game the way I think it should be played.
"He's exciting, he s attacking and he'd make me want to raise my game. If he'd hit me with a hundred I'd hit him back with a hundred, it's like Mike Tyson style of fighting.
"But, who knows, if we played each other in the final it could be a big anticlimax and be a nightmare of a game.
"But we're only in the last 16 and there's lots of other players out there who will be thinking they can go all the way."
Rocket wins award and beats Swail
Ronnie O'Sullivan beat Joe Swail in the third round of the Preston Grand Prix on the day he was named Highland Spring Player of the Year.
It is the second season in a row the Snooker Writers' Association have given him the award, and the third in all.
O'Sullivan, who won five major titles in 2004-05, beat Ulsterman Swail 5-2.
In other matches, Barry Pinches beat Jimmy White 5-4, Barry Hawkins beat Jamie Cope 5-4 and Michael Holt beat Andrew Norman by the same score.
O'Sullivan, 29, said of his latest accolade: "It's nice to get awards but the only awards I want are titles. They probably voted for me because I give them a story."
Ding Jun Hui became the youngest ever winner of an SWA award after being named Wheels in Motion Newcomer of the Year.
The 18-year-old delighted a television audience of 100m in his home country when beating Stephen Hendry in the final of the China Open.
Defeat for Murphy
Shaun Murphy's World Championship victory earned him the Highland Spring Achievement of the Year prize.
But Murphy suffered a shock defeat in the evening session in Preston.
He went down 5-4 to Essex potter Stuart Bingham despite having led 3-1.
Murray blamed the defeat on bad fortune and pointed to a number of bad kicks at crucial moments.
"To lose is disappointing," he said. "But I've said for a while someone needs to look at kicks.
"I believe those kicks tonight have cost me a place in the quarter-finals."
Murphy was also unhappy at not playing on one of the televised tables, saying: "I thought my days of playing in cubicles were numbered - but I was wrong."
Higgins ousts Davis
Hendry overcame a scare to overcome Irishman Gerard Greene 5-4.
The all-conquering Scotsman lost the opening two frames and was lucky not to go 3-0 down but escaped to level at 2-2.
The pair then exchanged frames before Hendry sealed the 5-4 win with a 50 break in the deciding frame after Greene missed chances to complete victory.
John Higgins had no trouble beating old favourite Steve Davis.
The Scot had breaks of 78, 47, 102 and 55 en route to victory, while a 74 break from Davis secured him his only frame of the match.
ROCKET RONNIE ROARS INTO SEMIS
Friday 14th October 2005
Ronnie O'Sullivan produced a disciplined display of snooker to ease past Barry Pinches and into the semi-finals of the Grand Prix in Preston, where he will face Barry Hawkins.
The world No.1 was not at his brilliant best, but showed a more controlled approach to come out on top in a scrappy match with a 5-2 win over Pinches.
It started in the opening frame as a scrappy encounter ended with a re-wrack, but O'Sullivan kept his composure to hit a 53 break to eventually take the frame.
The second and third frames followed before Pinches hit back with a break of 89, the highest in the match, pulled it back to 3-1.
An 83 saw O'Sullivan 4-1 in front but again Pinches came back after a battling sixth frame eventually went his way.
However, O'Sullivan seemed at ease with himself at the Guild Hall and calmly stroked in a break of 69 in the seventh frame to seal his passage into the last four of the Grand Prix.
World No.30 Hawkins will be waiting for The Rocket in Saturday's semi-final after a commanding victory over Michael Holt in his quarter final.
Hawkins has beaten Tony Drago and Peter Ebdon in his impressive Grand Prix march, and he made short work of world No.24 Holt.
Hawkins raced into a 4-0 lead with breaks of 57, 60, 82 and 94 doing all the damage, with Holt's response being just a single frame before Hawkins closed out the tie with a 53 break.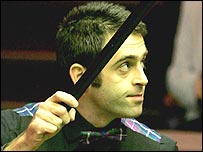 O'Sullivan squeezes past Hawkins
Ronnie O'Sullivan reached the final of the Grand Prix at Preston with a 6-5 win over Barry Hawkins.
The world number one will play either Stephen Hendry or John Higgins, who start their semi-final at 1930 BST.
Englishman O'Sullivan compiled breaks of 96 and 113 as he took a 3-1 lead, but Hawkins hit back with a 145 in the sixth as he levelled at 3-3.
The players then traded frames before O'Sullivan kept his composure to notch a 117 break to see him into the final.
FINAL BECKONS FOR 'BORED' O'SULLIVAN
Saturday 15th October 2005

Defending champion Ronnie O'Sullivan edged into the final of the Grand Prix in Preston before admitting he could not care less about the outcome.
The world number one was pushed all the way by Barry Hawkins before rattling in a century break to clinch a 6-5 victory at the Guild Hall.
"If I lost, so what. If I won, so what," he said. "My heart's not in it, but what else would I be doing?
"I'm so peed off with the game and I'm bored with it. I'd rather be planting a few shrubs in the garden."
O'Sullivan forged into a 3-1 lead, but 26-year-old Hawkins, from Sydeham, gave it his all and pushed his opponent all the way.
The left-hander levelled with a superb 145 break, the tournament highest so far which will pocket him additional prize money of £4,000 if it is not bettered.
But Hawkins had been on a maximum 147 having potted 12 reds and 12 blacks (isn't the right number 15?). He was forced to take a blue after an unfortunate nudge but still held his nerve to put himself right back in the match.
It went to 5-5 after both players knocked in notable breaks but Hawkins had earlier missed a black on 47, just when it looked like he was going to take a 5-4 lead.
O'Sullivan then stole victory with a superb 117 break, but admitted Hawkins deserved to have won.
"He deserved to win it. I was cruising at 3-1, missed a silly ball and then he made a 145 and the momentum was with him," said O'Sullivan.
"I played some loose shots to let him get in - and fair play to him he played well and I should be out.
"He was trying his nuts off out there, which isn't fair because I really didn't care. I was just going to wait for my last opportunity and take that chance when it came.
"It was a bit of a slog, but I just want to get the game out of the way on Sunday, get my bags packed and go home.
"I want to put my cue in the boot and get out the back door."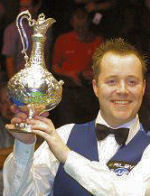 Superb Higgins blows Rocket away
Scotland's John Higgins put on a record-breaking display as he blew away Ronnie O'Sullivan 9-2 in the final of the Preston Grand Prix.
Higgins set a new record for a ranking event of four centuries in a row to move 8-2 ahead and also posted a new mark of 494 unanswered points.
World number one O'Sullivan, who yesterday said he was "bored" with snooker, was in touch at 2-2.
But Higgins was in ruthless mood and swept the next seven frames.
O'Sullivan, who will now travel to America to try his hand at pool, said it was the best display of snooker he had ever seen.
"It was unbelievable. I've never seen anything like it in my life," he said. "He made me look like an idiot. But it was a pleasure to watch it."
Higgins, the world number six, agreed with O'Sullivan's assessment.
"That's a great reward, I don't think I've ever played better," said Higgins. "And I had to because Ronnie's the best that's ever played the game.
"The standard's getting great. I lost form and confidence, but I won it for my two boys tonight."
SUBLIME HIGGINS WINS GRAND PRIX
Sunday 16th October 2005
John Higgins produced a sensational display of break-building to take the Grand Prix title with a 9-2 thrashing of Ronnie O'Sullivan .
The Scot held a 5-2 lead going into the evening session and reeled off four successive frames to take the opening world ranking event of the season.
Higgins, who ended the afternoon session with a 103 break, continued where he left off with a 104 for a 6-2 advantage.
Even better followed as Higgins produced a flowing 138 total clearance to lead 7-2 and followed it up with another worth 128.
It was the first time the feat of four consecutive centuries had been achieved in a world ranking event and left Higgins requiring only one further frame for victory.
During his purple patch, Higgins had kept world number one O'Sullivan off the scoreboard for 42 minutes in the process of compiling 494 unanswered points.
And although O'Sullivan managed to break his points duck in the 11th frame, it was not enough to prevent Higgins finishing off proceedings.
The victory in Preston was the world number six's first Grand Prix title and his 17th career world ranking tournament.
"I just felt I was as though I wasn't going to miss," said Higgins. "It just reminded me of how I used to play a few years ago.
"I just knew I was going to clean up at 4-2. At that point I just didn't feel as though I was going to miss."
O'Sullivan was philosophical in defeat: "That was fantastic snooker. It really was unbelievable. I've never seen anything like that before.
"He just destroyed me. You've just got to take your hat off to him. He was amazing."
Davis shock at O'Sullivan jeers
Former world champion Steve Davis was shocked to hear the crowd boo Ronnie O'Sullivan during his Grand Prix final defeat to John Higgins on Sunday.
O'Sullivan, who admitted to being bored with the game after his semi-final win over Barry Hawkins, was audibly jeered as he came out for the evening session.
Davis told BBC Sport: "It was a shock, but it was not a vast amount of people.
"It's happened to me before when I was in my prime but I think that was people who were fed up with me winning."
The booing was clearly heard within the auditorium and on television, but Davis feels O'Sullivan may have brought it upon himself.
He continued: "The people who pay money to come and watch the game live are enthusiasts and if a percentage of them are booing it is not down to Ronnie's play.
"So it must be down to his comments and the fact the fans feel they are disrespectful to the game and that snooker is losing out because of that.
"It's now down to Ronnie if he wants to do anything about that.
"It's OK to complain about the way the game is going, but perhaps it is not in your own best interests to say you are fed up with the game and you'd rather be digging up roses."
O'SULLIVAN SHRUGS OFF BOOS
Monday 17th October 2005
Ronnie O'Sullivan shrugged off boos he received from the crowd at the Guild Hall in Preston during the Grand Prix final.
Some snooker fans have been unhappy with The Rocket's recent comments about not being bothered when he is at the table.
O'Sullivan has also made his feelings clear about his desperation to get to America to play pool, and some of the 700 fans in Preston responded by booing during his final defeat to John Higgins.
The world No.1 accepted the criticism that came his way but admitted he was surprised to be booed.
"I'm happy with my life off the table - and that's all that matters," said O'Sullivan.
"People probably feel I've been a bit of a spoilt brat, but I'm big enough and ugly enough to deal with that.
"I've taken worse (criticism) than that before, but I was a bit surprised with the boos. Everyone's entitled to their opinion.
"I don't take things too personally. It doesn't stop me from having a smile on my face. I'm pleased it's done and dusted."
O'Sullivan was blown away by Higgins who rattled off seven fames on the bounce to take the title 9-2, but the beaten finalist paid tribute to the Scot and was happy he had returned to form.
"He was amazing. It's good to see him back playing that type of snooker. It's good for snooker, good for his family and great for everyone.
"I felt so lonely out there, especially once the third century went in tonight. I just felt out of place out there, but I'm not disappointed at all.
"I'd have liked to have given him a better match, but my heart's not really in it. Hopefully one day it will come back. I've lost the desire, but the game is great. I'll keep plugging away."