Career Profile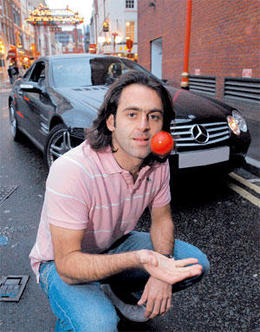 Ronnie O' Sullivan was born 1975 and is probably the most naturally talented player, he is known for his secure, determined fast play, that's why he is nicknamed "The Rocket". Often when his turn is at the table and The Rocket gets on fire his opponents can do nothing but sit back and admire his magic. He captured the Olymp of Snooker by winning the World Championship twice and being No.1 in the World. He has also won all possible ranking titles. And he won twice (2001 and 2004) from the Snooker Writers Association the Player of the year Award.
His remarkable career with numerous records began very early as he started playing at age 7 .
His enthusiasm was obvious from the start and his Dad bought him a table as a Christmas present after seeing how keen he was. The game quickly became the love of Ronnie's life and he would spend every moment he could cueing away on the green baize.
He used to beg his neighbour, who was four years older than him, to come and play with him. Those sessions would last for around four hours, or when Ronnie's Dad said it was time for his son to go to bed!
At age 9 he won his first tournament.
At age 10 he had his first century break of 117 . Then records continued to fall, and would do throughout Ronnie's career
Just being 12 year old he made a witnessed total clearance of 142 . The following year he became British under-16 Champion when still only 13 .
Ronnie's big breakthrough came in a professional-amateur tournament in Stevenage when he was 14 . In the quarter final he met Marcel Gavreau who was in the world ranking at No. 34 at that time. In the deciding frame he did a 120 break and won the match. Gavreau said: "That kid is unbelievable. Where's he come from? No one ever played that well against me." In the final he met Anthony Hamilton and Ronnie was down 2-1, he won the fourth frame on a respotted black and then he won the event. It was the reward for the practice Ronnie was putting in - six or seven hours a day when he was not at school, and maybe three or four hours if he was.
In an other event called the Cockney Classic , his first TV appearance he made it until the semi finals presenting an highlight of a break of 75 on camera.
The Snooker World got first exciting notice of Ronnie as he potted his first maximum break with just 15 years in the UK Amateur Championship and became the youngest player to archive a maximum break ! But lost the event afterall. In the same year he won the IBSF's World Junior Under 21 title. It was a surprise then as he lost in the last 16 in the World Amateur Championship.
After these amazing achievements he turned professional in 1992. In that year he won 47 out of 76 matches, which included a winning streak of 38 successive victories, passing the previous best by Stephen Hendry. He could qualify for the final stages of all but one of the ranking events. Finished his debut season in the World Ranking No. 57th.
1993 he already won his first ranking tournament UK Championship but not only that, he also became the youngest player at 17 years, 11 month to win a ranking tournament. In the last eight he beat Steve Davis 9-6 and in the final Stephen Hendry with 10-6. In the next event he could reach the final of the European Open and Stephen Hendry got his revenge. But then he won his second ranking title, the British Open when he beat James Wattana. At the World Championship he lost in the second round to John Parrot but it was enough to make the top 16 of the World Ranking at No.9 only after two seasons being a professional and just 18 years of age.
In the next season (1994/1995) he won the Benson & Hedges Championship which gave him a wild card to the Masters at Wembley but there he failed to get past his opening match.
When only 19 he earned Ł285,101 prize money, more than any other teenager has managed in a single season.
In 1995/1996 he couldn't win a ranking tournament but the Charity Challenge. He could reach the final Masters and the semi of the Worlds Championship though.
But he improved again in 1996/1997 by winning ranking events the German Open and the Asian Classic. Then the Matchroom League but could not win the finals of the Masters and the Charity Challenge.
At the World Championship 1997 Ronnie amazed everyone as he did the fastest maximum break ever in only 5.20 min he potted all balls in one break in an amazing speed! (click here to see for yourself a video of his amazing 147 break). He earned for that maximum additionally Ł 165.000. But Ronnie lost the match afterall. He was now 7th of the World Ranking
In 1997/1998 he earned another two ranking titles: He won the Regal Scottish Open and for the second time the UK Championship. But then he was disqualified as he won the Benson & Hedges Irish Masters due to failing a drug test. But later he could add a victory at the Riley Superstars International in the far east. Then he could reach only the semi final of the World Championship.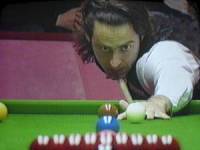 In 1998/1999 He withdrew from the UK Championship but had a victory at the Regal Scottish Masters. He lost in the final of the Charity Challenge and in the semi final of the World Championship.
In the 1999/2000 season the Champions Cup had replaced the Charity Challenge but it was the same like before, he could not win the final. He won though the China Open and the Regal Scottish Open. In the team challenge of the Nations Cup for England (together with John Parrott, Jimmy White and Stephen Lee) he had the best record of any player, 13 wins from 15 frames played.
In January 1999 at the Regal Welsh, he had the 2nd fastest maximum break of all time in only 6.51 min and became the third player to record two maximum breaks in one season (the second in the Grand Prix).
And again he could not succeed in the World Championship as he was already defeated in the first round by David Gray 10-9. But he could achieve 5 century breaks in that match. He was able to retain his fourth spot on the World Rankings.
Although, through all these years he faced problems that he could not cope with. He was crushed by depression, seeking help in Prozac. He has been violent and smoked drugs. At last he decided to go to The Priory clinic. Depression still occupies a corner of his mind feeding off his insecurities and frustrations and enveloping him when he least expects it. But step by step, with the help of other people and medicines he has started dealt with. Prison experiences with his parents have prompted Ronnie to create help for families, which were going through the same as he was. He has started a free of charge telephone line for families, whose members are imprisoned. Ronnie has started this help-line to increase the awareness and public appreciation for this problem. His father was jailed 1992 for murder after stabbing a man in a nightclub and his mother was in prison 1995 for 12 months for tax fraud.
The success came back on the way as the 2000/2001 season should be his best so far. He began with a victory in Champions Cup and the Regal Masters. But he could not get beyond the semis at the UK Championship. He was defending his China Open title. At the City West Irish Masters, he was leading 4-0 and 5-1 against Stephen Hendry but Hendry had a comeback leading 8-7 but Ronnie could take the victory afterall with 9-8. "It's a great feeling to win and right now I'm on cloud nine. It's tough on Stephen but he has won so many more titles than I have. I played good match snooker but I was never flowing as well as I can and to lead 4-0 was a bit of a surprise"
He had also to take two defeats at the B&H Masters (1st round Jimmy White 6-2) and the Regal Scottish (second round Mark Davis 5-1).
But the highlight of his career was yet to come, the most prestigious tournament of all, the 2001 Embassy World Championships. Ronnie was beated three times as a semi-finalist so far but this time he wouldn't let the Worlds title getting out of his hands. "It's all down to form. If you get to the semi-finals of this tournament you're not going to be meeting a player out of form", says Ronnie. "Someone might play badly against you in the first round but you're not going to get an easy match in the quarters or semis. I've missed a few tournaments this season (Nations Cup, Grand Prix) because of my back and you're sitting at home thinking 'I wish I was at the tournament'."
In the first rounds he were in perfect form, (Andy Hicks 10-2, Dave Harold 13-6) then in the quarter finals he met Peter Ebdon and beated him with 13-6 where Ronnie had a 8-0 lead in the first session and he left behind Ebdon quite impressed as he commented: "But I've got the utmost respect for Ronnie. The snooker he produced yesterday was nothing short of sensational. He was just very, very special yesterday. He is snooker's equivalent to Mozart. Through creative imagination, he's almost got a link to the infinite intelligence. He's totally in the state of genius."
In the semi final he faced Joe Swail where Ronnie placed a good start with back-to-back century breaks of 108 and 119. After the second session he was leading 10-6 but Swail didn't made it him easy though as he took the last two frames of that session.
After that Ronnie commented: "Second place is no consolation. It's the worst feeling in the world seeing someone else pick up the trophy. That is enough to spur me on over the next two days. I thought I would have won the World Championship once or twice by now. I'm not being big-headed when I say that because I know how good I was. If I had kept up the form I showed when I was 16 years of age I probably would have won it by now but that's history. You can't change the things that have happened in the past.
But then it was a great relief for him to win the semi final 17-11 to go ahead winning his first Worlds title. Joe Swail after semi final: "I will be very surprised if he doesn't go on and win it now, he's definitely playing well enough. His game is just a joy to watch. Peter Ebdon was right when he compared him to Mozart. He's an absolute genius."
In the Final Ronnie met John Higgins who gave him a harder match. Though Ronnie was leading after the first session 6-2 and 10-6 after the second session. In the third session Ronnie had a major lead with 14-7 but Higgins shortened it up 14-10 at the end. But Ronnie finished in the deciding session 18-14 and made his dream come true. "I didn't think I could ever feel so good about something in my life, I really didn't. I thought if I win the world title what's that going to mean? It's not going to make me any more happy – but it has. Maybe that was down to the fear that I might not ever win it. All my fears have been answered now."
He is the first Englishman to lift the trophy since John Parrott triumphed back in 1991. He collected a record first prize of Ł250,000 and will start next season at No 2 in the World Rankings.
He finished the season with another title the Premier League and he won six titles this season it is the most successful season in his nine year professional career.
In the new season 2001/2002 John Higgins got his revenge at the Regal Masters as he beat Ronnie in the final 9-6. Then he was heading to his first ranking event, the British Open. In the last 16 the Rocket was fireing through the match where he just needed 65 minutes and a whitewash of 5-0 against Gary Wilkinson. But in the next match against Joe Swail he was down 3-0 but then Ronnie fighted back and shortened up to 4-2 with back-to-back century breaks of 102 and 131 and later with a 143 clearance he won the match 5-4.
In the quarter final he met Alan McManus and again he wanted to get through as fast as possible and just needed 77 minutes to beat McManus 5-1. It seemed as nothing could stop him to get the victory but in the semi final he was stopped by Graeme Dott 6-4 and Ronnie was disappointed about his gameplay and admitted: "I'm happy to get beaten. If I went to sleep tonight thinking that I might play like that again in the final you would probably find me hanging from the Newcastle bridge. You can't afford to play like that in the semi-final of a world ranking tournament. I deserved to get beaten and I have no excuses. That's me all over." But Dott wasn't satisfied either: "I'm embarrassed, in the past I have played fantastic against Ronnie and got beaten every time. Tonight was the worst I've played against him and I've won!
The LG Cup started positive as he again fired through another whitewash 5-0 against Jon Birch in just 71 minutes. But he was pensive and told: "I have to learn from that last match at the British Open. My brain wasn't in gear. The lesson I have to learn is that when you play well one day you don't necessarily play well the next."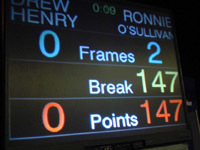 In the next match against Drew Henry he could achieve another maximum break in incredible 6 min. 36 sec. Its the second fastest maximum break ever and he holds now the record the fastest four 147's. He earned with that Ł20,000 bonus plus Ł7,500 for the highest break but Ronnie declared that the achievement is more important for him than money: "The money is not important to me. It's a nice little bonus but I don't play the game for money; I play it for enjoyment and the buzz." He won the match then 5-1.
But Peter Ebdon outbattled him in the quarter final again in a close match 5-4. Just as Ronnie did in his British Open semi-final against Graeme Dott last month, he let frustration get the better of him in the closing stages. "I still want to win badly but I won't be going home in tears."
Then again he was out in another quarter final at the European Open against Stephen Hendry 5-4. Hendry said before the match: "It will be fantastic to play Ronnie again. You have to play well to beat him. If you don't, you're going home – it's as simple as that." He obviously played well and Ronnie added: "There are still a couple things I'm not happy with but, on the whole, my confidence is a lot higher. I might not win a tournament this season but I'm relishing the challenge and I will be giving it my best shot. I'm trying to look at what I achieve in my career, not a single season. I'm trying to make progress rather than seeking perfection. I'm certainly not taking anything for granted. There are a lot of quality players about."
The UK Championship began successful as he won with the first round 9-2 against Ali Carter. Next he met Dave Finbow and was only one frame away on a whitewash of 10-0 but Finebow withdrew due to anxiety attacks. Ronnie himself has suffered from depression and was not defending the UK Championship in 1998, citing nervous exhaustion. "I haven't had anxiety attacks during a match but I have had them off the table. I know how horrible it can be and it must be a nightmare for Dave. I didn't play fantastically in the session but I was delighted to be 8-0 ahead. It's nice to be through to the quarter-finals and I look forward to my next match. Next he would met Peter Ebdon for the quarter finals and Ebdon could built a lead of 6-2 in the first session. Then Ronnie was 8-4 down but he could manage a fantastic comeback to nail a 9-8 decision! "I couldn't get going in the first session but I dug in and eventually I came alive. At first I just wanted to make the score respectable but then I got some momentum behind me. I didn't feel any pressure in the last frame, I just thought 'this is my turn' because he beat me 5-4 in the LG Cup. Peter is the luckiest player on earth, I was just waiting for him to fluke balls. I think I had one piece of luck all night." In the semi final he won over Mark Williams 9-6 and having three century breaks. "I played out of my skin – I've got electric waves running through my head because that was one of the best matches I have played in my life." Williams: "I didn't play too badly tonight but if you give Ronnie half a chance he clears the table.
In the final he met Ken Doherty and gave him a hard match. Ronnie totally dominated the whole match and crashed him with an incredible result of 10-1. He could win the trophy a third time after 1993 and 1997. "I'm very proud to be ranked alongside the likes of Steve Davis and Stephen Hendry. When I finish playing snooker and I sit down with my grandchildren, I can say 'what do you think about that?' It's a fantastic achievement to win both in the same year. Some players say that once you win the World Championship, the feeling is difficult to live up to. But for me, it has meant the opposite – I enjoy playing the game a lot more now. I'll be around for another ten years and if I can keep myself in good nick then I can win a few more." Doherty: "On that form, I don't think anyone could have beaten Ronnie. You miss one ball and the frame is over. You've got to get on top of him and put him under pressure and I didn't do that."
At the Regal Welsh he was already out in the second round as he was defeated by Paul Hunter 5-4.
At the Benson & Hedge Masters he could reach the semi final to be beaten by Jimmy White 6-5. "I should have won and that's two tournaments in a row now that I have lost from being in front. There's nothing wrong with my game, but the wheels have come off a bit. There are plenty of tournaments to come and I have got a job to do. Credit to Jimmy for playing well under the circumstances, and I hope he goes on to win it."
The World Championship arrived and he had in the first two rounds easy wins over Drew Henry 10-5 and Robert Milkins 13-2 though he wasn't feeling best: "I am struggling with an imbalance in my body - I feel very uncomfortable and agitated. I feel I can beat anyone when I'm on form but sometimes I can play poorly so it's hard for me to say that I can win this tournament." In the quarter final Stephen Lee won the last three frames of the first session and made 4-4 but afterall Ronnie succeed to win the match 13-10. "I was very relaxed because I don't really care whether I win or lose – it's only a game and I don't need the money. I try in every match and the Crucible is a great place to be, but it's not the end of the world if I lose." Stephen Hendry was going into lead in the semi final with 9-7 and then completing a 17-13 victory over Ronnie. This match was arepeat of the semi final of 1999 where Hendry also won 17-13. But Ronnie didn't seem to be very disappointed: "There was a great atmosphere out there with a lot of tension and it was fantastic to play in. Stephen and I are big enough names as it is, but to make it a grudge match – what could be better than that? Stephen is the greatest player who has ever lived and he keeps proving it. He was an idol of mine when I was a kid and he's going to be very difficult to beat in the final. I got a great buzz out of playing in an atmosphere like that and as long as I can play matches like that I will be happy. I'm certainly not thinking of giving up – I would play snooker with one arm if I had to."
Nevertheless he went up in the World Ranking at No.1.
Season 2002/2003 began for Ronnie with the Regal Masters. He beat Paul Hunter 6-3 in the quarters and was meeting Stephen Hendry in the semis: "I feel I have a good chance of winning the title but a young Scotsman might have something to say about that. He very rarely plays badly." But Ronnie smashed breaks of 75, 73 and 69 to lead 3-0. The next three frames went to Hendry but Ronnie took the last three frames with 76, 136, 62 and won 6-3. To have next a repeat of last years final against John Higgins where Higgins won 9-6 but now Ronnie won the final 6-4. "I have been demoralizing opponents in practice and I came here with high expectations. I never used to set myself targets but now I'm aiming to win 50 or 60 titles before I retire. To be world No. 1 and reach that level in any sport or profession is a nice feeling. I never thought I would be that bothered about it but it's very special to me."
Ronnie won the first two matches at the LG Cup but could not keep up and lost to Chris Small 5-1. "My snooker today was unacceptable," said Ronnie disappointed about his result. "It's absolutely frightening. I wonder why I bother playing – I would be better off getting a job." But he also payed credit to Small: "Chris played very well – he has been through a lot and he deserves it. He is good enough to win the tournament so good luck to him." And indeed Small won the LG Cup afterall.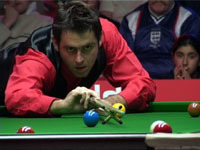 In the British Open, he won the first round but then to lose in the last 16 to Paul Hunter 5-4. But he could get another achievement, he did his 300th century break to become the second Player after Stephen Hendry to complete over 300 centuries.
"The UK Championship and the World Championship are the biggest tournaments we play in the season and York is one of the best venues. I am hungry for my success and I don't fear anyone. If my game clicks then I have a great chance to win." Said Ronnie before the UK Championship. He won the first match 9-2 against Adrian Gunnell and was typically self critical about his game: "I don't want to say I played badly today because that would be disrespectful to my opponent, but I wasn't firing on all cylinders." And it seems when he is always like that he most likely won't win the Trophy. "I am playing alright in spells but I have had to rely on my opponent helping me out in my two matches so far. I'm not thinking of getting to the final because I have to improve a lot and I haven't got time to do that. Unless something drastic happens in the next 24 or 48 hours I could be out. I need to find some inspiration from somewhere." And indeed he lost the quarter final to Drew Henry 9-6 and he added: "It does hurt when I lose but I'm not worried, I just have to see what happens in the New Year."
Then he could only reach the quarter final of the Regal Welsh. He was already down 4-1 to Marco Fu, Ronnie could get up to 4-3 but lost then 5-3. Same at the B&H Masters as he was out after the quarters against Ken Doherty 6-5. Ronnie said afterwards: "I stuck in there and fought hard but it was a brilliant break from Ken in the final frame so I can't take anything away from him. I played a bad safety shot to let him in and I hope I never do that again. It was a good tactical game and I will try to take the positives from it and keep going in the right direction."
The turn came in the European Open, won the 1st (Michael Holt 5-3) and 2nd round where he had runs of 121, 129, 102 and two others over 50 to win 5-3 to Dave Finebow. "I feel very focussed and in control of my game now. I haven't been to the semi-finals of a ranking event so far this season, which is very disappointing." Also in the quarter final he had a fantastic clearance of 139 and finished 5-2 against Stephen Lee. He also could go through the semi final (Peter Ebdon 6-3) to reach for the first time a final of a ranking tournament since 15 months. "I've been working hard on the mental side and it's been a revelation. It was a tough match tonight but I badly wanted to get to the final. People might beat Ronnie O'Sullivan the player but they will never beat Ronnie O'Sullivan the person. I'm learning that I'm always going to be a winner on and off the table and that's where greatness comes from." The Rocket fired through the final scoring 5-2 in the first session against Stephen Hendry and put another 140 total clearance to beat his own mark of 139 and in the next frame he was beating himself again with another amazing clearance of 142. This was his eighth century of the event including the three highest – 142, 140 and 139.
And finished 9-6 to win his first ranking event this season. "It was a great match today – I knew from early on that if one player made a mistake then the other would punish him. We couldn't shake each other off but I just tried to stay positive all the way through."
Also the City West Irish Masters he was on the winning road to beat Stuart Bingham 5-3 and Ali Carter 5-1 in the first rounds. Ronnie commented: "You learn something from every match and the thing I've learned from this one is that if you keep good things will turn around for you." Only eight players have won consecutive ranking tournaments has yet to achieve the feat but Ronnie was insisting that enjoyment of the game is more important than achievements: "Trying is not my style, expressing myself is." After he won easily to Matthew Stevens in the quarters 6-2.
An exciting match followed with Paul Hunter who made two centuries of 118 and 101 but Ronnie replied with a 118, 76 and 78 was leading 5-2 and won afterall 6-3. "I'm trying to entertain and enjoy myself at the same time." said Ronnie after the match. "I'm feeling pretty good in myself. When the mind is right you do the right things. It's always been there but to be honest, I was probably more mature when I was 14 or 15. I lost my focus for a while and now I'm learning stuff that came naturally to me when I was a teenager. I do feel like a different person. It's just my frame of mind; I feel much more settled."
The final was not less exciting with John Higgins and 2-2 in the beginning. Then Ronnie had a three frame winning streak to score 5-2. Higgins replied with a 131 total clearance and shortened up to 5-4 in the first session. Ronnie continued to win with a clearance of 128 in the first frame in the 2nd session. Then later Higgins answered with a 123 break to make 9-9 but Ronnie tied up the last frame to win the match with 128 and 10-9! "We were both winners tonight because we played the game the way it should be played. My final against Stephen Hendry in the European Open two weeks ago was a pretty high standard but I think tonight's match probably just edged it because it went to the last frame. It was tough out there. I had a feeling it would go all the way and it did. It was a privilege to be involved in a match like that. When you're a kid you dream of getting into situations like that. I play for enjoyment and for fun. I don't really think the result really matters when you are involved in a match like that."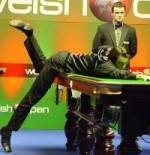 At the Regal Scottish is seemed he is unstopable by leading in the first round 4-0 and to finish 5-2. But then he had a shocking defeat in the next match losing 5-1 to Alan McManus. "The result didn't go my way but I felt great and enjoyed the match."
Then he was heading to the most important event of the season the Embassy World Championship but he couldn't get over to win the first match, it was another shocking lost in such an early stage (Marco Fu 10-6) "I can't put my finger on what went wrong and I don't want to analyze it. I play by my senses and my rhythm came in patches but not often enough. I'm very disappointed to lose but full credit to Marco because he was too strong." But he could smash another maximum break to achieve another record, to be the only one making two 147 at the World Championship (the other in 1997). "It's strange to make a 147 and go out, but weird things happen and it's all history now. I have dealt with my successes and I have to deal with the defeats as well and come back stronger. I didn't expect to make the 147 yesterday – I surprised myself. But I'm sorry for my fans that I didn't give Marco a better game today." He was now dropping in the world ranking from No. 1 to No. 3.
The season 2003/2004 began with the LG Cup and Ronnie began with a whitewash over Dave Harold 5-0 with breaks of 83, 68 and 84. During the game he thinks all the time about his father who is in prison: "It's nice to play well today because I know my father will have been watching on television. I would like to go on and win it for him. I remember when I won the World Championship – he was so pleased for me, but he said he wanted me to win it again." But then he needed to experience himself a whitewash 5-0 against Matthew Stevens. "I did well to get nil today," Ronnie jokes. "Matthew outplayed me and outscored me – he smashed me to bits. I was hoping to at least make it interesting, but I just got trounced. I've got faith in my game so I'll just put this result behind me and forget about it."
In the British Open he won the first three rounds. Then he won also the semi final against Stephen Lee 6-2. The highlight was the final against Stephen Hendry as both made a new record by compiling five consecutive century breaks in one match: Hendry had two, 135 and 121. Ronnie three 106, 100 and 109. But Ronnie lost afterall 9-6.
But the good old Rocket Ronnie came back in the Welsh Open to go ahead with ease to the quarter finals where he met Paul Hunter, Ronnie was 2-0 down before completing five successive frames and fired high breaks of 90, 84, 88 and 81 to win 5-2. "You don't really want to give a player like Paul Hunter a 2-0 start and a 50-point lead in the next. It's not often you're going to take five frames in a row against a player of his calibre." Then he faced Steve Davis to be 4-1 down and later 8-5 but the Rocket took the last four frames to win his first ranking tournament this season. In the match he fired in back-to- back breaks of 125 and 139. "I was never going to give in. It was such a good opportunity for me to express myself in front of a great crowd," said Ronnie afterwards. "I've had some great support this week and I felt that energy. I wanted to put up a fight for them. My back was against the wall and I came out fighting. It was an unbelievable match to be involved in and I don't really know how I won it."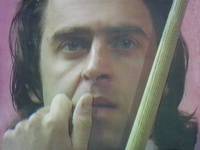 Up to the Masters he blasted Alan McManus away with a whitewash defeat of 6-0. Ronnie goes in the competition with the right attitude weather he wins or not: "It's not that important. What's important is that I'm enjoying myself both on and off the table." In the semis he beat Jimmy White 6-4. "I'm very happy to be in the final, it will be a day to enjoy for my friends and family. I had a good game with Paul Hunter in Cardiff the other week. It was a psychological battle with myself and I'm proud to have dealt with that and turned it to my favour." The Masters final was probably the most exciting match ever as the Rocket was in fluent scoring form with a string of high breaks of 86, 87, 84 and 79 as he built a 6-2 lead to Paul Hunter in the final. But Paul was able to complete five century breaks of 117, 127, 102 and 109 and won very closely 10-9. "Paul played well and deserved to win. It was a good match to be involved in and life goes on. Obviously I'm a little bit disappointed but as long as everybody enjoyed the match then that's the most important thing."
In the first two rounds of the European Open Ronnie scored 5-1 but lost in the quarters to Stephen Lee. "I've only played one decent session in the last two tournaments – the first session of the Masters final against Paul Hunter. The rest has been very poor. I prefer to win in style and in the past I might have thrown the towel in – these days I'm giving myself a chance."
Again he had a good start at the City West Irish Masters to beat Michael Holt 5-2 and another whitewash to Daren Morgen 5-0. "I started getting a bit of a buzz at the end because there was a lot of energy in the crowd and I was feeding off that. People here enjoy their snooker which is why I love playing here." He is also getting help from his parents and friends: "There are people that I sit down and discuss every match with – including my mum and dad – and I need to thank them because it's a team effort to help my game improve. They pick me up when I'm down and we are in this together," But he lost again in the quarters against Peter Ebdon. "I am disappointed to be out of the tournament because the people are so friendly here – I've even thought about coming to live in Ireland. But Peter deserved it today."
Ronnie should reach his best form at the Embassy World Championship as he won the first round with Stephen Maguire 10-6 then to meet Andy Hicks in the second round. It was a closer match, after the first session it was 4-4 later to lead 7-6 but Hicks leveled 8-8 and 10-10. During the match Ronnie threw in 5 century breaks of 109, 123, 101, 127, 125 and its a record during a last 16 match. But then Ronnie won 13-11 to get to the quarter final. Hicks has only praise for his opponent: "Ronnie is the best player who has ever picked up a cue. He can play right or left-handed and he just enjoys that game." In the quarters he crashed Anthony Hamilton 13-3 with amazing secure gameplay, Hamilton sat most of the time in his chair and had no chance to get to the table. Untill now Ronnie completed 10 century breaks and he is close to the record of 16 completed by Stephen Hendry in a World Championship. Ronnie revealed the secret of his new success, taking advice of his new mentor and six time World Champion Ray Reardon. "I wanted to find someone to speak to who knows about the game. My dad called me and gave me a number and told me to ring him. Ray has been a great help, he's a legend, he has a lot of invaluable experience. He has basically just told me to do a lot more of what I'm doing and sometimes you need to hear that."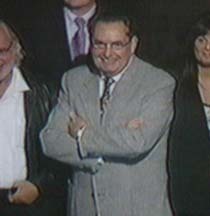 The Rocket had no mercy with his next opponent in the semi final either where he faced Stephen Hendry. Ronnie raced through the game to lead in the first session 6-2. Then breaks of 81, 92, 52 and 117 in the last session gave Hendry no chance to get back in the game as the Rocket surged 10-2 ahead and finished 17-4.
"I've come here to win the tournament. Last year I made a 147 but went out in the first round. It's the biggest event in the game and I want the title this time. I'm looking forward to the final now, there's no point getting this far and then losing. I don't feel any pressure because that's just a feeling that people create and you can't let it get to you. Some players this week have been playing as if their life depends on it, but I just want to enjoy it. I've been playing left-handed a lot, because I enjoy it and it helps me to refocus. It balances me and re-energises my body," he said. "I'm going to practise more left-handed this summer because I might even play a whole season that way. I'm not sure I could win a tournament but I could definitely be top 16. It makes me feel rock-solid like Mark Williams. I wasn't enjoying my match against Andy Hicks last week and at one point I wanted to get out of there, so I started playing left-handed."
In the final Graeme Dott seem to give a big surprise by leading the game 5-0 but Ronnie regained the game by finishing the session 5-3. Then leading 9-7 and to finish brilliant run to score 18-8 to finally win the trophy a second time after 2001. Dott has nothing left than praise for Ronnie: "He has everyone talking about his phenomenal pottting but his safety shots are unbelievable. I can't see how he can lose when he's playing like that. He is playing as if to be the greatest player ever - he has absolutely everything. The guy is a genius."
An emotional Ronnie dedicated his second world title to his jailed father Ronnie senior: "I went all emotional during the match as well and when it went to 14-8 I was thinking of my dad watching the final on television in prison. I was thinking of him quite a lot. He'll be sitting in his cell chuffed to bits now and I'd like to go and see him soon. This one's for him......I just want to go and see my dad, chat to him and be in his company. That's the most important thing."
After the championship he has also regained the No. 1 in the World Ranking He dropped after an up and down season 02/03 from the No. 1 to No. 3. He becomes the only player other than Mark Williams and Ray Reardon to regain the pole position. "The fact that I'm No. 1 next season doesn't really register, I just love the game."
So what's left for Ronnie to achieve when he has everything to get in professional Snooker? "I'd like to win more world titles, possibly four or five. You've got to set yourself high targets to stay motivated."