Premier League 2005/06 A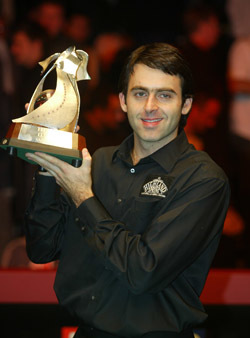 Ronnie's Perfect Birthday Present
RONNIE O'Sullivan gave himself the perfect birthday present as he retained the Betfred Premier League title by hammering Stephen Hendry 6-0 on Sunday evening.
O'Sullivan, who turns 30 on Monday, took his Premier League earnings to £87,000 with a convincing victory in Manchester, despite not managing to add to his tally of ten centuries – four of which came in his semi-final win over Steve Davis.
"It was a scrappy final, Stephen didn't play as well as he can do, O'Sullivan admitted.
"You can only play as well as your opponent allows you to and it could have been a lot closer if he'd have taken a couple of his chances.
"It's all about how it goes on the day but I always do well in this tournament – I've won it five times now.
"Apart from the World Championship, it's our best tournament – wherever we go we play to packed houses of over 1000.
"And with the UK Championship next week it's a boost to go into it having won a title and it's nice to have some match practice and a few wins."
A disappointed Hendry was honest as he assessed his performance: "It's fair to say I didn't produce.
"It was embarrassing really, I couldn't do anything – with Ronnie you don't get many chances and even though he didn't play that well that might be because I was so bad and it rubbed off on him.
"I didn't play too well in my semi-final but it really didn't happen for me in the final and I'll have to forget about that now for the UK Championship."
Imperious O'Sullivan Sets Up Hendry Re-Match
Ronnie O'Sullivan 5 – 3 Steve Davis
136 (136) – 0, 105 (100) – 1, 66 (66) – 72 (66), 0 – 103 (60, 39), 50 – 75, 122 (116) – 0, 134 (134) – 0, 85 (85) – 0.
RONNIE O'Sullivan hit an astounding FOUR century breaks on his way to setting up a repeat of the last Betfred Premier League Snooker final against Stephen Hendry. (IMHO last final was with Mark Williams and Ronnie won 6-0 :-) )
In a high-class encounter, O'Sullivan also made breaks of 66 and 85 against a revitalized Steve Davis, playing in his first Premier League semi-final since 1996.
The match will be remembered for O'Sullivan's virtuoso performance, but he also created a little piece of snooker history by becoming the first player ever to be penalised under the unique 'shot-clock' rule.
O'Sullivan found his rhythm immediately with a flawless 136 total clearance in the first frame and repeated the trick in the next, making dead on the century before missing the black that followed the final red.
A hat-trick chance was spurned when O'Sullivan missed frame ball in the third, mis-judging a cut into the top right pocket having made 66.
Davis needed all five reds and the colours to edge the frame and stay in contention, and a break the same size of O'Sullivan's saw him cut the deficit.
Remarkably, the six-time World Champion was soon level as he opened frame four with a break of 60 before being forced to play safe.
O'Sullivan couldn't work himself back into the frame though and a further run of 39 saw parity achieved by Davis.
Davis opened with 16 in frame five before a careless shot on a red left him annoyed with himself.
But snooker history was then made as O'Sullivan, when assessing a safety shot, forgot to call a time-out and was penalised with a five-point penalty as per the Premier League rules for not taking a shot within 25 seconds.
Davis put his opponent back in, and O'Sullivan then did the same again – twice – perhaps deliberately, or perhaps, as suggested by snooker guru Clive Everton, commentating on Sky Sports, to preserve his time-outs for later in the match.
With the third foul leaving a red on for Davis, who by then had a 17 point lead, the whole scope of the match looked to have changed, but he could only make a break of 12 to lead 43-14 with plenty of reds still available.
The deficit was cut to three points with a break of 26, before O'Sullivan's recovery was stalled when he missed a red into the right centre.
With Davis 23 points clear after a scrappy exchange, only the six colours remained, but both players found the yellow troublesome.
Davis left it hanging in the centre though, but O'Sullivan ran out of position on the blue and paid the price after a short sequence as Davis sank the crucial ball.
O'Sullivan's third £1000 century bonus was sealed as he levelled the match with a 116 break – remarkably only potting the black once, with his final shot.
And he was in no mood to let up, re-establishing the lead with a fourth century to move within one frame of the final.
He looked set for an unprecedented fifth ton, but missed the twelfth red in what turned to be the final frame, having made 85.
O'Sullivan, who potted 195 balls in the match with a 96 percent pot success rate, ended the match with 341 unanswered points and said afterwards: "It was a very high standard of game - I started well but Steve played really well and had me under pressure – I needed to do something.
"There's more to snooker than making 100 breaks and I made a couple of loose shots so it proved it's more important to stay in control.
"It looked good potting all those balls, but I couldn't afford to give Steve a chance because he had me on the ropes.
"I need some tough games – I haven't had many lately because there are not many tournaments, and Steve gave me that.
"It's nice to be in the final and I'm looking forward to playing the match in front of a good crowd – that's what it's all about."
Davis was gracious in defeat: "I got myself back in it but what we saw tonight was better than awesome.
"Nearly making five centuries is a superb standard and Ronnie was amazing, it's so hard and he made it look so easy."
O'SULLIVAN JOINS HENDRY IN FINAL
3rd December 2005
Premier League Live - Sky Sports 2.
Final - Sunday 7pm.
Ronnie O'Sullivan will play Stephen Hendry in the 2005 Premier League Snooker final, after he edged a thrilling contest to see off former world champion Steve Davis.
The Rocket is now just one match away from retaining his crown, thanks to a breathtaking 5-3 triumph over his more experienced counterpart, but Davis can take great heart from the part he played in a real classic.
O'Sullivan opened in typically stylish fashion, rattling off a superb 136 break to confirm his status as 8-1 on favourite to reach the final.
He then repeated the trick - recording another three-figure break to move two ahead, as Steve Davis was reduced to a spectators role.
The trend looked set to continue as O'Sullivan raced to 66, but he missed a difficult red for frame ball, finally allowing Davis to show his undoubted quality as the veteran cleared up to half the deficit.
The watching audience were being treated to snooker of the highest quality, as the players maintained a pot success rate of over 96% in the opening three frames.
Davis continued his fightback in the fourth, matching his rival shot-for-shot on his way to another fine break to level matters at 2-2.
The pace inevitably had to subside, and so it proved as both players entered a tactical battle in frame five, with O'Sullivan receiving three time fouls at the expense of 15 points. His opponent made him pay to move ahead for the first time.
Serious questions were being asked of the Rocket, but he replied in the only way he knows how, by displaying some more fantastic break-building skills to clinch the match with totals of 116, 133 and 85.
Earlier in the evening, Hendry became the first man to reach this year's final, after he produced a contrastingly patient display to see off Ding Jun-Hui 5-2.
The Scot kept his cool in a frustrating opening period, showing his experience to edge out his younger opponent by three frames.
Ding edged a nervy first frame, following up an early break of 41 with some fine safety play to outwit his illustrious counterpart for the lead.
And it was a start that was to set the tone for the match, as Hendry showed some strong defensive work of his own to fight back in frame two.
Once again it was Ding who got to the table first, but he could not make his advantage tell, allowing Hendry the chance to fight back. The Scot took the opportunity to force ahead, leaving his opponent in need of a snooker, before levelling the match with a score of 98-36.
More frustration was to follow for the Chinaman as he struggled to find his rhythm, and he conceded the next frame despite needing only one snooker to drag himself back into the contest.
Hendry then began to display his class in the next two frames, finally recording the first half-century break (57) to set up a 3-1 lead, before bettering that effort with a break of 60 to claim frame number five.
The former world number one then let Ding off the hook as a 5-1 victory beckoned, but Hendry soon resumed his form to perfectly split the pack, allowing him to wrap up the contest with a fine break of 61.
Hendry now meets O'Sullivan in Sunday's best of 11 final, live on Sky Sports 2.
Will Ronnie Retain His Crown?
The Play-Offs for this season's Betfred Premier League take place this weekend at the MICC in central Manchester and there is a total of £100,000 of prize money on offer.
Following 21 matches of league play, there are just four men standing in snooker's unique round-robin event.
The defending champion and heavy betting favourite to retain his title is world no.1 Ronnie O'Sullivan who faces Steve Davis over the best of nine frames stating on Saturday evening.
Davis, had a miraculous route into the play-offs as he won his final two matches against the odds to put himself in position and then relied on O'Sullivan hammering World Champion Shaun Murphy to seal his spot.
Opening the proceedings at 7.00 is six-times Premier League champion Stephen Hendry who takes on rising star Ding Jun-hui of China in what should be an intriguing encounter.
The two winners will then face off over the best of 11 frames at 7.00 on Sunday evening.
All matches will be played under the 25 second shot clock rule and in addition to the prize fund, there will an additional £1,000 on offer for any century breaks.
The prize money breaks down as follows:
The Winner: £50,000
Runner-up: £25,000
Semi-Finalists: £12,500
The four players are carrying forward the following amounts, won under the Betfred Premier League's unique '£1,000 per frame won, £1,000 per century break' prize money structure.
Money won so far:
O'Sullivan: £33,000
Hendry: £24,000
Ding: £23,000
Davis: £18,000
ROCKET RONNIE EYEING TITLE DEFENCE
2nd December 2005
Premier League Live - Sky Sports 2.
Semi-finals - Saturday 6pm.
Final - Sunday 7pm.
Premier League Snooker comes to a climax over the weekend with Ronnie O'Sullivan looking to retain his title in Manchester.
After ten weeks of action, the top four in the Premier League fight it out for the title at the MICC in Manchester, with a total prize fund of £100,000 up for grabs.
Every pot will be screened live on Sky Sports 2 on Saturday and Sunday, with the semi-finals starting at 6pm and the final getting under way at 7pm on Sunday.
The Rocket has been in superb form once again this season, and topped the Premier League after remaining unbeaten - winning four a drawing two of his six matches.
Steve Davis somehow scraped into the semis despite losing his first three games in the Premier League.
A 3-3 draw with Shaun Murphy and two wins in his last two outings gave him a slim chance of making the final four, and he made it through courtesy of O'Sullivan's 5-1 thrashing of Murphy in the final round of matches.
Davis will ironically face O'Sullivan in a best-of-9 frame semi-final on Saturday, with The Rocket the hot favourite to make the final after demolishing The Nugget 5-1 in the league stages.
The semis get underway with six-time Premier League champion Stephen Hendry playing Chinese star Ding Jun-hui.
Hendry only lost once during the league stages when finishing second behind O'Sullivan, while Ding also suffered one defeat and was the draw specialist with four stalemates out of six matches.
The winners of the semis will face each other in Sunday's final, with the winner being the first to six frames.
O'Sullivan is the big favourite to retain his title and scoop the £50,000 first prize, but both Hendry and Ding have proved hard to beat already this season in the Premier League.
Davis is the big outsider but his name could just be on the trophy after his miraculous passage into the final four.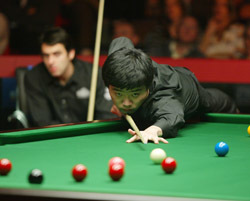 Draw Enough For Ding
Ronnie O'Sullivan 3 – 3 Ding Jun-hui
4 – 63 (39), 131 (31, 100) – 0, 46 (45) – 9, 0 – 116 (116), 57 (53) – 78 (50), 64 (34) – 57 (32).
DING Jun-hui secured his place in the last four of the Betfred Premier League Snooker courtesy of a 3-3 draw with Ronnie O'Sullivan in Kidderminster.
The teenage star turned on the style with a fourth frame break of 116 and even though O'Sullivan recorded a century of his own, it was the Asian wonder-kid who came closest to taking his unbeaten record – forcing a re-spotted black in the final frame.
A run of 39 was enough for Ding to take the first after an uncharacteristic miss by O'Sullivan on his second red.
But the two-time World Champion levelled quickly, courtesy of a break of exactly 100, his fifth century of the league series.
He had started with a 31 break before running out of position by landing the cue ball in a pack of reds – but handed a second chance he was in more clinical mood.
Ding surprisingly conceded the third when only 37 behind with 59 points still available on the table after he became annoyed with a missed pot.
And the young Chinese sensation took his anger out on the table in frame four with a near total clearance of 116 – jawing the final blue when a total clearance of 144 looked on.
The match hinged on the penultimate frame of the match as Ding opened with a 50 and looked well set to clear the table before being forced into safety.
O'Sullivan's reply was to make a break of 53 but he missed the last red with the rest to leave the frame in the balance.
A safety exchange on the brown ended in O'Sullivan's favour as Ding missed a swerve attempt and O'Sullivan asked him to play again.
The pot was left on, but O'Sullivan played a careless shot and a double kiss left the pot on for Ding to round the exchange off.
The final frame went to a re-spotted black after O'Sullivan cleared the last four balls following a miss on a blind cut on the brown by Ding.
Ding had started with a 32 before jawing a red and O'Sullivan then hit a run of 34 to bring himself back into contention.
Ding won the toss and asked O'Sullivan to break the re-spot.
O'Sullivan bravely tried the pot and both players then played safe until O'Sullivan produced an impressive reverse cut into the bottom right hand pocket to secure the draw.
"It was a fantastic match, O'Sullivan said. "Ding played better and should have run the game but we've both qualified and that's the main thing.
"He's a great player whether he's 18 or 118 and he's got a natural snooker brain – settling over here will be the hardest thing for him but if he does that I'm sure he'll become a world champion."
Hendry qualifies, White eliminated
Stephen Hendry will join Ronnie O'Sullivan in next month's play-offs after a 4-2 win over Shaun Murphy sent him to the top of the table. After a scrappy start, the super Scot rattled in breaks of 104 and 79 to seal victory. Murphy is still not out of the running - the salvaging of a 3-3 draw from a disastrous
3-0 down by a well-below-par Jimmy White in his match against Stephen Maguire, gives the world champion some hope. However, he will need to beat O'Sullivan in Cardiff in a fortnight's time to guarantee qualification.
Kidderminster beckons next.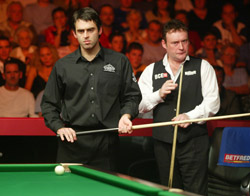 Rocket Eases Into Play-Offs
Ronnie O'Sullivan 5 – 1 Jimmy White
105 (45,60) – 0, 66 (46) – 38, 0 – 71 (36), 72 (54) – 5, 81 (64) – 1, 71 (64) – 0
World No.1 Ronnie O'Sullivan put on an effortless display to overcome Jimmy White and head to the top of the Betfred Premier League Snooker table and secure a spot in December's play-offs.
Although a century break was never forthcoming, O'Sullivan made six breaks of over 40 and coupled with his opponent's lack of form on the night, it was enough to clinch victory by a comfortable margin.
O'Sullivan took the opener with breaks of 45 and 60 without reply from White but uncharacteristically, both players made errors in the early stages of the next as O'Sullivan ran out of position and then missed a relatively easy black and then White failed to pot a red on the bottom cushion.
O'Sullivan made a 46 break but missed a red but White could not capitalise and a series of spectacular pots on the colours sealed the frame for the Rocket.
White found his rhythm though in the next and rattled in a break of 36 to help him get back to 2-1. That was to be his one and only contribution to the scoreboard as O'Sullivan grabbed at least a point in the next as he put together a run of 54.
O'Sullivan made sure of both points in the next as a break of 64 put the frame beyond White's grasp and another run of 64 in the last frame was the final nail in White's coffin.
O'Sullivan was delighted with his performance, "If you practise properly it comes off on the match table and I thought I played well. I made some long balls at important stages which were important.
"Jimmy never played to his potential but we all have off days and that's one for Jimmy.
"Every tournament means a lot to me and having won the League a few times and being defending champion, it's one you just want to keep winning.
"I'll have a couple of weeks off and then start practising a couple of weeks before the UK and then it's pool in the USA in February."
DAVIS DOWNED BY ROCKET IN CROYDON
28th October 2005
Ronnie O'Sullivan secured his second straight win in the Premier League as he demolished Steve Davis 5-1 in Croydon.
Fresh off the back of a 6-0 whitewash of Stephen Mcguire in Derby seven days earlier, 'The Rocket' produced another impressive display to move into the top four in the table.
Despite playing for only the second time since his 9-2 loss to John Higgins in the Grand Prix Final, the two-time world champion got off to a quick start with a half-century break giving him the first frame.
A score of 87 in the next clinched him his eighth straight frame in the competition, although Davis managed to answer straight back to cut the deficit in half.
However, that proved to be the only highlight for the 48-year-old as he was forced to watch on as O'Sullivan took charge, the reigning champion clinching the final three frames of the contest which included a 101 break in the fifth.
"I played alright tonight," Sullivan told Sky Sports.
"It's only the second game of snooker I've had since I got beat by John Higgins in the final, so considering that, I am pleased with how I played."
The defeat leaves Davis struggling to make the semi-finals as he has now failed to pick up a point in any of his three matches.
Stephen Maguire is also facing an uphill task to finish in the top four after he slipped to a 4-2 defeat against Shaun Murphy in a scrappy match that saw both players struggle to find their best form.
The Scotsman managed to take the opening frame with a break of 56, but failed to build on his early success as he allowed his opponent back in the match.
Murphy won four of the next five frames to pick up the two points, the reigning world champion managing to get the upper-hand to clinch his first win at the third attempt.
"Sometimes it's just about getting over the line, not whether it's pretty or not," Murphy said on Sky Sports after his 4-2 success.
"I'm dead happy to have got my first win in the league, I was worried I was going to have played three and drawn three, which wouldn't have been great."
"I'm pleased to know that, while my 'A' game is very good, my 'B' game is also getting better."
O'Sullivan leaves Davis reeling
Ronnie O'Sullivan was in fine form as he hammered Steve Davis 5-1 in the Betfred Premier League in Croydon.
Breaks of 60 and 87 in the opening frames put O'Sullivan in control as he moved second in the table.
"Any result against a player of Steve's quality is good because as a professional I always like to play really well," said O'Sullivan.
World champion Shaun Murphy landed his first League win of the season, beating Stephen Maguire 4-2 in a scrappy match.
Murphy admitted his victory was not one for the purists.
"I'm not sure that match will be making the end of season highlights DVD as it was not pretty," he said afterwards.
"Steven and I are good competitors - when we were juniors I was English No.1 and he was the Scottish No.1.
"There's always a little bit of needle there but that's what sports about.
"I'm happy with the win but not really with my performance. I missed a couple here and there but sometimes it's about getting over the line."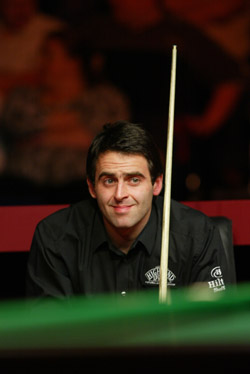 O'SULLIVAN BOUNCES BACK IN DERBY
20th October 2005
Ronnie O'Sullivan bounced back from his Grand Prix final defeat against John Higgins with a 6-0 drubbing of Stephen Maguire in the Premier League.
As a result of some negative comments about the way snooker is governed, the world number one had been booed into the arena at Preston last week, and then thrashed 9-2 by a flawless Higgins.
But O'Sullivan received a rapturous welcome from the crowd in Derby and rewarded their enthusiasm with a vintage display of potting.
The two-time world champion produced three half-century breaks and earned himself a £1000 bonus courtesy of a 131 in the fourth frame.
It took O'Sullivan only six minutes to compile an 83 break in the opening frame and he followed it up by taking a scrappy second.
A flowing 76 gave O'Sullivan the third frame and then the match was secured in style with a clearance of 131.
Maguire missed some good chances before falling 5-0 behind and O'Sullivan completed the whitewash with a 74 break.
Earlier in the evening, Stephen Hendry swept aside old adversary Jimmy White 5-1.
The Scot was into his stride immediately, taking the opening frame courtesy of a 94 break.
White spurned several opportunities during a tactical second frame before a 59 break from Hendry gave him a 3-0 lead.
White got on the board by taking the fourth frame before Hendry secured the win in the next with runs of 37 and 57.
A 40 break in the last frame from Hendry ensured a comfortable 5-1 victory.
Addition:
"When you play someone of the quality of Stephen you can't expect a whitewash, but it was one of those nights, O'Sullivan said afterwards.
"It happened to me last week – it's a silly game really, some days you feel great and others you don't. It's like a tap - it comes and goes and tonight it was there.
"Everyone in this competition is capable of making 100 breaks so I'd be surprised if the 131 holds up as the top break of the event for long.
"There's a long way to go in the league - Stephen and I have only played two games each and I'm sure it will go down to the wire.
"Every player goes into every tournament wanting to win them all but the standards that high these days you don't take anything for granted."
O'Sullivan roars back to top form
20 October 2005
Ronnie O'Sullivan recovered from his heavy defeat at the Preston Grand Prix to thrash Stephen Maguire 6-0 in the Betfred Premier League.
The world number one lost 9-2 to John Higgins on Sunday but made breaks of 83, 76, 74 and 131 in Derby.
"It was one of those nights," he said. "It happened to me last week. It's a silly game really, some days you feel great and others you don't.
"It's like a tap - it comes and goes - and tonight it was there."
RONNIE'S ELECTRIC SHOCK: DAVE
19th October 2005
Join Dave Clark for round five of the Premier League Snooker, Thursday, Sky Sports 1, 7.30pm
On Sunday, at the final of the World Grand Prix, Ronnie O'Sullivan received a less than warm reception from the Preston crowd. He had upset the snooker purists by saying he was no longer enjoying life at the table.
I'm confident that there will not be a repeat of that reaction when the world number one is in Derby for round five of the Premier League.
Not that it would bother Ronnie if he thought the whole crowd was against him. It would be water off a duck's back! He says what he thinks, does things his way and nothing is going to change that.
O'Sullivan may have lost some of his appetite for snooker, but he does still love the Premier League - because it is quick and played in front of a lively full-house crowd.
And he has not lost any of his talent. Even if he is not practising at the moment - and he says he isn't - he is still not far from his best, as we saw in Preston.
It is bound to be electric when O'Sullivan plays Stephen Maguire because it always is when these two guys meet. The last time they came up against each other at the Crucible, O' Sullivan won a thrilling contest 10-9.
It will be interesting to see if Maguire still has a hangover from that match. Since then, he has also crashed out in the first round of the World Grand Prix, but I don't expect him to be too shell-shocked and expect him to earn himself a point.
The other match of the night sees the old guard of Jimmy White and Stephen Hendry going up against each other. How many times have we seen that over the years?
Their rivalry goes back a long way and if it was not for Hendry, White would have a few more million in the bank.
When you are a multi-millionaire, like these guys, you would not think that money would still be an issue, but you only have to watch them when there is £1000 at stake for a century break to see what a difference it makes to them.
At the moment, Hendry is on a quest to become the first man to reclaim the world number one spot. He believes that he needs to win three ranking events to do so. That means that - if it is possible - he will be more focused than ever on Thursday.
Hendry's form in Preston shows that he is another man at the top of his game at the moment. I think he will have too much for White in Derby and expect him to storm to the summit of the Premier League table.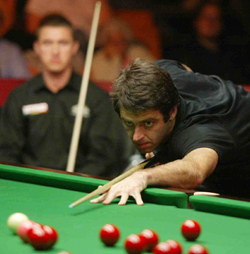 Big Guns Share Spoils
Ronnie O'Sullivan 3 - 3 Stephen Hendry
50 - 57 (31), 108 (104) - 11, 63 (43) - 58 (33), 0 - 79 (48), 125 (125) - 8, 23 - 67 (42)
WORLD NO.1 RONNIE O'SULLIVAN, who earlier this week disclosed that he would be dividing his time this season between snooker in the UK and pool in the States, kicked off his Betfred Premier League campaign with a hard fought three-all draw against old rival Stephen Hendry at the Plymouth Pavilions this evening.
It was the opening session in the 20th running of the League as seven of the world's top players duke it out in a unique round robin format before concluding with the play-offs in December.
In addition, the prize money is paid out on a 'frames won' basis with £1,000 going to the victor with a further £1,000 available if the win comes via a century break.
Both players were admittedly not at their best and it was a case of Hendry's dogged determination ultimately cancelling out O'Sullivan's greater flair.
Hendry took the opening frame on a re-spotted black after it finished at 50 points apiece. In fact the ending was bizarre; both tapped the black around the table into safe positions before Hendry left a very narrow cut into the middle pocket for O'Sullivan who played the shot without even touching the black to concede a seven-point foul and the frame.
O'Sullivan levelled things in the next and in the process recorded the tournaments first £1,000 century bonus as he rattled home a fluent break of 104 to the delight of the packed house. The third frame went back and forth before O'Sullivan clinched it with a break of 43.
However, Hendry pulled out a run of 48 in the next to win the frame without reply from O'Sullivan. That made the score 2 -2 with all three outcomes still possible.
O'Sullivan, the defending League champion, took a Hendry win out of the equation in the next as he put together a marvellous break of 125 to guarantee a point and ensure another £1,000 bonus for his efforts.
In the final game it went back and forth before a run of 42 from Hendry put him over the line for a draw.
"Ronnie made two centuries but neither of us was great tonight. It's early in season and we were both rusty but I'm delighted with a point.
"If someone had said before the start that I'd make a top break of 48 and still tale a point off Ronnie I wouldn't have believed them!" said Hendry afterwards.
O'Sullivan added, "We were both off form but it was an exciting match to watch, what with the mistakes.
"It was nice to be playing again in a big arena against a top player and as they always say, form is temporary but class is permanent."
CENTURY BREAKS
136 Ronnie O'Sullivan
133 Ronnie O'Sullivan
131 Ronnie O'Sullivan
129 Ronnie O'Sullivan
126 Ding Junhui
125 Ronnie O'Sullivan
125 Shaun Murphy
123 Stephen Hendry
117 Steve Davis
116 Ding Junhui
116 Ronnie O'Sullivan
114 Ding Junhui
112 Ding Junhui
110 Stephen Hendry
108 Stephen Maguire
104 Ronnie O'Sullivan
104 Stephen Hendry
103 Steve Davis
101 Ronnie O'Sullivan
101 Ding Junhui
100 Ronnie O'Sullivan
100 Ronnie O'Sullivan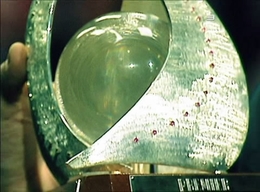 Schedule of matches 20th Betfred.com Premier League Snooker
15th September 2005 – Pavilions, Plymouth
White x Ding 2-4
O'Sullivan x Hendry 3-3
22nd September 2005 – The Dome, Doncaster
Murphy x White 3-3
Maguire x Ding 3-3
29th September 2005 – The Anvil, Basingstoke
Hendry x Ding 3-3
White x Davis 4-2
6th October 2005 – AECC, Aberdeen
Murphy x Ding - 3-3
Hendry x Davis - 4-2
20th October 2005 – Assembly Rooms, Derby
Hendry x White 5-1
O'Sullivan x Maguire 6-0 :-)
27th October 2005 – Fairfield Halls, Croydon
Murphy x Maguire 4-2
O'Sullivan x Davis 5-1 :-)
3rd November 2005 – Grimsby Auditorium, Grimsby
Murphy x Davis 3-3
O'Sullivan x White 5-1 :-)
10th November 2005 – The Magnum Centre, Irvine
Murphy x Hendry 2-4
Maguire x White 3-3
17th November 2005 – Glades Arena, Kidderminster
Maguire x Davis 2-4
O'Sullivan x Ding 3-3
24th November 2005 – St.David's Hall, Cardiff
Davis x Ding 4-2
Hendry x Maguire 2-4
O'Sullivan x Murphy 5-1
3rd December 2005 – The G-Mex Centre, Manchester
Semi Finals
Stephen Hendry x Ding Jun-hui 5-2
Ronnie O'Sullivan x Steve Davis 5-3
4th December 2005 – The G-Mex Centre, Manchester
Final
Ronnie O'Sullivan x Stephen Hendry 6-0
It would be nice for Ronnie, to win 5th title Premier League day before his 30th birthday :-)