Masters 2010*
The Masters 2010
Below is the playing schedule for The Masters 2010, which runs from 10-17 January 2010.
Sunday 10 January 2010
11am
Match 9 – Mark Selby v Ding Junhui - 6-1
NB 2.30pm
Match 4 – Marco Fu v Peter Ebdon - 2-6
NB 7pm
Match 2 – Mark King v Jimmy White - 6-2
Monday 11 January 2010
11am
Match 1 – Mark Williams v Rory McLeod - 6-2
NB 2.30pm
Match 6 - Shaun Murphy v Stephen Hendry - 6-2
NB 7pm
Match 7 – Stephen Maguire v Mark King - 6-3

Tuesday 12 January 2010
1.30pm
Match 3 – Ronnie O'Sullivan v Neil Robertson - 6-4 :-)
7pm
Match 5 – Ali Carter v Mark Williams - 3-6
Wednesday 13 January 2010
2pm
Match 10 – John Higgins v Mark Allen - 3-6
7pm
Match 8 – Ryan Day v Joe Perry - 6-0
Thursday 14 January 2010
1.30pm
QF1 – Peter Ebdon x Ronnie O'Sullivan - 3-6 :-)
7pm
QF2 – Shaun Murphy x Mark Williams - 4-6
Friday 15 January 2010
1.30pm
QF3 – Stephen Maguire x Ryan Day - 6-1
7pm
QF4 – Mark Selby x Mark Allen - 6-5
Saturday 16 January 2010
2.30pm
SF1 – Ronnie O'Sullivan x Mark Williams - 6-5 :-)
7.30pm
SF2 – Stephen Maguire x Mark Selby - 3-6
Sunday 17 January 2010
2pm
Final - Ronnie O'Sullivan x Mark Selby - 5-3
8pm
Final - Ronnie O'Sullivan x Mark Selby - 9-10 :-((

On Sunday 10 January and Monday 11 January the second match will not start before 2.30pm.
The evening session each day will not start before the time indicated on the format.
All matches up to and including the Semi Finals will be best of 11 frames and the Final will be best of 19 frames (8/11).
UNDERSTANDING RONNIE
Dave H.
It seems absurd to many that Ronnie O'Sullivan could be so down on himself despite what looked to most of us like an excellent performance in battling back from 3-0 down to beat Neil Robertson 6-4 in the Pokerstars.com Masters yesterday.
Ronnie said that he was playing his best snooker at 15 or 16. Can this really be true? My colleague Phil Yates, who spent many a week at the qualifiers in Blackpool when O'Sullivan turned professional in 1992, certainly believes he was every bit as good then as he is now.
But you do not have to be a trained psychologist to recognise that Ronnie's life was happier then as well because this was just before his father, Ronnie senior, was jailed for murder.
Ronnie's entire character was shaped by his father. He gave him his confidence, his self belief and provided him with everything he needed to become a top snooker player.
So at 15/16, O'Sullivan played snooker without a care in the world before his world came crashing down around him.
It's impossible to say whether he would have suffered from depression regardless of his father's incarceration but he seems to find it hard to derive joy from the way he plays, even if many others love watching him.
How will he change when his father is permanently released from prison this year?
It could go one of two ways: he could either raise his game or may feel the pressure of having to perform more acutely than before.
Ronnie doesn't ask for sympathy - and some would doubtless argue he doesn't deserve any - but it's important to understand the man and his background before merely slamming what he says after apparently playing very well indeed.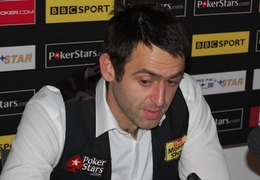 Champ O'Sullivan Hits Back To Topple Robertson
After being introduced to a song which includes the line 'It's the greatest comeback since Lazarus', Ronnie O'Sullivan recovered a 3-0 deficit to beat Neil Robertson 6-4 at the Pokerstars.com Masters.
Defending champion O'Sullivan came out on top in an outstanding contest, which featured four centuries and five more breaks over 50. Australia's Robertson looked in control when he took the first three frames, only for O'Sullivan to storm back with six of the next seven to boost his chances of a fifth Wembley title.
O'Sullivan entered the arena to 'Ali in the Jungle' by The Hours, a tribute to the band's singer Antony Genn who joined artist Damien Hirst among the crowd of 1269. But the Chigwell ace soon found himself against the ropes as Robertson outscored him on points 180-1 in the first two frames. Grand Prix winner Robertson stole the third as well, before World No 1 O'Sullivan won four in a row, then proved stronger in the final stages.
• Frame one: Robertson started strongly with a break of 65 to take the frame (1-78).
• Frame two: A run of 101 put the Thunder from Down Under 2-0 up (0-102).
• Frame three: O'Sullivan made 62 before missing a tricky cut-back red to a top corner. Robertson clawed his way back into the frame, then potted the last red from distance and cleared the table. He pumped his fist in delight as he walked out of the arena (68-74).
• Frame four: O'Sullivan responded with a 114 (114-3).
• Frame five: A run of 57 put O'Sullivan in control and he sealed it on the colours (70-36).
• Frame six: The Rocket levelled the match at 3-3 with an 87 (87-0).
• Frame seven: A loose safety from Robertson at 19-30 allowed O'Sullivan to add 49 and take the lead (79-19).
• Frame eight: Left-hander Robertson blasted back with a 140 total clearance, the highest break of the tournament so far (0-140).
• Frame nine: O'Sullivan regained the lead with a 106 (106-14).
• Frame ten: The Essex player cruises to victory with a cool 76 (80-8).
O'Sullivan said: "I scored a few and applied a bit of pressure. I'd give my long potting 2 out of 10. It's hard to get excited. To make two or three centuries in a match is not a big deal, that's how the modern game is. I would have accepted winning or losing today, that's the nature of the beast.
"I'm not the player I was when I was 15 or 16. A lot of the time I'm playing sub-standard shots. Now and then I catch hold of one and play a killer shot. The only time I play a pure shot is left handed. The last time I played a good tournament was the (2003) European Open in Torquay and the Irish Masters a couple of weeks later.
"I don't want to have to rely on the occasion of being 3-0 down in front of a big crowd to salvage some pride and give myself a kick up the arse. I can't pot a ball in practice. My attitude will be the same in my next match (against Peter Ebdon) - I won't be surprised if I win or lose."
Asked if he had been affected by Robertson's celebration at the end of frame three, O'Sullivan added: "Fist pumps don't mean anything to me. I knew I was 3-0 down because of the mistakes I'd made."
By Ivan Hirschowitz
18:25:47
12 January 2010
O'SULLIVAN HOPING FOR PURPLE PATCH
By Mike McGrath, Press Association Sport
Ronnie O'Sullivan is road testing a bizarre new purple cue ahead of the defence of his Masters title at Wembley.
The 34-year-old has been given the coloured cue by his sponsors Premier Inn and has been using it in the run-up to the tournament, which starts on Sunday.
Using an unconventional piece of equipment is not linked to the appointment of Barry Hearn as the new chairman of the World Professional Billiards and Snooker Association - but O'Sullivan believes it the type of initiative the new head of the sport will look to promote.
O'Sullivan, nicknamed 'The Rocket', said: "Last year I used a new cue for the Masters. I only had it for two hours and I managed to win the tournament but I didn't really like the cue if I'm honest.
"So I'm not a buyer of that philosophy that the cue is the be-all and end-all. I used to be because I got so attached to one cue that I couldn't do without it.
"If you start relying on equipment to dictate how you play then you become attached to it and that is a weakness."
O'Sullivan feels Hearn's new job can revitalise the sport - and he is willing to help as long as his game is not compromised.
"There will be a lot less red tape now Barry has come in," O'Sullivan said.
"It will give an opportunity to be a bit more flexible and give room for people to work.
"I was at the darts and watching the operational side of it and the production involved is good. I think that will come into snooker.
"Sometimes you can make something dull into something good with a bit of flair. You can be more passionate about what you do.
"Barry is up for people to be more dare-devilish and interact with the crowd. It doesn't mean going crazy but showing a bit of emotion. Maybe less importance on the result and how you get the result, and more about expressing yourself."
O'Sullivan is always looking for new challenges - just before his last Premier League match he ran a half-marathon while waiting for his game to start - and for this year's Masters his sponsors are giving away 147 free hotel rooms if he manages a maximum.
He added: "Someone has laid a bet down as far as I'm concerned. Can I make them eat their words? I hope so.
"It's not about money or anything else like that, it's about getting yourself up for it or making it difficult and trying to get a result."
(reopens) World Snooker this afternoon announced Michaela Tabb will officiate in the Masters final.
The Scot became the first woman to referee in a World Championship final when she took charge for John Higgins' win over Shaun Murphy at the Crucible in May.
Tabb, 42, who was also in charge of the 2008 Masters final, said: "I'm delighted, it's a fantastic honour. It's a different kind of crowd at Wembley, a bit more noisy and they can get rowdy. But I've got the experience now to handle it.
"The big occasion brings the best out of me. I loved every minute of the final at the Crucible so I'm so pleased to be refereeing another of snooker's biggest matches."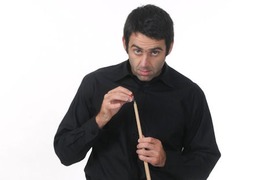 O'Sullivan – I Could Win Six Of The Best
www.worldsnooker.com
Ronnie O'Sullivan believes that he could win snooker's biggest titles half a dozen times apiece, if his career goes on for long enough.
The Rocket won the Masters for the fourth time last season, beating Mark Selby 10-8 in an exciting final at Wembley Arena, bringing his haul of titles in snooker's most prestigious invitation event just two short of Stephen Hendry's record of six.
Looking ahead to the defence of his title in the tournament which runs from January 10 to 17, the Chigwell cueman said: "If I play for another ten or 12 years then I could get more than six. I could win six UK titles and six Worlds as well if I play for that long. The Masters has been very good for me. I like all the big tournaments. The London crowds are a bit special and that helps me get up for it."
O'Sullivan broke his cue just a few days before the start of last season's Masters, and said in his victory speech that winning the title with a new cue was the best achievement of his career. While he stands by that assessment, he admits regret at smashing the cue which brought him the World and UK titles during the 2007/08 campaign.
"I was amazed to win a tournament with a new cue," said the 34-year-old. "It was a freaky thing to do. I broke the old one because I was missing balls and I can't take playing that poorly when I know what I am capable of. I regret it a bit now because I've had trouble finding a good cue ever since. I'm only human and I've had to soldier on with what I've got."
Three-times World Champion O'Sullivan, who was edged out 9-8 by John Higgins in an epic semi-final in the Pukka Pies UK Championship last week, faces a tough opening match at the Masters against Grand Prix champion Neil Robertson on Tuesday January 12.
"He's won a few tournaments, but there are quite a few young players who have won a few tournaments," said O'Sullivan of the Australian. "Neil's very good, but there are lots of them coming through, 16 or 17 players, and there's not much between them. They've got technique, they are consistent and they can pot long balls."
O'Sullivan will be defending his Masters title against the likes of John Higgins, Stephen Hendry and Mark Selby at Wembley Arena from January 10-17. Tickets start at just £10 and can be booked by calling 0844 815 0815 (Disabled Booking Line 020 8782 5629) or visiting www.worldsnooker.com/masters
Whirlwind White Awarded Masters Wild Card
www.worldsnooker.com
Snooker legend Jimmy White has been given a wild card entry into the sport's premier invitation tournament, the Masters.
Fresh from his stay in the Australian jungle in 'I'm a Celebrity, Get Me Out Of Here', White will swap bush-tucker gear for waistcoat and bow tie to grace the stage at Wembley Arena.
The Whirlwind takes on Mark King on the opening evening of the event on Sunday January 10. The field is made up of the world's top 16 players plus White and qualifier Rory McLeod.
White's stylish, attacking style of play and his man-of-the-people charisma have made him one of the most popular figures in the history of British sport. The public voted for him to stay in the jungle until the final show of 'Celebrity' last month, underlining his heroic status.
The Londoner is also one of snooker's all-time greats, having won ten ranking titles on top of his 1984 Masters triumph, when he beat Terry Griffiths in the final.
"I'm delighted to get the wild card, it will be great to be back at Wembley," said the left-hander who has appeared in six World Championship finals. "I'd like to thank the new Board for their decision. I've only just got my sleep pattern back after getting home from the jungle. Snooker's still my number one priority and I'll be ready for the Masters."
Barry Hearn, who was confirmed as WPBSA chairman on Wednesday, added: "Jimmy is one of Britain's great sporting superstars. He has attracted vast crowds all across the world, but nowhere more than Wembley, where the fans regard him as one of their own. He'll pack the place out and the atmosphere will be sizzling. There was no doubt in my mind that he is the man to take up the wild card challenge. Throughout his career he's played shots that most snooker players can only dream of and it makes great viewing for live audiences and on TV."
The Masters runs from January 10 to 17, with White joining the likes of Stephen Hendry, John Higgins, Mark Selby, Shaun Murphy, Neil Robertson and newly-crowned Pukka Pies UK Champion Ding Junhui in trying to take the crown from Ronnie O'Sullivan. Tickets are on sale now, call 0844 815 0815 (Disabled Booking Line: 020 8782 5629) or visit www.worldsnooker.com/masters.
The Masters Qualifying
Below is the playing schedule for The Masters Qualifying Event, to take place at Pontin's, Prestatyn, from 26-29 October 2009.
Monday 26 October 2009
10am
Match 1 – Matthew Selt v Ben Woollaston - 3-4
Match 2 – Liu Song v Sam Baird - 4-2
Match 3 – Martin Gould v Chris Norbury - 4-3
Match 4 – Ken Doherty v Michael White - 2-4
Match 5 – Atthasit Mahitthi v David Gray - 1-4
Match 6 – Jimmy White v Andrew Norman - 4-1
Match 7 – Daniel Wells v Jimmy Robertson - 4-1
Match 8 – Lee Page v Bjorn Haneveer - 2-4
4pm
Match 9 – David Gilbert v Zhang Anda - 1-4
Match 10 – Andrew Higginson v Noppadol Sangnil - 4-1
Match 11 - Simon Bedford v Craig Steadman - 4-1
Match 12 - Mark Joyce v James Wattana - 1-4
Match 13 – Tom Ford(W/O) v Joe Jogia
Match 14 – Matthew Couch v Brendan O'Donoghue - 4-2
Match 15 – Robert Milkins v David Hogan - 4-2
Match 16 – Barry Pinches v Jordan Brown - 4-2
Tuesday 27 October 2009
10am
Match 17 – Barry Hawkins v Ben Woollaston - 1-5
Match 18 – Fergal O'Brien v Liu Song - 4-5
Match 19 – Gerard Greene v Martin Gould - 3-5
Match 20 – Michael Holt v Michael White - 5-3
Match 21 – Stephen Lee v David Gray - 3-5
Match 22 – Ian McCulloch v Jimmy White - 3-5
Match 23 – Rory McLeod v Daniel Wells - 5-0
Match 24 – Ricky Walden v Bjorn Haneveer - 5-0
4pm
Match 25 – Dave Harold v James Wattana - 2-5
Match 26 – Judd Trump v Andrew Higginson - 1-5
Match 27 – Matthew Stevens v Simon Bedford - 5-2
Match 28 – Stuart Bingham v James Wattana - 4-5
Match 29 – Joe Swail v Joe Jogia - 2-5
Match 30 – Anthony Hamilton v Matthew Couch - 5-0
Match 31 – Jamie Burnett v Robert Milkins - 3-5
Match 32 – Jamie Cope v Barry Pinches - 2-5
Wednesday 28 October 2009
10am
Match 33 – Ben Woollaston v Liu Song (Molly Newbold) - 5-1
Match 34 – Martin Gould v Michael Holt (Peter Bennett) - 4-5
Match 35 – David Gray v Jimmy White (Dominik Haug) - 5-4
Match 36 – Rory McLeod v Ricky Walden (Greg Coniglio) - 5-2
Match 37 – Zhang Anda v Andrew Higginson (Rob Wright) - 3-5
Match 38 – Matthew Stevens v James Wattana (Daniel Holliger) - 5-3
Match 39 – Joe Jogia v Anthony Hamilton (Pete Williamson) - 1-5
Match 40 – Robert Milkins v Barry Pinches (Steve Fletcher) - 4-5
4pm
QF1 - Ben Woollaston x Michael Holt - 5-3
QF2 - David Gray x Rory McLeod - 2-5
QF3 - Andrew Higginson x Matthew Stevens - 5-1
QF4 - Anthony Hamilton x Barry Pinches - 5-0
Thursday 29 October 2009
10am
SF1 - Ben Woollaston x Rory McLeod - 1-5
SF2 - Andrew Higginson x Anthony Hamilton - 5-3
4pm
Final - Rory McLeod x Andrew Higginson - 6-1
Round 1 will be the best of 7 frames, the Last 32 and up to and including the Semi Finals will be the best of 9 frames and the Final will be the best of 11 frames .